10:07 JST, September 16, 2021
One of the many stock trading apps now on the market lets new customers spin a virtual roulette wheel, gifting them with shares from whatever company they land on. Online securities companies are trying to turn stock trading into a fun experience by making app screens look like video games.
Securities industry salespeople used to earn commissions by calling or visiting customers and encouraging them to buy more shares. But these commissions are now low or even zero, prompting companies to compete to attract customers with little experience trading stocks by way of user-friendly interfaces.
One office worker in her 30s who goes by the online moniker "Onei" started trading stocks three years ago. "I wouldn't have started investing without a stock trading app," she said.
A stock trading app also played a major role in the brouhaha in January surrounding GameStop in the United States.
Individual investors communicating over social media used the Robinhood app to purchase large numbers of shares in the video game store GameStop. The company's stock price soared, reportedly causing hedge funds that planned to profit from short-selling to lose hundreds of billions of yen.
Robinhood's secret weapon in growing its user base is a lack of transaction fees, but the GameStop saga also drew attention to another side of the business. Robinhood was able to waive transaction fees because it was selling data on trades by individual investors to other vendors.
The main buyers of the data were a type of investor called high-speed traders. They use computer programs to buy and sell stocks at speeds approaching 10,000 trades per second. Even if the margin on a single transaction is tiny, these traders can make a profit thanks to the high speed and high frequency of the transactions.
To trade as fast as possible, specialists place their servers as physically close to an exchange's trading system as possible.
In Japan, traders rent server space next to the Tokyo Stock Exchange's (TSE) trading system. This enables them to make trades in about 1/1,000th of the time it takes for a normal trade.
The volume of high-speed trading has been increasing every year, and currently accounts for about 60% of the trades on the TSE.
Because high-speed trading increases the number of trades in the market overall, it is generally seen as having a stabilizing effect on stock prices. However, some analysts say it can accelerate temporary trends when "selling attracts more selling."
"In situations when prices are unilaterally declining, like a disaster, individual investors are often unable to sell quickly, which puts them at a disadvantage," said Yuichiro Ito, chief financial officer of Finatext Holdings Ltd., a financial services start-up.
If high-speed traders can also obtain order data from companies such as Robinhood, they could gain the advantage of being ahead of the movements of individual investors.
Such possibilities have attracted the attention of the U.S. Securities and Exchange Commission. The online version of a U.S. financial magazine reported on Aug. 30 that SEC Chairman Gary Gensler is considering banning mechanisms by which securities companies sell individual investor order data to other companies.
Britain and other governments have essentially banned such mechanisms as conflicts of interest.
Jun Yokoyama, senior researcher at Daiwa Institute of Research Ltd., said: "The evolution of technology has made it easier for investors to participate in transactions, but it also raises the possibility of unanticipated disadvantages. We need mechanisms to ensure transparency in transactions and protect investors."
'Information banks' build on trust
Concern has grown exponentially over who is using personal information and how they are using it. Banks focus on maintaining the trust of their customers, and some have started new businesses to respond to that concern.
These "information banks" are places where, instead of money, people can deposit their data and decide how it is used, the concept being that personal data belongs to the individual, not a company.
Mitsubishi UFJ Trust and Banking Corp. launched "Dprime" in July. Users store personal information such as their name, address, family members, behavior history, annual income and credit card data on a smartphone app.
The app is linked to the customer's bank account, so asset information is also available. Location information is recorded using the smartphone's GPS.
The bank anonymizes and processes the personal data before providing it to companies at a price. The customer can choose whether to and where to provide their data.
Companies that receive the data give customers gift certificates and discount coupons as a recompense.
"This makes use of the know-how of trust banks, which are responsible for things like wills," said Yoshiteru Osawa of the bank's digital planning office in the corporate planning department.
Sumitomo Mitsui Financial Group is planning an information bank specializing in medical care. The service will manage data such as on medical examinations and prescription histories.
As society digitizes, it remains to be seen if humans can make the most of these changes without drowning in technology.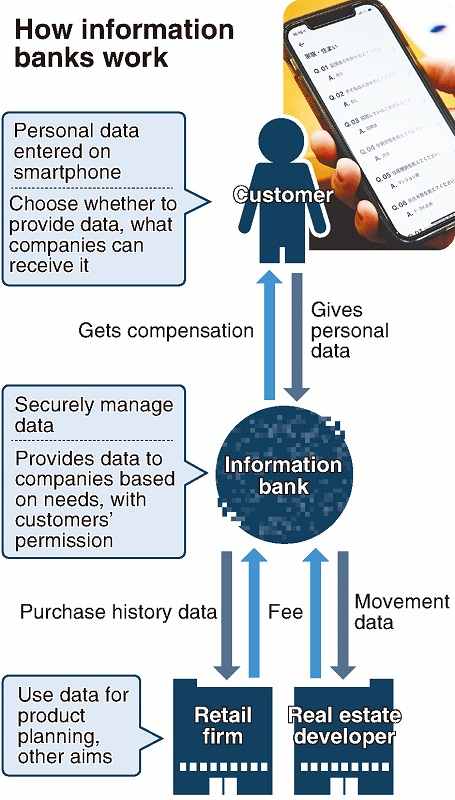 Add TheJapanNews to your Google News feed.