Suga-style politics 1 / Buffeted with headwinds, Japanese prime minister battles to stay on track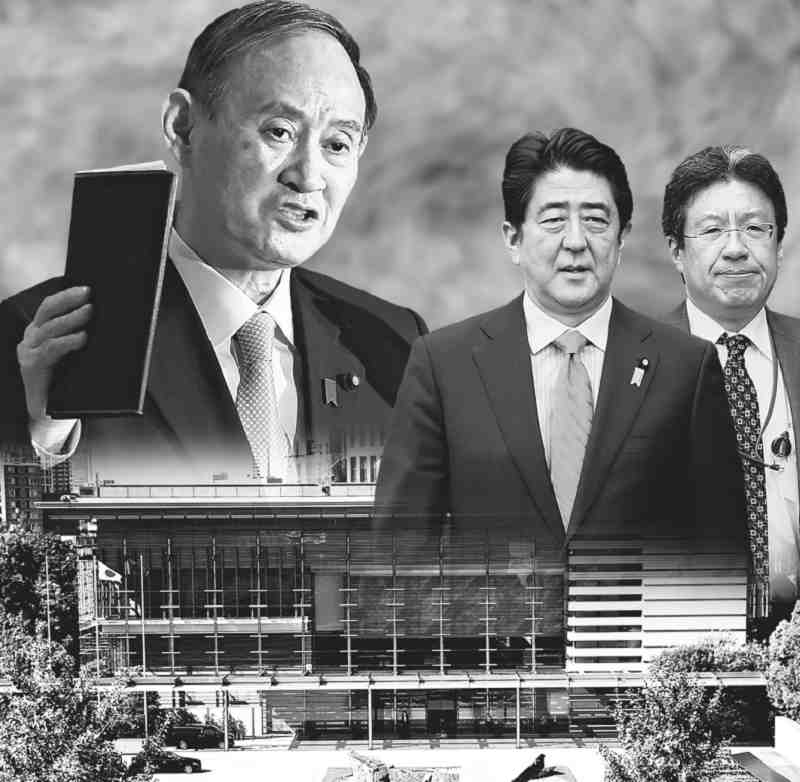 12:23 JST, March 26, 2021
The administration of Prime Minister Yoshihide Suga has adopted a trial-and-error approach to problems since its inauguration in September 2020. This is the first in a series that examines Suga's political style in the first six months of his leadership and evaluates the administration's prospects.
"That's out of the question!" Suga bellowed angrily at the Prime Minister's Office one day in early December. Everyone present froze.
Koji Yano, director general of the Budget Bureau of the Finance Ministry, was presenting a proposal to allocate ¥1 trillion to fund research and development in the field of decarbonization technology, but Suga wanted the amount to be doubled.
"It's impossible to do such a thing," said Yano, who worked under Suga when he was chief cabinet secretary. Enraged by the response, Suga threw the explanatory materials at him.
Ultimately, the allocation was raised to ¥2 trillion in line with Suga's intention.
Suga sometimes raised his voice at bureaucrats when he was chief cabinet secretary. "If they oppose my policies, they get transferred to other posts," he has said publicly in the past. However, Suga was No. 2 in the administration at the time: then Prime Minister Shinzo Abe had the final say.
"The prime minister's comments must be taken seriously. No one can oppose Suga now," a government source said.
March 16 marked half a year since Suga took office as prime minister. He has been praised as "the strongest ever chief cabinet secretary" to hold the position but is now facing difficulties in his role as prime minister.
The Cabinet has faced criticisms for its tardy response to the coronavirus pandemic and for not providing sufficient information to the public.
The approval rate for Suga's Cabinet at the time of its inauguration was the third-highest on record at 74%, but had almost halved at one point to 39%.
"I receive far less information compared with when I was chief cabinet secretary," Suga has said.
The offices of the prime minister and the chief cabinet secretary are only 20 meters apart on the fifth floor of the Prime Minister's Office building. However, it is said that a gap exists between the top government official and the chief cabinet secretary that is much wider than the physical distance between their offices.
"Something evil lives in the prime minister's office. It can make those who occupy it unable to see themselves, and unable to grasp public opinion," a vice minister said.
One-man show
A change in personnel caused a stir at the start of the year.
The prime minister's secretary in charge of political affairs Shobun Nitta, who was Suga's private secretary before that, was replaced on Jan. 1 with Mitsuhiro Teraoka, a bureaucrat from the Finance Ministry.
For such a personnel change to occur only 3½ months into a new administration is very unusual.
Late last year, Suga approached Deputy Prime Minister Taro Aso for advice regarding the Teraoka appointment. After giving Suga his approval for the personnel change he offered some advice: "Prime Minister, I've been meaning to tell you this when I got the opportunity. It's important for secretaries to keep a sharp eye on each of the ministries."
When Suga assumed the post of prime minister, five secretaries who had worked under him when he was the chief cabinet secretary were promoted to prime ministerial secretary posts.
While it is customary for deputy directors general in their 50s or those in equivalent ministry roles to secure such posts, most of Suga's secretaries were division-chief-class bureaucrats in their 40s.
"Is it ok to appoint such young bureaucrats?" a former cabinet minister mused, reflecting concerns that have been rumbling in the government and ruling parties. However, Suga has not paid heed to such doubters.
Inner circle lacking
The Suga administration has faced intensifying headwinds amid the coronavirus pandemic. Suga was criticized for the belated decision to suspend the Go To tourism campaign, which some say exacerbated the spread of infections.
The prime minister was also lambasted for dining at a steak restaurant with seven people, including LDP Secretary General Toshihiro Nikai, while infections were surging.
Suga's secretaries have not escaped criticism. "There is no one who can speak frankly with the prime minister," and "secretaries are not fulfilling their roles," critics have said.
Such comments have reached Suga, and a proposal has been floated in the Prime Minister's Office to completely revamp the lineup of prime ministerial secretaries.
However, Suga replaced only Nitta, his personal aide, saying that replacing the other secretaries may "adversely affect their careers as bureaucrats."
Teraoka, who was then the deputy director general of the Cabinet Secretariat and once served as a secretary for Suga when he was the chief cabinet secretary, was entrusted to coordinate affairs.
After the appointment was decided, Teraoka visited Takaya Imai, who served as the prime minister's secretary for political affairs during the Abe administration.
"You might have thought my job was to yell at bureaucrats, but you'd be wrong. My job was shouting at the prime minister," said Imai, who had been a bureaucrat of the Economy, Trade and Industry Ministry, before serving under Abe.
Imai was a prime ministerial secretary in the first Abe Cabinet. In the second Abe Cabinet, he was appointed to the post of Abe's secretary for political affairs.
His outspokenness often caused friction with those around him, but he was deeply involved in policymaking and also in political decisions such as the dissolution of the House of Representatives.
Abe's long-standing administration of more than seven years and eight months had a triangular structure, in which Suga and Imai supported Abe.
There were even times when the two harshly criticized Abe.
Suga has no aides who are of the same stature as Imai or himself when he was the chief cabinet secretary. A senior government official said that the Prime Minister's Office now is "controlled by Suga alone."
Sharing the load
Since the personnel replacement in January, Suga has been better utilizing his Cabinet members to break the image that the administration is a one-man show.
On Jan. 18, Suga assigned administrative reform minister Taro Kono as minister to take charge of the nation's COVID-19 vaccine rollout. The vaccination campaign is considered to be a key measure to overcome the coronavirus crisis.
Suga entrusted an important role that could decide the fate of his administration to Kono, who has a reputation for his ability to make breakthroughs.
Suga also assigned Tetsushi Sakamoto to manage measures to cope with loneliness and isolation, and Environment Minister Shinjiro Koizumi to lead efforts against climate change.
Since these assignments, Suga has appointed Cabinet members to manage key policies. "This is meant to give the impression that the prime minister is not tackling challenges alone but as part of a team," a Suga aide said.
After the declaration of the second coronavirus state of emergency, the approval rate of the Suga Cabinet picked up as infections decreased.
Buoyed with confidence, Suga said to his aides, "If we do things properly, it will be all right."
Approval rate rebounds
When Muneo Suzuki, a Japan Innovation Party House of Councillors member, met Suga on Feb. 24, he noticed a change in the prime minister.
"The intensity in his eyes had returned," he said.
According to Suzuki, Suga's eyes looked drained of energy and his voice was strained when they met a month earlier.
"When I was chief cabinet secretary, my mind was never at rest for 24 hours of the day. As prime minister it's even more extreme," Suga said. For the usually bullish statesman, this was a rare moment of weakness.
Suga was in a chatty mood when Suzuki met him in February. "When the novel coronavirus pandemic eases, the administration will stabilize," Suzuki said, which drew a smile from the prime minister.
However, the reality is that the pandemic is far from over, and difficult problems lie ahead as Tokyo prepares to host the Olympics and Paralympics.
With the terms of office for House of Representatives members expiring in autumn, Suga's political power will be tested going forward.
Add TheJapanNews to your Google News feed.