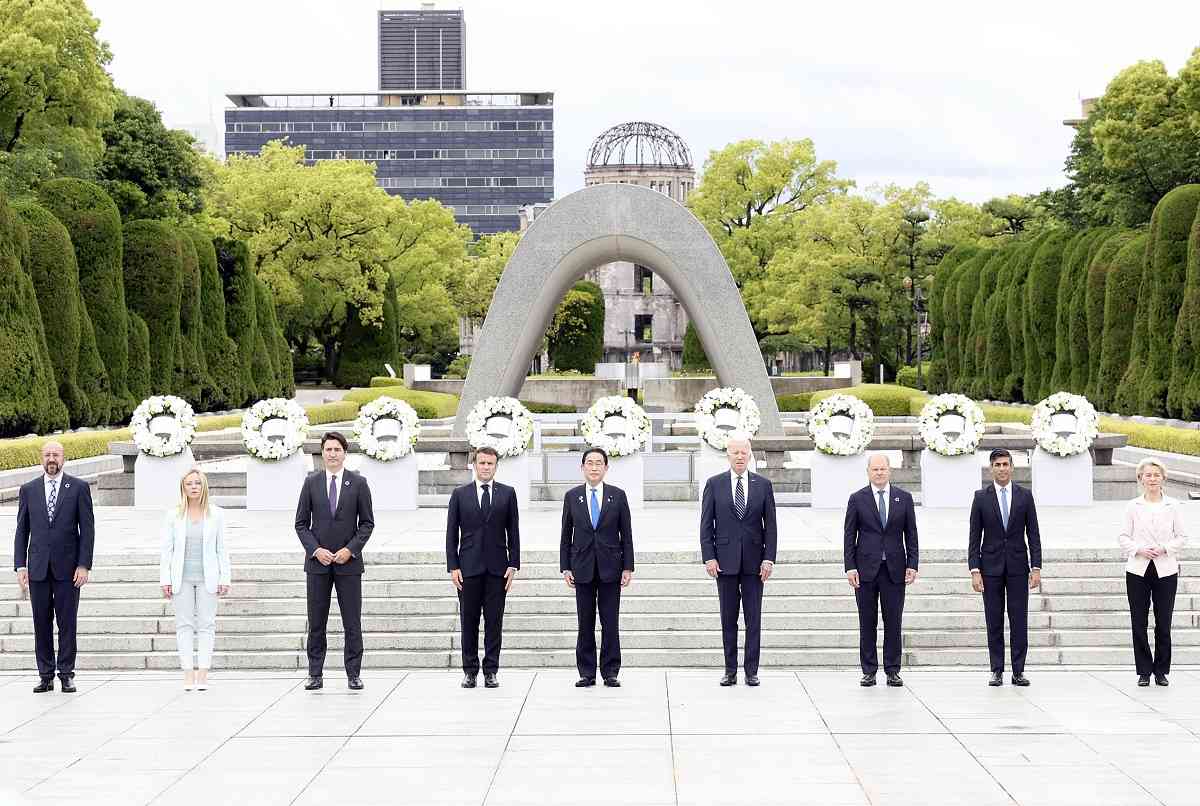 19:52 JST, May 19, 2023
HIROSHIMA — The three-day Group of Seven summit kicked off in Hiroshima on Friday with Prime Minister Fumio Kishida welcoming his G7 counterparts and their spouses at the Peace Memorial Park in the city.
The G7 leaders, including U.S. President Joe Biden, visited the Hiroshima Peace Memorial Museum, where exhibits convey the reality of the 1945 atomic bombing of the city. Escorted by Kishida, who explained the exhibits himself, the leaders stayed for about 40 minutes and spoke with Keiko Ogura, a survivor of the atomic bombing. After laying wreaths at the Cenotaph for the Atomic Bomb Victims together, they listened to Hiroshima Mayor Kazumi Matsui, who explained the epitaph of the cenotaph and the significance of the Atomic Bomb Dome, an iconic structure that remained standing in the area where the atomic bomb exploded. They also planted a cherry tree in the park as a symbol of seeking peace.
On Friday night, the G7 leaders were to discuss nuclear disarmament and nonproliferation and were expected to underscore the importance of efforts toward realizing a world without nuclear weapons from the atomic-bombed city of Hiroshima.
This is the first time that the leaders of the G7 nations, including nuclear powers Britain, France and the United States, have visited the museum, which is located in the park, all together. Biden became the second sitting U.S. president to visit the museum after then President Barack Obama did so in 2016. The G7 leaders' visit to the museum, made possible by Kishida's strong desire, was a symbolic event to open the summit in the A-bombed city.
Such symbolism is aimed at demonstrating the unity of G7 countries in their opposition to the use or threatened use of nuclear weapons by Russia, in light of its invasion of Ukraine.
During the three-day summit, the G7 leaders will be joined by the leaders of eight guest countries, such as Indian Prime Minister Narendra Modi. Ukrainian President Volodymyr Zelenskyy may also attend part of the summit.
Nuclear disarmament and nonproliferation were set to be addressed in a session on diplomacy and security on Friday night. The G7 leaders were expected to exchange views on measures to restore the trend of nuclear disarmament and to improve the transparency of nuclear forces in the session. Ways to deal with the situation in the Indo-Pacific region, measures against China's increasing hegemonic moves, and North Korea's repeated launches of ballistic missiles were to be discussed.
A G7 leaders' communique summarizing the outcomes of the summit will be adopted on Sunday. This is the seventh summit hosted by Japan and the first since the Ise-Shima Summit in 2016.
Add TheJapanNews to your Google News feed.