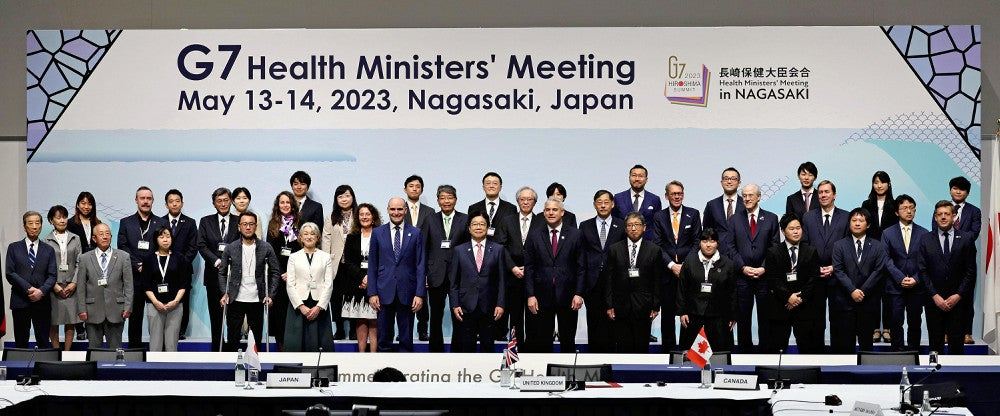 20:00 JST, May 14, 2023
NAGASAKI (Jiji Press) — Health ministers from the Group of Seven major countries said Sunday that they will strengthen cooperation to ensure the rapid supply of vaccines and drugs, based on lessons learned from the COVID-19 pandemic.
The G-7 ministers adopted a joint statement to wrap up their two-day meeting in Nagasaki. It called for an international framework to deal with future public health crises.
"We agreed that each country will work promptly to build a system to improve access to pharmaceutical products," Japan's Katsunobu Kato, who chaired the Nagasaki meeting, told a press conference.
"We will work out details before the upcoming G-7 summit in Hiroshima to lay a foundation for international cooperation," Kato added.
The joint statement noted that there were gaps in the supply of COVID-19 vaccines and drugs between developed and developing countries. It called for helping middle- and low-income countries to ensure the rapid and equitable distribution of pharmaceutical goods.
The statement stressed that sustainable funding is very important for better responses to infectious diseases. It urged all countries including the G-7 members to strengthen fiscal and technical support for the World Health Organization's Pandemic Fund, launched last year.
Meanwhile, the G-7 ministers drew up an eight-point action plan to realize universal health coverage, which means that all people have access to health and medical services, by 2030.
Add TheJapanNews to your Google News feed.