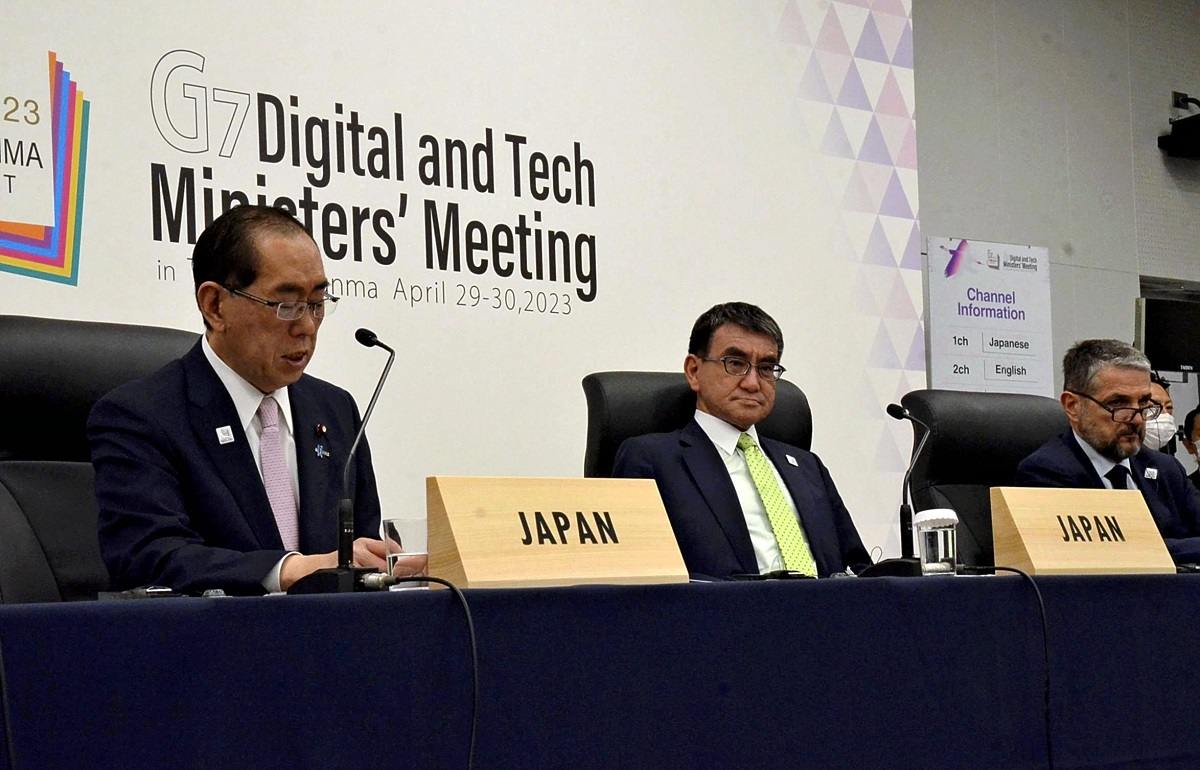 20:00 JST, May 1, 2023
TAKASAKI, Gunma — The Group of Seven Digital and Tech Ministers' Meeting held over the weekend saw intense debates on artificial intelligence, highlighting different views and attitudes toward AI as each nation deals with the rapid spread of ChatGPT.
The digital ministers' meeting was dominated by talks about ChatGPT, a conversational AI chatbot whose use is rapidly spreading around the world. According to a source in attendance, all the ministers at the meeting talked about AI.
"Discussions were very intense," one participant said.
ChatGPT is a generative AI model that presents conversational responses that it creates based on data. Generative AI is different from other conventional AI models, which optimize data they have learned. However, it is not clear what kind of data generative AI uses, or how accurate its output is.
Generative AI may use data in a way that goes against the intentions of the data's creators, possibly leading to copyright infringement and privacy violations.
In a joint declaration adopted at the digital and tech ministers' meeting, the G7 reaffirmed that members will promote such processes as risk assessment of AI and use it with high transparency. The G7 also confirmed again that it would deal with the manipulation of information and disinformation in a concerted manner.
"It's urgent to discuss generative AI, which is developing rapidly," Internal Affairs and Communications Minister Takeaki Matsumoto said at a press conference after the meeting.
Disappeared phrase
However, different views and attitudes toward AI emerged during the meeting.
A phrase calling for assessing and evaluating AI models under common standards was considered during the process of creating the joint declaration. But the phrase was not included in the final version of the declaration. In drafts of the joint declaration and action plans obtained by The Yomiuri Shimbun in mid-April, a policy for the G7 nations to aim at consistent AI rules was mentioned.
Protection of intellectual property and personal information is important, but excessive regulations may slow down technological development. The inclusion of the policy was intended to strike a balance in a situation where some members are rapidly strengthening their regulations on ChatGPT.
However, the sources said Europe, which is imposing tough restrictions in the digital field, strongly resisted including the policy. The European side is believed to have been concerned about possibly not being able to impose its own tough regulations if discussions are pulled back by Japan and the United States, which are cautious about regulations.
The European Union has begun devising unified AI rules. Italy once banned ChatGPT, on the grounds that there were illegalities in collecting personal information. Even in the United States, where there are many companies with leading AI technologies, government bodies such as the Justice Department have started monitoring the development and use of AI.
During the Takasaki meeting, EU sought to position intergovernmental talks on AI rules as a "long-term goal." But it was settled, at the initiative of Japan, to include the term "interoperability" in the declaration.
Unity tested
Compared to the rest of the G7, the Japanese government has not been taking direct steps to regulate AI. The government plans to set up an AI strategic council, whose members will include experts, but the focus of the council's discussions remains unclear.
Overseas ministers at the meeting expressed the urgent sense that AI poses an imminent risk. "Now everyone has AI at their fingertips," said European Commission Executive Vice President Margrethe Vestager.
This sentiment is also shared by the Japanese government. "The situation involving generative AI changes day by day," a government official said. "It's very difficult for policy discussions to catch up with the changes."
Can intergovernmental coordination handle the speed of the era of digitization? The unity of the G7 is being tested.
Reining in China, Russia
Digital and technology ministers of the Group of Seven leading countries said in a joint statement that they "condemn government restrictions on networking," apparently seeking to curb the arbitrary use of digital space by countries such as China and Russia, which have been involved in hegemonic actions.
In China, restrictions have been imposed on website browsing and access to overseas operators' online services. Means such as surveillance cameras around cities and location data from smartphones have also been used to crack down on activists critical of the government.
Russia is waging cognitive warfare in its invasion of Ukraine, trying to gain an advantage by distributing false information through social networking services. The "misuse" of AI technology heightens these concerns.
In their joint statement, the G7 ministers said they will "counter intentional online information manipulation, including disinformation, and interference." The G7 also expressed its intention to compile examples of countermeasures against disinformation, working with online service providers and other parties.
The group indicated that it plans to present the cases at a related U.N.-hosted meeting to be held in Japan in autumn.
Add TheJapanNews to your Google News feed.