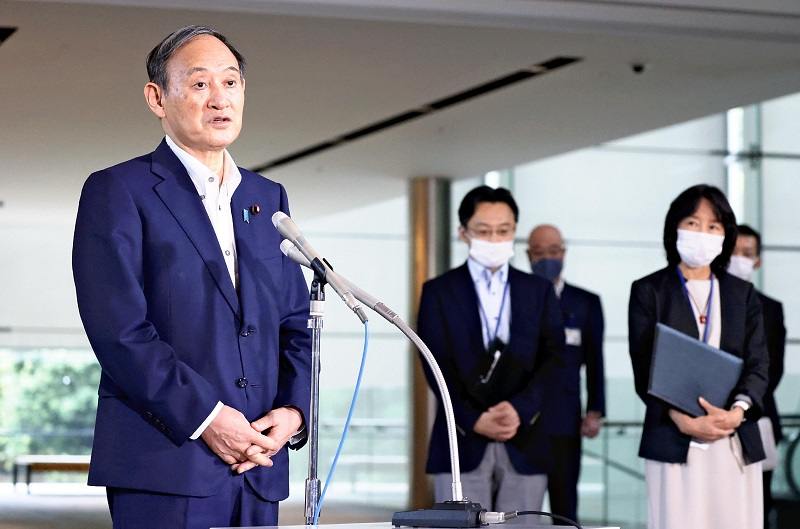 14:20 JST, August 25, 2021
The Liberal Democratic Party is desperately trying to minimize the negative impact of Sunday's Yokohama mayoral election, in which Hachiro Okonogi suffered a stunning defeat despite the strong backing of Prime Minister Yoshihide Suga, who is also LDP president.
In the mayoral election campaign, the LDP failed to win over a significant number of independent voters, to the dismay of junior party members.
One of them said, "We won't fare well in the House of Representatives election under the prime minister's leadership."
Executive members of the LDP want to overcome the situation by holding vibrant debates in a party presidential election to be held in September.
Without party endorsement
Hiroshi Moriyama, chairman of the LDP's Diet Affairs Committee, told reporters in the Diet Building on Monday, "A local election result does not affect national politics."
He presented his view that the result of the Yokohama mayoral election will not affect the management of the administration.
Another senior LDP member also emphasized, "The impact is limited."
Yokohama is Suga's political home turf, and Okonogi is his close aide. Yet Okonogi lost by a wide margin to Takeharu Yamanaka, who was recommended by the Constitutional Democratic Party of Japan. Yamanaka received about 180,000 more votes than Okonogi.
What's more, Yamanaka outpolled Okonogi in 17 of the city's 18 electoral districts, including three that make up the Kanagawa No. 2 Constituency of the lower house. Suga was elected from that constituency.
The LDP allowed its members to freely vote in the mayoral election. Among 36 LDP city assembly members, six supported incumbent Mayor Fumiko Hayashi, who was running for reelection.
Yamanaka's haul of 506,392 votes was decisive, but not a majority. The total number of votes for Okonogi (325,947) and Hayashi (196,926) exceeded Yamanaka's share.
Manabu Sakai, a deputy chief cabinet secretary and chairman of the city federation of LDP branches in Yokohama, analyzed the cause of the loss on Sunday night, saying, "As we could not field a candidate endorsed by the party, we were unable to unify party members."
Face of next election
According to The Yomiuri Shimbun's exit poll, more than 40% of swing voters cast their ballots for Yamanaka. The percentages for Okonogi and Hayashi were lower, at about 10% each.
Even among LDP supporters, fewer than 40% voted for Okonogi.
It is highly likely that the moves of swing voters will affect wins and losses in the next lower house election. An increasing number of junior LDP members are voicing anxiety about Suga serving as the face of the party in the election.
One LDP member said, "If this situation goes unchanged, we may suffer disastrous losses in urban areas in the next lower house election."
Facing such headwinds, LDP executive members are looking for a breakthrough by holding the party's presidential election. Because the election is effectively a race to choose the next prime minister, the public pays keen attention to it.
In the past, the news media have frequently reported speeches in meetings for each candidate in the intraparty race.
One of Suga's aides said, "If [Suga] hammers out a new policy in the presidential election and wins, he can recover his political momentum."
Rival candidates
It is likely that moves to field rival candidates against Suga will be increasingly active.
Fumio Kishida, the former party Policy Research Council chairman who ran in last year's LDP presidential election, heard many voices on Monday — the day after the Yokohama mayoral election — urging him to run in the next party leadership race.
Hakubun Shimomura, the current Policy Research Council chairman and who wants to run in the presidential election, on Monday met with Hiroshige Seko, secretary general of the LDP caucus in the House of Counillors. Both of them belong to the LDP faction led by Hiroyuki Hosoda.
According to sources, Shimomura could not get a promise to support him from Seko.
During the 2008-09 administration of Prime Minister Taro Aso, which ended with the LDP falling to the status of opposition party, many party members openly demanded that Aso step down.
This time, too, there are junior LDP members voicing hope that the prime minister will be replaced. One of them said, "I want anybody else to replace Prime Minister [Suga]." But at the current stage, these voices have not developed into clear moves to oust Suga.
A close Suga aide who has served as a Cabinet member criticized such voices, saying: "Junior members who have not carried out sufficient activities in their constituencies have become panic-stricken ahead of the lower house election. That's all."
Add TheJapanNews to your Google News feed.