16:33 JST, June 8, 2023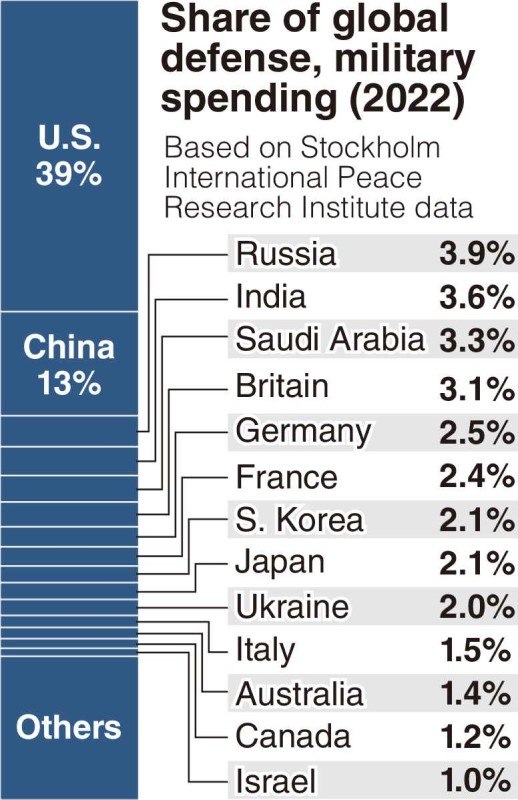 The passage of a bill to fundamentally rebuild and strengthen Japan's defense industry through increased central government support is expected to help some firms in this crucial field stay afloat.
Based on the view that Japan's defense equipment production and technological base are essential parts of the nation's defense capabilities, the bill was passed by a majority vote Wednesday at a plenary meeting of the House of Councillors with support from the Liberal Democratic Party, its ruling coalition partner Komeito, and other parties including the Constitutional Democratic Party of Japan, Nippon Ishin (Japan Innovation Party) and the Democratic Party for the People.
Japan's defense production industry develops and manufactures fighter aircraft, missiles and other equipment for the Self-Defense Forces. It includes companies ranging from "prime" major contractors such as Mitsubishi Heavy Industries, Ltd. to small and midsize subcontractors. According to the 2022 defense white paper, about 1,100 companies are involved in the manufacture of fighter aircraft, about 1,300 in the production of tanks, and about 8,300 in building destroyers. Defense equipment operations account, on average, for only 4% of sales overall at these companies, which has been a factor in many of them scaling back such operations or pulling out of the business.
The manufacture and regular maintenance of the US-2, an amphibious aircraft used by the Maritime Self-Defense Force for search and rescue operations, continues at a plant belonging to aircraft maker ShinMaywa Industries, Ltd.
The US-2 has world-class performance features and combines the functions of an aircraft and a ship.
Katsuo Tanaka, head of ShinMaywa's aircraft division, welcomed the passage of the bill, which crystalized government assistance for the defense industry. "This industry is crucial for Japan's security, but it's undeniable that things has until now largely been left up to the private sector," Tanaka said.
Like many other defense-related companies, Takarazuka, Hyogo Prefecture-based ShinMaywa has struggled for many years with a low profit ratio and has been hesitant to invest in equipment and plants.
Tanaka believes that introducing cutting-edge technologies to the manufacturing process would make it possible to lower production costs and improve product quality. The new law includes central government support for greater efficiency in the manufacturing process. ShinMaywa will consider tapping this assistance.
With China in mind, the new law also says the state will provide direct financial support to companies working to make supply chains more resilient. It will also support those that are boosting their cybersecurity defenses. The law also establishes a system under which the central government will temporarily acquire the facilities and equipment of companies that are struggling to keep their doors open.
Fears of firms pulling out
Some observers have pointed out that it is commonplace for companies in the defense production industry, in addition to being plagued by low profit margins, to retain employees and facilities but receive orders only every few years. Since 2003, more than 100 companies have withdrawn from this industry. Enacting the new law reflected a sense of urgency about the situation.
Another concern is that if domestic procurement of defense equipment were to become impossible, there would be major ramifications for the security of Japan, which is an island nation. Russia's invasion of Ukraine has underlined the importance of possessing the ability to continue combat operations.
Kiyofumi Iwata, a former chief of staff of the Ground Self-Defense Force, welcomed the new law.
"Our national security could crack if a company that is the sole possessor of a certain technology leaves the industry," Iwata said. "Our technologies, our factory workers and our production lines are national treasures. It's a breakthrough that the central government will ultimately look after these companies."
The decline in Japan's defense equipment production is partly the result of the fact that recipients of this gear are restricted to the Defense Ministry and the SDF. Transformation into a "growth industry" would require actively pushing ahead with efforts to export defense equipment.
The new law sets provisions for paying subsidies to companies that change the specifications of components to meet the needs of nations willing to import Japanese defense gear. A fund for this will be established, with about ¥40 billion set aside in this fiscal year's budget. A total of ¥200 billion likely will be poured into the fund over five years.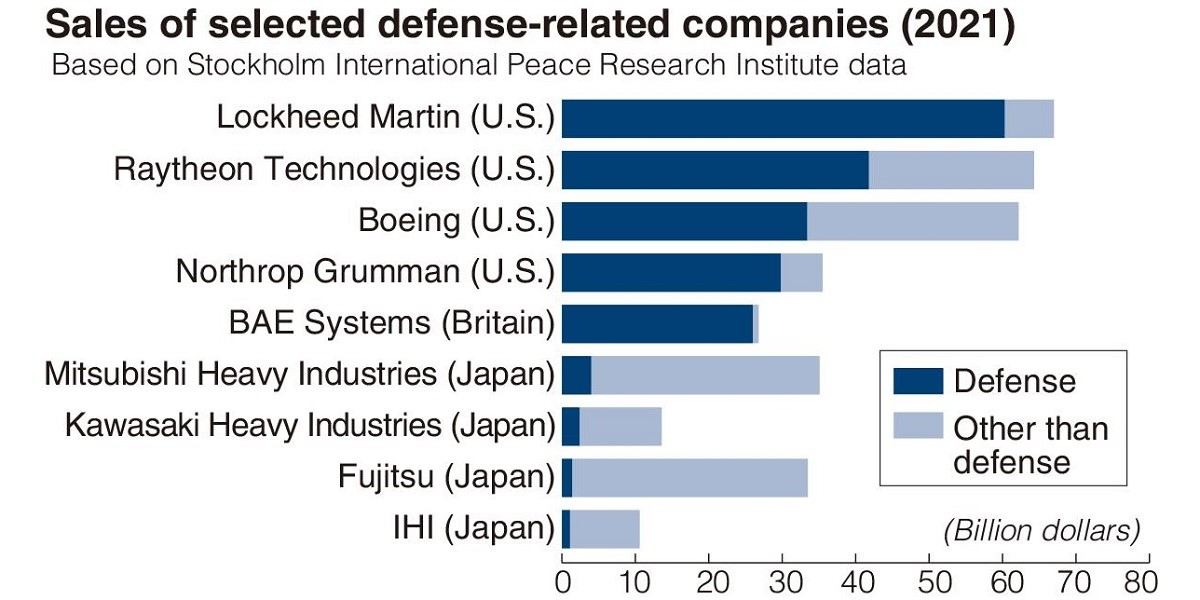 Add TheJapanNews to your Google News feed.