Colorado Judge Weighs If Trump Incited an Insurrection, Can Run Again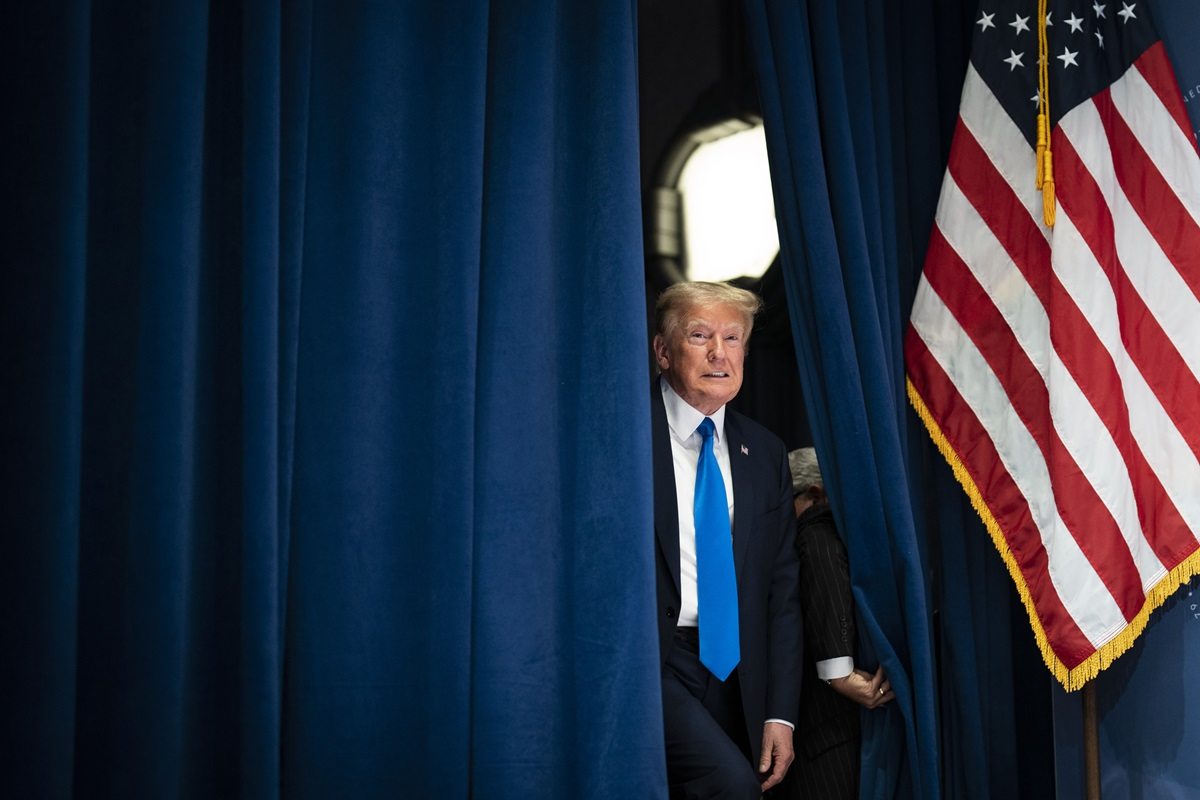 17:42 JST, November 3, 2023
DENVER – A Colorado judge is weighing whether Donald Trump incited an insurrection and is barred from running for president again. During a hearing this week, she has heard about 19th-century constitutional debates, how and when the National Guard is deployed, free speech rights and jokes cracked by Trump advisers about the Jan. 6, 2021, attack on the U.S. Capitol.
The case, one of many challenging Trump's ability to serve under an 1868 provision of the Constitution, stands out because the judge overseeing it is holding an unusual week-long trial to help make up her mind. She has heard from constitutional scholars, police officers who were assaulted on Jan. 6, members of Congress and Trump advisers who met with the outgoing president days before the riot.
The hearing is expected to conclude Friday, and Denver District Judge Sarah B. Wallace is expected to rule this month, as cases in other states move along briskly. On Monday, Trump filed a lawsuit in Michigan after a judge declined to let him intervene in a case seeking to prevent him from appearing on the ballot there. On Wednesday, a federal judge threw out a challenge in New Hampshire. And on Thursday, the Minnesota Supreme Court heard arguments over his ability to run there.
All of the cases center on Section 3 of the 14th Amendment, which bans people from holding office if they engaged in an insurrection after swearing an oath to the Constitution. It was ratified three years after the Civil War ended to prevent Confederates from holding office.
The lawsuits argue that Trump incited armed supporters to attack the Capitol to prevent Congress from certifying Joe Biden's victory. Trump's attorneys contended he did not inspire or participate in an insurrection, and they summoned his former advisers to the stand to testify Trump wanted 10,000 or more National Guard members in Washington on Jan. 6 to guarantee the protest was peaceful.
Kash Patel, who served as chief of staff to acting defense secretary Christopher C. Miller, testified Wednesday that Trump authorized 10,000 to 20,000 National Guard members to assist law enforcement days before the Jan. 6 attack. About 340 were deployed that day to assist with traffic control and other minor tasks, but more weren't sent because local authorities did not ask for further assistance, Patel testified.
"Absent those requests, we were under the advisement of our legal office's counsels that we could not activate the National Guard," Patel said.
His comments were at odds with testimony a day earlier from Syracuse University law professor William Banks, an expert on national security and counterterrorism. Banks testified that Trump as president had broad powers to send the D.C. National Guard, FBI, Secret Service, Department of Homeland Security and other law enforcement agencies to the Capitol to help quell the violence without authorization from anyone else.
"He would need no request or permission from anyone else," Banks said of Trump's ability to send the D.C. National Guard.
Banks said there was nothing in the public record showing Trump had authorized thousands of National Guard troops. He noted the president commands the D.C. National Guard and said he should have deployed troops by early afternoon, as soon as he learned of the violence at the Capitol. Trump did not act for hours.
Former Trump spokeswoman Katrina Pierson said she was brought in to help with the Jan. 6 rally a few days beforehand because of infighting among the organizers. She said Trump told her at a Jan. 4 meeting that he wanted 10,000 National Guard members present to prevent problems.
"He goes, 'Let's just have 10,000 National Guard and then that way we won't have any problems,'" she testified.
On cross-examination, lawyer Eric Olson displayed a copy of text messages between Pierson and Max L. Miller, who was a Trump aide at the time and was elected to Congress last year. In one message after the Trump meeting, Miller told Pierson that he was "just glad we killed the National Guard and a procession." Pierson reacted to the comment with a heart emoji.
In another message, Pierson made light of the attack on the Capitol less than 24 hours after it happened by sending Miller a photo of a rioter hauling the lectern for then-House Speaker Nancy Pelosi (D-Calif.) through a hallway. "You have to admit that seeing Nancy Pelosi's lectern being carried away by [a] Trump supporter is pretty damn funny," she wrote.
Asked on the stand about the message Wednesday, Pierson said, "Yes, it was hysterical."
Amy Kremer, chairwoman of Women for America First and one of the organizers of the Jan. 6 rally on the Ellipse, testified Thursday that the crowd that had gathered to hear the president was peaceful and upbeat. She called them patriotic, freedom-loving Americans.
"It was just a happy, joyful occasion, and you could see it on people's faces," she testified.
Later, lawyers for those bringing the lawsuit showed a video of Trump urging his supporters to march to the Capitol and some in the crowd soon after yelling, "Invade the Capitol!" Kremer said she had never seen the video before and said those who attacked the Capitol were not patriotic.
Those bringing the lawsuit have dedicated part of the week to arguing that Jan. 6 qualified as an insurrection. Gerard Magliocca, an Indiana University law professor who has studied the 14th Amendment, cited an 1828 dictionary to show that insurrection was defined at the time as "rising against civil or political authority" and "the open and active opposition of a number of persons to the execution of law in a city or state."
Members of Congress in the 1860s believed that a person did not have to take up arms to participate in an insurrection and that speech alone could qualify one as an insurrectionist, he said. Magliocca noted that Congress declined to seat one member because he had written a letter to the editor in support of the Confederacy and another because he had given $100 to his son before he joined the Confederacy.
Trump's attorneys called Rep. Ken Buck (R-Colo.) to the stand Thursday as they sought to show the House's report on the Capitol attack was incomplete. Buck testified that the committee overseeing the investigation did not include all perspectives and didn't explore some aspects of the decision not to deploy more National Guard members. In disparaging the attack on the Capitol, Buck also provided testimony that could prove helpful to those bringing the lawsuit.
"I thought what happened on January 6th was obviously bad," Buck testified. "It was a riot in the Capitol building. It was meant to disturb a proceeding."
Buck's description of what happened on Jan. 6 resembles the definition of "insurrection" that Magliocca said was used at the time the 14th Amendment was adopted.
Buck took the stand a day after announcing he would not seek reelection in a video that said "too many Republican leaders are lying to America." Trump welcomed his departure, calling him "weak and ineffective" even though he is using his testimony to try to get on the ballot in Colorado.
In an interview, Buck said he was testifying to keep Trump on the ballot because "I'm a Constitution guy."
Peter Simi, an associate professor of sociology at Chapman University who has studied political extremism, testified that Trump's far-right supporters viewed Trump's Jan. 6 speech as a call to violence because he repeatedly said they needed to "fight" and were at risk of losing their country.
During that speech, Trump also said they should "peacefully and patriotically" protest. Simi said extremists put little stock in that comment, in part because Trump put far more attention on fighting than acting peacefully.
"In far-right extremist culture, 'fighting' is to be taken literally," he said.
Trump attorney Scott Gessler downplayed the use of the word "fight," noting that the phrase is commonly used by politicians. He played a montage of Pelosi, Vice President Harris and other high-profile Democrats telling their supporters to fight.
On Thursday, the Minnesota Supreme Court heard arguments in a similar case. Justices asked pointed questions about whether states should be wading into this debate or if this was a question best left for Congress. Throughout the hearing, which lasted about 90 minutes, they noted the 14th Amendment's clause on insurrection does not specifically state whether it applies to the presidency, and they debated what constituted involvement in a rebellion against the Constitution.
Chief Justice Natalie E. Hudson said she was concerned about the prospect of creating "just chaos" if the question is decided differently by various states.
"You have the potentiality of 50 different states, depending on the nature of the statutes in those states, deciding this question differently, deciding whether states have the right to determine who's eligible for national office – and that concerns me," she said.
Ron Fein, an attorney for the voters who brought the lawsuit with the help of the group Free Speech for People, said it was the duty of the court to answer the eligibility question. Nicholas Nelson, a lawyer for Trump, said the question was political, not judicial.
In another case, a federal judge on Wednesday threw out a challenge to Trump's candidacy in New Hampshire brought by John Anthony Castro, a self-described long-shot Republican candidate for president who is bringing a slew of lawsuits trying to bounce Trump from the ballot state by state.
Judge Joseph N. Laplante dismissed the New Hampshire case, writing that Castro didn't have the authority to bring the lawsuit because he wasn't actively campaigning for president and "has not provided any evidence suggesting that he has voters or contributors in New Hampshire or anywhere else." What's more, the judge ruled that Congress and presidential electors – not courts – are the ones to determine whether candidates are eligible to serve as president.
The cases across the country are moving relatively quickly because states will begin holding caucuses and primaries in January. If any state knocks Trump off the ballot, the U.S. Supreme Court is expected to weigh in and resolve the issue for all states.
Add TheJapanNews to your Google News feed.