Bertie Bowman, Revered Aide Who Got Start Sweeping Capitol Steps, Dies at 92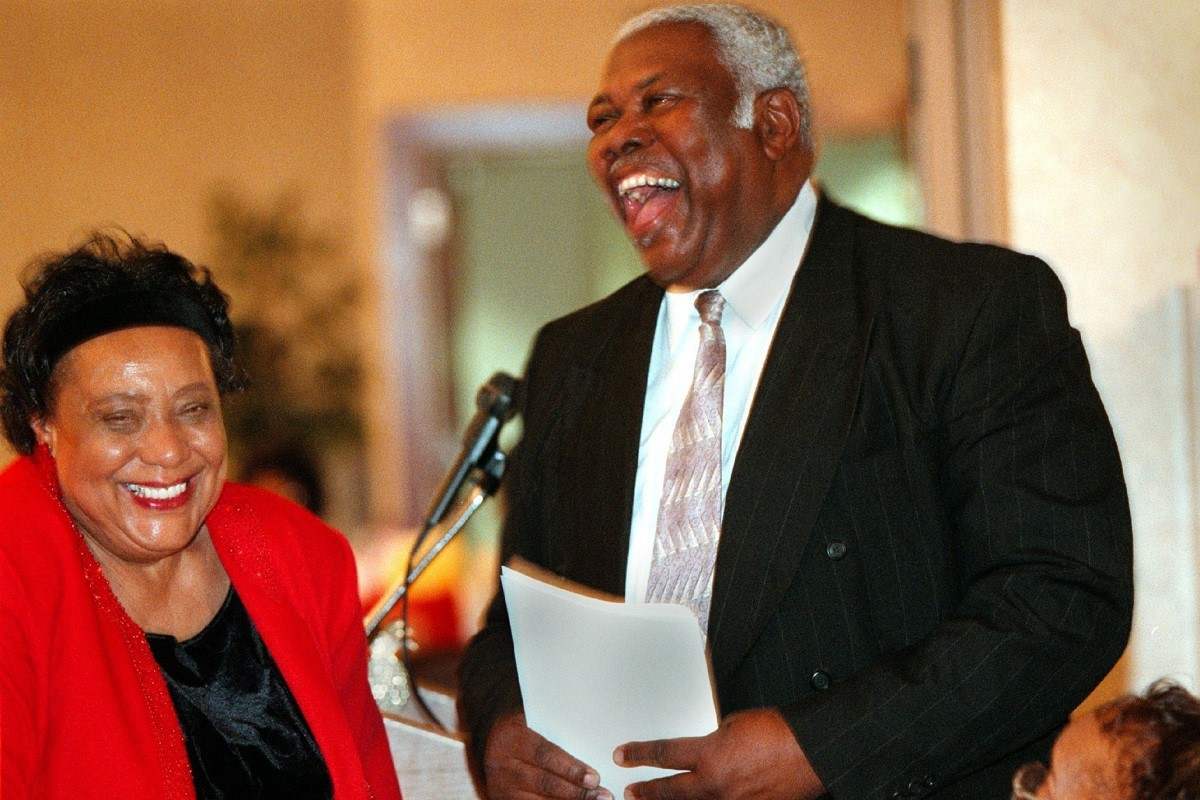 12:04 JST, October 26, 2023
Bertie Bowman, the son of South Carolina sharecroppers who arrived at the U.S. Capitol in 1944 as a 13-year-old runaway, got a $2-a-week job sweeping the building's steps, and then became the longest-serving African American congressional aide in history, died Oct. 25 at a rehabilitation facility in North Bethesda, Md. He was 92.
The cause was complications from recent heart surgeries, his stepdaughter LaUanah King-Cassell said.
During an extraordinary, unsung life in Washington, Bowman was Bill Clinton's mentor when the future president was a congressional clerk. He was friends with Sens. Strom Thurmond and Jesse Helms, who opposed civil rights measures. And he worked until he was 90, coordinating sensitive hearings for the Senate Foreign Relations Committee.
"Folks like Bertie don't make the newspapers, and the American people usually will never know their names, but they work hard every day to get done all the things the people in the papers get credit for," Clinton wrote in the foreword of Bowman's memoir. "He epitomizes the kind of citizen that makes this country great."
In a statement after Bowman's death, Clinton called him "exactly the kind of person you want to take you under his wing: smart, bighearted, dedicated, and generous with his time and knowledge."
Bowman grew up with 12 siblings in a house without indoor plumbing. The children plowed the fields barefoot and wore shoes only in winter. "Escaping, or 'going up the road' as the locals put it, was a very common dream among blacks," Bowman wrote in "Step by Step: A Memoir of Hope, Friendship, Perseverance, and Living the American Dream," published in 2008.
In the fall of 1944, an opportunity presented itself at the local store, where young Bertie arrived with two chickens stuffed in his pants-legs to barter for groceries. South Carolina Sen. Burnet R. Maybank was there campaigning for reelection. "If you ever get up to Washington, D.C.," he told the crowd, "drop by and see me."
Bertie approached Maybank as he got into his chauffeured limousine.
"If I come to Washington, can I come by and see you, too?" he asked.
"Certainly, my boy," the senator replied.
Not long after, Bertie packed his clothes in an empty flour sack and snuck off to board a train for Washington. After arriving at Union Station, he headed for Maybank's office.
"As I stood on the Capitol steps, they seemed to stretch endlessly, as far as I could see, to infinity," he later wrote. "I took them one by one in wonder, leading up to the door, then turned around and looked at the view. The sight was wondrous, impressive with its lush greenery and monuments. I straightened my pants and shirt, and walked inside."
He found Maybank in his office. The senator hired him to sweep the Capitol steps, paying him out of his own pocket. Bertie slept on benches at night until he was able to afford his own accommodations. After five years of sweeping the steps, Maybank got him a job inside the Capitol at a coffee shop.
One position led to another, then another, until Bowman landed a clerical post at the Senate Foreign Relations Committee in 1966. A year later, Clinton showed up for work.
"They would talk all the time and sing duets together in the back room while they were working," Washington Post reporter David Maraniss wrote in his 1995 book "First In His Class: A Biography Of Bill Clinton." "Sometimes they would be walking down the hall together, running errands, singing 'Blue Suede Shoes' or 'Return to Sender' in harmony."
Their relationship, Maraniss wrote, transcended age and race.
"He would say, 'Come on, go here with me,' and I'd say I had to check with my wife, and he'd say she can come, too," Bowman recalled in the Clinton biography. "Sometimes white folks invite you only to certain things, other things they don't think of you. Bill would introduce me to whites as an equal, not as 'Bertie' and 'Mister.' "
His relationships with Thurmond and other pro-segregation lawmakers were perplexing. NPR host Steve Inskeep once asked Bowman if it felt strange to think of them as friends – especially Thurmond, who gave forceful speeches in favor of segregation.
"Now, I'd be telling you a lie if I said some things he said didn't hurt me, if that's what you want to hear," Bowman answered. "He said it. But then again, I said, 'Well, he'd done so much – the good outweighed the bad, the way I look at it."
The good included Thurmond's help when Howard University gave him a bureaucratic runaround about enrolling at the school. Thurmond called an administrator at Howard. Bowman heard the senator say, "Don't you know that most of your money comes from the federal government?"
Bowman was accepted.
Bertie Herbert Bowman was born April 12, 1931, in Summerton, S.C., to sharecroppers. His mother died when he was very young, and his father soon remarried.
"Chores were divided by gender," Bowman wrote in his memoir. "In the early mornings, it was the boys' responsibility to start a fire and keep it going. The girls were not allowed to make fires, but they were permitted to cook and bake."
They were poor, "but we kids did not know how poor we were," Bowman wrote. "At mealtime we lined up and got our food, then ate it either on the porch in the winter or out in the yard during the summer when the house was too hot."
The children went all winter without taking baths. They told time by the sun's position. Yellow school buses filled with White children passed them as they walked three miles to school.
"Church was where we could sing and laugh," he wrote. "Church was one of the only places where the signs of Jim Crow in public places, FOR COLORED and FOR WHITES, were not present and did not matter. Church was the place where kids could look nice – hair combed, faces washed, and clothes neat."
Bowman studied business at Howard University for two years but didn't graduate.
Looking back on his decision to run away, Bowman realized it wasn't an impulsive act.
"Even before coming in contact with the chauffeurs or Senator Maybank," he wrote in his memoir, "I dreamed of leaving the farm someday. For as long as I can remember, the escape plan was there, big as life, in the back of my mind. I always kept it closely guarded. I wanted to seize control of my life before anything other than me shaped it."
Bowman was married to and later divorced from a woman "who will remain nameless," he wrote in his memoir.
His second wife, Elaine King-Bowman, died in 2009. In addition to his stepdaughter, survivors include four children: Charlene Bowman Smart, Gregory Bowman, Wilbert Bowman and Bertie P. Bowman; two brothers; and a sister.
In 2019, the United States Senate Federal Credit Union, for which Bowman served as chairman, named their new headquarters building after him.
"CBS This Morning" used the occasion to profile him, interviewing senators he worked alongside.
"He made senators look good," former Nebraska Sen. Chuck Hagel said. "He reminds us of something very important that we've lost – civility."
Add TheJapanNews to your Google News feed.