Despite All Her Years Away, Feinstein Never Really Left San Francisco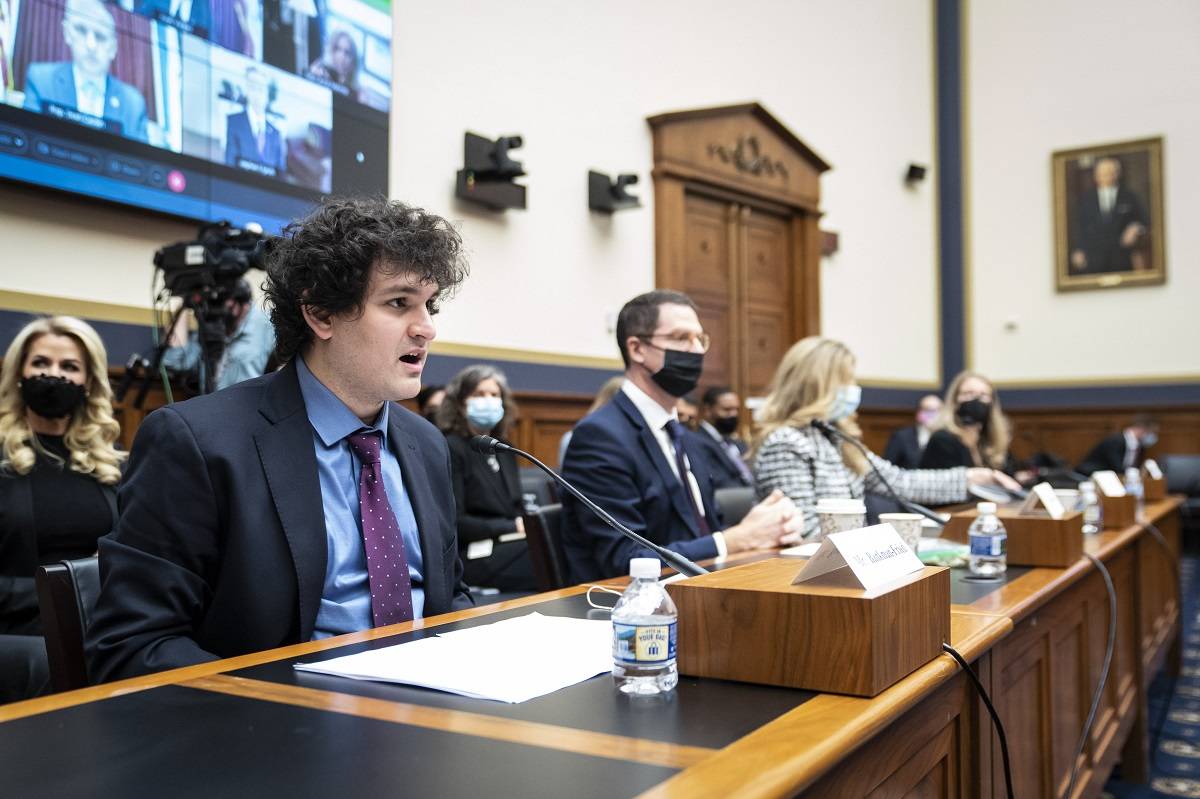 12:03 JST, October 2, 2023
Throughout every stage of Sam Bankman-Fried's swift descent from cryptocurrency darling to criminal defendant, there's been one constant: He can't stop talking.
The FTX founder sat for multiple interviews with journalists and crypto influencers, and started a Substack newsletter after being extradited from the Bahamas in December. "I didn't steal funds, and I certainly didn't stash billions away," he wrote in January. He was so loquacious that the judge overseeing his upcoming fraud trial revoked bail, forcing him from his parents' home in Stanford, Calif., and into a federal detention center in Brooklyn. Bankman-Fried had shared the personal diaries of his former romantic and business partner, Caroline Ellison, with the New York Times – a move prosecutors characterized as an attempt at witness intimidation.
Lawyers generally advise their clients to stay quiet before a trial. Elizabeth Holmes and Bernie Madoff, for example, were not doing press tours ahead of their equally high-profile prosecutions – and they were still found guilty. Bankman-Fried's approach, legal experts say, would be risky if it extends into the courtroom.
"The way he's comporting himself is nothing short of scandalous and shocking," said Yesha Yadav, a law professor at Vanderbilt University who closely follows cryptocurrency and financial markets. "What you need in a criminal trial," she added, "is extreme discipline."
Bankman-Fried, 31, is accused of bilking customers and investors out of billions of dollars in the November 2022 collapse of FTX, the cryptocurrency exchange he founded. He pleaded not guilty to two counts of wire fraud, two counts of conspiracy to commit wire fraud, one count of conspiracy to commit securities fraud, one count of conspiracy to commit commodities fraud and one count of conspiracy to commit money laundering, in U.S. District Court in New York City. His trial begins Tuesday and could run six weeks.
Given the scale of the alleged losses, Bankman-Fried could be facing decades in prison, says Neama Rahmani, a Los Angeles-based trial lawyer and former federal prosecutor. He also faces civil charges from the Securities and Exchange Commission and the Commodities and Futures Trading Commission.
Four members of his inner circle have pleaded guilty to fraud and other criminal charges: Ellison, former co-CEO of Alameda Research, an FTX-affiliated hedge fund; Gary Wang, former chief technology officer of FTX; Nishad Singh, former director of engineering at FTX; and Ryan Salame, former co-CEO of FTX's Bahamian subsidiary. Ellison, Wang and Singh are expected to testify for the prosecution, cooperation that Rahmani said will lead to lighter sentences.
A lawyer and spokesman for Bankman-Fried didn't respond to requests for comment. Lawyers for Ellison and Wang declined to comment. Lawyers for Singh and Salame didn't respond to requests for comment.
Legal experts note that this trial is not just about the fate of one young man. The reputation of the nascent crypto industry is riding on it as well. The wider digital-currency world, Yadav notes, "is really trying to get past this and not have FTX be emblematic of the industry as a whole."
From wunderkind to criminal defendant
Bankman-Fried, the son of two prominent law school professors, grew up in a wealthy, leafy neighborhood for Stanford University faculty and their families. He and his brother Gabe were raised as utilitarians, an upbringing that primed him toward effective altruism, and he studied physics and mathematics at the Massachusetts Institute of Technology in the 2010s. Effective altruists believe in using rationality to do the most good in the world, and many pursue lucrative careers so they can generously support charitable causes.
This belief system was, in part, how Bankman-Fried landed in the world of finance; in 2014, he joined the Wall Street investment firm Jane Street Capital, where he'd later meet Ellison.
"I was kind of scared of him," Ellison told the New York Times of her initial impression of Bankman-Fried. "You could tell he was quite smart and sort of intimidating."
Still, the pair had a lot in common: She, too, was the child of accomplished academics, a math whiz and an effective altruist. In 2017, Bankman-Fried quit Jane Street, moved to the San Francisco Bay Area and formed Alameda Research. Ellison joined him two years later and eventually became one of the hedge fund's top leaders with co-CEO Sam Trabucco.
Bankman-Fried and Ellison have been romantically linked off and on. According to her diaries leaked to the Times, their dynamic often weighed on her; when he was around, Ellison wrote, she had "an instinct to shrink and become smaller and quieter and defer to others."
In a December 2022 court hearing, Ellison was contrite, saying: "I'm truly sorry for what I did. I knew it was wrong."
Bankman-Fried launched FTX in 2019, positioning the cryptocurrency exchange as an easy-to-navigate way for consumers to invest in digital assets. The Bahamas-based company received hefty backing from well-known investment firms such as Sequoia Capital, SoftBank and others; it was valued at $32 billion in early 2022 before it imploded in November. Bankman's net worth, once estimated by Bloomberg to be as high as $26 billion, is now near zero.
For many Americans, FTX became the mainstream face of crypto: Celebrities such as NFL star Tom Brady, supermodel Gisele Bündchen and comedian Larry David shilled for the exchange in Super Bowl commercials. The company purchased the naming rights to the Miami Heat's arena, which it has since relinquished. Larger-than-life ads with Bankman-Fried's trademark curly mop once adorned downtown San Francisco and Washington's Union Station. In August 2022, he appeared on the cover of Fortune magazine, as did Holmes before her fall from grace.
FTX's demise came as high inflation and rising interest rates were making investors more cautious. Trading volumes and valuations plummeted, with bitcoin and ethereum shedding more than 60 percent since their 2021 peaks.
Meanwhile, FTX's former rivals are facing their own struggles. The SEC has accused crypto exchange Binance and its CEO Changpeng Zhao with multiple securities law violations. The regulator also has charged Coinbase with operating as an unregistered securities exchange, broker and clearing agency. SEC Chairman Gary Gensler told a Senate panel last month that he's "never seen a field that's so rife with misconduct."
In stark contrast to some of his competitors, Bankman-Fried had sought to legitimize the cryptocurrency industry – and encourage a new wave of institutional investment – by asking Washington for regulation. He advanced his lobbying effort by coordinating more than $100 million in political contributions to members of both parties, prosecutors allege. Donations to Republican politicians were mostly made through Salame, the co-CEO of FTX's Bahama affiliate.
Prosecutors allege those donations were made fraudulently, with customer funds deposited on the exchange, and that Bankman-Fried, Salame and Singh violated campaign finance laws by engaging in a straw-donor scheme to obscure the source of the funds. Prosecutors claim that Bankman-Fried "leveraged this influence, in turn, to lobby Congress and regulatory agencies to support legislation and regulation he believed would make it easier for FTX to continue to accept customer deposits and grow, which would, in turn, allow the misappropriation scheme to continue."
John J. Ray III, who oversaw the restructuring of Enron in the early 2000s, is now the CEO of FTX and focused on recovering assets to repay creditors. As of late June, Ray has been able to secure $7 billion of the $8.7 billion owed to customers and investors. As part of the bankruptcy process, FTX Trading has sued multiple former employees and business partners of the exchange, including Bankman-Fried and his parents, to try to recoup millions of dollars believed to be part of the alleged fraud. One suit alleges that Joseph Bankman and Barbara Fried "siphoned millions of dollars out of the FTX Group for their own personal benefit and their chosen pet causes."
In a joint statement, Sean Hecker, counsel for Bankman, and Michael Tremonte, counsel for Fried, said the those claims were "completely false."
The road from arrest to trial
In the spring, Stanford students were a bit obsessed with the fact that a once-ascendant crypto billionaire was being detained on campus. Holed up at his parents' home, Bankman-Fried had it pretty good: His parents got him a German shepherd named Sandor and, according to the Times, they were installing a pickleball court for their son in the yard.
That was until mid-August, when Judge Lewis A. Kaplan revoked his $250 million bail. Bankman-Fried is now being housed at the Metropolitan Detention Center in Brooklyn, where, according to court filings and news reports, he's been subsisting on peanut butter, bread and water; his reserves of prescribed medications for depression and ADHD are dwindling; and he has limited internet access to prepare for his trial. His lawyers asked that he be released before trial, but the government declined, as did an appeals court. A spokesman for U.S. Attorney Damian Williams did not respond to a request for comment.
Even in jail, Bankman-Fried is still finding a way to defend himself. Last month, the Times reported on 15,000 words of unsent tweets he had shared with crypto influencer Tiffany Fong while he was under house arrest. In them, he blames others for FTX and Alameda's implosions, alleging Ellison "avoided talking about risk management – dodging my suggestions – until it was too late."
If Bankman-Fried's post-arrest behavior is a preview of how he'll approach his trial, legal experts are skeptical it will go his way.
"We're seeing a lot more of these very smart, successful and sophisticated defendants taking the stand in high-profile cases and testifying in their own defense," Rahmani says, noting that he can "easily see" Bankman-Fried taking the witness box. "When they testify, the case comes down entirely to the defendant's testimony. . . . It better be very, very good."
Beyond what he might say, how he says it will be important. Christopher Slobogin, a Vanderbilt University law professor specializing in criminal justice, says Bankman-Fried must contend with his own hubris, a quality that rarely sits well with a jury. "He seems to have defrauded a lot of people – big businesses and everyday people – and that can get a jury pretty exercised," Slobogin said.
Add TheJapanNews to your Google News feed.