Villagers Survived Morocco's Earthquake but Lost Nearly Everything Else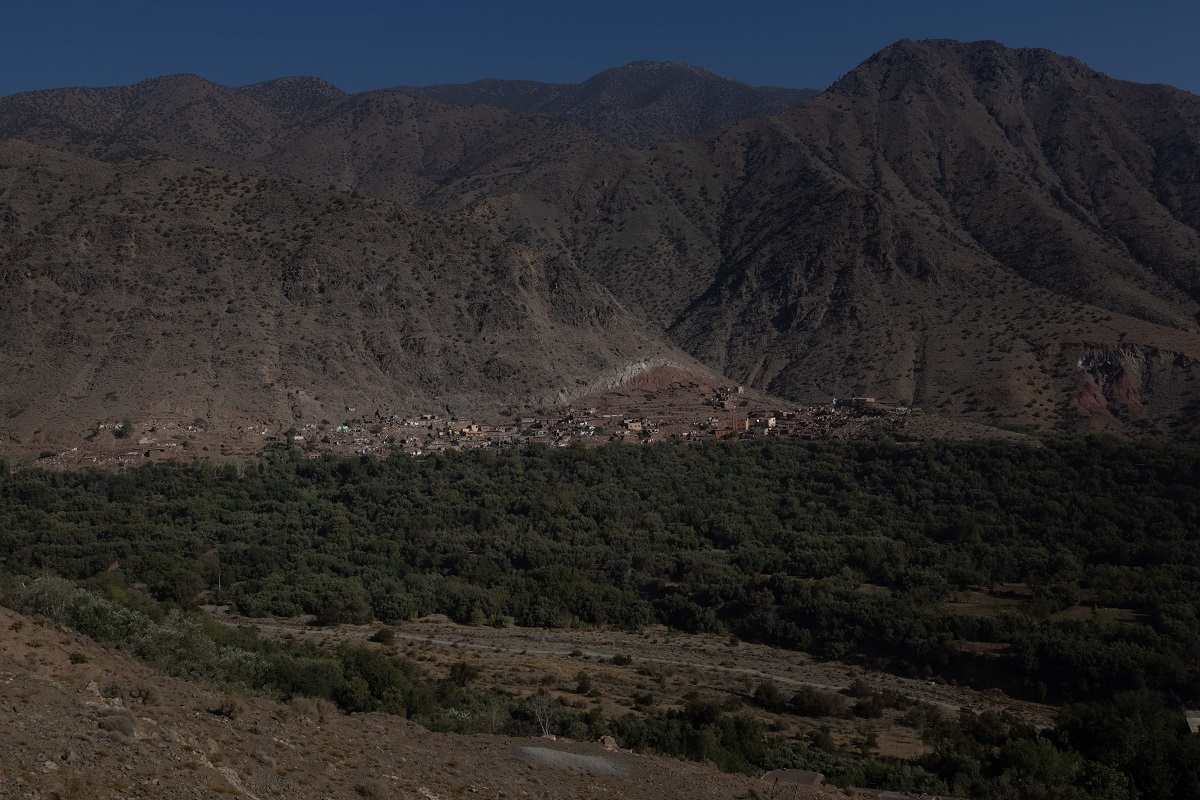 13:48 JST, September 18, 2023
TINISKT, Morocco – By all accounts, life in this village in Morocco's Atlas Mountains was simple and good, even if it was rarely easy.
Families had lived for generations in the small cluster of houses surrounded by olive and nut trees, which generated a third of the village's income. Money from sons and daughters who grew up and moved to cities provided the rest.
Time was measured by the cycle of harvests and weekly markets, by births, marriages and deaths. During the Muslim holiday of Eid al-Adha, kids would swim in a concrete pool filled with water piped in from a mountain spring.
"Kanat zwiiiiiina," a chorus of teenage girls said on Wednesday, remembering the village. It was beautiful.
When a 6.8-magnitude earthquake shook the region on Sept. 8, Tiniskt was decimated in a matter of seconds.
More than 50 of its 330 residents died – there was no time to wash and bury them properly. Everyone knew each of the dead.
But the survivors have each other. They have spent the past week in blue government-provided tents. On a recent morning, women ladled out milk porridge from communal pots for breakfast. Men parceled out equal portions of donated goods for each family. Boys played soccer in the dirt. Toddlers nestled into adults' laps – it didn't matter whose.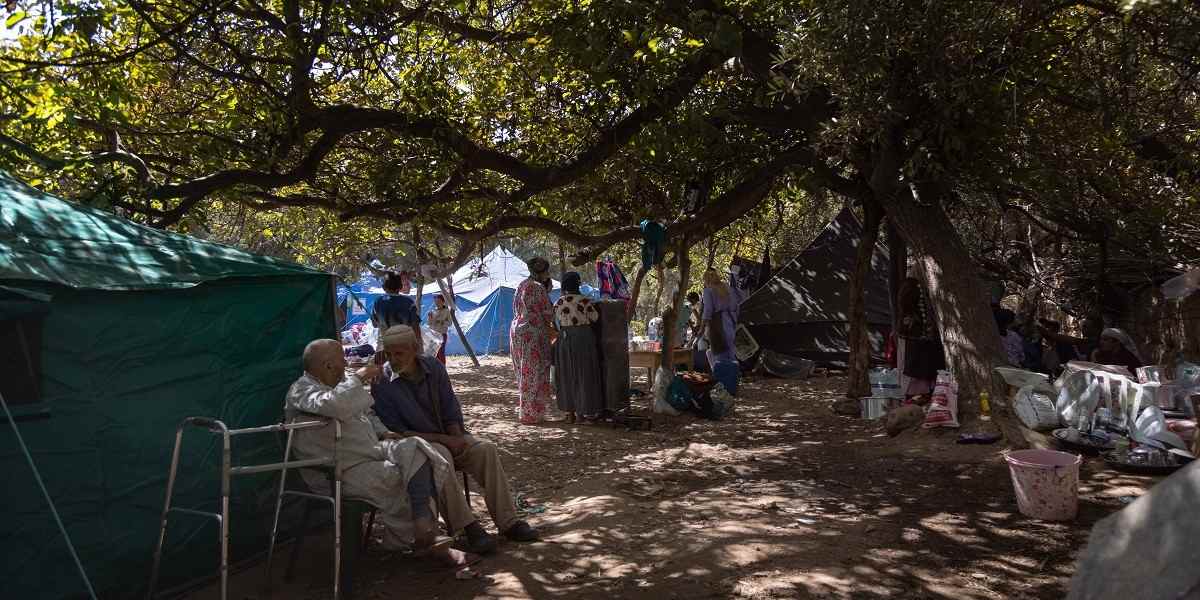 Zahra Ait Tagadirt, 30
Zahra Ait Tagadirt arrived in the village five years ago, to be married to a man twice her age. At first, she was lonely, she said. But when she gave birth to Farah a year later, she had a constant companion, and made some friends.
Baby Youssef arrived 2 1/2 years later. The children were "so beautiful and sweet, and everyone in the village loved them," she said, looking down at her hands, stained with the henna her daughter had helped paint them with.
Farah, 4, loved to ride the bicycle gifted to her by an older half sister. Youssef, not yet 2, liked to play in the mud.
Sept. 8 was a Friday like any other, Zahra said. The family rose early, and the children accompanied their father to collect grass from their field, which they would dry for the winter to feed the animals.
While her husband went to the mosque for Friday prayer, Zahra made couscous for lunch. She bathed Farah and sent her to school to learn the Quran. In the evening, she put the kids to bed, earlier than usual. She got up to go to the toilet and, when she came out, the earthquake began.
Two floors collapsed to the ground. Zahra passed out. When she regained consciousness, she heard her husband calling to her. Neighbors dug him out alive. But the kids were gone.
"If I have a chance to go, I would leave," Zahra said of the village. "I have nothing to stay for anymore."
Hassan Ait Lemachi, 49
Hassan Ait Lemachi was known as a father of five and the local builder. Now, he is known as the man lost in grief.
He lived with his wife of 25 years, Fatima ("my other half"), and little Salma, 9, whom he and the whole village doted on. His three older daughters had married and moved away; 18-year-old Sihem later went to stay with one of them.
Hassan and Salma were watching "Tom & Jerry" that night. After awhile, Salma grew tired. She crawled into bed with her mother in the next room. Five minutes later, the violent shaking began. The house crashed down around them.
Hassan's hand was sliced and his shin bruised, but he was able to escape. He knew immediately that his wife and daughter were dead. Adrenaline coursing through him, he managed to save four of his neighbors.
Morocco's civil protection service, which arrived in Tiniskt the next day, found the bodies. Fatima and Salma were embracing.
Four days later, when his nephew showed a Washington Post reporter a photo of Salma – smiling with big brown eyes, her hair in two buns, flashing a peace sign – Hassan curled up in a fetal position in his tent, clutching his face.
He had been roaming the village all week, his neighbors said, his arms in the air, crying out for his daughter.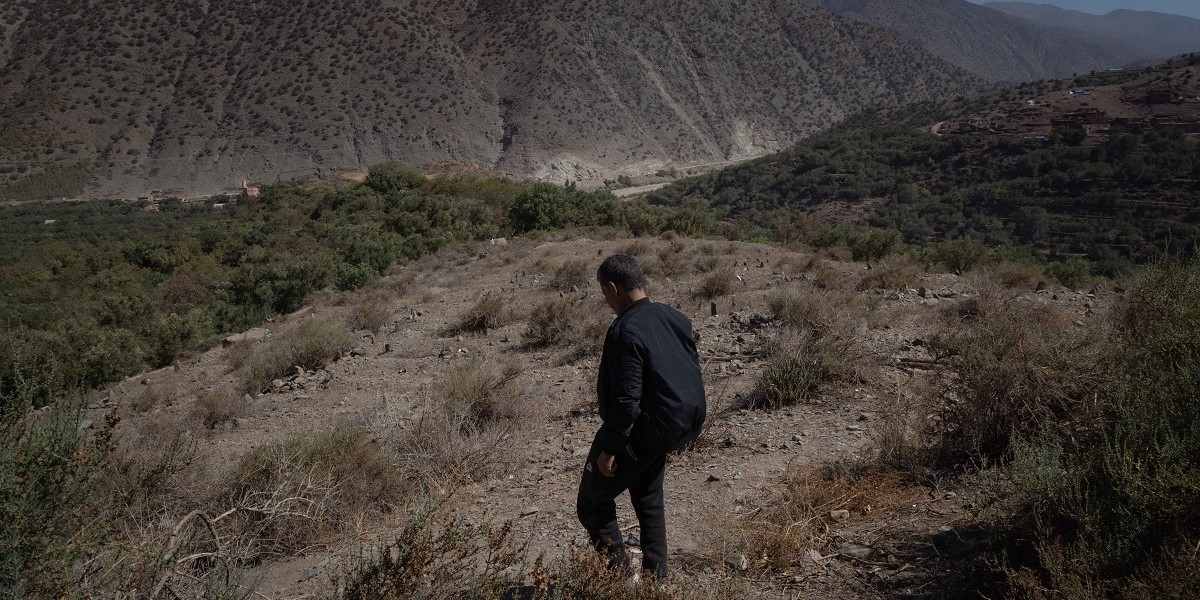 Fatna Daba, age unknown
Fatna Daba trudged up the hill to what was left of her house.
The earthquake had caused the top floor to cave in. "Thanks be to God," she said, pointing to the sky – a common gesture in Tiniskt, where many described the quake as part of a divine plan.
Fatna married into the village decades ago. Her husband's son from a previous marriage lived with the couple, who had two sons and a daughter of their own. Fatna's husband died 20 years ago and was buried in the village cemetery. Her children moved away.
Only her stepson, who was in his 40s and disabled, remained at home. He died in the quake. Fatna was rescued by a neighbor.
Their family was one of the poorest in the village. Her sons sent money from Casablanca, but it was never enough. She would beg sometimes in the souks of larger towns down the road.
Fatna relied on her animals, who all survived: a donkey, tied to a tree; a red cow, contentedly munching on grass; and her male calf, asleep in the shade of an olive tree.
"We lived on whatever God would give," Fatna said.
"I lost three of my closest friends, which affected me a lot," she said in Tamazight, the language spoken by most of the villagers.
"My life will change without them."
Fatna hopes to stay but has no interest in rebuilding her home. "The house has lost its spirit, it's lost its soul," she said.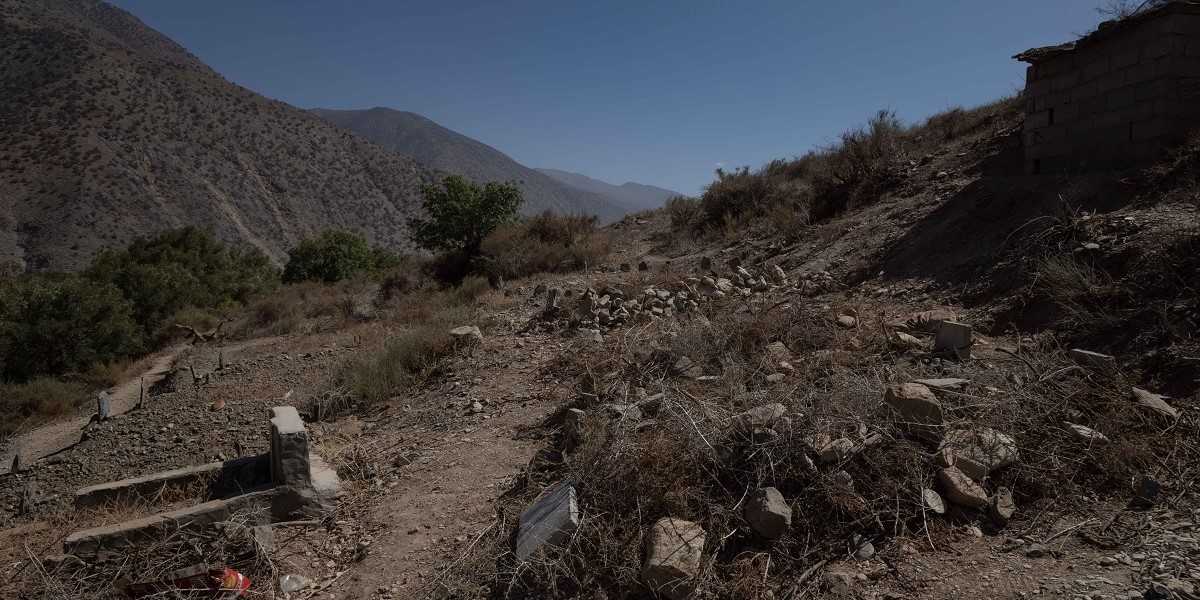 Mariam, 20, and Najat Ait Boujanaa, 17
For sisters Mariam and Najat Ait Boujanaa, it was already a season of mourning.
When their father died of an illness 40 days before the earthquake, Mariam said, the whole community rallied around their mother, Saida, and the three siblings, including 10-year-old Jamal. Neighbors cleaned the family's house, cooked them food and washed the dishes.
By early September, Mariam had returned to university in Marrakesh, where she studies economics.
On the night of Sept. 8, she received a desperate voice message from her sister. "Mariam, save me," Najat said. "The house collapsed on us." Jamal had been able to get out and run for help.
Saida and Najat were eventually pulled from the rubble. Mariam spent the following days frantically trying to reach the village. Roads were blocked and cars were full.
She arrived on Tuesday to utter destruction. Some of her former classmates had been killed, along with neighbors who had been there for her in her time of need.
"I see their children walking by, and I can't hold my tears," she said.
Mariam wasn't sure the village would survive. Many in her generation had already left to find work in big cities; others were now likely to follow.
"I hope the people decide to stay so the memory of those who died remains alive," she said.
El Houssine Ait Yahia, 72, and Aicha Ait Oubelkassem
El Houssine peered through the doorway of what used to be his home, the scent of mint rising from a clump of herbs outside.
At 72, he's seen a lot: His village has grown and modernized. He married his wife, Aicha, a woman with merry eyes, in 1972. They raised their five children in the house where El Houssine was born.
In the early 1980s, El Houssine used his savings to build a new home for himself and his wife, one that was "way better than the first one." On the night of the earthquake, he said, they were discussing what they would buy from the market the next day: Potatoes and zucchini, but not carrots, which cost too much.
The minute his wife said "radishes," the earth shook. The lights went out.
Neighbors with flashlights found the couple unharmed, but the house lay in ruins. "Now it's all gone, as if it had never been there," he said, perched on a clay wall.
Several men had bulldozed a clearing where an earlier version of the village once stood. It was here, he said, where Tiniskt would rise again.
On Thursday, Morocco's King Mohammed VI announced an aid package to help people rebuild their homes. The villagers in Tiniskt – used to relying on each other – weren't waiting around.
A local association affixed solar lights to wooden poles to illuminate the central road. A young man collected plastic to construct a shower. Starting over was a daunting task, El Houssine said. But it is their only choice.
"We have no home other than this village," he said. What else would we do?"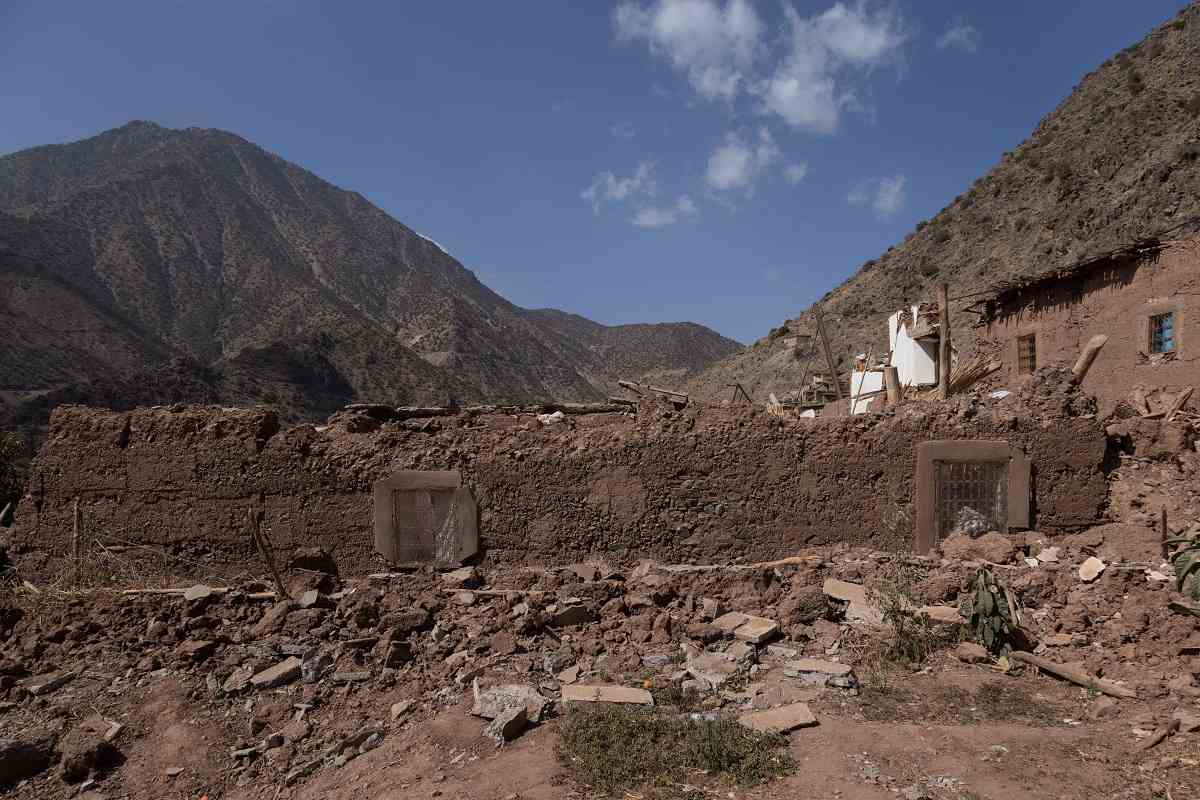 Add TheJapanNews to your Google News feed.