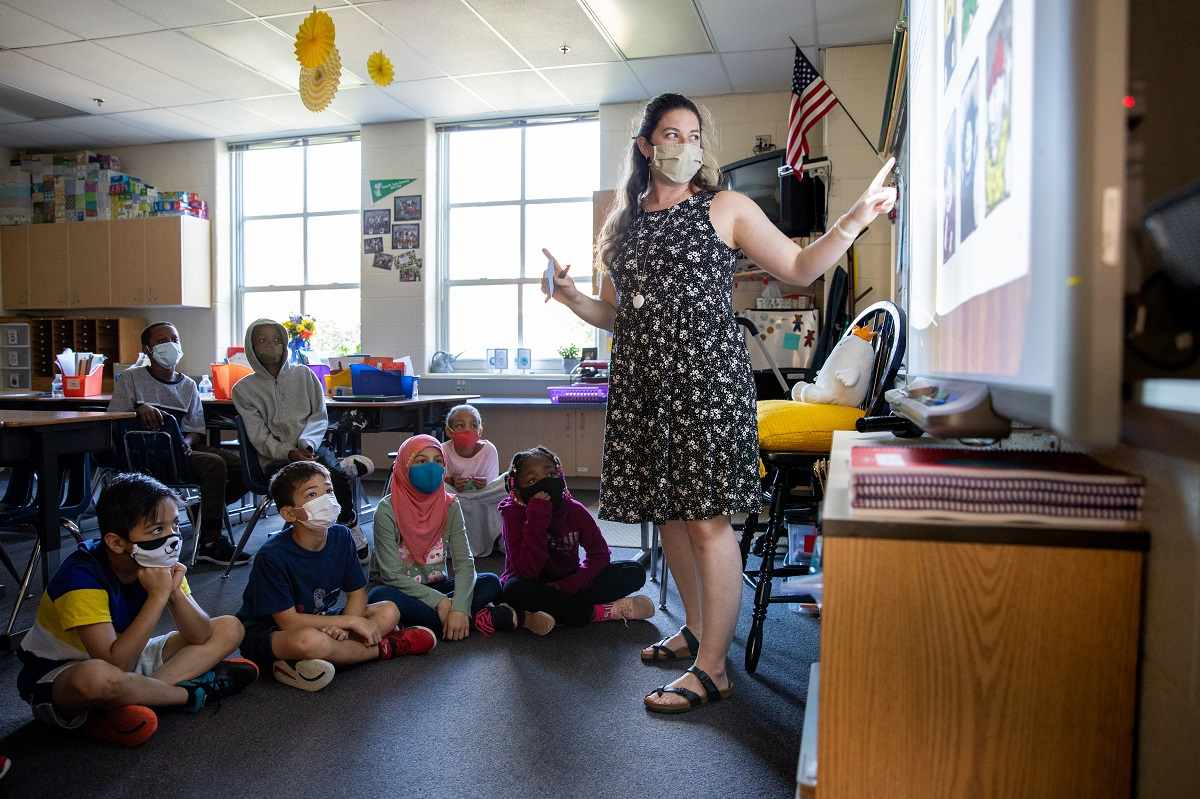 13:07 JST, September 7, 2023
As school gets underway and coronavirus cases rise, masks are returning to some American classrooms – and reviving the country's fraught political debate over whether face coverings are common sense or an abridgment of freedom.
In Maryland this week, an elementary school principal mandated several days of mask-wearing for a class of kindergartners after at least four people tested positive for the virus. New York's governor announced a plan to distribute free N95 and KN95 masks to schools this fall, although the state is not requiring their use. And in Alabama, a junior high school in Sumter County declared in late August that mask-wearing would begin again for everyone – students, staff and visitors.
Even though these campuses are the exception, as few schools require masks, lawmakers and presidential candidates have seized on the issue. A group of Senate Republicans unveiled legislation this week to prohibit federal mask mandates on domestic air travel, public transit and public schools through the end of 2024. On Wednesday, Sen. Ted Cruz (R-Tex.) shared a warning in response to the Maryland elementary school action: "If you want to voluntarily wear a mask, fine, but leave our kids the hell alone." (The school, Rosemary Hills in Silver Spring, boosted security and kept recess indoors because of online backlash the same day.)
Former U.N. ambassador Nikki Haley, who is seeking the Republican presidential nomination, suggested in a Fox News interview Wednesday that mandated school mask-wearing is an attack on parental rights, and former president Donald Trump promised last month that, if reelected, he would "use every available authority to cut federal funding to any school" that imposed a mask rule.
School administrators say they are not eager to relive the bitter fights over masks and vaccination that dominated the first two years of the pandemic. Josh Tovar, a high school principal in Texas's Garland Independent School District, said his campus is seeing a spike in student and staff infections that is depriving some classes of teachers. But, Tovar said, he would never consider requiring masks again, even if he had that power.
"There's just a different mentality here in this state in regard to the mask," he said. "I literally just left a principals' meeting where we discussed seeing an uptick, but no one mentioned or thought to bring up requiring masks. It's not on the radar."
Others are taking half-measures. In Alabama, Talladega City Schools shared a short post in late August encouraging mask-wearing. But officials stopped short of a requirement, said Superintendent Quentin J. Lee, despite the surge of cases in his district and the emails from teachers concerned about infection. The Talladega Facebook post says: "Please note this is not a mask mandate."
Lee said he wanted to tread carefully because "it's a very polarized subject." He still remembers politically and racially tinged complaints about mask-wearing from earlier in the pandemic.
Since the Facebook post went up, he said, "We've had mixed reviews. Some parents have been very appreciative and thankful. Some parents think that it's a hoax and we shouldn't be doing it – but that's why we made it a suggestion."
The moves toward mask-wearing come as virus rates in the United States are rising by multiple measures, although hospitalizations are far below where they were a year ago. It is difficult to tell how widespread mild cases are because at-home test results are not reported, and many people are not testing, since free tests are no longer widely available. Still, experts worry people are more susceptible to getting the virus in this latest uptick because most Americans have not received the latest booster – including 80 percent of school-age children – and the newest variants are adept at getting around immunity from vaccinations and prior infections.
The Biden administration largely sidestepped the issue Wednesday. The Centers for Disease Control and Prevention still recommends universal mask-wearing in schools when covid-19 hospitalizations are high, according to the latest guidance. Just 15 counties nationwide, most in Alabama, met that threshold as of late August, including Sumter County, part of Mississippi and several small localities in Montana and Texas.
Asked why the CDC maintains this stance, White House press secretary Karine Jean-Pierre emphasized to reporters that the agency was only suggesting mask-wearing, not requiring it.
"These are guidelines by CDC, what they recommend, what they believe would work," Jean-Pierre said. "It is up to the schools. It is the decisions of the districts . . . to decide what they want to do with the guidelines that they've been provided by CDC."
Mask mandates were instrumental in controlling the spread of the coronavirus during the peak of the pandemic. In the winter of 2020-2021, when nearly 4,000 Americans were dying per day, many saw face coverings as an alternative to the shutdowns of spring 2020. Mask-wearing was seen as paving the way for people to return to churches, schools and restaurants.
The nation's embrace or rejection of mask-wearing soon split along political lines. Republican governors largely eschewed mask requirements after the first year of the pandemic, even when surges of the deadlier delta variant flooded hospitals with severely ill young and middle-aged adults in the summer of 2021 and the highly transmissible omicron variant tore through communities.
State and local health officials in heavily Democratic areas were slower to discard mask-wearing. Authorities in those places largely ended mandates after the winter of 2022, saying they were harder to justify as the public grew increasingly weary and the virus became less likely to cause serious illness thanks to greater population immunity from vaccination and previous infection.
Some school districts, colleges and other institutions continued to require masks to prevent disruptions caused by coronavirus outbreaks, but the vast majority of schools had dropped mandatory mask-wearing by the start of this school year. Many hospitals and doctor's offices, where mask mandates lasted the longest, ended those policies in recent months.
While there's no consensus among public health experts about school mask requirements, proponents say they make sense in the early phases of covid upticks to prevent a bump in cases from turning into a surge. They argue that, even though the virus has become less deadly, older adults and immunocompromised people are still at risk of severe illness and death, and people of different ages and medical histories could develop debilitating long-covid symptoms.
"Some school districts are rightfully going to want to protect vulnerable students," said Tiffany Green, an associate professor in the department of population health sciences at the University of Wisconsin at Madison School of Medicine and Public Health. "Why would we not want to be proactive in protecting students, protecting teachers, protecting staff?"
But schools have to weigh many factors in adopting mask-wearing, said Kate King, president of the National Association of School Nurses. And one of them is society's political and cultural appetite for mask-wearing, which King sees as almost nil at this point.
"Unless there is a mask mandate to support schools from a local health department or jurisdiction, it's very difficult for schools to mandate masks," she said. "Parents and students and staff want to hear scientific backing."
Most importantly, King said, parents should keep youngsters home when they seem ill.
In Louisiana, the Calcasieu Parish School Board is placing emphasis on keeping everything clean, said Ronnie Harvey Jr., the district's administrative director of special education and alternative programs. Calcasieu is seeing a bump in cases alongside an escalation in sinus issues and allergy-related illnesses. Some of that is typical for the season, but some might be covid, Harvey said. He and other administrators at the school have discussed imposing mask rules, but Harvey is leery of the idea.
"I'm going to be honest with you. Based off of what we've seen in the past, I think the community wants the autonomy to make that decision," he said.
He said the district will consider universal mask-wearing if it gets to the point where so many infected students and staff are missing school that it impedes instruction. But it will have to be backed up by scientific research and, ideally, recommendations from the local health department, he said.
Local public health officials, however, have said the time for widespread mask requirements is past, arguing they are divisive and politicized – and noting there are now other tools to fight covid, including vaccines and antivirals. Meanwhile, nearly a dozen mostly red states (including Oklahoma, Florida and Georgia) have banned school districts from enforcing mask mandates, although some of these bans were later overturned, according to a 2022 EdWeek analysis.
Rep. Jamie B. Raskin (D-Md.), whose district includes the Montgomery County kindergarten, said a mandate can still be a sensible, "science-based" answer to an outbreak. "Rosemary Hills Elementary addressed a small covid outbreak with appropriate prevention measures that unfortunately, though inevitably, drew the attention of right-wing covid deniers," he said.
To parent Christina Headrick in Northern Virginia, the fact school officials and politicians nationwide are having conversations about mask-wearing marks a frustrating failure.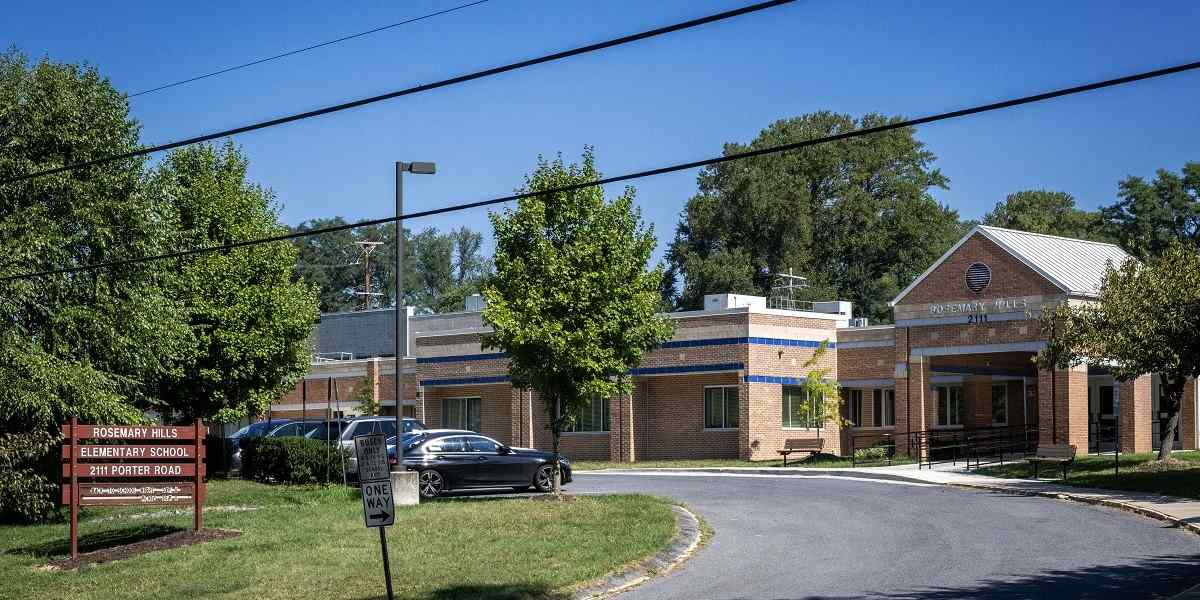 Much earlier in the pandemic, Headrick, who has two children in public school, helped launch a parent group and website dedicated to ensuring a safe return to classrooms in Arlington County. The group advocated in particular for improved ventilation and air filtration. Almost three years later, Headrick feels her efforts have gone unheeded – not only in Arlington, but throughout the country.
"The real issue here isn't mask mandates or not mask mandates. It's a complete failure to address the core issue, which is our public schools need to have a major upgrade in terms of clean air," she said.
If her children's schools ever reinstated mask-wearing to address an outbreak, Headrick said, she would probably be okay with it, so long as officials' reasoning passed muster. But another part of her would be furious. She always thought masks should be a tool of last resort, when every other method flopped. Instead, they're at the center of the debate. Again.
"Masks are such a political issue. We're not talking about the right things," she said. "I can't believe we are in this place, still."
Add TheJapanNews to your Google News feed.