Water Scarcity in Iraq Leads to the Disappearance of a Signature Rice
16:43 JST, August 20, 2023
AL-MASHKHAB, Iraq – When Abbas Al-Zalemi walks through his fields, he remembers better times. Amber rice once flourished on the eight acres he inherited from his father, painting them a lush green. The fields are dry and barren now, populated by desert plants, the only kind hearty enough to survive.
"Without amber cultivation, I feel a sense of loss," said Al-Zalemi, 50. "I avoid coming here to escape the sadness."
Amber rice has long been revered in Iraq for its distinctive fragrance; in the Iraqi dialect, "amber" is used to describe any sweet-smelling aroma. Rice is a staple of the national diet – eaten at almost every meal – and in the city of Al-Mashkhab, in Najaf province, amber cultivation is an integral part of the local identity. As climate change tightens its grip on Iraq, though, amber rice is the latest casualty. Farmers here are grappling not only with a loss of income, but a way of life.
Wracked by years of drought, Iraq is now experiencing its worst heat wave in decades. Water flows on the Euphrates and Tigris rivers are near record lows, leading to a cascading water crisis in the Iraqi countryside, where farming techniques have not kept pace with the times. Amber cultivation, which typically runs from the end of June to October, requires the rice to remain submerged in water throughout the summer. In 2021, the Iraqi Ministry of Agriculture made the "difficult" decision to prohibit most rice planting in an effort to conserve water.
"Due to decreased water releases from neighboring countries and the scarcity of rain, we had to reduce the areas of amber cultivation," said Hakim Al-Khazraji, assistant director of the agriculture department in Najaf.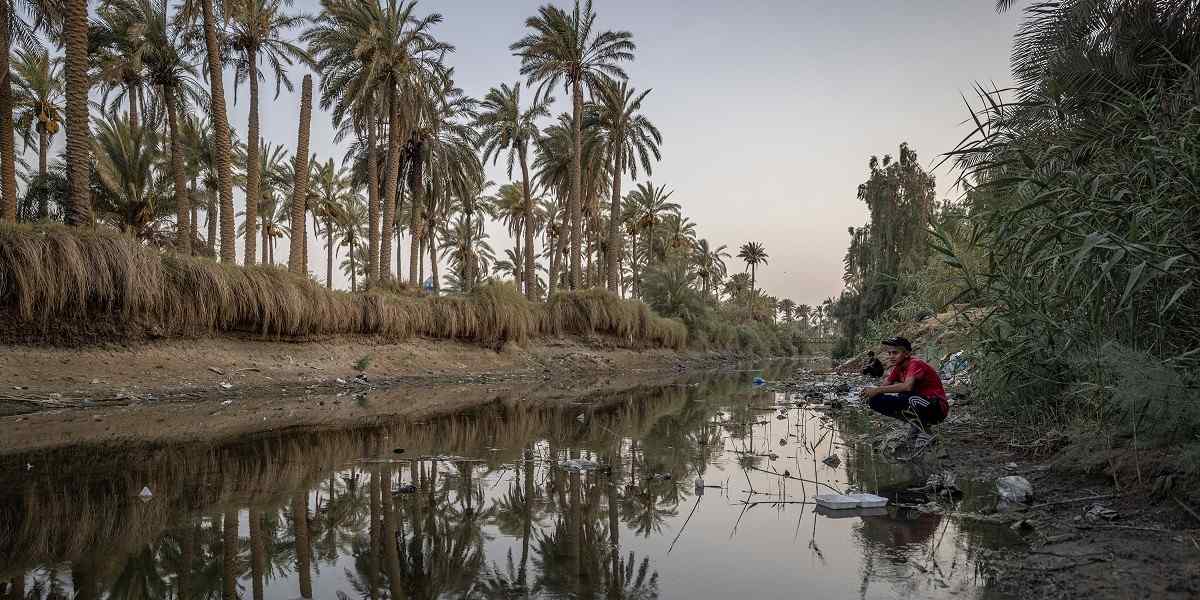 Experts say government policies have left the sector particularly vulnerable to water shortages. While ministries have offered subsidized equipment to support the costly transition to less water-intensive irrigation methods, politically connected agricultural conglomerates have often received more support than ordinary farmers. Below the fields, decades-old drainage infrastructure has been left to decay.
Rice fields cover more than 21 square miles in Najaf province. Now, less than 2 percent of the land is officially being tended, Al-Khazraji said: "The aim is not for production but to preserve the seeds and safeguard this unique rice variety from extinction."
Abbas, at least, was fortunate to find a government job. Many other farmers, like 53-year-old Riyadh Abdulameer, are out of work.
"We used to have very good economic self-sufficiency, we did not care about political changes or the rise in the exchange rate of the dollar," he said. "Amber was our currency, but now I cannot even meet the daily expenses of my house.
His eldest son had planned to inherit the farm. He scrapes out a living in construction now and has put his marriage plans on hold.
"Al-Mashkhab is witnessing an era that it has not seen throughout history," Abdulameer said. "I can't even call it a slow death. It is a quick death, and we have no alternative solutions."
Muthanna Al-Salami, a social researcher, said crime rates in the area are on the rise, which he attributes to widespread unemployment.
"Young people with untapped potential may turn to other activities if economic alternatives are not available," he cautioned.
Until recently, amber rice was a fixture at every table here and was exported throughout the region. Now, locals have had to turn to more expensive imported varieties from India and Iran.
"Rice prices have skyrocketed, reaching five times the usual rate," said Hussein Aqil, 41, as he shopped at a local market. More distressing to him than the cost, though, was the loss of the region's most distinctive food. "Our meals lack the same flavor and appeal," he lamented.
Outside a factory nearby, a sign boasted that "the production of amber rice is first class." The factory is now used to store imported rice.
Dakhil Bidaiwi, 53, pulled up with a delivery of Iranian rice. A former farmer himself, he now works as a truck driver.
"I was like a king before, making the best rice," he said. "Now I am like a slave."
As amber rice has vanished, a black market has developed. "Asking about it now is just like asking about drugs," said Hussein Ali, 20, a local merchant. "There are those who grow it in secret and sell it secretly, but only in very limited quantities."
As Washington Post reporters toured the city, farmers could be seen digging in an area where rice cultivation is no longer permitted.
"There is nothing else in life that we are good at other than growing rice," one older man explained, speaking on the condition of anonymity for fear of the authorities.
Another man waved a shovel menacingly in the direction of the reporters and demanded they leave.
Al-Khazraji said the recently approved federal budget includes "compensation for farmers who were unable to cultivate their land." Next year, he said, the province will start experimenting with mechanical seeding in an effort to grow amber rice with less water.
But Abbas is skeptical the government will deliver, and he is tired of waiting. "I will plant my land next year no matter what, I can't just leave it like this," he said, gazing out over his fields. "My soul is rooted here."
Add TheJapanNews to your Google News feed.