Alaska Native Fashion Designers Take Traditions to the Modern Runway
17:04 JST, August 16, 2023
On the runways of fashion meccas like New York, intricately crafted Indigenous patterns are a look like no other. And they come from a world like no other, thousands of miles away, where bitter winter winds blow across the tundra and communities follow traditions that date millennia.
The jackets, dresses, boots and jewelry are the creation of Alaska Native designers, whose influence is seen with increasing frequency – and to much acclaim – in shows across North America.
This fashion is "connected to our landscapes and our way of being," says art historian Nadia Jackinsky-Sethi, who is an Alutiiq. "It does create a very powerful statement."
The materials used are intrinsic to the customs of the Far North. Fish, birds, seals and other animals play outsize roles in the subsistence lifestyle many people still follow, and they loom large in stories and legends. Native clothing and regalia have always reflected this.
As Alaska Native designers send more of their work down runways, Jackinsky-Sethi wants it to be viewed through an Indigenous, not Western, lens. Their creations, she says, relate "to all aspects of who we are and how we exist in the world."
Here are three women and one man helping to illuminate that world.
Merna Lomack Wharton, 52, in Anchorage
Wharton grew up in the tiny Yup'ik village of Akiachak on Alaska's Yukon-Kuskokwim Delta. "I feel like I fulfill something when I am doing something traditional," she says.
Her squirrel-skin parkas have garnered much attention since she won the juror's choice award at an exhibition in Fairbanks in 2019. "That's exciting and scary at the same time," says Wharton, who is eager to protect her work from Western ways of thinking. "I don't think I would make somebody [a parka] without them having any idea how important it is."
She considers her pieces invaluable because of the stories and history handstitched into each. The parkas are full-length, made from the skins of gray and reddish-brown arctic ground squirrels. Dozens of red beads decorate long wolf-skin tassels.
By day, Wharton works as a realty specialist for the federal Bureau of Indian Affairs. In the evening, the mother of two sits at a table in the living room of her small Anchorage apartment and sews late into the night. "It feels like it's part of my identity as a woman," she says.
She began her first parka, made from rabbit skin and lined with cloth, in November 2004. It took about four months. "You have to keep your family warm. So, my goal was to make a parka for my daughter and to remind her that she is also Yup'ik."
The effort jump-started her career in Indigenous fashion, while honoring past generations. That first parka was based on one her mother had made her, which had replicated another a great-grandmother had worn. Wharton copied it like a pattern – and kept going from there.
These days, a squirrel-skin parka can cost more than $3,000 to make; 45 to 50 pelts are needed. Wharton says she is always looking for small, understated ways to add contemporary elements to Alaska Native designs, but she's careful not to stray too far: "I feel like if I go out of tradition . . . it feels out of place."
Her work is not just about fashion. It's about keeping her culture alive.
"We're still practicing tradition. It could be arctic material or modern materials, whatever you can use," she says. Just as her ancestors did: "It's survival."
Golga Oscar, 26, in Tununak
Oscar, a Yup'ik, identifies as a "two-spirit man." Drawing inspiration from stories passed down from ancestors in the Qaluyaarmiut region of Western Alaska, he aims to integrate both masculinity and femininity into his work.
"Men used to also sew for their loved ones," he says. "Because if they don't . . . how are they going to survive out in the winter?" Oscar wants to reclaim that role, studying and researching symbols, tales and legends that he incorporates into his work. "It's like retaking the culture identity back from European westernization."
He is known for his ornate headdresses. He covers a colorful leather band with intricate beadwork and adds fluffy tufts of wolf, wolverine and sometimes beaver fur around the top. These are his favorite materials to work with, and they are powerful animals that appear in Yup'ik tales and legends.
"The way the wolf tends to flow during dancing, it's like an attention grabber for me," he explains.
Self-taught, this former teacher has made hundreds of headdresses, most for women to wear during Yuraq, highly stylized Yup'ik dancing. "I see an opportunity to continue the legacy that my grandmothers used to create," he says. Headdresses are rarely seen on Yup'ik men these days; according to Oscar, the custom disappeared after Western culture forced assimilation. Still, he has created a few, integrating reindeer fur, the beards of caribous and eagle feathers.
Tradition looms large in his work and his life. Oscar's forearms are ringed with Alaska Native tattoos, geometric symbols that represent his mother's family. The same ornate designs are often found on the cuffs of Yup'ik boots – or piluguq – and around the wrist cuffs or bottom hem of parkas.
Oscar's work was featured at the Native Nations Fashion Night held in partnership with Fashion Week MN in Minneapolis in April. In November, he'll spend a month as an artist in residence at the Massachusetts Museum of Contemporary Art, where he'll make a sealskin dress for a gala. With time, he believes, that dress will find its person – and the wearer should be Yup'ik.
Clara Qaulluq McConnell, 29, in Anchorage
When McConnell was a high school senior looking at colleges, she toured the San Diego campus of the Fashion Institute of Design and Merchandising and was asked about her expertise. "And I said, 'skin sewing.' It was funny because they had never heard of it."
Her childhood was spent in Kotzebue, roughly 30 miles north of the Arctic Circle. Born to parents who are both Native and White, McConnell said she identifies closely with her Iñupiaq heritage. Advice that her grandmother once offered keeps her grounded: "You know what you're capable of, what talents that you have, and that's something that should be shared."
Her work melds traditional culture with fine tailoring. A mannequin in her sewing room models an unfinished jacket, cut in the pattern of an Iñupiaq atikluk. What would normally be a boxy, hooded shirt with a large arched front pocket is now fitted at the waist and shoulders. It would be a fashionable look for a business meeting, though McConnell imagines staying warm in it while picking berries on the tundra.
"I want Indigenous women to wear my pieces," she says. "It is a beautiful sight to see Native people in the spotlight embracing their culture."
She uses arctic fox as flair in the shoulders or across the neckline of her ballgowns. Seal skin also distinguishes her pieces. Her grandmother taught her how to sew animal hides and skin, something often done by hand and requiring patience and attention to detail.
McConnell's first runway piece was a dress that prominently featured a calfskin qupak, a wide, decorated band made of several small pieces of hide sewn together. Qupaks are specific to families and handed down for generations. It would be months before her grandmother learned the dress had been in a fashion show.
As it turned out, she was thrilled.
Last year, McConnell's designs were showcased at Toronto's Indigenous Fashion Arts Festival; the models wearing them all had Native roots. "There's a powerful thing about Indigenous people wearing their regalia," she says.
Corrine Tuurraq Danner, 48, in Utqiagvik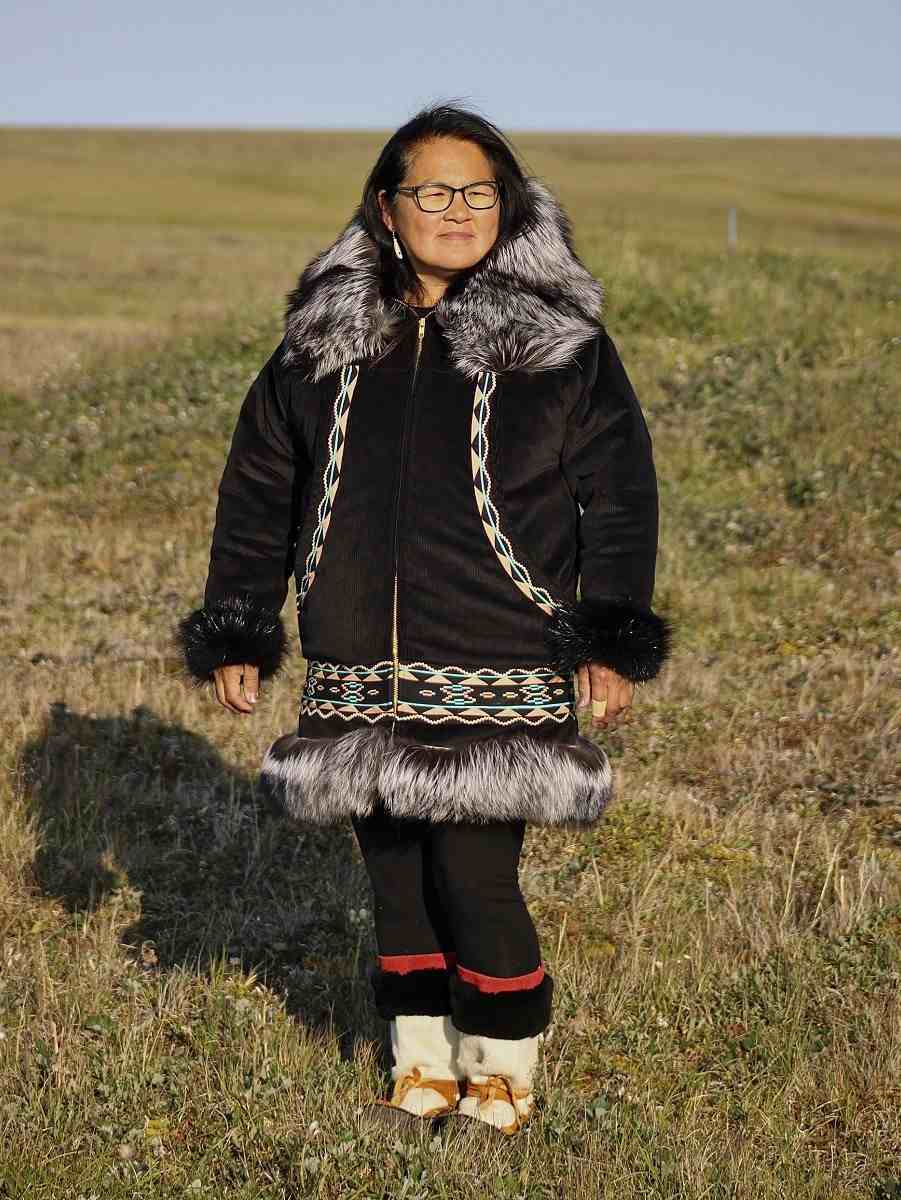 Wide trimmings and intricate designs are a signature feature of Danner's Iñupiaq parkas and atikluks. She says they honor the memory of her older sister, who died in 2016. In their community on Alaska's North Slope, where whaling and hunting are a defining part of the culture, "Her and I were the most wanted and depended on for being seamstresses."
"We had to make warm parkas, snow shirt covers for hunting bowhead whales and going geese hunting or caribou hunting or ice fishing," she says. Her sister taught her how to make the shirts, always the color of snow for camouflage. This sewing kicked off her career.
For Danner, the creative process is all about her family and the two worlds they represent. Her five children grew up along the Arctic Ocean: "When I make my trimming, sometimes I want it to be like the Arctic wave." Other times it mimics the waves of the Pacific Ocean, where her Native Hawaiian husband grew up. She uses long strips of cloth bias tape, folding and sewing each one into layered, colorful patterns.
"You have to have patience and . . . I try to be perfect," she says. She wants her work to be shared beyond her Iñupiaq village – the northernmost community in the United States – because it will introduce others to her heritage.
Danner leaves a heavy sewing machine set up on a long dining room table at her Aunt Diana's house in Utqiagvik. The two spend three to five nights a week sewing until midnight or later. On weekends, they might spend up to 12 hours together, going over color choices and design questions.
While she mostly works with cloth, her favorite materials come from wolves, wolverines and silver fox because all must be sewn by hand. "The stitches may be small," she says, "but it counts very much."
Add TheJapanNews to your Google News feed.