Emergency Response Questioned as Hawaiians Survey What Remains after Wildfires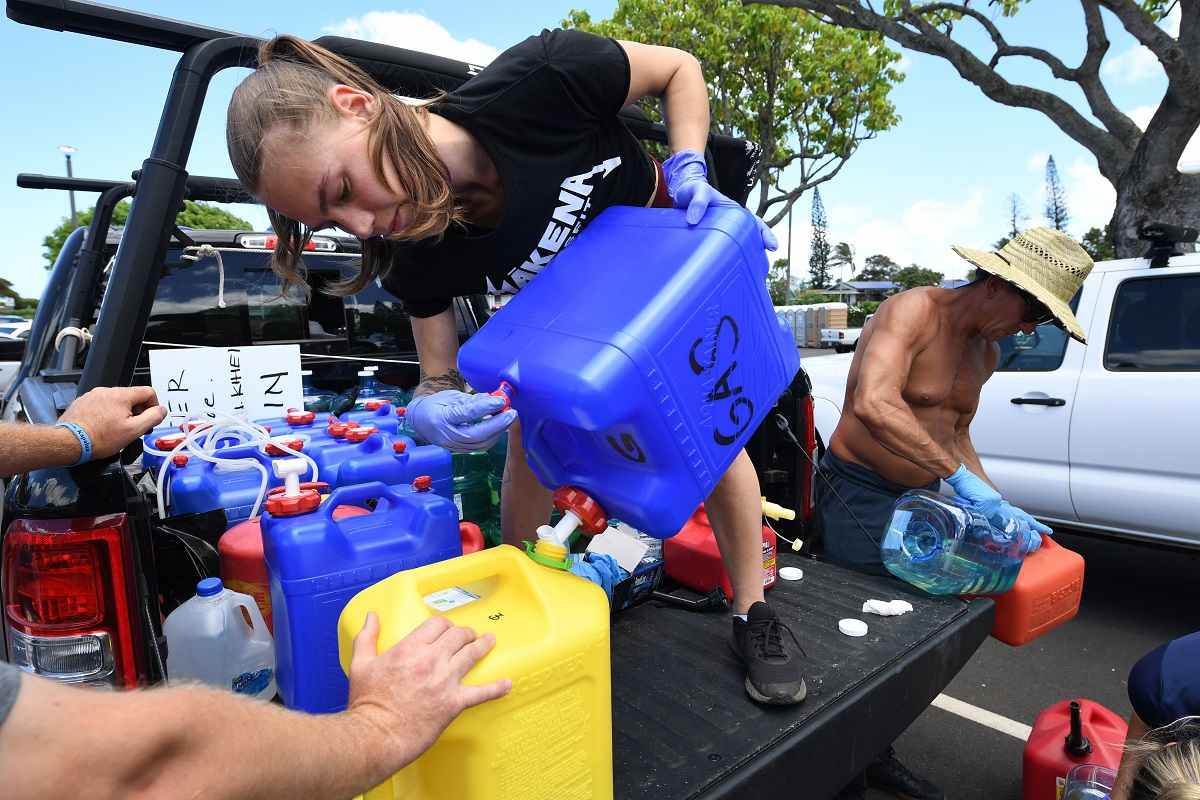 17:49 JST, August 13, 2023
LAHAINA, Hawaii – Days after devastating wildfires tore across the island of Maui, the death toll continued to mount as volunteers mobilized to care for survivors and criticism swelled over the government's response to the tragedy.
Residents of Lahaina, the historic former Hawaiian capital that became an inferno, criticized what they called inadequate warnings of the sudden firestorm and said they are now being left to fend for themselves in its wake.
"I feel like the citizens of this island have been called upon, maybe by a higher power, to actually help because no one else is helping," said Kai Lenny, a professional surfer.
Hawaii Attorney General Anne Lopez said her department would launch "a comprehensive review of critical decision-making and standing policies leading up to, during and after the wildfires."
Officials have already said they expect the death toll to rise once rescue crews have a chance to take stock of those who perished in homes, apartments, hotels and other structures.
The number of fatalities here is likely to surpass that of the 2018 Camp Fire in California, which claimed 85 lives. Hawaii's governor has said that a final tally might not be available for a week or longer. A canine search team and other rescue workers are now in Maui, the Federal Emergency Management Agency said Saturday.
Meanwhile, wide swaths of west Maui remain without power. While some areas have running water, it's been days since most people have taken a hot shower.
Communication in this part of the island remains a major challenge, hampering aid efforts and rendering reunification for affected families difficult. Recent days have brought blistering heat, adding to the human misery in sweltering neighborhoods where few have access to air conditioning.
As firefighters continued battling the remnants of the wildfires, Maui County officials said that more than 1,400 people have taken refuge in emergency shelters. Officials are urging survivors to drink only bottled water. Parts of the municipal water systems in Upper Kula, in a region known as upcountry because of its high elevation, and Lahaina, on the island's west side, were destroyed by the fire. That may have caused benzene – a carcinogen – to contaminate local tap water.
The fire damaged or destroyed 2,207 structures, the vast majority of which were homes, according to a joint assessment by the Pacific Disaster Center and FEMA. The estimated cost to rebuild this town alone stands at $5.5 billion. That figure is likely to rise.
While the immediate danger is past, Lahaina remains "barricaded," according to county officials, who advised people to stay out of the area because of "toxic particles from smoldering areas."
U.S. Coast Guard cutters and rescue helicopters saved 17 lives and assisted 40 other survivors in reaching shore. FEMA said it has 150 personnel on the ground, including search-and-rescue teams, with more on the way.
Late Friday, firefighters battled flare-ups in Lahaina, the Pulehu/Kihei area and Upcountry Maui, officials said. Near a county fueling station in Kaʻanapali, on the west side of Maui, a new fire erupted at 6:10 p.m. on Friday, prompting renewed evacuations. It was reported 100 percent contained before 8:30 p.m., according to Maui County officials.
As of Saturday morning local time, fire crews had contained all the fires on the island of Hawaii, Hawaii County spokesman Cyrus Johnasen said in an email to The Washington Post. Fire crews on the island are now focused on "mop-up" efforts, Johnasen said.
The fire near Kaʻanapali led officials on Saturday to cancel plans to distribute an estimated 3,000 gallons of gas and 500 gallons of diesel for roughly 400 vehicles that were already in line there.
A volunteer relief effort led by Native Hawaiians has emerged to shuttle supplies to the disaster zone. An impromptu flotilla of cruisers and catamarans carrying supplies such as generators, propane tanks, clothing and ready-to-eat meals reached the beach in Kahana, just north of Maui's hardest-hit areas.
In the days since ferocious wildfires tore through Maui, residents have said they received little help from the county and state, small government entities that are overmatched by the scale of the disaster.
Lenny, the professional surfer, said state health officials had blocked his efforts to ship 100 pounds of insulin by air from the island of Kona to Maui, saying it had not been properly authorized. "It's ironic that the people that we put into government to actually help us are making it more difficult for us to even just help ourselves," he said.
The president of the Hawaii Firefighters Association said firefighters felt "overwhelmed" with the resourcing challenges they've faced on Maui over the last several days.
Bobby Lee confirmed that at least 15 firefighters lost their homes as of Saturday. The association has been working with these firefighters to find them temporary housing, he told The Post. At least 40 firefighters from Honolulu have been sent to Maui to help mitigate the wildfires, Lee added, and he anticipates more will come.
This week's catastrophe was anticipated.
County officials were warned three years ago that the area was susceptible to damaging wildfires. A hazard mitigation plan prepared by an outside consultant said that Maui County experienced 80 significant fires between 1999 and 2019 and would likely see many more.
West Maui, where Lahaina is located, was judged to be at "high" risk, according to the August 2020 assessment by Jamie Caplan Consulting in Northampton, Mass.
"Wildfire events will continue to be an ongoing occurrence in Maui County. The likelihood of wildfires increases during drought cycles and abnormally dry conditions. Dry, windy conditions with an accumulation of vegetative fuel can create conditions for a fire that spreads quickly. Wildfires could become more frequent in the future as drought conditions become more frequent and more intense with climate change," said the 1,043-page report.
The state of Hawaii "underestimated the lethality, the quickness of fire," Rep. Jill N. Tokuda (D-Hawaii) told CNN on Saturday. Officials failed to plan for problems with the state's emergency alert system, the congresswoman said, adding lawmakers "have got to make sure that we do better."
Compounding the loss of life is the devastation of some of Lahaina's cultural icons, such as the Baldwin Home Museum, the oldest house in Maui.
Lahaina's popularity as a tourist destination for beachgoers and surfers has overshadowed, at least to tourists, the city's centuries-old historic and cultural significance, said David Aiona Chang, a professor and Native Hawaiian historian at the University of Minnesota. To Hawaiians, Lahaina is a historic city whose legacy includes artifacts that have helped preserve the hula dance form and revitalize the Hawaiian language.
On Saturday, some Lahaina residents returned home. As the state briefly reopened the road to west Maui for locals, Lahaina residents dug through the ashes of their houses to recover anything that might have survived the firestorm: Molten cars, charred phones, a burned page from a yearbook.
Born and raised in the city, Cole Loewen spent the night at the airport watching wildfires consume it. The wreckage was "the saddest thing I'd ever seen in my life," he said.
"Whatever you guys think it is, multiply it by 10," Loewen told The Post. "It's like 'The Walking Dead.'"
Wela Espiritu, another resident, said Maui could not wait for government assistance. Members of the community rallied to provide necessities including bottled water, food and toiletries to residents. Medical services were also available on scene.
"Without medication, it goes into emergency mode, and we need an ambulance, we need hospitals," said Kari Wheeling of the Healthy Mothers Healthy Babies Coalition of Hawaii. "What we're trying to do is prevent that."
The situation here will remain dire for some time.
Hawaiian Electric, the utility that oversees Maui Electric and provides service to 95 percent of the state's residents, warned on Friday that some customers in West Maui should "prepare for extended outages that could last several weeks."
The utility said it had fielded 300 employees and contractors to repair transmission lines and restore power. Crews were continuing to assess the scale of the job by helicopter, the utility said.
The initial source or sources of the wildfires have not been determined. But some have noted that before the blaze, Hawaiian Electric, did not implement what's known as a "public power shut-off plan," intentionally cutting off electricity to areas where strong winds could spark fires. A number of states, including California, have adopted this technique following deadly fires in recent years.
Hawaiian Electric was aware that a power shut-off was an effective strategy, documents show, but had not adopted it as part of its fire mitigation plans, according to the company and two former power and energy officials interviewed by The Post.
Hawaiian Electric rejected suggestions that it could have done more to protect public safety. Utility executives generally are reluctant to shut down power, since it disrupts lives and generates political blowback, especially if the anticipated wind event does not trigger fires.
As the air remains acrid with the smell of smoke, some here are beginning to imagine recovery.
Iokepa Naeole's home and family survived the fires – he lives in Wailuku – but he works in now charred parts of West Maui. Naeole takes vacationers out on his outrigger canoe for tours while explaining the native culture.
Tourism officials are discouraging nonessential travel to the island. The places Naeole shows visitors are now evacuation sites and distribution centers for the displaced.
He wonders about the island's future.
"What would we imagine Lahaina to look like 20 years from today? Do we still want the visitor industry to be the economic engine? And if so, could Native Hawaiians have a say on what that industry should look like? Because what was, wasn't working for us," he said.
Some Hawaiians in recent years have protested what they say is excessive tourism. To Naeole, the fire could be both "the worst natural disaster of our lifetime" and also "the greatest opportunity of our lifetime."
Rather than rebuild Lahaina exactly as it was, Hawaiians should learn from the example of other countries that rely on tourism without allowing their native cultures to be overwhelmed, such as Iceland, Norway or Palau, he said.
"The world will be watching," he said. "And it will be up to us to show them how our world is supposed to be."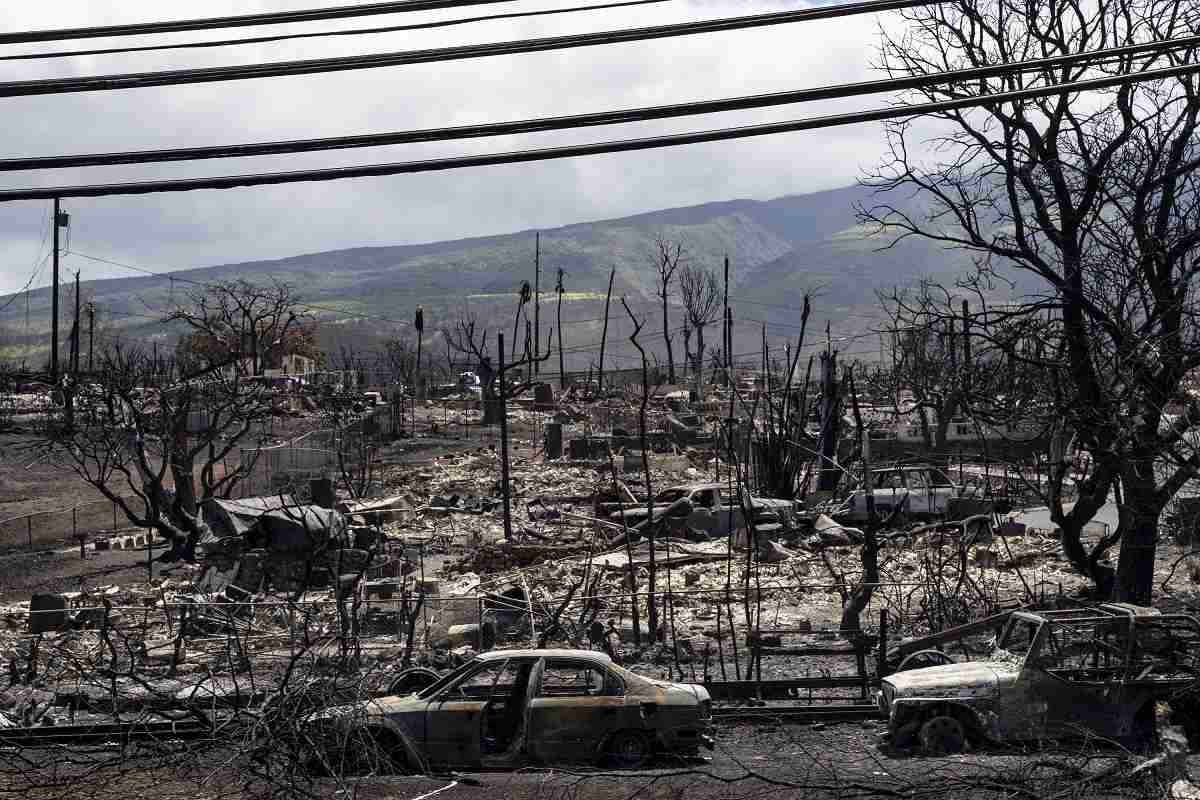 Add TheJapanNews to your Google News feed.