Huge Cleanup, Thousands without Power after Storms Pummel Washington, D.C., Region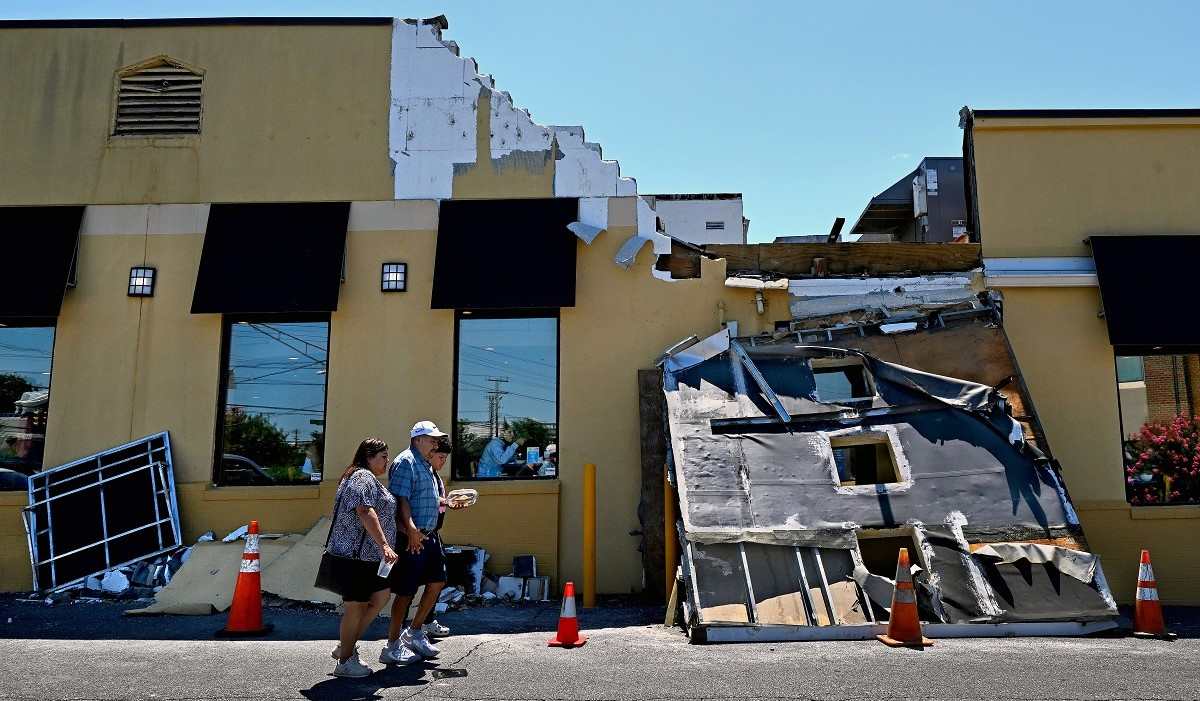 15:20 JST, July 31, 2023
Abby Froehlich was babysitting Saturday evening, playing with three young children in the living room of their home in Northwest Washington when the wind picked up. Suddenly, she saw branches flying outside and heard a huge tree crash onto the kids' playhouse in the backyard.
Froehlich, 20, decided to seek shelter in the basement with the kids, terrified of the possibility of another tree falling. She frantically sent text messages to their parents, who were out at a movie theater in Bethesda.
"We sat in the basement until the storm stopped in 10 minutes. It was almost tornado-like because the winds were whipping so fast," Froehlich said in a phone interview. "I was scared that trees might fall on the house."
Not far away near Sibley Hospital, the Sower family home suffered that exact fate – three trees fell on their home. Emily Sower said her husband was sitting in the living room with the couple's two youngest children when the winds began. Moments later, the trees came down – one into the couple's bedroom, another into their 6-year-old's bedroom, and a third on to their car.
Now, their white, brick, 7,000-square-foot colonial has gaping holes in the roof. The family plans to decamp to a hotel room while they figure out what to do next. Meanwhile, the fallen trees, which have to be removed by cranes, are weighing on the house, causing more damage.
"Our chimney is in our driveway," Sower said. "We just need the trees off to start to figure out where to go from there."
The day after the most violent storm this year battered the D.C. region, authorities and residents cleared roads, dodged downed power lines and removed fallen tree limbs as police in Virginia investigated what appeared to be a storm-related death. Major roads and tourist attractions like the National Zoo were closed Sunday, and power outages are expected to persist until Tuesday even amid mild weather.
The severe storm – brought on by extreme heat and humidity, a strong cold front and a vigorous disturbance high in the atmosphere – pummeled the Beltway region on Saturday afternoon, lashing the area with torrential rain and winds that exceeded 80 mph.
The storm swept across the District from the west not long after the temperature reached 97 degrees – the highest reading in the city so far this year.
Though the storm didn't produce any tornadoes, and there was no derecho – like the infamous storm system that struck D.C. in 2012 – the impact of its high winds was just as severe in some areas, dislodging chimneys, tearing down signs, peeling off roofs and toppling trees onto buildings and cars.
This havoc was wrought by a phenomenon known as downbursts. Common in summer storms, downbursts are blasts of wind originating in clouds that slam into the ground and fan out, producing gusts more severe than low-end tornadoes.
These blasts are, by far, the most frequent source of violent winds in D.C.-area storms. Localized downbursts – affecting parts of neighborhoods – are frequently called microbursts, whereas larger ones – that can cover miles – are referred to as macrobursts. Saturday's storms may have contained both types.
Many major roads were at least temporarily compromised, with trees reported down on the Baltimore-Washington Parkway in Prince George's County, Interstate 95 near Dumfries in Prince William County, the Capital Beltway and the George Washington Memorial Parkway in Fairfax County, and Interstate 66 in Arlington County.
More than 200,000 customers lost power. On Sunday, about 15,000 customers remained without power in D.C. and Maryland, according to Pepco's outage tracker, and more than 7,000 remained without power in Northern Virginia, according to Dominion Energy.
Ben Armstrong, a Pepco spokesperson, said in a telephone interview that the utility expected all customers' power to be restored by Tuesday at 3 p.m.
Montgomery County and Northwest D.C. were hit hardest by the storm, Armstrong said. Though a list of 1,500 repair jobs has been whittled down to 700, according to Armstrong, "there's still a lot of work to be done."
"We need to do a lot of significant tree removal," he said. "These are very large trees that have come down on our poles and wires, and in some cases damaged whole sections of the energy grid. We are going to need to rebuild that."
Pepco customers had been patient, Armstrong said, but more patience would be needed.
In Virginia, Peggy Fox, a Dominion Energy spokeswoman, tweeted that crews were "out in force," and most customers would have power restored by 11 p.m. Sunday with some repairs expected to stretch into Monday.
Prince William County police tweeted Saturday evening that they were investigating the death of a 43-year-old man in the 15300 block of Holly Hill Drive after a tree fell on a home. The cause of death was not confirmed, police said, and no further information about the death was available.
The northern section of the George Washington Memorial Parkway, from Spout Run Parkway to I-495, with the exception of the northbound lanes from Route 123 to the Capital Beltway, was closed as crews worked to remove trees from the roadway, said Mark Maloy, a visual information specialist with the National Park Service, which manages the parkway.
Maloy added that some closures would remain in effect for the next couple of days as work continues.
"We need to get cranes and bucket trucks in there," he said Sunday evening.
The National Zoo said it is closed Sunday for cleanup of debris after the storm.
The D.C. Fire and EMS Department said early Sunday on Twitter, which has recently been renamed X, that it had responded to 810 calls on Saturday and Sunday, many of them storm-related. "First time in memory we exceeded 800 calls," the agency said.
Even as the sun shined and temperatures settled into the relatively comfortable mid-80s Sunday, the storm's impacts were on display.
Herantina Peters, 62, a resident of the D.C. neighborhood Takoma, strolled Sunday morning with her dog Nimbus, examining the destruction wrought by the storm. She recalled sitting on her porch the day before watching the sky change from blue to gray.
"It was very surprising. I was sitting on my porch and the wind just started . . . All of a sudden dark clouds came across the area – very dark clouds," Peters said. "This morning I get up to walk my dog, and I see these 100-year-old trees rooted up. These trees have been here for years and years."
Ben Lundin – whose kids were home with their babysitter, Froehlich, during the storm – said Froehlich had sent "a million texts" to him and his wife at the movie theater, where they had no clue it had stormed. The parents were relieved to find their kids and babysitter safe when they got home.
Beginning at 5 a.m. Sunday, Lundin spent six hours cleaning up the remains of the beloved old maple tree that destroyed the kids' swing set.
"We're all very sad because it was a huge part of the view here," he said, pointing at the tree that his family had cherished for its grand crown that gave them shade in the summer. "The silver maple got destroyed. It's a heritage tree so it's a really large tree. It used to cover this entire space here. Now, it's just a tiny remainder."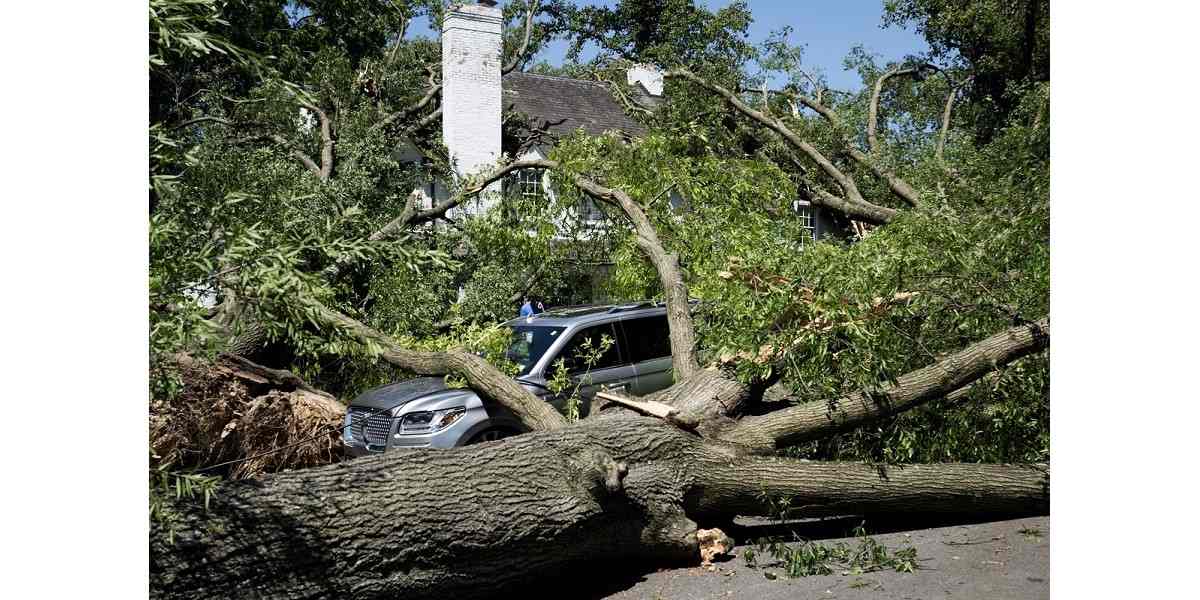 Add TheJapanNews to your Google News feed.