Ukraine Hits Crimean Bridge, but Railway Undamaged; Russia Halts Grain Deal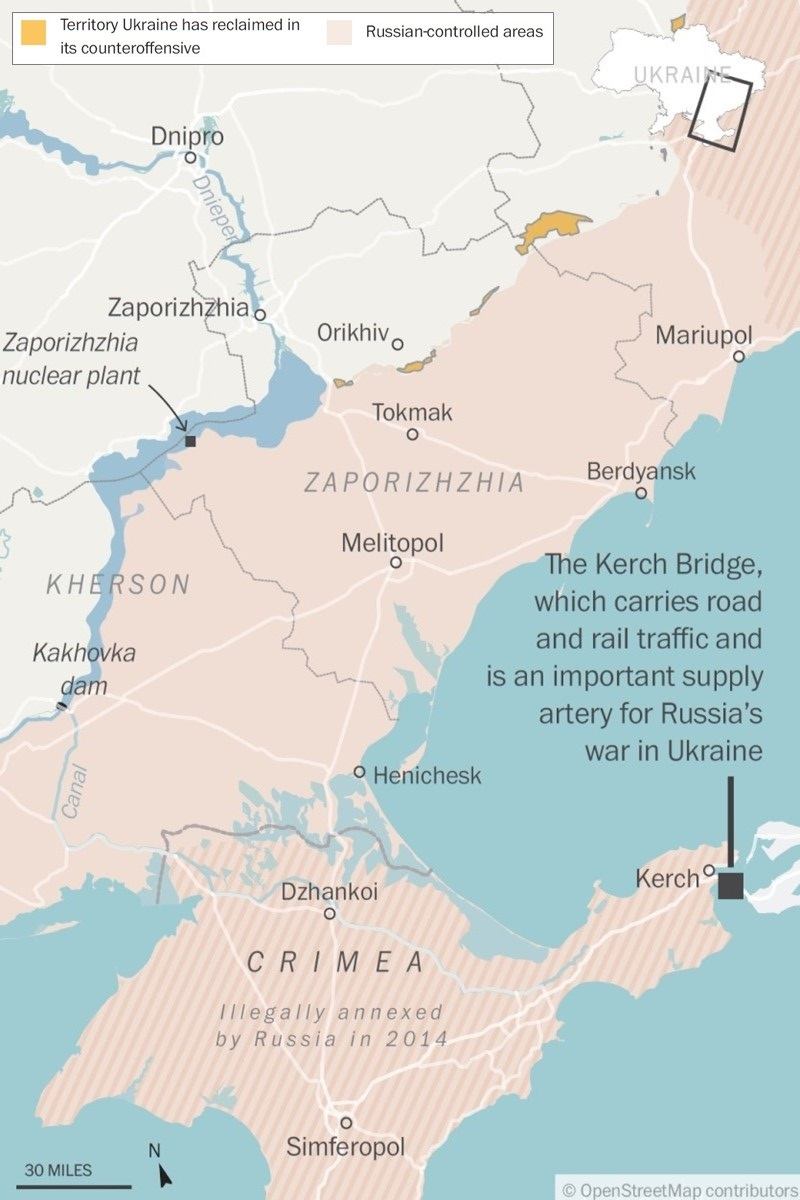 13:26 JST, July 18, 2023
KYIV, Ukraine – Ukraine attacked the Crimean Bridge, a key link from Russia to the illegally annexed Crimean Peninsula, killing two people and disrupting vehicle traffic early Monday, Russian and Ukrainian officials said. A railroad line over the bridge – which is a vital artery for Russian troops and military supplies – escaped damage and quickly resumed service.
The strike on the bridge occurred hours before the Kremlin spokesman, Dmitry Peskov, announced that Russia would resume its military blockade of Ukrainian grain, canceling a deal that has allowed shipments from ports on the Black Sea despite wartime hostilities. The agreement, brokered by Turkey and backed by the United Nations, enabled crucial food supplies to reach developing countries, particularly in the Middle East and Africa.
The twin developments Monday showed that Russia's war in Ukraine continues to wreak havoc even as Moscow's forces have made little progress toward the Kremlin's stated aim of fully occupying and annexing four regions in southeastern Ukraine in addition to Crimea. A Ukrainian counteroffensive intended to oust the Russian occupiers has also yielded only minimal gains, as Kyiv still lacks serious air power and its ground forces struggle to advance through vast minefields.
Russian officials said early-morning explosions on the Crimean Bridge – a pet project of Russian President Vladimir Putin after the invasion and annexation of Crimea in 2014 – had killed a couple from Russia's Belgorod region and injured a young girl as their vehicle was crossing the span at about 3:05 a.m.
The biggest obstacle to Ukraine's counteroffensive? Minefields. A report by Russia's National Anti-Terrorism Committee said the strike, which damaged the roadbed on the bridge, was conducted by two naval drones.
Kyiv's navy and special forces carried out the nighttime attack, in which drone boats blew up part of the structure, a Ukrainian official said, speaking on the condition of anonymity to discuss sensitive military operations. Ukrainian officials also reasserted their right to target the crossing because of its use in transporting military supplies.
"It was difficult to reach the bridge, but in the end, it was possible to do it," the official said. The SBU, Ukraine's main internal security service, appeared to taunt Russia in a post on its Telegram channel, noting that Monday's attack was the second strike on the bridge. In October, a huge explosion caused damage to the roadway and rail tracks and prompted Russia to retaliate with a barrage of missile strikes on Ukrainian cities.
Monday's strike on the Crimean Bridge, also known as the Kerch Bridge, occurred at the height of vacation season, when many Russians travel to Crimea's beaches on the Black Sea. It also follows reports of attacks by Ukrainian air and sea drones on Sevastopol, the longtime base of Russia's Black Sea Fleet.
On Sunday, the Russian Defense Ministry, posting on Telegram, said its forces thwarted attacks by seven air drones and two drone boats. The ministry said that the airborne drones were shot down and that electronic jamming caused the unmanned, semi-submersible vessels to go astray.
Russian officials reacted with fury to Monday's strike, fixing blame on Ukraine as a "terrorist" regime and suggesting that both British and U.S. intelligence and military officials helped to conduct the attack on the key link to Crimea. Western sanctions levied in response to Russia's illegal seizure of Crimea remain in effect.
"Today's attack on the Crimean Bridge was carried out by the Kyiv regime," said Russia's Foreign Ministry spokeswoman, Maria Zakharova. "This regime is terrorist and has all the hallmarks of an organized crime group." Russia has repeatedly blamed Ukraine and the West for the war, which Putin initiated by ordering an invasion in February 2022.
Vladimir Dzhabarov, first deputy chairman of the committee on international affairs of the Federation Council, the upper house of Russia's parliament, called the strike a "terrorist attack" and urged Russia's military to seize control of all of southern Ukraine and to block Kyiv's access to the Black Sea.
Vacationers and others were also advised to avoid the bridge. Russia's Ministry of Resorts and Tourism in Crimea urged people traveling there to find alternative routes through Russian-occupied territory, which now forms a land corridor between the peninsula and the mainland. That "land bridge" was a key objective of Putin's invasion, but driving through that territory would bring holiday travelers into an active war zone.
While Russia has failed so far in its overall annexation objectives, Moscow's naval superiority has allowed it to disrupt grain shipments from Ukrainian ports on the Black Sea. The agreement brokered by Turkey to resume the exports had helped maintain food supplies in developing countries, but the accord has been on the brink of collapse for months, with Russia insisting that terms of the agreement were not being upheld.
"The grain deal agreements have been de facto stopped," Peskov, the Kremlin spokesman, said in a call with reporters Monday. "Unfortunately, some of the agreements concerning Russia have not yet been fulfilled, so the deal is being terminated. As soon as the Russian part of the agreements is fulfilled, the Russian side will return to the implementation of this deal immediately."
Last week, Putin said that none of the conditions of the deal "involving Russian interests" have been met. Putin cited reconnecting the Russian Agricultural Bank to the international SWIFT payment system, after it was cut off by sanctions, as one of the key conditions for renewing the deal.
Putin has also repeatedly insisted, without evidence, that the grain deal was benefiting primarily wealthy European countries rather than poorer, developing nations in Africa and the Middle East as intended. Putin recently brushed off a peace plan that some African leaders had proposed as a way to halt the war in Ukraine.
U.S. officials and European Union leaders denounced Russia's decision to kill the deal.
"The result of Russia's action today – weaponizing food, using it as a tool, as a weapon in its war against Ukraine – will be to make food harder to come by in places that desperately need it, and to make prices rise," Secretary of State Antony Blinken told reporters in Washington. "The bottom line is, it's unconscionable."
"I strongly condemn Russia's cynical move," European Commission President Ursula von der Leyen tweeted. European Council President Charles Michel said millions had benefited from the agreement and that Russia's decision would "endanger food security" and access to grain and fertilizer supplies "worldwide."
Ukrainian President Volodymyr Zelensky said Monday that Kyiv was ready to continue shipping its grain through the Black Sea, despite Russia's implicit threat to blockade Ukrainian ports, though he did not explain how that might be accomplished.
"We are not afraid," Zelensky said in comments posted on the presidential website. "Even without Russia, it is necessary to do everything to ensure that we can use this corridor."
In an emergency meeting with government officials Monday evening about the bridge attack, Putin ordered his government to tighten protective measures, emphasizing that this was the second such strike. He also vowed a military response to what he called "another terrorist act of the Kyiv regime."
"Given that this is already the second terrorist attack on the Crimean Bridge, I am waiting for concrete proposals to improve security," Putin said, adding that he had instructed the Federal Security Service, or FSB, and other law enforcement agencies to investigate the incident.
"There of course will be a response from Russia. The Defense Ministry is already working on the corresponding proposals," Putin said.
In the meeting, Deputy Prime Minister Marat Khusnullin said that one span of the bridge used by automobiles was completely destroyed and must be rebuilt. Khusnullin said repairs to restore two-way traffic could take until November.
The couple killed in Monday's attack on the bridge were described by officials as Russian citizens from the western Belgorod region.
Belgorod's governor, Vyacheslav Gladkov, speaking in a video posted to Telegram, said that two people from the Novooskolsky district had been killed while crossing the bridge in a passenger car and that their daughter was injured.
"The worst thing is that her parents – mom and dad – were killed," Gladkov said.
The Russian Foreign Ministry identified the couple as Alexei and Natalya Kulik, and the daughter as Angelina, age 14.
Hours after the attack, Ukrainian Security Service spokesman Artem Dekhtyarenko issued a cryptic statement that appeared to obliquely acknowledge Ukraine's role in hitting the bridge.
"In view of the numerous requests from the media regarding another incident on the Crimean Bridge, we inform you that all details regarding the [explosion] organization will be revealed by the Security Service of Ukraine after our victory," Dekhtyarenko posted, using an explosion emoji. "Meanwhile, we are watching with interest as one of the symbols of Putin's regime once again failed to withstand the military load."
Ukraine's counteroffensive has been grinding forward. Hanna Maliar, Ukraine's deputy minister of defense, said Ukrainian forces had regained control of more than 81 square miles since the operation started on about June 7.
Maliar also said Ukrainian forces continued to advance near the eastern city of Bakhmut, particularly on its southern flank, but acknowledged that Russian troops were attacking in the vicinity of Kupyansk, southeast of the city of Kharkiv.
Add TheJapanNews to your Google News feed.