Democrats Press Department of Homeland Security about Domestic Extremism in Workforce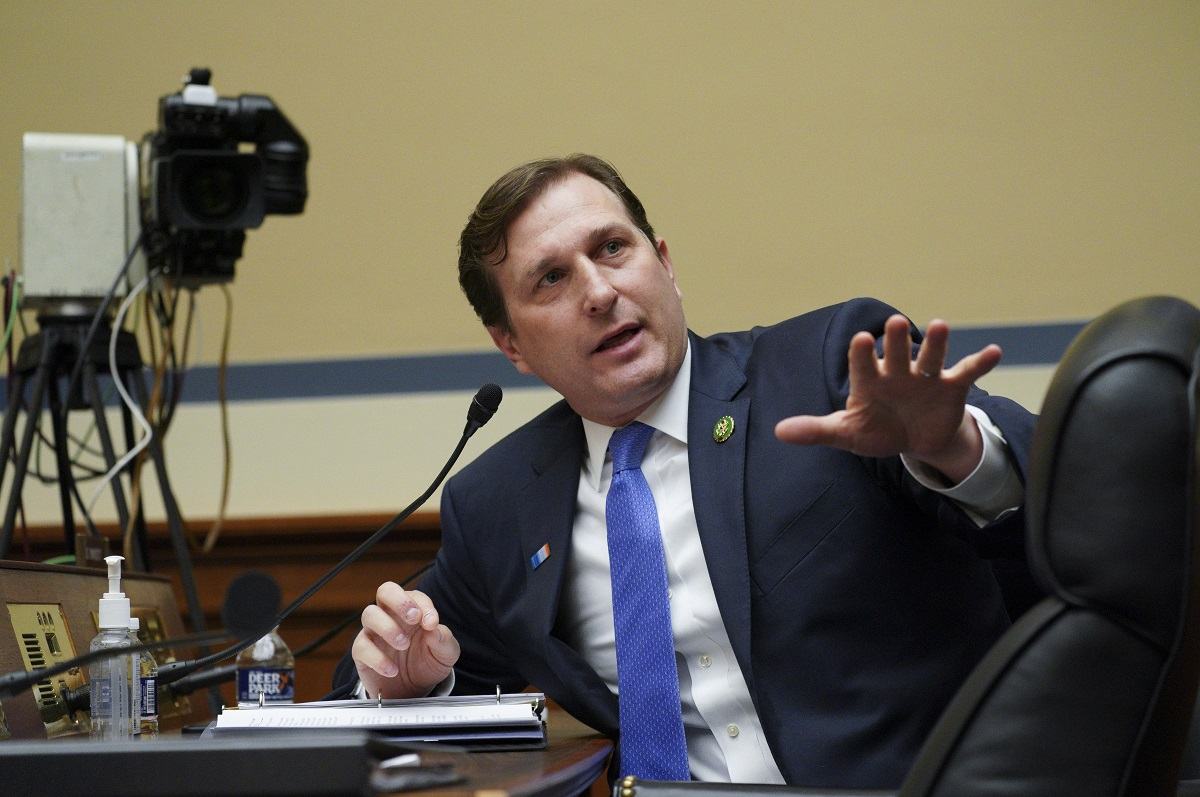 13:02 JST, July 18, 2023
EXTREMISM-2NDLD-WRITETHRU 909 words · 1 photo
More than 65 Democrats in Congress sent a letter Monday asking what steps the Department of Homeland Security has taken to weed out domestic extremists within its ranks after reports concluded that more than 300 current or former DHS employees were members of the right-wing Oath Keepers group as of 2015 and U.S. Customs and Border Protection staffers were working with armed conservative groups on the U.S.-Mexico border.
The letter addressed to Homeland Security Secretary Alejandro Mayorkas comes more than two years after he launched an internal review of how to handle potential threats posed by such employees in agencies including the Transportation Security Administration, Immigration and Customs Enforcement and the Secret Service. In March 2022, a working group of senior DHS officials found the department had "significant gaps that have impeded its ability to comprehensively prevent, detect, and respond to potential threats related to domestic violent extremism within DHS."
The report found that DHS had no official definition of or guidance about what constitutes a violent extremist, no workforce training to identify and report extremist activity, and insufficient funding for the already existing DHS Insider Threat Program. The report made 15 recommendations for the department to be able to define, identify and respond to reports of extremists within DHS.
In the wake of multiple trials over the Jan. 6, 2021, insurrection at the Capitol, members of Congress are worried about what steps Homeland Security has taken to ensure that people devoted to the overthrow of the United States are not also government employees.
Sen. Edward J. Markey (D-Mass.) said in a release accompanying Monday's letter to Mayorkas that "domestic violent extremism poses the most lethal and persistent threat to communities in our country. It is critical that the Department of Homeland Security acts quickly to address internal threats of violent extremism, root out bigotry and xenophobia among its ranks, and send a clear message that violent extremism has no place in America – let alone among federal agents who are duty-bound to be fair, trusted enforcers of the law."
Rep. Daniel S. Goldman (D-N.Y.) said in an interview that "there's real urgency here." Goldman said DHS's acknowledgment that there were gaps in identifying extremist employees "creates real security issues and real credibility issues for the department, especially in light of the Oath Keepers' role in January 6 and the convictions for seditious conspiracy."
The lawmakers continued to express concerns about reports that paramilitary vigilante groups patrolling the U.S.-Mexico border were working with the approval of federal agents, sometimes intimidating or unlawfully detaining immigrants. Other Democratic signers included Sens. Elizabeth Warren of Massachusetts, Cory Booker of New Jersey and Richard Blumenthal of Connecticut and Reps. Nancy Pelosi of California, Sheila Jackson Lee of Texas and Glenn Ivey of Maryland.
"Far-right militia groups operating on our southern border pose a significant threat to our national security," Rep. Robert Garcia (D-Calif.) said in a news release. "Congress needs to know what steps are being taken to make sure that federal agents are not collaborating with violent extremists."
The Democrats' letter to Mayorkas says that Customs and Border Protection told Markey and other senators in April that DHS was working on "a departmentwide directive" to prevent, detect and respond to violent extremist activity.
Lawmakers want to know the status of that directive.
"DHS responds to Congressional correspondence directly via official channels, and the Department will continue to respond appropriately to Congressional oversight," a DHS spokesperson said in a statement Monday.
The letter also cited a December report by the Project on Government Oversight and the Organized Crime and Corruption Reporting Project, which took a leaked membership list of the Oath Keepers and found more than 300 individuals on it had described themselves as current or former DHS employees. The Oath Keepers, founded by former paratrooper Stewart Rhodes, seek a membership of current and former military and law enforcement who swore an oath to uphold the Constitution, though Rhodes and multiple other Oath Keepers were convicted recently of seditious conspiracy and other charges related to the Capitol riot.
A broader analysis of the leaked Oath Keepers membership list by the Anti-Defamation League's Center on Extremism in September found 81 individuals who then held or were running for public office, 373 working in law enforcement and 117 serving in the military.
Susan Corke of the Southern Poverty Law Center said in the release that "DHS must make public how they are addressing hiring, promotion and retention of personnel who are sympathetic to or supportive of white supremacist causes, paramilitary militias or racist organizations. There is no place for collaboration with these groups in public institutions."
The Democrats' letter asks whether DHS uses publicly available information, such as social media, to identify or investigate potential extremist activity within the department, after the 2022 report said the department "currently does not have any specialized training for employees charged with personnel vetting activities." The report also noted that "Given that DHS has about 170,000 contractors, special consideration must be given to vetting this sizable population, which has direct authorized access to DHS assets" such as facilities and information systems.
After reports of Border Patrol agents working with civilian groups such as Veterans on Patrol, Goldman said "it's important for CBP to assure they're acting separately from any vigilante groups, who may be violent themselves. That's why there have to be strict guidelines relating to vigilante groups. That's why we hope to get a response."
Add TheJapanNews to your Google News feed.