Metrobus 'courtesy stops' let riders exit between stops in the dark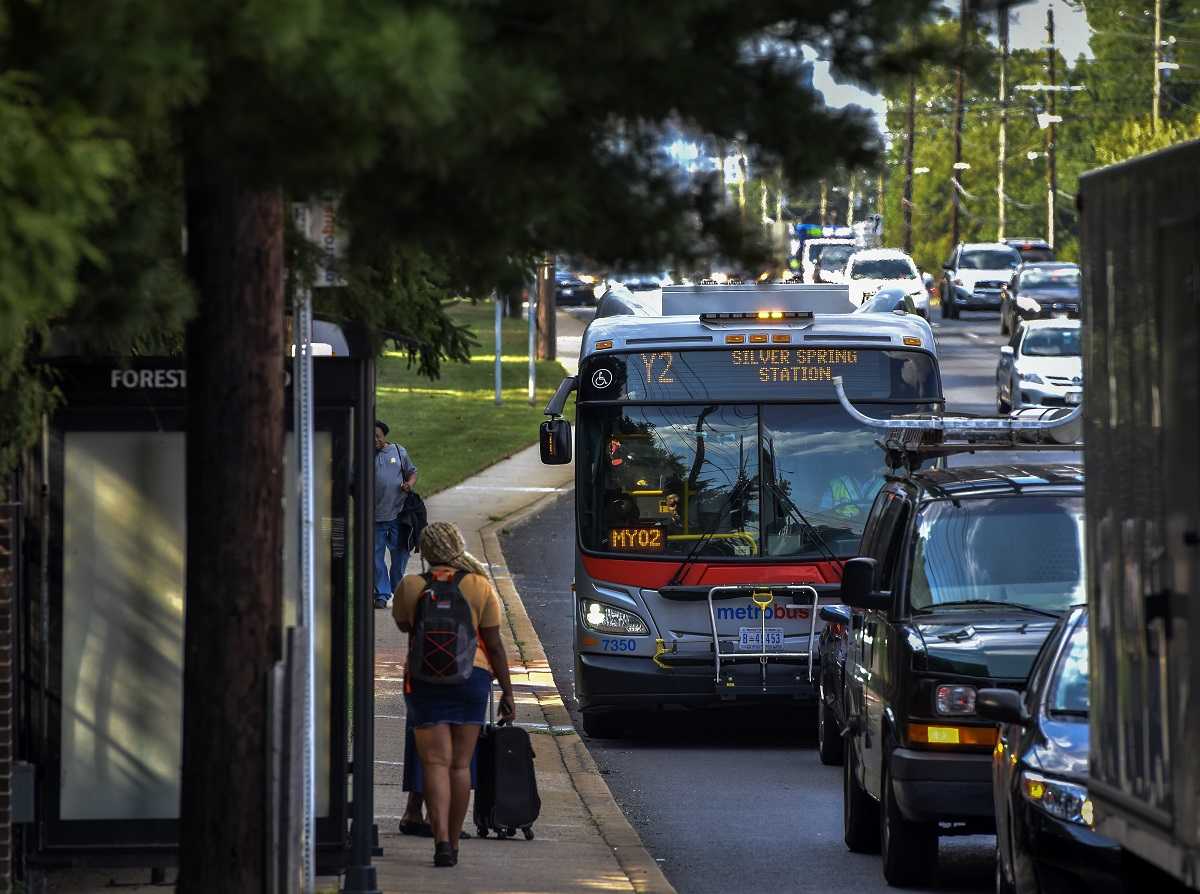 17:24 JST, July 2, 2023
Bus riders in the Washington region can now request to exit between bus stops during certain hours of the night when it's dark, Metro said, as it launches a wave of changes to bus service.
Metrobus passengers traveling between 9 p.m. and 5 a.m. can ask their bus operator to drop them off at a different location than the fixed stop along the route. The option began June 25 along with improvements to service on 68 routes.
Some routes are getting more frequencies during the midday and evening hours, as well as on weekends, Metro said, noting that Metrobus service now exceeds pre-pandemic levels by 4 percent.
The "courtesy stops" will give passengers an extra level of safety at night, transit officials said.
"For those traveling alone at night, having the option of a courtesy stop will provide an additional sense of security," Metro General Manager Randy Clarke said in a statement. "It's a small but meaningful measure, along with the added value that comes with your peace of mind."
Drivers can still refuse to stop away from a bus stop if conditions aren't safe, including along busy highways, in front of construction sites or in areas without a curb. Express and limited-stop buses are excluded from the program.
The new option is intended to help thousands of night commuters, including late-night workers who rely on Metrobus to get to work and home. It was introduced as demand for Metrobus is rising following years of declining ridership that preceded the pandemic.
On June 1, Metrobus recorded 377,000 rides, a tally that exceeds 2019 levels, according to transit agency figures. Nearly 20 percent of trips are made between 7 p.m. and 6 a.m., according to Metro records.
Montgomery County's Ride On – the region's second-largest bus system after Metrobus – said it will follow Metrobus policy and institute courtesy stops starting Sunday.
Montgomery County will also allow courtesy stops after 9 p.m. The county's Flash service, a bus rapid transit line, will be excluded. In a statement, County Executive Marc Elrich called the policy "a common-sense safety solution," saying the policy will reduce the number of pedestrians walking on roads at a time when it is more difficult to spot them.
It's not clear if other local bus systems will embrace the program. Claudia Pors, spokeswoman for Arlington Transit, said the system doesn't have immediate plans to implement the policy but will be monitoring Metro's implementation "to see if it's something we could consider in the future." Fairfax Connector said its bus stops are already relatively close on many routes that operate in neighborhoods.
Metro and Montgomery County transportation officials said they don't expect the change to affect travel times for buses.
Metro's program mimics operations in other cities, including Philadelphia, New York and Toronto, where transit officials said the flexible nighttime stops have been successful. The program is part of Metro's Better Bus Initiative, which aims to enhance service with more dedicated bus lanes, new bus facilities and zero-emission buses, as well as customer-focused improvements.
Metro received a $104 million federal grant recently to help the transit agency buy 100 electric buses and convert a Fairfax County bus garage into a facility that can support them, Metro officials said.
Among the bus improvements Metro kicked off June 25: increased midday, evening and weekend frequency to at least every 12 minutes for most of the day on Route B2 in the District; new destinations along the Landover Road and Martin Luther King Jr. Highway corridors on Route A12 in Maryland; and the launch of Route L12, including new service to the Largo and New Carrollton Metro stations. In Virginia, Metro is boosting service to every 12 minutes along Columbia Pike from Skyline City to National Landing on Route 16M, a new route that combines routes 16G and 16H.
Add TheJapanNews to your Google News feed.