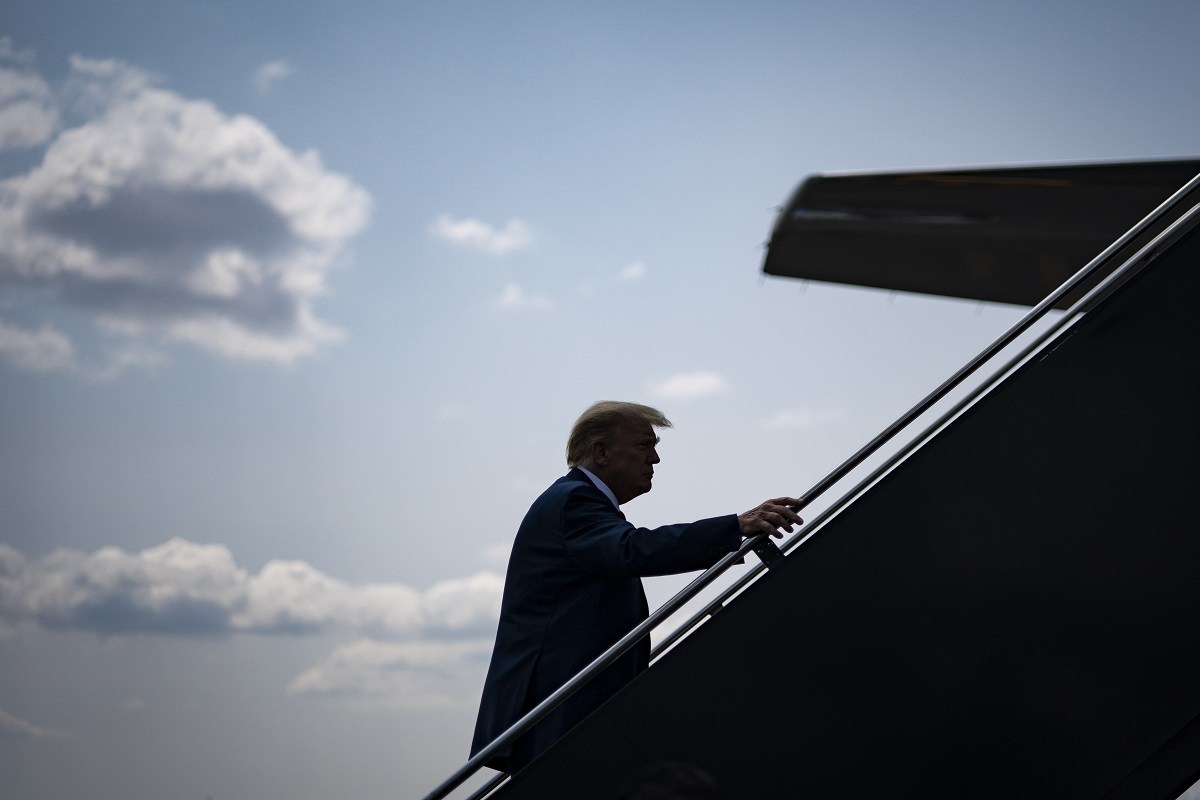 14:23 JST, June 12, 2023
COLUMBUS, Ga. – Donald Trump, whose rise has long defied the laws of political gravity, is testing his ability to do the same with criminal indictments, using his first campaign speech since becoming the only former president who has faced federal charges to stake out a defense based on falsehoods.
He made fun of the 37-count indictment accusing him of mishandling sensitive government secrets, saying sarcastically, "I got a box." He suggested a photo released by the Justice Department showing the spilled contents of a box proved that no one could see a classified document it held, when in reality prosecutors redacted that document to obscure classified information.
Trump claimed the Presidential Records Act absolves him because it's not a criminal statute, when in fact other criminal provisions cover the handling of classified materials. He said President Biden faced more lenient standards for documents retained from his time as vice president, when in fact the laws treat the records the same.
Turning to another looming legal threat – an ongoing criminal probe by an Atlanta-area district attorney into Trump's pressure campaign to overturn the 2020 election results in the state – Trump falsely claimed no one objected to his "perfect phone call" urging Secretary of State Brad Raffensperger to change the outcome, when a recording shows that Raffensperger and his lawyer repeatedly pushed back on his unsubstantiated claims.
And he continued to repeat his most infamous lie of all: "I had every right to complain that the election in Georgia was, in my opinion, rigged," he said. "They say I lost. We didn't lose. We won by a lot."
Trump tried to position the federal indictment as the latest in a long line of "witch hunts" targeting him and the MAGA movement – methodically constructing an alternative reality for him and his supporters, full of unforgivable offenses by the other side while Trump has been constantly blameless, framed and persecuted.
Inside this convention hall festooned with string lights and packed with more than 2,000 party activists, Trump's display of bravado and cheerful delivery garnered repeated standing ovations and chants of "USA!" Advisers said the campaign is aiming to use the latest charges to solidify his support in the party, just as a previous indictment – by the Manhattan district attorney related to a hush money case – boosted his early polling lead in the GOP presidential primary.
"This vicious persecution is a travesty of justice. You're watching Joe Biden – think of it, Biden is trying to jail his leading political opponent," Trump said in the speech. "As far as the joke of an indictment, it's a horrible thing. It's a horrible thing for this country. I mean, the only good thing about it is it's driven my poll numbers way up. Can you believe it?"
Yet even fans who delighted in seeing Trump take arrows as the figurehead of their movement are starting to acknowledge the toll the arrows are taking. Linda Petrou, a retired college professor active in Republican politics in North Carolina, whose state convention Trump headed to after Georgia, said she got behind him early in 2015 – when "everybody thought I was crazy" – but now wishes he would stop talking about the 2020 election and fears he's weighed down by too many controversies.
"It's gonna cause problems for the general election," Petrou said of the federal case against Trump. "We will have a candidate who does MAGA rallies at night and sits in court all day."
In contrast to the bitter speech that followed Trump's arraignment in New York in April, the mood around him was upbeat since he took off from his New Jersey golf club, according to people on the flight. He was accompanied by Reps. Marjorie Taylor Greene (R-Ga.) and Richard Hudson (R-N.C.), the chairman of the House Republicans' campaign arm.
Also on the flight was Trump's valet and co-defendant, Walt Nauta, who prosecutors alleged moved classified records at Trump's direction and lied to investigators about it.
Trump's plane was met at the airport by a crowd of supporters brandishing campaign-issued "Witch Hunt" signs and calling out to Trump, "We love you!" He approached the barricade to shake hands and sign a cardboard cutout of his face.
Before arriving at the Georgia convention, Trump picked up another congressional endorsement Saturday from Rep. Andrew S. Clyde (R-Ga.). "He will help save this nation from the radical left-wing wackos, from the socialists and the corrupt bureaucrats who want to eliminate our country," Clyde said.
Trump was introduced by a new campaign ad depicting his political opponents as "wolves" and ended his speech by dancing along to Sam and Dave's "Hold On, I'm Coming."
In between, he aggressively demonized the FBI, Justice Department and attorneys behind his prosecution. "This is a sick nest of people that needs to be cleaned out immediately," he said at one point, bringing the crowd to its feet. "Get 'em out."
He also derided prosecutors and political opponents as "cowards," "fanatics," "fascists and thugs," "lawless," "criminals" and "sinister forces" who he asserted were more dangerous than America's enemies abroad. The crowd booed for Trump's recounting of the FBI's search of his Mar-a-Lago estate to recover records he is now accused of refusing to return.
"Our people are angry and they just keep doing it," he said. "It's a demented persecution. Our enemies are desperate to stop us because they know that we are the only ones who are going to be able to stop them. We stopped them. We had them stopped cold and they cheated like a bunch of dogs."
Trump has encouraged supporters to assemble on Tuesday in Miami, where he is scheduled to appear in court. "SEE YOU IN MIAMI ON TUESDAY!!!" he posted late Friday on his Truth Social platform. Specific plans for that day are still being developed, according to a Trump campaign aide.
He did not elaborate on his message. But his social media messages have in the past inspired his supporters to action. On Dec. 19, 2020, he tweeted, "Big protest in D.C. on January 6th. Be there, will be wild!" Evidence presented by the House committee investigating the Jan. 6, 2021, attack on the U.S. Capitol showed that Trump's tweet inspired extremist groups to plan to disrupt the certification of President Biden's electoral victory. Leaders of the Oath Keepers and Proud Boys were later convicted of seditious conspiracy.
Trump's call on his supporters to protest his indictment in New York did not materialize in major demonstrations. The Secret Service, federal court marshals and Miami law enforcement have met to discuss security around Trump's court appearance. Local police are preparing additional officers to deploy, amid the prospect of demonstrations and a crush of media descending on the city.
The Trump campaign almost immediately started soliciting donations as soon as Trump announced Thursday that he had been notified of the indictment, though a campaign official declined to reveal how much had been raised.
Ahead of Trump's speech here, Arizona Republican Kari Lake delivered a keynote Friday in which she suggested Trump's prosecution could be met with violence. Lake has said she will go to Miami to "support" Trump on Tuesday.
"If you want to get to President Trump, you're going to have to go through me and you're going to have to go through 75 million Americans just like me," Lake told the GOP convention Friday to roaring cheers and a standing ovation. "Most of us are card-carrying members of the NRA," the National Rifle Association gun lobby. "That's not a threat, that's a public service announcement."
Long-shot presidential candidate Vivek Ramaswamy, who pledged that if elected he would pardon Trump, also spoke Friday to decry the charges.
One Republican breaking ranks to call on Trump to withdraw his candidacy was former Arkansas Gov. Asa Hutchinson. Speaking to a breakfast here Saturday, Hutchinson did not mention Trump, a tacit acknowledgment of his audience's tilt.
The convention was notable for the absence of Raffensperger and Georgia Gov. Brian Kemp (R), who split with Trump over his demands to overturn the 2020 election results in the state. "People need to have character. They have to have integrity," Raffensperger said in a Fox News interview Saturday. "But I think they also need to have courage – the courage to stand up and make a stand, make a stand for the rule of law, make a stand for principled leadership."
Though Trump's team had practice at responding to an indictment from the charges earlier this year in New York and the campaign was expecting charges in the documents case after the former president's lawyers met with prosecutors Monday, advisers acknowledged surprise at the level of detail of the evidence against him in Friday's indictment.
Some Trump supporters here also said they were rethinking their initial dismissiveness of the charges based on the specific allegations. Laurie Webster from Hull, Ga., said she grew more concerned after hearing some of the details on conservative host Erick Erickson's radio show.
"It sounded worse than what they were saying last night," she said. "If he runs and is more popular, I'm going to vote for him and support him. If not Trump, we need somebody like Trump," she said, explaining that she's now deciding between him and Florida Gov. Ron DeSantis.
DeSantis and other rivals for the GOP presidential nomination have joined Trump in denouncing the alleged "weaponization" of the Justice Department but they've steered clear of the specifics of the case or commitments to pardon Trump.
"The weaponization of these agencies strikes at the heart of what it means to have a free society. It's not just affecting people at the top, it's affecting people all throughout our country," DeSantis told the North Carolina GOP convention on Friday night in Greensboro, repeating his promise to oust the FBI director right away if elected.
Former vice president Mike Pence – who recently entered the presidential race, challenging his former boss in the GOP primary and arguing that Trump is no longer qualified for the presidency – similarly accused the Justice Department of years-long "politicization."
Former U.N. ambassador Nikki Haley made a vague statement Friday that criticized the prosecution and called to "move beyond the endless drama and distractions."
The other presidential hopeful who more forcefully criticized Trump was recent entrant Chris Christie, the former New Jersey governor and Trump adviser. Christie said to blame the prosecutors is to ignore Trump's behavior at issue in the case.
"These facts are devastating," he said in a CNN interview Friday, drawing on his own experience as a federal prosecutor. "Is this the type of conduct that we want from someone who wants to be president of the United States?"
In Greensboro, Margeaux Holland raved about DeSantis's speech Friday night to the convention and said many people remarked afterward that while they love Trump, "he brings a lot of baggage."
Still, Holland, 63, described herself as a "die-hard Trump person." Recounting when Trump was indicted in New York this year, she said, "When he came out and spoke that day in Mar-a-Lago, "I'm like, 'On your side, buddy' . . . and he was stronger than ever."
Add TheJapanNews to your Google News feed.