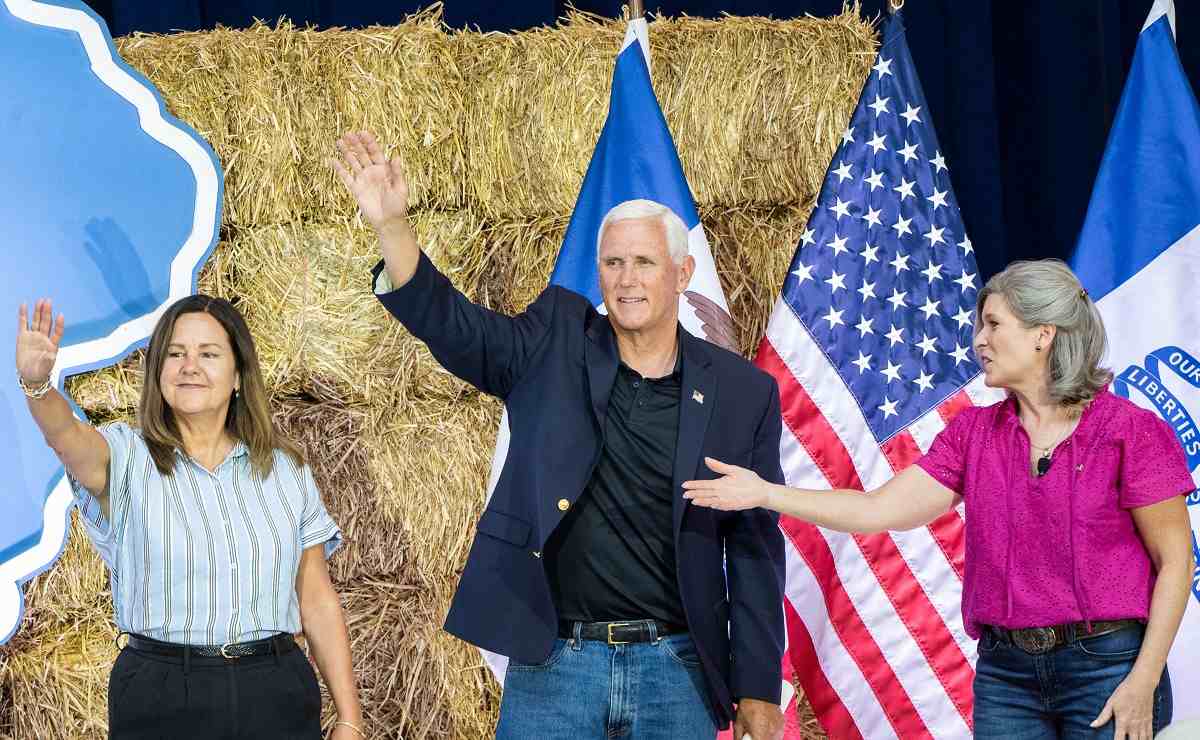 12:41 JST, June 6, 2023
Former vice president Mike Pence filed paperwork Monday to launch a 2024 presidential bid, joining a growing field of candidates seeking to challenge former president and front-runner Donald Trump for the Republican nomination – and creating a highly unusual showdown between Trump and the man who once served as his No. 2 in the White House.
Pence will formally launch his campaign Wednesday, according to a person with knowledge of his plans who spoke on the condition of anonymity because they have not yet been announced publicly. So far, seven Republicans have formally announced campaigns for the 2024 GOP nomination, including Trump, Florida Gov. Ron DeSantis, former U.N. ambassador Nikki Haley, former Arkansas governor Asa Hutchinson and Sen. Tim Scott (S.C.).
North Dakota Gov. Doug Burgum (R) and former New Jersey governor Chris Christie (R) are also planning to launch presidential campaigns this week.
Several other potential GOP candidates remain on the fence. One, New Hampshire Gov. Chris Sununu, said Monday that he had decided not to run for president.
"Our party is on a collision course toward electoral irrelevance without significant corrective action," Sununu wrote in an opinion piece for The Washington Post. "The stakes are too high for a crowded field to hand the nomination to a candidate who earns just 35 percent of the vote, and I will help ensure this does not happen."
The polling reference was to Trump.
Pence, whose presidential campaign announcement was first reported by the Messenger, has traveled to key primary states and leaned into issues that other Republicans find politically uncomfortable, calling for changes to Medicare and Social Security and advocating abortion restrictions while highlighting the Trump administration's role in overturning Roe v. Wade.
"We have to resist the politics of personality, the lure of populism unmoored by timeless conservative values," he told a crowd in New Hampshire recently.
Since leaving the White House, Pence has gradually sought distance from some of Trump's actions. He most famously broke with Trump when he refused to interfere with the certification of Joe Biden's electoral win on Jan. 6, 2021, leading some in the pro-Trump mob outside the U.S. Capitol that day to chant "Hang Mike Pence!"
Security rushed Pence and several family members from the Senate chamber to a more secure location as rioters overran the Capitol.
Pence had been steadfast in his insistence that the Constitution does not give the vice president any such authority to interfere with the election results. Still, Pence has been relatively restrained in his criticism of Trump, simply saying the two may never "see eye-to-eye" over what happened on Jan. 6.
In November, Pence issued a rare rebuke of Trump over the former president's dinner with the rapper Ye, formerly known as Kanye West, and the activist Nick Fuentes – two people known for a range of offensive comments – saying Trump "was wrong to give a white nationalist, an antisemite and a Holocaust denier a seat at the table."
In a statement Monday, Democratic National Committee chairman Jaime Harrison labeled Pence "Trump's MAGA wingman" – despite his attempts to distance himself from the former president – and criticized Pence for campaigning for election deniers last year.
"In Mike Pence's own words, he was a member of the extreme Tea Party 'before it was cool,' and he hasn't slowed down since," Harrison said. "Now, he's promising to take the Trump-Pence agenda even further, leading the charge for a national abortion ban, cutting Medicare, and ending Social Security as we know it. Pence's entrance will no doubt drag an increasingly MAGA 2024 GOP field even further to the extremes."
Add TheJapanNews to your Google News feed.