Drones Hit Moscow, Shocking Russian Capital after New Missile Attack on Kyiv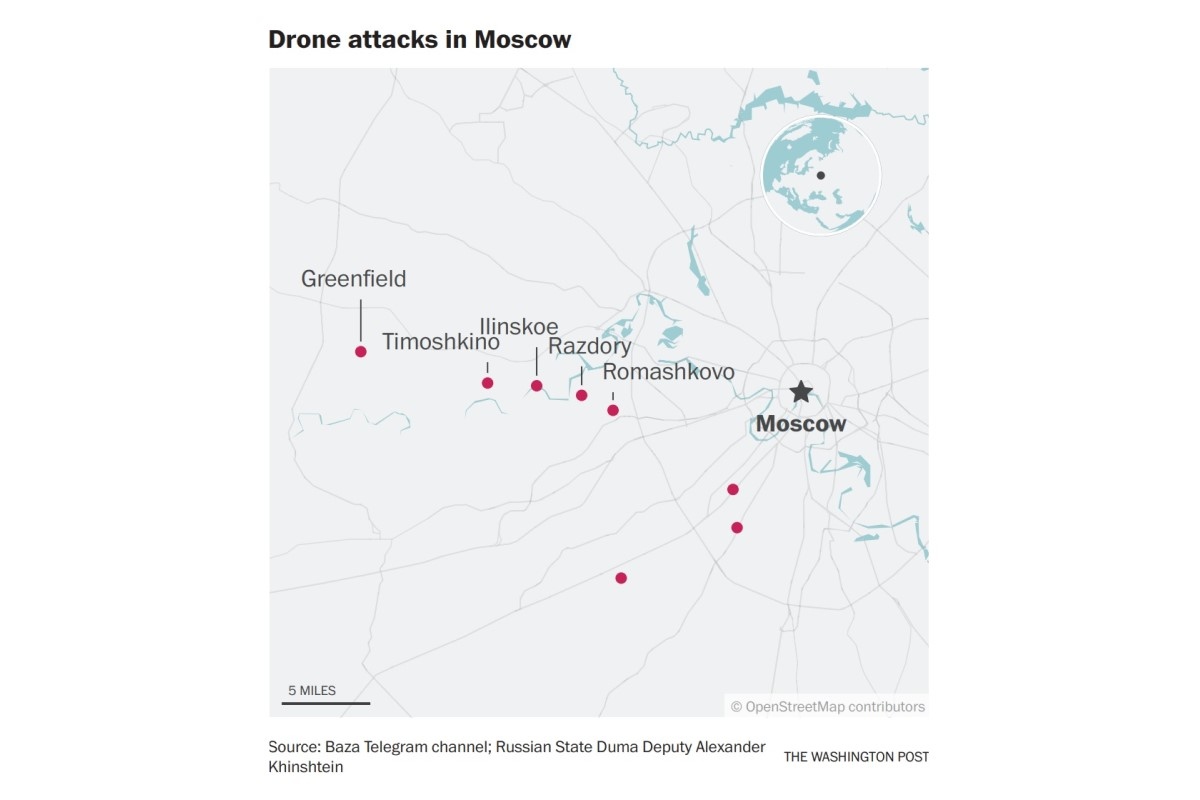 10:35 JST, May 31, 2023
KYIV, Ukraine – A drone attack hit Moscow on Tuesday morning, damaging two residential buildings – the first strike on a civilian area of the Russian capital since President Vladimir Putin launched an invasion of Ukraine more than a year ago. It was almost certainly a prelude to a major escalation in hostilities.
The drone attack, which was confirmed by Mayor Sergei Sobyanin, occurred just hours after yet another barrage of Russian airstrikes on Kyiv, the Ukrainian capital, which killed at least one person and injured more than a dozen. In Moscow, there were no reports of serious injuries.
Kyiv has been under a relentless assault of near-nightly bombings in recent weeks, with Moscow seemingly intent on weakening or destroying Ukraine's air defenses ahead of a much-anticipated counteroffensive that President Volodymyr Zelensky has said will oust the Russian invaders from all of Ukraine's territory.
While Ukraine denied involvement in the drone attack on Moscow, the dueling strikes on the capital cities appeared to mark a threshold moment, as residents of Russia's capital experienced direct consequences of their nation's hostilities for the first time.
Reports that some 200 artillery shells hit Russian towns in the Belgorod region near the Ukrainian border Tuesday offered further evidence that Kyiv wants to bring the war to Russian territory before initiating its long-expected counteroffensive.
Mykhailo Podolyak, an adviser to Zelensky, said Moscow residents deserved whatever came at them.
"Of course we want those people who wanted to start this big European war to feel what it is like to live in a state of danger," he said Tuesday morning during "Breakfast Show," a Ukrainian Russian-language YouTube program.
Still, he clarified later in a WhatsApp message that "Ukraine is not directly connected to the nighttime drone attack in Moscow. There is no strategic sense in this."
Podolyak wrote that Ukraine "has provided enormous opportunities for Russia's underground resistance movements to show themselves."
"If Russian armed groups do not leave the borders of Ukraine in the near future," he added, "the Kremlin will have to fight on two fronts – an external one in Ukraine and an internal one – with its own citizens."
It was not immediately clear what types of drones were used in the attack. Some military analysts identified the drones as UJ-22 Airborne drones, while others suggested that "Cessna" drones – unmanned aerial vehicles that look like small fixed-wing airplanes – had been deployed.
Michael Kofman, a military analyst at CNA, a Virginia-based military policy institute, said that "a mix" of "one-way attack drones" had probably been deployed.
Putin said that Ukraine was trying "to intimidate" Russia and Russian citizens, and that the attack aimed to provoke "a mirror response" from Moscow.
"This, of course, is a clear sign of terrorist activity," Putin said during a visit to a cultural center.
Putin added that the capital's air defense system had worked "smoothly." "Although there is still work to be done," he said, promising to boost air defenses around Moscow.
The governor of Belgorod, Vyacheslav Gladkov, said Tuesday that 200 shells had hit his region in western Russia in the previous 24 hours, the latest in a series of recent strikes that included a cross-border incursion last week by militias composed of Russian fighters who oppose Putin.
Gladkov said that the district of Shebekino, which lies roughly four miles from Ukraine, had been struck at least 155 times, and that at least two people had been killed. "Four manufacturing enterprises sustained damage of various degrees. At one of them, four workers got upper respiratory tract burns," he said.
In early May, two drones were intercepted over the Kremlin in an unsuccessful attack that Moscow blamed on Ukraine and claimed was an attempt to assassinate Putin. He was not in the building at the time.
Kyiv has faced a persistent threat of airstrikes since October – including 17 in the past month. On Tuesday, for the third time in 24 hours, explosions rang out across the Ukrainian capital before dawn, sending sleepless Kyiv residents racing for cover once again.
Hours after Tuesday's attack on Kyiv, Sobyanin said drones hit two buildings in Moscow, causing minor damage. Writing on Telegram, the mayor said that residents were evacuated and two people sought medical attention for minor injuries. Footage from the scene showed fire damage to the outside of a top-floor apartment and broken windows.
According to Baza, a Telegram channel linked to Russia's security services, more than 10 drones were intercepted in the Moscow region, mostly in the western districts of Istrinsky, Krasnogorsky and Odintsovsky.
"Eight plane-type drones were used in the attack," Russia's Defense Ministry said in a statement. "All enemy drones were shot down."
The statement added that some of the drones had lost control after their signals were jammed, while others were destroyed by Pantsir surface-to-air missile defense systems, which are now stationed throughout the Moscow region.
In all, more than 25 drones were reportedly involved in the attack. Some got snared on trees and wires. Videos circulating on social media showed drones exploding in fields, with some flying over Moscow's exclusive Rublyovka district.
During the 15 months since Putin ordered the Ukraine invasion, Muscovites have primarily witnessed the war on television or the internet. Unlike border regions, which have experienced cross-border strikes, the capital has been largely spared.
Kyiv's denials notwithstanding, the attack on Moscow showed Ukraine and its supporters intent on bringing the fight directly to Russian citizens.
The United States has signaled displeasure at cross-border attacks and has urged Ukraine not to use U.S.-provided weapons to attack Russia on its own soil, fearing an escalation. Kyiv has claimed the right to defend its territory as it wishes.
A popular pro-war Russian blogger, who uses the pen name Rybar, wrote: "If the purpose of the raid was to stress out the population, then the very fact that Ukrainian drones appeared in the sky over Moscow has contributed to this."
On Tuesday, Russia attacked Ukraine with 31 drones over five hours, almost all of them directed at Kyiv, Ukrainian air defense forces wrote on Telegram.
Falling debris from an intercepted drone killed a 33-year-old woman and injured at least 13 people in the city and surrounding region, said Ivan Vyhivskyi, acting head of Ukraine's national police.
Dozens of residents reported damage to homes, offices, shops, garages and vehicles.
Ukrainian military officials said Russia was using drones to pinpoint the location of Ukraine's air defense systems.
"They are trying . . . to draw themselves a map of the entire operation," Natalia Humeniuk, a spokeswoman for Ukraine's southern command, told Ukraine's Channel 5 on Tuesday.
In the Holosiivskyi district of Kyiv, a leafy residential area, falling debris destroyed the top three floors of a 21-story apartment building, crumbling brick walls and blowing out windows.
The explosion overhead shook the building and sent residents rushing for cover in bathrooms and closets and in the parking lot. One woman, who lived on one of the top floors, was killed, a neighbor said.
Kyiv Mayor Vitali Klitschko said the woman had been killed by debris after she went out onto her balcony to watch the strike. Klitschko warned residents not to do this and to heed air raid warnings.
At about 11 a.m. Tuesday, residents lined up outside the damaged apartment building, waiting in line to return to their homes. Children played in a playground littered with debris.
After 17 recent airstrikes, almost all of them in the middle of the night, residents here and across Kyiv have settled into a routine each time they hear an explosion: Check Telegram for news, and depending on the type of weapon being used, decide whether to take cover or to simply to go back to sleep.
Valeria Korzhyva, 26, who lives with her husband on the 19th floor, had initially hidden in the bathroom, but then fled downstairs.
"Normally, we go down to the bottom of the building, but this time we thought it wouldn't be necessary," Korzhyva said. "It was late. We were very tired, and then it all happened."
Add TheJapanNews to your Google News feed.