D.C. Police Officer Arrested, Accused of Leaking Info to Proud Boys Leader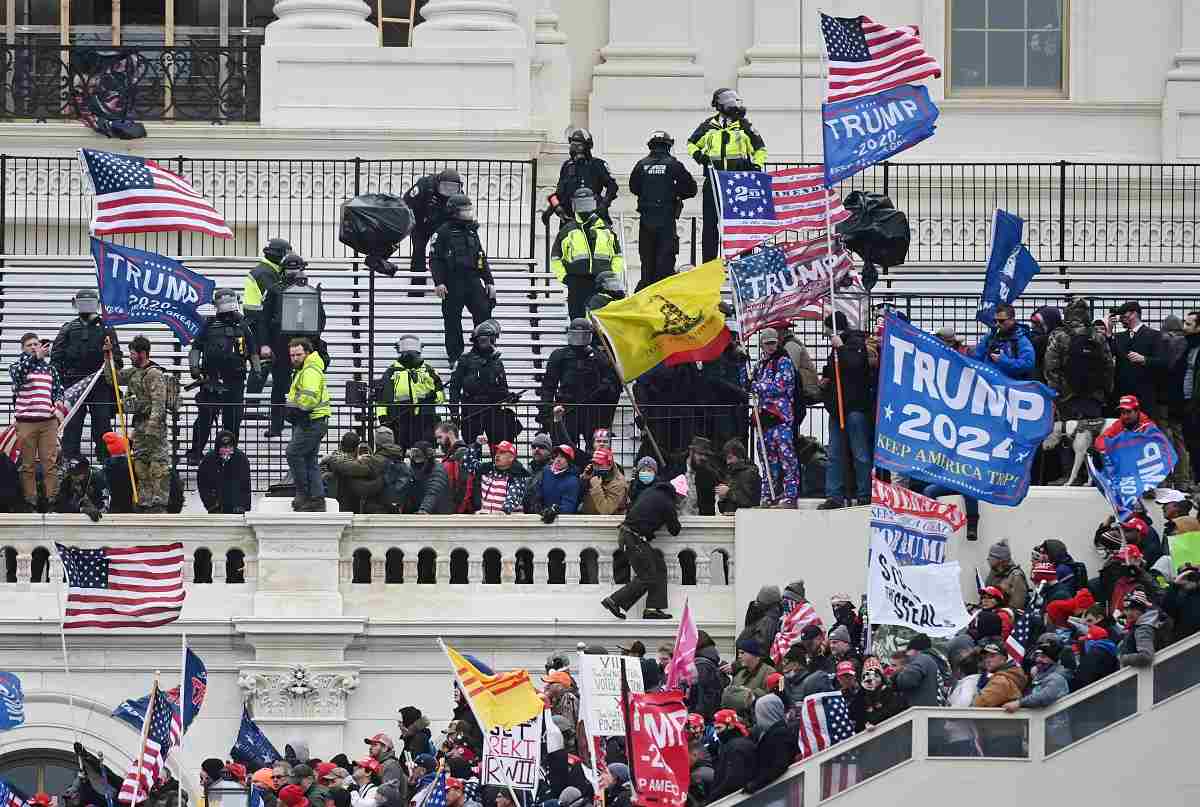 16:22 JST, May 21, 2023
A D.C. police lieutenant was arrested Friday on charges that he warned the leader of the far-right Proud Boys of his imminent arrest just days before the Jan. 6, 2021, Capitol attack, and then lied to investigators afterward about the scope of their interactions.
Shane Lamond, a 24-year veteran of the D.C. police and then the department's head of intelligence, entered a not guilty plea to an indictment on one count of obstruction of justice and three counts of making false statements. Prosecutors allege that Lamond leaked information to Proud Boys leader Henry "Enrique" Tarrio as they discussed the group's protest plans in D.C. in 2020 and January 2021, when Lamond's duties included monitoring extremist groups.
Lamond, 47, of Stafford, Va., falsely denied tipping off Tarrio about the progress of an investigation and that he would be arrested on Jan. 4, 2021, for his part in burning a Black Lives Matter flag stolen from a historic African American church during a pro-Trump rally weeks earlier, according to the indictment.
Tarrio, who earlier this month was found guilty of seditious conspiracy with three other Proud Boys leaders in the Capitol riot, had argued during that trial that his communications with Lamond showed the Proud Boys did not conspire to commit violence and that the group had shared its plans with law enforcement.
But Tarrio's prosecutors and Friday's indictment cited other messages showing how much Lamond was sharing with Tarrio during the weeks leading up to the attack. Prosecutors alleged during Tarrio's trial that the Proud Boys' anger at police deepened when they received advance word that Tarrio would be arrested in Washington and that it contributed to their planning for violence in opposing federal authority, a key element of their convictions.
The indictment states that in key moments after the November 2020 presidential election and after Jan. 6, Lamond appeared to commiserate and trade information with Tarrio.
"Hey brother, sad, sad news today. You all planning anything?" Lamond asked on Nov. 7, 2021, the day news media declared Joe Biden the election winner. "Yep," Tarrio replied, according to the indictment.
"Need to switch to encrypted. Alerts are being sent out to LE [law enforcement] that [Parler social networking] accounts belonging to your people are talking about mobilizing and 'taking back the country,'" Lamond added later that day. "Getting people spun up. Just giving you a heads up."
On Jan. 7, one day after the violence, Tarrio confessed to Lamond in a Telegram message, "I think I could have stopped this whole thing," Friday's indictment alleged.
Lamond expressed sympathy, alluding to another person whose name was redacted and identified by prosecutors only as "Person 6," whose actions appear to align with those of Infowars founder and conspiracy theorist Alex Jones.
"I don't know, bro. You know it's f—ing bad when [Person 6] was the voice of reason and they wouldn't listen to him. He got on the bullhorn and urged everyone to stop attacking the police and march around the US Capitol and they ignored him."
"Of course I can't say it officially," Lamond added on Jan. 8, "but personally I support you all and don't want to see your group's name or reputation dragged through the mud."
D.C. Police Chief Robert J. Contee III said Friday that Lamond had been served a notice of proposed indefinite suspension after being placed on paid leave early last year after an FBI probe began.
"There are times when we have people who don't live up to the oath," the chief said. "And when we have that, we have to hold them accountable."
D.C. police said in a statement that city officials "understand this matter sparks a range of emotions, and believe the allegations of this member's actions are not consistent of our values and our commitment to the community." The department said it cooperated with the federal investigation and would launch its own probe into the lieutenant's conduct when the criminal proceedings are complete.
Lamond appeared briefly in federal court in Washington on Friday to enter his plea, wearing a light blue button-down shirt, gray slacks and tennis shoes.
His attorney, Mark E. Schamel, told U.S. Magistrate Judge Zia M. Faruqui that Lamond's "arrest came as a shock" after months of discussions with federal prosecutors, most recently in December.
Lamond faces a mandatory three-year minimum sentence and up to 30 years in prison if convicted of the obstruction of justice charge. The false statement counts are each punishable by up to five years.
Schamel has described his client's contacts with Tarrio as professional and part of his work to obtain intelligence and prevent clashes between the Proud Boys and other groups. Lamond's wife had posted on social media that her husband was being criticized for doing his job.
"Lt. Lamond is a decorated officer whose position required contact with extremist groups who sought to undermine our democracy on January 6th, yet he does not, nor has he ever, supported their views," Schamel said in a statement Friday afternoon. "We are not going to try this case through press releases, the jury will see the fallacy of these unfairly levied allegations when the evidence is presented."
The indictment is a black mark against the D.C. police department, which has otherwise been lauded for rescuing the understaffed and unprepared Capitol Police force during the siege. D.C. officers, many in riot gear and many of whom were injured, became the face of the fight to defend the Capitol and lawmakers from the mob. They were among those honored with the Congressional Gold Medal. Contee has said the city's police force "saved democracy."
The indictment alleges that, beginning in July 2019 and continuing to at least January 2021, Lamond and Tarrio were in regular contact regarding the Proud Boys' planned actions in Washington and that Lamond began using Telegram to provide law enforcement information to Tarrio as early as at least July 2020.
The pair exchanged at least 500 communications via cloud-based services, but the pace and secrecy of the messages spiked after the election, including at least 101 of 145 Telegram secret chat messages between Dec. 18, 2020, and Jan. 4, 2021, that were destroyed by measures including auto-delete timers, charging papers said.
That period spans when President Donald Trump on Dec. 19 announced plans for a "wild" protest when Congress met to certify the election and Tarrio's arrest on Jan. 4.
For instance, on Dec. 18, 2020, Lamond revealed information about the investigation into the burning of the Black Lives Matter flag after a Dec. 12 Trump rally in Washington. Tarrio later pleaded guilty to destruction of property along with attempted possession of a high-capacity ammunition magazine upon his return to Washington three weeks later.
"Hey brother did you call in an anonymous tip to FBI claiming responsibility for the banner burning?" Lamond wrote.
"I did more than that. It's on my social media," Tarrio replied.
Lamond volunteered to check with the criminal investigators "to see if they have you on video." He then cautioned that the FBI and U.S. Secret Service were "all spun up" about a comment Tarrio had made on a show on Infowars that in the future, Proud Boys would disguise themselves as Biden supporters.
U.S. prosecutors alleged in the indictment that Tarrio shared Lamond's information with other Proud Boys members and took action based on what Lamond had said. The indictment accuses the lieutenant of making three specific false statements in an interview with two U.S. attorney's office investigators on June 2, 2021 – claiming that his communications were mostly "one-sided" from the Proud Boys leader, when Lamond knew he regularly passed on confidential law enforcement information; denying that he tipped off Tarrio about the flag burning investigation; and denying that he informed Tarrio of his arrest warrant.
On Christmas Day, for example, Lamond shared that he believed an arrest might be imminent because he had been asked to identify Tarrio in a photograph on Parler, prosecutors said. On Jan. 4, as Tarrio was on a flight from Miami to Reagan National Airport, Lamond sent Tarrio notice that a warrant had been signed.
"#F–ktheblue," other Proud Boys wrote in a group chat after Lamond's first warning, and "Agree, they chose their f—ing side so let's get this done." Prosecutors said Proud Boys discussed storming the Capitol, overwhelming police and rallying "normies" to join their side in violence on behalf of Trump's push to overturn the 2020 election.
Prosecutors said that after the second warning from Lamond, as Tarrio was being pulled over by D.C. police when he entered Washington from the airport, Proud Boys leaders repeated in Telegram and elsewhere, "Nuke chats."
Tarrio exchanged a 129-second phone call with co-defendant Joe Biggs, who was also convicted of seditious conspiracy, prosecutors said. After the call, Tarrio texted: "Whatever happens … make it a spectacle."
Biggs replied in a word, "Yup."
According to the indictment, Lamond did tell investigators in June 2021 that he had "one or two" conversations with Tarrio on Jan. 6 or 7, 2021, and that "Tarrio believed he could have stopped the January 6 attack."
But Lamond did not mention that Tarrio told him on Jan. 7 that a female associate in Maryland was at the riot, and that Lamond at Tarrio's request had obtained law enforcement information to reassure Tarrio, "Nope. [She is] [n]ot on our list."
Michael Fanone, a former D.C. police officer who was seriously injured when he was pulled into a crowd and beaten at the Capitol on the day of the riot, said Friday that he is hurt by the indictment.
Fanone, who became the public face of police who fought the mob, resigned in December 2021 after he said fellow officers turned on him for being outspoken. He said of the charges against Lamond: "This wasn't just ineptitude and poor decision-making. There was a level of betrayal."
The former officer publicly excoriated lawmakers and others who downplayed the Jan. 6 attack. He said it appears that the lieutenant may have failed to follow proper procedures in running sources. Fanone noted cardinal rules to never meet sources alone and to record every contact. From the indictment, he said, it appears "Lamond was giving out as much information as he was receiving."
He added that the alleged actions by Lamond might help explain "why I felt I had to leave the police department in the manner that I did."
Add TheJapanNews to your Google News feed.