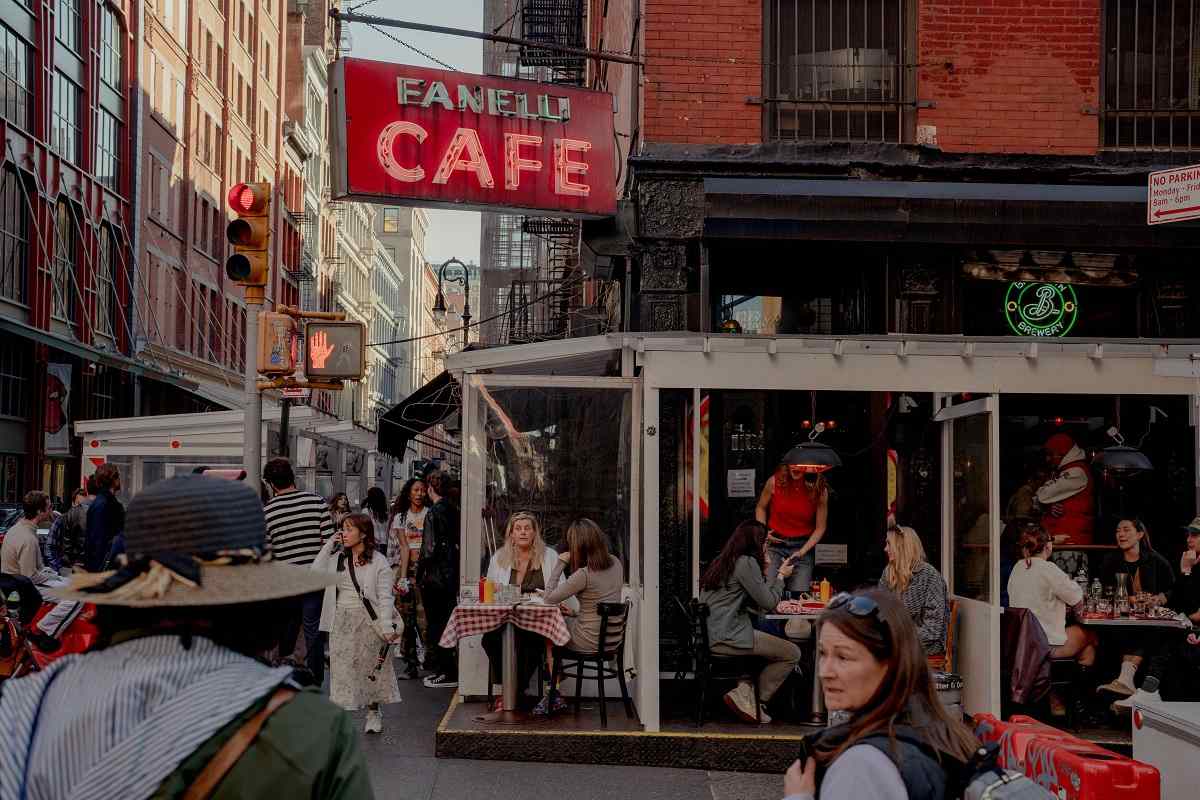 16:31 JST, May 8, 2023
NEW YORK – Maddy Crawford strolled right past it for years. When she walked through SoHo on the way to various fashion and hospitality jobs, the antique red-and-green neon sign was just a familiar bit of scenery. It wasn't until last May that Crawford's head began to turn as she passed the sidewalk seating of the Fanelli Cafe, the venerable pub at the intersection of commercial thoroughfare Prince Street and picturesque cobblestone Mercer Street. Whether sitting at tables or draped aloof across one of the beat-up orange traffic barriers always stationed outside the front door, suddenly the diners there "looked immaculate, every time," she says.
"I was like, 'Oh my God,'" Crawford, 26, remembers. "'You have to be so hot to hang out there.'"
It's a feat, ascending to the hottest you've ever been just after your 100th birthday. The Fanelli Cafe was established in 1920 when one Mike Fanelli, a prizefighter, renamed a grocery-turned-saloon that had existed since 1847 after himself. It is said to be the second-oldest continuously operating drinking establishment in the city. Back in the 1960s, legend has it, the restaurant was a famous hangout for Beat poets and artsy types, such as Bob Dylan and Chuck Close.
For most of recent history, the Fanelli Cafe (known to locals as "Fanelli's") has remained a beloved, can't-believe-that's-still-here downtown fixture with the faded, slightly honorary gravitas of having been a bohemian magnet once. But post-pandemic, Fanelli's has become a hub once again for the young and stylish – this time lured there by TikTok and Instagram posts, treasure maps pointing toward a type of ostensibly authentic New York City that's become harder and harder to find.
In 2018, Fanelli's owner Sasha Noe – who inherited the restaurant from his father, the architect Hans Noe, in 2000 – told the New York Times that he "would make more money if I rented it out as a shoe store." Noe added, though, that he was committed to keeping the doors open at the bar, where mornings were for paper-reading locals, and the vibe (red-checkered tablecloths, waitresses who call you "babe") and menu (highlights include burgers, mozzarella sticks and a surprisingly beloved Moroccan lamb stew) had remained the same for decades. (Noe did not respond to requests for an interview.)
Before the Prada store opened catty-corner from Fanelli's in 2001, kicking off the neighborhood's transformation into a high-end retail destination, SoHo was quieter and grungier, art-gallery central. In recent memory, Fanelli's has been "a portal into that older era of SoHo," says Hillary Reinsberg, the editor in chief of New York dining authority the Infatuation. But lately, "I've seen it be this mix of the downtown, cool-kid artsy scene and the tourist culture of SoHo." Weekend evenings are the true cool-kid hours. On a warm Friday night in March, girls with bleached hair, vintage purses and blunt bangs and guys with mustaches, signet rings and semi-ironic Fair Isle sweaters were crowded into outdoor seats well after 10 p.m., smoking cigarettes and shriek-laughing over tables littered with empty glasses.
Crawford, after working up the nerve to visit for the first time in 2022, was enthralled immediately. "I saw this girl wearing the violet Marc Jacobs Kiki boots and I was like, 'Oh my God. Where'd she get her hands on them?' I had to talk to her," Crawford says. They've been best friends – and Fanelli's regulars – ever since.
Alex Hartman, the 26-year-old creator of the Instagram meme account @nolitadirtbag, has included Fanelli's in several sendups of the emerging downtown-Manhattan scene. "I've made this joke a couple of times with my friends, when we're walking from one place on the West Side to the East Side: 'Oh, we've gotta reroute so we can just walk by Fanelli's.' To, like, see everyone and be seen," Hartman says, sipping a midday Diet Coke in – where else? – the backroom of Fanelli's.
The cozy two-top perched directly at the corner of the building – in perfect view of passersby on both Prince and Mercer – has also been a target of Hartman's caustic humor. "It's like whoever gets that table, they're ready. They're smoking a little skinny cigarette," Hartman says. His voice goes faux-casual: "'Oh, me? I'm just grabbing a little bite.'"
Certainly, the over-26 contingent has taken note. Jesus Caicedo, a 38-year-old creative director of his own production company, started dining there in 2007. "It's a hypebeast corner now," he says. "People hang out there and have cigarettes and get photographed on the corner."
Several 30- and 40-something friends from a local running club meet at Fanelli's each Friday, usually ahead of a long Saturday run. Patty Connelly, 39, started an Instagram account to honor the tradition: @fanellifridays.
"There's definitely more influencer people that you notice outside now. That's why I started the Instagram handle – because I didn't want one of them to take it," Connelly says with a laugh. "We had to grab it before they grabbed it. The children."
Indeed, enough popular TikTokers and Instagram personalities have posted from and about Fanelli's (influencer Mimi Shou recently included it on a list of "where to find hot guys in NYC this spring") to inspire parodies. One TikToker joked about making a dining companion clear off the table so the signature tablecloth would be visible on his Instagram story.
In one sense, that's nice; it's nice that for once influencers popularized a place where you can get a sit-down lunch for $20 and don't have to be on a Sunday-night HBO show to get a table. But "At the same time, it makes it like, 'Oh, you have to dress a certain type of way to go to this restaurant,'" adds Minna Kim, a 26-year-old model and graduate student in costume preservation who grew up on the Upper East Side. "Like, 'This restaurant is for the coolest people ever.'"
The renewed fascination with Fanelli's may be emblematic of a larger shift in tastes. In the 1990s and 2000s, Rudy Giuliani's Disneyland vision for a tourist-friendly Manhattan took hold of the city; the 2010s' health-conscious, brand-aware zeitgeist brought about a Goop-ified, Chobani-ized downtown. Kim, who worked for a beauty brand from 2017 and 2019, remembers that "New York was kind of obsessed with perfection," and even the restaurants were aiming for "this polished, clean look." The cycle of novelty would dictate, then, that the youngest adults in the city would be drawn to artifacts from the gritty, grimy city that disappeared before they arrived.
Like, say, places with beat-up cast-iron facades and "history" sections on their websites. Reinsberg has seen a similar phenomenon at Raoul's, a French restaurant near Fanelli's that opened in 1975. Twenty-somethings have been flocking to the Rainbow Room (age 89) for concerts and frequented the Jane Hotel (115) to party in its ballroom before it became a private club at the end of 2022. And Bemelmans Bar, a dignified 76-year-old cocktail spot inside the Carlyle Hotel, added a bouncer in 2021 to match its new "nightclub-level energy." Of course, one has to wonder how authentically one can channel the New York of the Rat Pack or Woody Allen when such spaces are full of funky plastic Susan Alexandra bags and $600 designer running shoes Venmoing each other for martinis.
Still, "Right now is the death of latte art," Caicedo observes, "to the point that now grungy and messy is in. Now we're thrifting; we're reverting back to the Joey Ramone days."
Reinsberg, too, notes that restaurants with flower walls and cursive neon signs, all the rage in the 2010s, now feel dated. Which "could be in reaction to the places that feel like they're trying really hard," she says.
Not trying too hard – while eternally appealing – is particularly attractive in a neighborhood, and city, and country saturated with glossy white storefronts and restaurants competitively ratcheting up their gimmicks. There's a place in Miami, Hartman says, picking at his french fries, where for $1000 you can buy a 100 percent wagyu tomahawk steak that's served to you in a golden briefcase. It gets branded with the name of the restaurant before it's served, he says while shaking his head, and everyone, obviously, goes crazy.
Fanelli's, he says, "is, like, the opposite of that."
Add TheJapanNews to your Google News feed.