Bud Light's Attempt to Market to New Customers Alienated Old Ones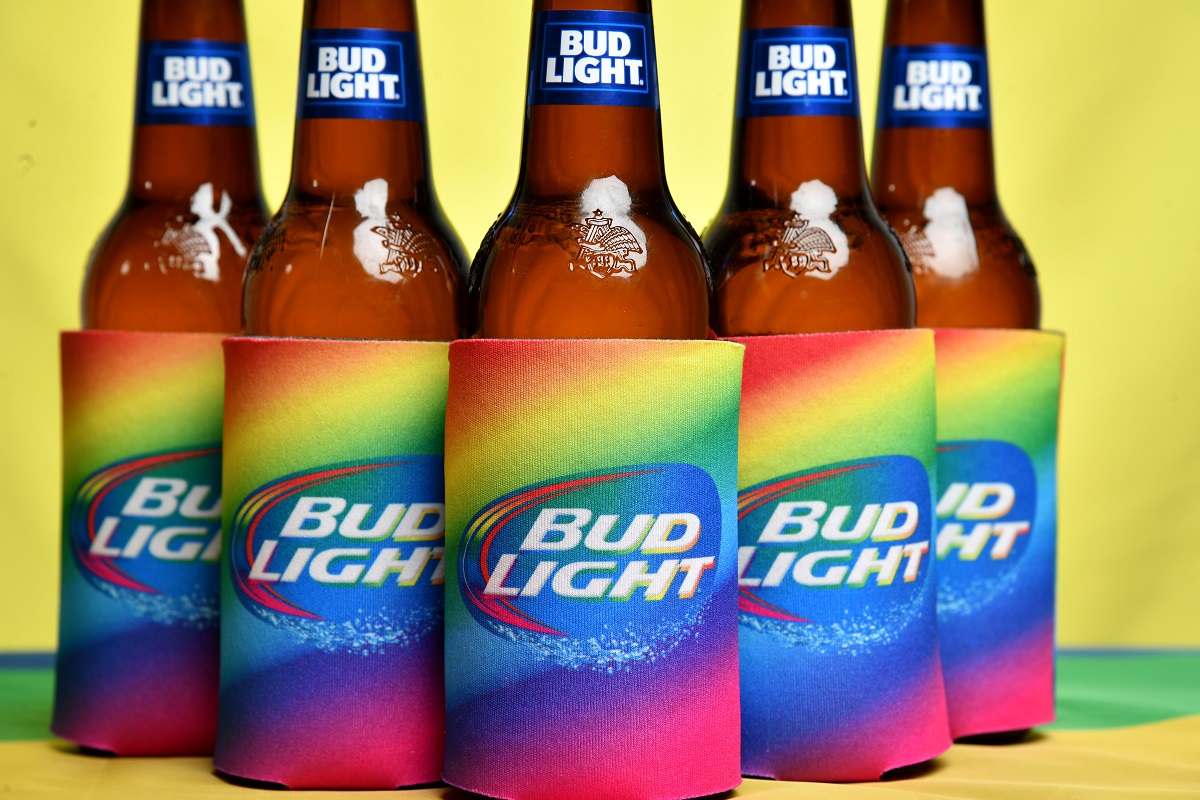 16:05 JST, April 23, 2023
A couple of weeks ago, Guy Cummins decided to stop selling Bud Light.
The owner of Florence, Ky.-based Smokin This and That BBQ had noticed patrons were bickering over the beverage – a longtime customer favorite.
After the brand partnered with transgender actress and comedian Dylan Mulvaney, Cummins said, it became a source of tension in his restaurant.
"When this first started happening, I'm like, 'God, why is everybody complaining about Bud Light?'" Cummins said. "I've never seen somebody just literally haze a person for the kind of beer they get."
Scenes like the ones in Cummins's restaurant have been playing out in bars across the country since April 1, when Mulvaney showed off a can of Bud Light bearing her likeness on her Instagram account as part of a March Madness-related promotion with Anheuser-Busch. The company sent her the special cans to commemorate a year since her transition into womanhood.
It's far from the first time Anheuser-Busch has appealed to queer consumers: The company has had a partnership with GLAAD and has rolled out rainbow-colored bottles during Pride month. But Bud Light's inclusion of Mulvaney has sparked a noisy outcry, highlighting how difficult it can be for a brand to depart from its long-standing image with the goal of reaching new demographics – particularly if they wade into the culture wars.
Conservative leaders such as Gov. Ron DeSantis (R-Fla.) and Rep. Dan Crenshaw (R-Texas) have called for a boycott of Bud Light. Social media has been dotted with videos of consumers destroying cans in stores, dumping them in the street and running them over with construction equipment. Kid Rock made a show of shooting a couple of cases.
While Bud Light's partnership with Mulvaney represented a veritable baby step in altering the brand's identity, the backlash it provoked reflects "the dark side of social media for brands," according to Angeline Close Scheinbaum, associate professor of marketing at Clemson University.
"The brand was likely aiming for inclusivity but received backlash from parts of the consumer base that felt alienated," Scheinbaum said.
The fracas around Bud Light's partnership with Mulvaney is unfolding as anti-transgender legislation is on the rise across the country. In 2023, Republican state legislators have advanced dozens of pieces of legislation seeking to restrict transgender people's access to health care, sports and public accommodations or prohibit the ability to change a person's name or gender on a driver's license or birth certificate.
Transgender Americans experience stigma and systemic inequality in many aspects of their lives, according to a wide-ranging poll from The Washington Post and the Kaiser Family Foundation. In the survey, 63 percent of transgender adults reported that they "sometimes" or "frequently" feel discriminated against because of their gender identity or expression.
In a podcast released last month – shortly before Mulvaney posted the ad – Bud Light's vice president of marketing, Alissa Heinerscheid, said that the brand is "in decline" and expressed a need to evolve its "fratty" identity into something more inclusive.
When Heinerscheid pondered how the brand might change, she aimed for "a campaign that's truly inclusive and feels lighter and brighter and different and appeals to women and to men," she said on the Make Yourself at Home podcast.
Heinerscheid and Anheuser-Busch did not respond to requests for comment. Mulvaney also did not respond to a request for comment.
As tensions escalated among its traditional customer base, Anheuser-Busch tried to offer reassurance. Last week, CEO Brendan Whitworth published a letter saying that the company "never intended to be part of a discussion that divides people." Studded with references to his military service and the company's "history and heritage" in "America's heartland," the letter did not directly address the boycott or Mulvaney or explain what prompted Whitworth to write it.
Even though cans featuring Mulvaney were never available for public purchase, McKinley Minniefield, owner of the Fairfax Bar and Grill in Bloomington, Ind., said some patrons were heckling those who ordered Bud Light and saying hateful things about transgender people. It got so extreme that some customers left the restaurant.
Minniefield didn't want to stop serving Bud Light. To stem the vitriol, he made a Facebook post.
"Bars, in our opinion, exist as public spaces where ideas should be exchanged," Minniefield wrote. "Unfortunately due to all of the bigotry and hatred that has surfaced around the Bud Light controversy any patron wanting to voice their concerns about the issue will be immediately asked to pay their bill and leave our establishment."
The policy cost him some of his regular customers, Minniefield said. But it's also brought in new business from people who appreciated how he stood up for inclusion.
"As much as I hate to say it, I'm so glad these people are standing up and making fools of themselves so I have a reason to tell them to leave," Minniefield said. "It gives me the ability to create the kind of space of inclusivity that I want."
Altering a brand's identity can come at a cost when changes clash with existing consumers' expectations, as Anheuser-Busch has seen, according to Lauran Star, a workplace inclusion psychologist. Had the company gone further and featured Mulvaney in an ad or sold cans with her image in stores "there could be violence" or "massive boycotting," Star said.
"I think if they'd waded a little deeper into the pool, the U.S. culture isn't ready for that," Star said. "This is them dipping a toe in the water and gauging reaction."
So far, the reaction has been volatile. A Budweiser distributor canceled a promotional event in Missouri earlier this month, citing concerns about employee safety. Anheuser-Busch told Vox it was working with law enforcement after the news site reported that several of its facilities had received bomb threats.
Anheuser-Busch's response to the boycott has been met with frustration across the political spectrum. Some on Twitter slammed Whitworth for failing to stand by Mulvaney, while others criticized him for not disavowing the company's partnership with her.
For Charlotte Clymer, a writer and LGBTQ activist, Anheuser-Busch's choice to partner with Mulvaney was initially a pleasant surprise. But she found the company's response to the backlash to be "very disappointing." To her, it read like "an unspoken apology for putting a trans woman on a beer can."
"Instead of saying, 'Our beer company serves everybody regardless of who they are and we respect the dignity of every person regardless of who they are,' he opted for this very strangely coded statement," Clymer said. "They had a professional relationship with Dylan and left her twisting out in the wind."
She hopes the backlash doesn't discourage other companies from partnering with trans spokespeople.
"We're in a moment where we need every scrap of allyship we can get," Clymer said.
When it comes to public blowback from conservatives or liberals, the cost for brands is typically short-lived, according to Anna Tuchman, associate professor of marketing at Northwestern University's Kellogg School of Business.
In 2020, the CEO of Goya Foods – which bills itself as America's largest Hispanic-owned food company – visited the White House and praised former President Donald Trump. Afterward, Goya faced a boycott from consumers who felt the executive's embrace was harmful given the Trump administration's policies aimed at curbing immigration and his comments about Latinos that some view as derogatory. Conservatives at the time pushed for a "buycott," with Ivanka Trump promoting Goya products on her social media accounts.
Tuchman studied social media activity and the brand's sales in the wake of the controversy. Prior to the White House visit, Goya's brand was favored by consumers in liberal-leaning areas. In the three weeks following the controversy, sales rose about 22 percent, with growth coming in Republican-leaning counties, Tuchman said. But after that, sales soon returned to their baseline.
That's because consumers tend to stick to their habits. There's a psychological cost associated with switching brands, according to Tuchman, and more often than not, people tend toward the familiar.
Although in some ways the Goya situation is the inverse of what's happening with Bud Light – a brand associated with conservative values that's courting a more liberal audience – she thinks the impact will be similarly fleeting.
Despite claims that the boycott is harming the company's financial performance, Anheuser-Busch's stock has risen more than 5.3 percent in the past month, according to data from MarketWatch.
Add TheJapanNews to your Google News feed.