Lindsey Graham Meets with Saudi Crown Prince, Reversing Past Criticism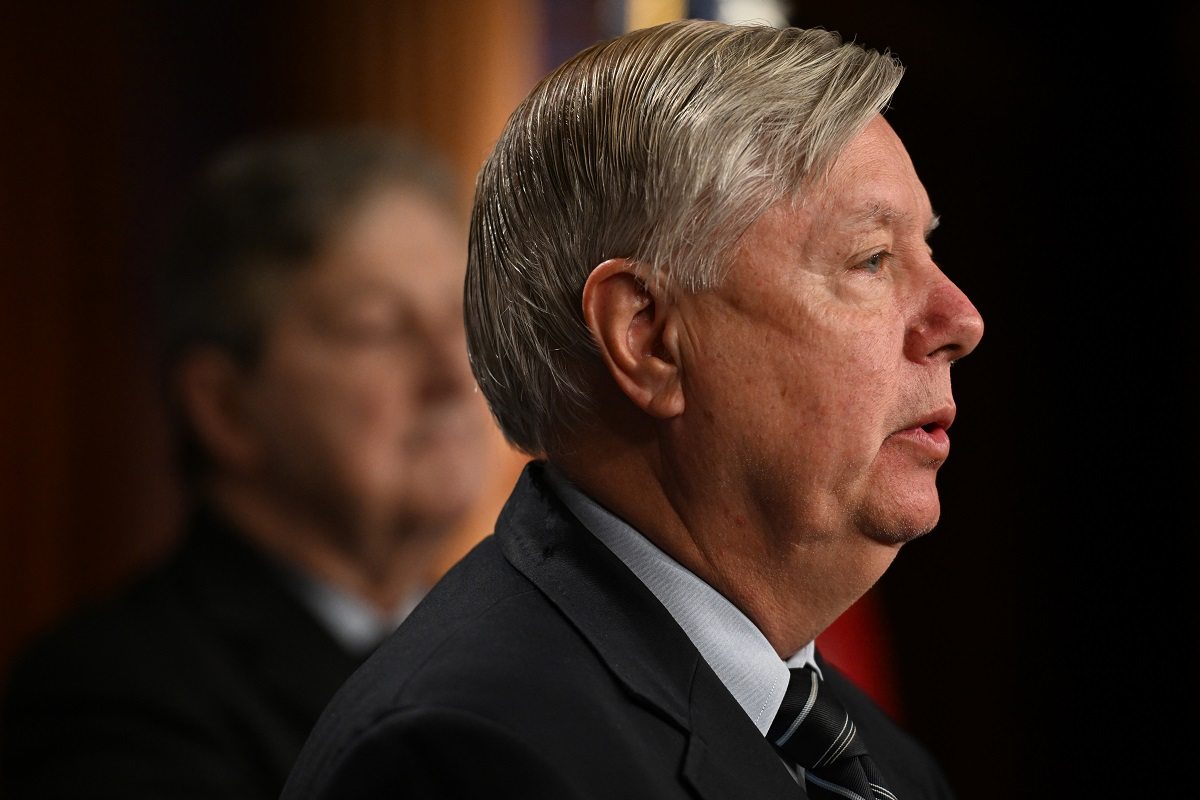 11:48 JST, April 12, 2023
Sen. Lindsey O. Graham (R-S.C.), who once promised a "bipartisan tsunami" against Saudi Arabia in the wake of the 2018 assassination of Washington Post contributor Jamal Khashoggi, held what he called a "very productive" meeting with Saudi Crown Prince Mohammed bin Salman on Tuesday.
"I just had a very productive, candid meeting with the Saudi Crown Prince and his senior leadership team," Graham tweeted on Tuesday. "The opportunity to enhance the U.S.-Saudi relationship is real and the reforms going on in Saudi Arabia are equally real."
An official Twitter account linked to the Saudi government also shared images of the meeting, a translation of which says the two leaders reviewed "the friendly relations between" Saudi Arabia and the United States.
U.S. intelligence says the crown prince was behind the murder of Khashoggi, a U.S. resident and Post contributing columnist. (Saudi Arabia denies the charges.)
After the meeting Tuesday, Graham also said he looks forward to "working with the administration and congressional Republicans and Democrats to see if we can take the U.S.-Saudi relationship to the next level."
He added that he thanked Mohammed for Saudi Arabia's purchase of "$37 billion worth of Boeing 787s – which are made in South Carolina – for the new Saudi airline."
"Investments like this are game changers," he said.
In his tweets, he did not mention Khashoggi's death.
Graham's meeting with Mohammed marks a departure from his previous stance on the crown prince, who has long been connected to the 2018 assassination of the Saudi dissident. As news of Khashoggi's disappearance broke, Graham – once a staunch defender of Saudi Arabia in Congress – became critical of Mohammed and his actions.
Just days after Khashoggi's death in October 2018, Graham said if Saudi Arabia were found responsible of Khashoggi's death, it would be "unacceptable."
"There'll be a bipartisan tsunami against Saudi Arabia here if they did, in fact, do this," he told reporters on Oct. 12, 2018.
Days later, on Oct. 16, Graham accused the crown prince of having Khashoggi killed, telling Fox News that "this guy has got to go."
"He had this guy murdered in the consulate in Turkey," Graham said then.
"Expect me to ignore it? I feel used and abused," he added, referring to his previous advocacy for Saudi Arabia as a senator. "I was on the floor every time defending Saudi Arabia because they are a good ally."
In that same interview, Graham said he would not be "going back to Saudi Arabia as long as this guy is in charge."
And in November 2018, Graham demanded that sanctions on Saudi Arabia be included in a measure to fund the government by December of that year. In a Twitter thread, Graham wrote that Mohammed is "beyond toxic" and that "when we lose our moral voice, we lose our strongest asset."
"[I]t is not in our national security interests to look the other way when it comes to the brutal murder of Mr. Jamal Khashoggi," Graham said in a statement then. ". . . While Saudi Arabia is a strategic ally, the behavior of the Crown Prince – in multiple ways – has shown disrespect for the relationship and made him, in my view, beyond toxic."
A spokeswoman for Graham did not immediately respond to a request for comment on Tuesday's meeting.
Mohammed denied any personal role in the brutal killing of Khashoggi. In 2018, the CIA determined the month after his death that the prince had ordered the assassination. Most recently, however, a U.S. federal judge in December ordered that a lawsuit brought against the Saudi royal family in connection with the murder be dismissed.
The basis for the decision, wrote Judge John D. Bates of the U.S. District Court for the District of Columbia, was the legal protections the prince is entitled to in his new role as Saudi Arabia's prime minister.
Graham is not the first U.S. leader to meet with Mohammed since Khashoggi's death.
President Biden drew condemnation in July when he met with the crown prince – and gave him a fist bump. Biden told reporters then that he told Mohammed in a "straightforward and direct" way that the killing was unacceptable and that he made it "clear what I thought of it at the time and what I think of it now."
The crown prince, who is the de facto ruler of Saudi Arabia, "basically said that he was not personally responsible for it," Biden recounted. "I indicated that I thought he was."
Human rights activists said Biden's visit, along with the fist bump, projected acceptance and even closeness between the two, marking a clear reversal of Biden's promise to make Saudi Arabia a "pariah" for its human rights abuses.
Add TheJapanNews to your Google News feed.