Donald Trump, a Tawdry Case and a Nation Still Mired in His Chaos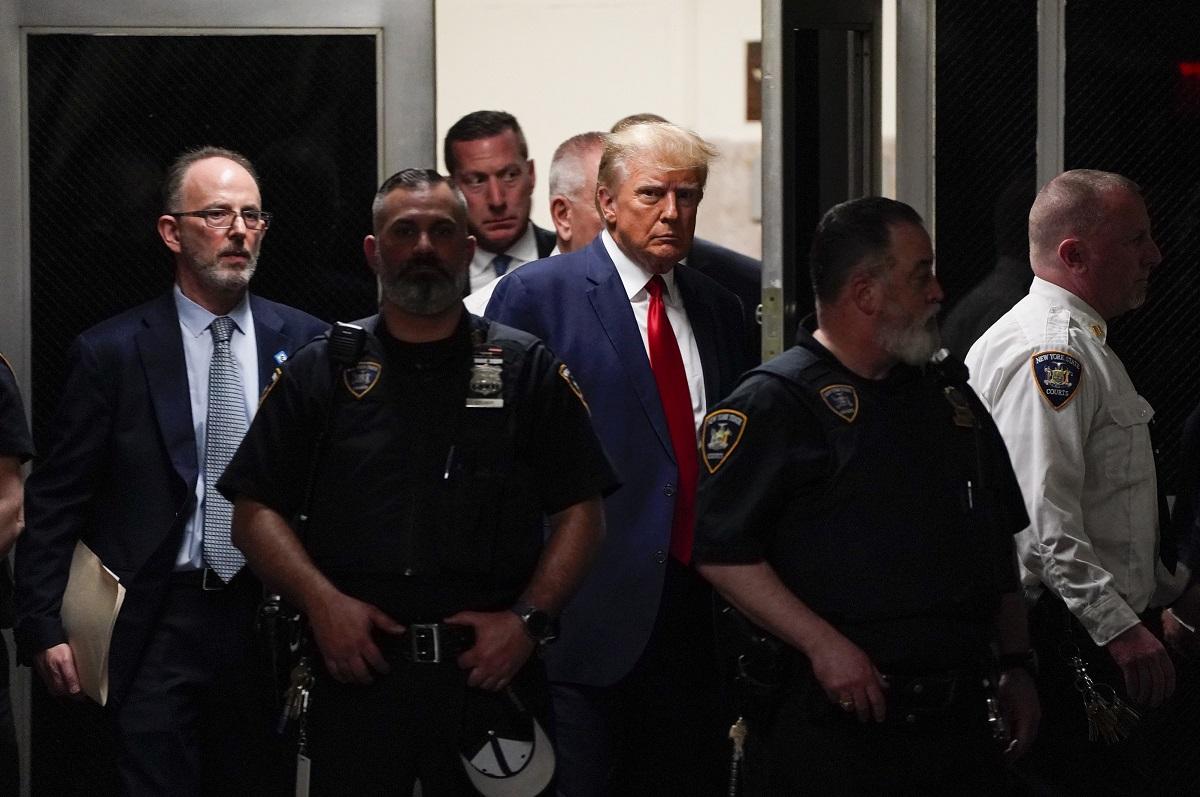 11:49 JST, April 5, 2023
From the moment he walked down the golden escalator at Trump Tower on June 16, 2015, Donald Trump has been the man the world could not stop watching. So he was again Tuesday, a day that epitomized the perverse fascination with the former president and the degree to which he has debased the high office he once held.
Tuesday was a day of spectacle, a word so often associated with the name Donald Trump. Television cameras followed every move by the former president and his motorcade through the streets of Manhattan. Pro- and anti-Trump forces gathered near the courthouse. Nonstop commentary on cable television detailed every step along the way. And yet it had a sad, almost pathetic quality to it.
Sad and pathetic not just for Trump, but for the country. Trump is the protagonist in this drama, the lead actor, but the impact has been broad and deep. This is a different country than it was before Trump began running for president eight years ago – angrier, more divided and less tolerant of one another.
History is an overused word in these situations. It was overused on Tuesday during the hours of media coverage. No matter that no former president had ever been charged in a criminal case. No matter that no former president had ever been processed and arraigned like any other criminal defendant, though none of the others had been accompanied by Secret Service for their own personal protection.
This was history, yes, but of the most sordid kind. The case itself seems unworthy of all the attention. It centered on hush money paid to an adult-film actress and falsification of business records, 34 felony counts in all.
Republicans have been nearly unanimous in attacking the indictment as politically motivated, legal experts debated whether this was a case that should be brought, particularly against a former president, and Manhattan District Attorney Alvin Bragg still must prove charges that critics claim are flimsy.
When the former president departed Trump Tower, and before he entered his SUV for the drive to the courthouse, he offered a clenched fist and raised arm to the bank of cameras trained on him. But there was no broad smile or thumbs-up that he has offered so many other times. By the time he arrived for his arraignment, he looked very much like the defendant that he now is – perhaps humiliated but plainly defiant and no doubt angry.
It was apparent that this was something new and unsettling for Trump, who was thrust into a forum where he lacked the kind of control he usually enjoys. The discomfort was clear in the steely look on his face as he passed briefly before the cameras, flanked front and back by law enforcement, as he walked toward the courtroom where the indictment was read out and where he entered his plea of not guilty. It was clear in the first still photo from the courtroom, his head tilted toward the camera but with a sober, almost vulnerable look on his face. It was clear as he avoided reporters on his way out.
Trump was impeached for much, much more – once for trying to extort the president of Ukraine to dig up dirt on Joe Biden ahead of the 2016 campaign, and then again for his role in inciting the mob that attacked the U.S. Capitol on Jan. 6, 2021. Impeached but acquitted. Those were political arenas, with elected officials as prosecutors in a Democratic-controlled House and jurors in a Republican-controlled Senate.
Tuesday marked yet another first for Trump, this time accused in a court of law, an arena where citizen jurors ultimately will decide his fate – a forum where, presumably, Trump never wanted to end up. He is, at last in the eyes of his critics, being held accountable in a court of law. But if he is not found guilty in this case, it will be one more example of his characteristic ability to escape his pursuers.
More serious charges could be coming, involving his handling of classified documents at his Mar-a-Lago estate in Florida, his role in the attack on the Capitol – both under the auspices of the Justice Department and special counsel Jack Smith – and a separate case in Fulton County, Ga., involving allegations that Trump tried to overturn the 2020 election results in that state. Tuesday may prove to be a warm-up for events to come, an exhibition awaiting something more momentous. Or not. With Trump, the only certainty is spectacle.
The new reality is that Trump will be a presidential candidate whose hush money case will be ongoing in New York and possibly other cases ongoing in other courts. If not a distraction for Trump – and how can it not be? – all this will course through the campaign in ways that will, once again, break the norms. Democrats want to believe this ultimately will be detrimental to Trump's hopes of winning back the White House in 2024. But in a country so evenly divided, no one can predict that with certainty.
This is where Trump has brought the country. His first campaign broke so many norms of politics, and he survived controversies that would have brought down most politicians. His presidency brought chaos and turmoil, not to mention lies and hate, again a norm-breaking tenure unlike any other in the history of the country. His post-presidency has been an extension of his presidency.
Throughout his years in the political spotlight, Trump never wavered in his claim that he was being investigated unfairly, that he was being wrongly persecuted by his political opponents. He lashed out at all his rivals, made wild accusations about some of them, attacked the FBI and Justice Department officials, and threatened violence – and when he lost the 2020 election to Biden, he falsely claimed that the election had been stolen and has persisted in those accusations to this day. Every tweet was consumed and amplified by friend and foe.
When he announced his candidacy in 2015, he was afforded media coverage unlike any previous candidate. He was, after all, a fascinating candidate – more celebrity than politician, a swaggering developer with a highly rated reality television show who had his life chronicled in the tabloids for decades. But the attention nonetheless was outsize and gave his candidacy a boost that ultimately brought him to the White House, though not without political skills by the candidate himself.
In his post-presidency, Trump has sometimes found himself practically ignored. His campaign rallies draw minimal coverage from the mainstream media, and his social media postings carry far less power than they once did. In those ways, he has seemed like a somewhat diminished figure. Yet Trump has sucked up the nation's attention for the past 48 hours, underscoring why he is the favorite to emerge as the Republican nominee in 2024.
The indictment in New York was as if Trump himself was again orchestrating everything, an event that would once again put him into the headlines and the glare of the cameras. The latest example began on Monday with television cameras covering the liftoff of his private jet as Trump left his home in Florida for New York. The coverage picked up again as the jet made its long glide down to the runway at LaGuardia Airport, and then, in O.J. Simpson-like fashion, there was live coverage of his motorcade leaving the airport and arriving at Trump Tower.
There was no restraint, though there are many other important events in the world right now – no restraint, seemingly, because this was history and history, large or small, must be covered in smothering detail. Trump is the not-unwatchable politician, and all eyes were on him again. It was the kind of round-the-clock attention he has always craved, drawing the kind of television ratings that are coin of the realm in his mind.
But at this moment, all the coverage, all the attention, all the commentary, all the videos and photos were in service to putting Trump in the dock, under arrest, arraigned in court, released on his own recognizance and then back to the future. For a few moments, a day perhaps, it was a Donald Trump who was no longer larger than life, and a country left to contemplate how it came to this.
Add TheJapanNews to your Google News feed.