Visit by Japan's Kishida to Kyiv Gives Sharp Contrast to Xi in Russia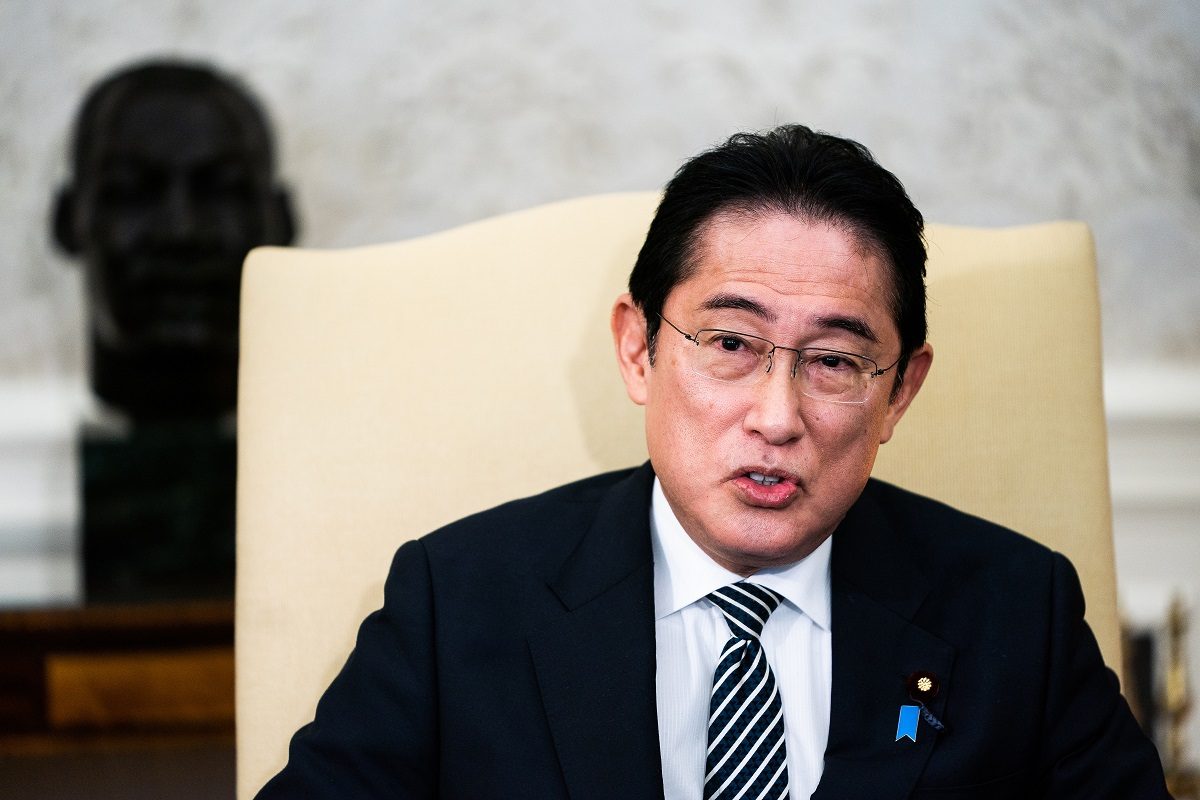 15:34 JST, March 22, 2023
TOKYO – Japanese Prime Minister Fumio Kishida arrived in Kyiv on Tuesday to meet with Ukrainian President Volodymyr Zelensky, becoming the first postwar Japanese leader to visit an active war zone and the final member of the Group of Seven advanced nations to make the trek to Ukraine's capital to show support.
Kishida's arrival comes as Chinese leader Xi Jinping holds meetings with Russian President Vladimir Putin. It is Xi's first visit to Russia since the invasion of Ukraine. On Tuesday, in another show of support for Moscow as a war crimes arrest warrant increasingly isolates the Russian leader, Xi invited Putin to China for a visit.
The remarkable split screen of the two Asian leaders holding summits on opposite sides of the Russia-Ukraine conflict underscored Kishida's linking of security concerns in Europe and East Asia with an eye toward China's growing assertiveness in the region, and his efforts to demonstrate his country as a leading Asian nation in siding with the West against Russia.
It also solidified how Tokyo, at least for now, has abandoned its years-long efforts to improve relations with Russia – a shift in strategy that became apparent in the early days of the invasion when Japan responded in lockstep with the largest Western economies in issuing sanctions against Moscow.
Russia's actions have triggered a deep alarm in Japan that has accelerated its debate over defense and security policies and have shown the Japanese that a Chinese takeover of Taiwan could be a reality. In December, Japan adopted sweeping changes to its national security strategy and a major ramp-up of its defense budget, a dramatic move to shed its longtime postwar pacifist constraints.
Kishida has repeatedly warned that "Ukraine today could be East Asia tomorrow," expressing his concerns about other regional actors violating international norms without explicitly naming China, which remains Japan's largest trading partner.
Last summer, as then-U.S. House Speaker Nancy Pelosi (D-Calif.) was in Japan following her visit to Taiwan, China fired five ballistic missiles into Japanese waters for the first time, on top of multiple incursions by sea and air in the waters surrounding Japan – seemingly affirming Kishida's concerns.
"Whether by design, it is certainly symbolic," Robert Ward, senior fellow for Japanese security studies at the International Institute for Strategic Studies, said of the timing of Kishida's visit. "You have a Japanese prime minister going to a European war zone . . . the physical underlining of the point that Kishida has made: 'Ukraine today, East Asia tomorrow.'"
The Japanese leader's visit comes as he seeks to form security groupings throughout the Indo-Pacific and with European countries, including an agreement between Japan, the United Kingdom and Italy to develop new fighter jets and a potential security pact among the Philippines, Japan and the United States.
Kishida was expected to meet with Zelensky on Tuesday and express Japan's "solidarity and unwavering support for Ukraine," the Japanese Foreign Ministry said in a statement. As chair of the G-7 this year, Kishida will convey his respect for Ukrainians in "standing up to defend their homeland" under Zelensky's leadership, the ministry said.
In May, Japan will host the G-7 summit in Hiroshima, where the Russian invasion and China's growing military and economic influence are expected to be at the top of the agenda.
Kishida boarded a train in Poland on Tuesday after departing India for a summit with Prime Minister Narendra Modi. In India, Kishida vowed to strengthen ties between leading economies and emerging economies that have maintained relations with both China and Russia.
"It is difficult to think of another time when Japan has had such a strategically important role in the G-7, not just economically but also geopolitically," Ward said. "Kishida is rightly trying to build a very, very broad coalition . . . to rally the like-minded and the wavering behind the things he wants to achieve."
The Japanese prime minister's office had not previously announced the trip, but discussions and planning for a potential visit were underway since Zelensky invited Kishida in early January. For weeks, Kishida faced pressure from within and outside Japan to make the visit. But some government officials had raised security concerns.
"From our point of view, it's extremely important . . . for [Kishida] to visit Ukraine and see it with his own eyes," Sergiy Korsunsky, the Ukrainian ambassador to Japan, said in a news conference last month in Tokyo. "I very much hope the visit will take place."
Last month, Japan pledged another $5.5 billion in humanitarian aid to Ukraine on top of the $600 million in financial support it had already provided to Kyiv since the invasion. Japan also has taken unprecedented steps to accept Ukrainian refugees, despite its long-standing refusal to open its doors to evacuees from conflict zones.
Add TheJapanNews to your Google News feed.