Zelensky Calls Fight for East 'Painful' as Options Dwindle in Bakhmut
11:35 JST, March 6, 2023
KYIV, Ukraine – Ukrainian forces clung to their positions in Bakhmut on Sunday, fiercely resisting a Russian push to encircle the city in the eastern Donetsk region and prolonging a fight that has become a symbol of Ukraine's battlefield defiance.
Ukrainian officials have described their grip on Bakhmut, a small industrial city, as increasingly tenuous in recent days, suggesting they may need to withdraw to prevent their troops from being trapped by Russian fighters advancing on three sides.
The fate of the city, which military experts say holds little strategic value, assumes outsize importance a year into President Vladimir Putin's full-scale war, as Ukraine prepares for what is likely to be a grueling spring offensive and Western leaders scramble to deliver arms and ammunition they hope will tip the scales in its favor.
The months of brutal fighting in Bakhmut, resulting in thousands of dead and wounded on each side, underscores the remote likelihood of any near-term end to a conflict that has overturned decades of relative stability in Europe and intensified strains on the global economy.
Ukrainian President Volodymyr Zelensky, speaking in a nightly video address on Sunday, acknowledged the battlefield difficulties in Ukraine's embattled east and honored troops fighting there.
"It is one of the toughest battles," he said. "Painful and challenging."
While Zelensky has called for Russian forces to be repelled from every inch of his country, Putin has shown no willingness to back away from his own military aims.
The Ukrainian military's General Staff said that Russia's invading force continued "to advance in the direction of Bakhmut" on Sunday, citing Russia's shelling of the city and surrounding villages.
Ukrainian soldiers, facing barrages of what they describe as random artillery, mortar and rocket strikes from nearby Russian troops, are operating mostly from trenches in and around Bakhmut and have few remaining routes toward safer ground.
Ukrainian military personnel who have been in the Bakhmut area in recent days said that Russian fighters have already secured positions in certain parts of the city. Defending forces remain in control of others.
The city, which Russians call by its Soviet-Russian name, Artyomovsk, is now almost completely destroyed, and most of its citizens, from a prewar population of 70,000, have fled.
Russian forces, led by the Wagner mercenary group, have waged a months-long onslaught. If the Ukrainians retreat, they will fall back just a few kilometers to long-planned defensive positions.
Nonetheless, the fight for the city has taken on enormous symbolic value in Kyiv and Moscow, with the Wagner chief, Yevgeniy Prigozhin, seeking to claim a victory for the Kremlin after Russia's regular military suffered a string of defeats, first in its attempt to capture Kyiv, and then in Ukrainian counteroffensives in the northeast Kharkiv and southern Kherson regions.
Prigozhin has sent wave after wave of fighters, many of them convicted criminals recruited directly to the battlefield from prison, into Bakhmut, taking enormous casualties to make relatively tiny territorial gains.
Zelensky, in turn, has elevated the importance of Bakhmut, calling it "the fortress of our morale" and celebrating the troops defending it. In December, the Ukrainian leader made a rare front-line visit to Bakhmut to meet with troops. When he visited Washington, he gave U.S. lawmakers a flag from the city. Among Ukrainians, "Bakhmut stands" has become a rallying cry.
For Putin, capturing Bakhmut would deliver a needed victory and illustrate progress toward imposing Kremlin control in four eastern regions that the Russian leader has illegally declared as annexed.
The Kremlin spokesman, Dmitry Peskov, has recently described the effort to seize four regions – Luhansk, Donetsk, Zaporizhzhia and Kherson – as a matter of upholding the Russian constitution, which was amended to declare the Ukrainian territory as belonging to Russia.
On Friday, Russian occupation officials formally declared Melitopol to be the new regional capital of Zaporizhzhia – a sign both of Russia's stubborn annexation claims but also of its failure to capture the actual regional capital: Zaporizhzhia city, which lies just east of Dnieper River.
Despite Ukraine's successful counteroffensive last fall, Russian forces now control roughly one-fifth of Ukrainian territory.
Kyiv's Western backers, who have funneled an increasingly sophisticated array of weaponry into Ukraine over the past year, have warned it would threaten global security if Russia is permitted to prevail in Ukraine.
President Biden has vowed to support Ukraine "as long as it takes," pledging continued American help most directly during a surprise visit to Kyiv last month. While the United States has provided some $30 billion in military aid since the conflict began, Biden must now contend with softening support at home, particularly among Republicans, who control the House of Representatives.
In an interview broadcast Sunday, German Chancellor Olaf Scholz said that the terms of peace talks that might someday conclude the war must be defined by Ukraine, not its backers in the West. He said the onus for enabling such negotiations fell squarely on Russia.
"To my view, it is necessary that Putin understands that he will not succeed with his invasion and his imperialistic aggression, and that he has to withdraw troops," he said in an interview with CNN. "This is the basis for talks."
According to the Institute for the Study of War, a Washington think tank that conducts daily analyses of combat developments, Russian fighters appear to be positioned to conduct a "turning movement" aimed at forcing Ukrainian troops to pull back from certain defensive positions. Ukrainian forces have destroyed several bridges in the area, ISW has said.
ISW, in its Saturday assessment, said that Russian forces "have not yet forced Ukrainian forces to withdraw and will likely not be able to encircle the city soon."
Britain's Defense Ministry said over the weekend that Ukraine's position in Bakhmut was "under increasingly severe pressure" and cited additional Russian advances on the city's northern edges.
Prigozhin, meanwhile, has claimed in recent days that Bakhmut is "practically surrounded" and that his fighters control all the main roads leading out of it.
The Russians have been pressuring the city from the north, east and south. Ukraine's fallback positions generally lie to the west.
Ukrainian military leaders have already indicated that they would not attempt to hold the city at any cost, potentially choosing to reserve manpower for their spring campaign, which is expected to begin in coming weeks.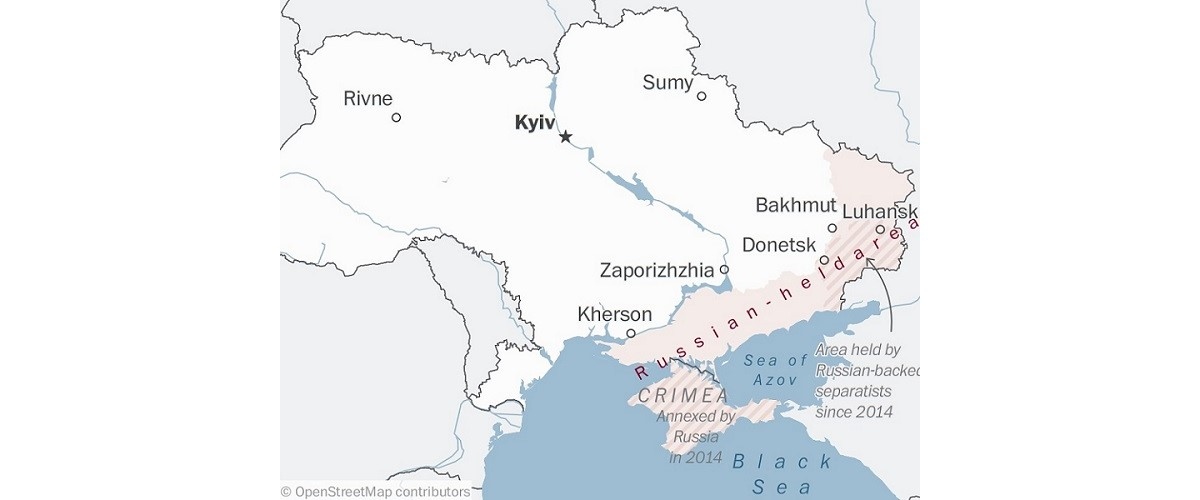 Add TheJapanNews to your Google News feed.