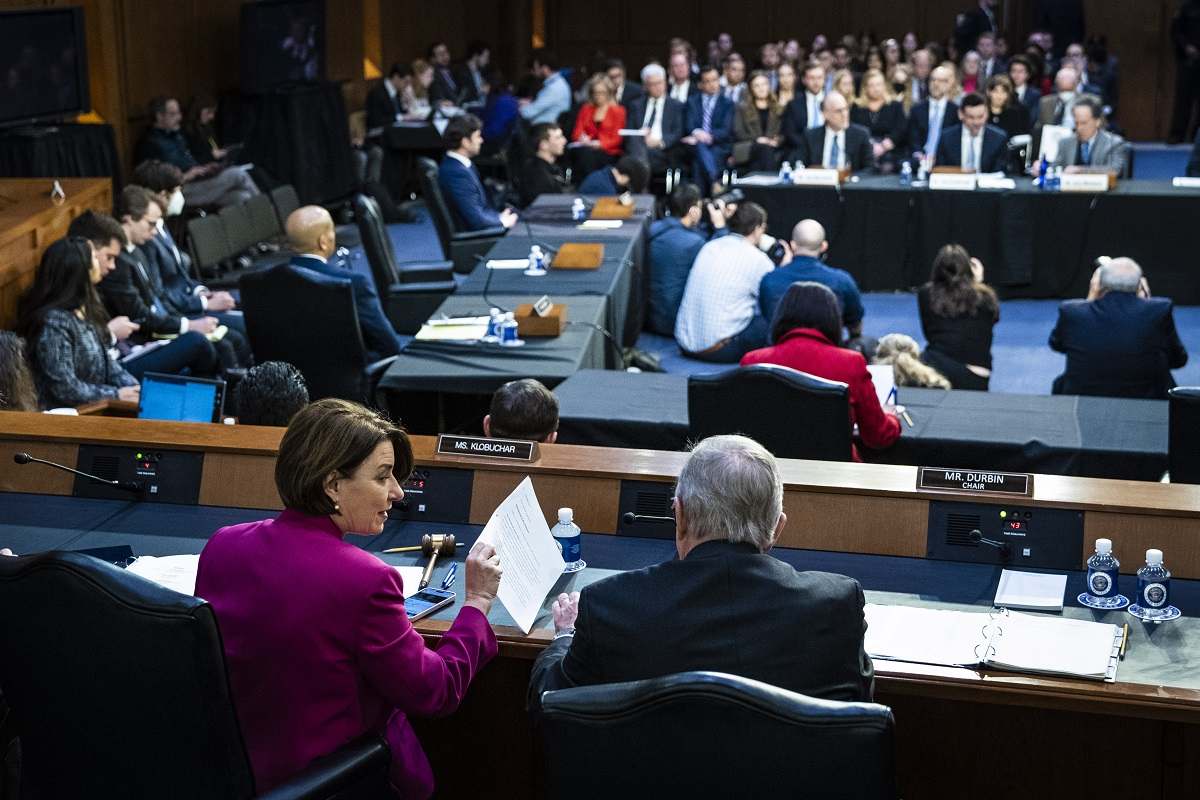 11:29 JST, February 27, 2023
Google has been quietly assembling a phalanx of former Justice Department lawyers as the tech titan gears up for the regulatory fight of its life against their former employer.
The Department of Justice offensive, a pair of lawsuits aimed at breaking up the search giant's dominance, will play out in the courts – reflecting a new phase in the Biden administration's years-long effort to rein in Big Tech, after a sweeping antitrust package stalled in Congress.
When President Biden took office, he picked trustbusters to lead key agencies amid bipartisan calls to curtail the largest internet firms' power over the digital economy. But halfway through his term, the movement's losses have outpaced its wins, key figures are stepping down and Republican control of the House has taken bills that could break up tech giants off the table.
Now the terrain has shifted from Congress to the courts. Last month, the Justice Department and eight states filed a suit aiming to break up Google's lucrative ad business, while a 2020 suit filed under President Donald Trump alleging it monopolizes online search is headed for trial later this year. Meanwhile, Federal Trade Commission Chair Lina Khan, an anti-monopoly crusader, is pursuing a suite of ambitious lawsuits aiming to break up Facebook parent Meta and block heavyweights such as Microsoft from gobbling up smaller firms, while seeking to rewrite federal rules on antitrust enforcement. And last week, the Supreme Court heard arguments in Gonzalez v. Google, a case that could weaken internet companies' prized liability shield.
The antitrust reformers who cheered when Biden tapped Khan to chair the FTC, Jonathan Kanter to lead Justice's antitrust division and leading Big Tech critic Tim Wu as a White House special assistant insist their uphill push to rein in the world's richest companies is still gaining traction, despite a string of high-profile setbacks. But the tech industry is willing to spend big to hold its ground. And persuading courts to rethink decades of business-friendly precedent presents a challenge as daunting as pushing legislation through a divided Congress.
"Several people came into this administration with complete confidence that they knew how these industries should work … and they just asserted an agenda that, 'We're gonna fix this,'" said Mark Jamison, a nonresident senior fellow at the right-leaning American Enterprise Institute. That agenda, he said, is now "sputtering."
Still, the agencies say they have only begun to fight.
The Google case is part of a surge of antitrust lawsuits filed by Kanter's Justice Department and Khan's FTC targeting some of the biggest players in industries ranging from tech to pharmaceuticals to book publishing. In December, the FTC filed to block Microsoft's $69 billion acquisition of gaming company Activision Blizzard, part of a new strategy to bring frequent long-shot cases.
Such moves reflect the administration's argument that competition policy, rooted for decades in the free-market ideals of the 1980s, must be rethought for the internet age.
At Justice, Kanter has created a new litigation team and hired about 20 lawyers in preparation for some of the biggest antitrust battles the department has taken on in decades.
Yet tech's heavyweights are digging into their deep pockets as they prepare for court battles that could shape the future of the digital economy. Google alone has hired at least five former Justice Department lawyers in-house, including Jack Mellyn, a former top federal competition lawyer, who now serves as the company's strategy counsel. The company has also retained the services of four outside law firms that have nearly 20 former Justice lawyers among them.
"New entrants and new innovations are driving competition and delivering value for America's consumers, publishers, and merchants," said Julie Tarallo McAlister, a Google spokeswoman. "We're proud of our services and we look forward to making our case in court."
The lawmakers who co-sponsored the antitrust legislation say the industry's unprecedented lobbying blitz was a significant barrier to passing it.
The bipartisan antitrust package, years in the making, would have rewritten the rules of the online economy to prevent companies such as Google, Apple, Amazon and Facebook from using their platforms to boost their own products or restrict clients from rival platforms. Spearheaded by Reps. David N. Cicilline (D-R.I.) and Ken Buck (R-Colo.), it also earned the backing of midsize tech firms, including Yelp and Sonos.
After the tech lobby raised concerns about the bills, Democratic leaders never brought them to a vote, and House Republicans are seen as unlikely to take them up.
"It was shameful that we didn't even get a vote," said Stacy Mitchell, co-executive director of the nonprofit Institute for Local Self-Reliance, which fights corporate consolidation.
Wu has already stepped down from the White House, and last week Cicilline announced he'll leave Congress after the current term.
It's unclear whether judges will buy the theories of the new antitrust vanguard without new legislation to back them. Earlier this month, a federal district court in California handed the FTC a notable defeat by upholding Meta's acquisition of VR software developer Within, seen as a test case for the agency's aggressive new stance against established firms seeking to dominate emerging sectors by buying start-ups.
Judge Edward J. Davila accepted the FTC's contested theory that the deal could stifle "potential competition" in the nascent VR space – which some experts took as a sign that courts may be open to such arguments. But he ruled that the FTC had fallen short of proving its case.
In the wake of the ruling, FTC enforcers remained optimistic. "To move the law and protect competition, we have to bring tough cases like that," said Holly Vedova, director of the agency's competition bureau. "There's some risks involved, but that's what Congress has instructed us to be doing." Ultimately, Vedova concluded, "It was worth it."
William Kovacic, a law professor at George Washington University, said the FTC doesn't have to win every case to move the needle on antitrust enforcement – but it has to win some.
"If we ask how do you establish durable policy reform, reform that lasts? I think part of the answer is you win cases, you win cases that validate your concept," Kovacic said. "Until you do that, you haven't really moved the enforcement perimeter."
The agency took flak for bringing the risky case at a time when it is resource-constrained. The FTC's budget rose to $430 million in fiscal year 2023, compared with $376 million the year prior, but it says it has only two-thirds the number of employees today that it had in 1980.
"In any case we litigate, they outnumber our attorneys and economists by the dozens," Vedova said. "In our biggest investigations and litigation, they might have more law firms working than we have individual attorneys."
Yet some of the longtime antitrust advocates who've led the movement that propelled Khan, Kanter and Wu into the Biden administration see signs of progress. They say the push to revive antitrust enforcement and competition policy in the United States is a long-term, epochal shift that they always expected to take many years.
Provisions in last year's spending bill increasing antitrust enforcement funding and making it easier for states to prosecute antitrust suits represent "the first significant antitrust legislation that's been passed in 50 years," Mitchell said. The FTC's November policy statement on unfair methods of competition, she added, could give it a basis to crack down on some of the behavior that motivated the antitrust bills. And its ongoing project to overhaul federal merger guidelines could amount to a "fundamental refashioning of the government's stance on big business."
Barry Lynn, executive director of the anti-monopoly Open Markets Institute, said the Justice Department's successful suit to block a major merger in the publishing industry could have implications for Big Tech. After decades in which the antitrust benchmark was the so-called consumer welfare standard, which focused on consumer pricing, he said judges are starting to revisit the idea that corporate power can also harm sellers, small businesses or even democracy.
But Kovacic said the window of time in which to rack up such gains may be limited, as Republicans view of the agencies' aggressive approach begins to sour ahead of a 2024 election in which both Congress and the White House are up for grabs.
"A theme they are developing is that the FTC is operating without effective constraint … that it is an agency out of control," he said of Republican leaders. "I think that's a fiction, but it is a narrative that they are seeking to build."
Meanwhile, changes in the marketplace could dampen enthusiasm for breaking up tech giants, said Herbert Hovenkamp, a University of Pennsylvania professor who studies antitrust. The rise of TikTok eroding Meta's growth and Microsoft's use of AI to challenge Google in search show those markets are still competitive, he argued.
"There's a pretty powerful line of thinking … that dominant firms come and go," Hovenkamp said. "And all of the current aggressiveness at tech is just a little bit too much, too early, because competition will work itself out more than it has."
Cicilline said in an interview that Congress's failure to pass antitrust legislation last term was not the reason he's leaving office. "I don't have any doubt that, while I'm departing, this antitrust agenda is going to continue in a very strong and bipartisan way," he said. Cicilline and Buck, the former top Republican on the House Judiciary antitrust subcommittee, are in the process of forming a new, bipartisan Congressional Antitrust Caucus.
He acknowledged there are impediments in the Republican-controlled House. The new chair of the Judiciary Committee, Rep. Jim Jordan (R-Ohio), has opposed the antitrust bills put forth in the last Congress. And Buck was passed over to succeed Cicilline as chair of the antitrust subcommittee in favor of Rep. Thomas Massie (R-Ky.), who is seen as friendly to big business.
"You would think he represents Silicon Valley," Cicilline said of Jordan. He "has become America's greatest protector of Big Tech."
Cicilline warned that the longer it takes for Congress to pass legislation, the harder it will be. "Unfortunately," he said, "their power is only going to grow."
In a speech on antitrust earlier this month, Sen. Elizabeth Warren (D-Mass.) struck a more hopeful tone. It was Warren's call to "break up Big Tech" – seen by some as radical at the time – in the 2020 Democratic primaries that helped to bring the rallying cry into the political mainstream.
"Sure, in the David-versus-Goliath battle to break up monopolies and give competition a chance to thrive, betting money would still be on Goliath," Warren said. "But the Davids are slinging rocks, and the giants are starting to sweat. We can feel it: Change is coming."
Add TheJapanNews to your Google News feed.