Itamar Ben Gvir: How an Extremist Settler Became a Powerful Israeli Minister
13:34 JST, February 23, 2023
GIVAT LAHAVA, West Bank – When Tzvi Succot moved to this rocky hilltop outpost near the Palestinian city of Nablus in 2005, he had a clear mission: to thwart the creation of a Palestinian state. Israel had unilaterally withdrawn from the Gaza Strip, and Succot felt betrayed by his government.
So he led his neighbors on a reign of terror through Palestinian villages – torching homes, mosques, cars and olive groves. They got into fights with Palestinian landowners and faced off against Israeli security forces. But in every confrontation, he said, they felt confident knowing they had a brilliant, fiercely dedicated advocate in their corner – the attorney Itamar Ben Gvir, now Israel's national security minister.
"Itamar is a very talented lawyer," said Succot, 32, now a father of five and a lawmaker from Religious Zionism, Israel's third-largest political bloc. "And he understood something about Israel, which more Israelis are only now beginning to realize, that there's a very serious problem here with governance. That we can't allow this monster to flourish and grow."
Ben Gvir, 46, now occupies a position of immense power in the same system he has spent his life defying. His political rise is inextricably linked to the violent vigilante settler movement, and to his own rap sheet of anti-Arab provocations, which have inflamed the Israeli-Palestinian conflict and won him a devoted following.
His ultranationalist Jewish Power party has called for the expulsion of "disloyal" Palestinians, the annexation of the West Bank – the land Palestinians envision as part of their future state – and for "revenge" against anyone who stands in its way. Until last year, it was a fringe movement, repeatedly failing to muster enough votes to enter the Knesset.
But in November, Benjamin Netanyahu, facing potential jail time in a corruption trial and running out of options, won a fifth term as prime minister by orchestrating an alliance between Ben Gvir and another far-right politician, Bezalel Smotrich. Ben Gvir was named minister of national security, with an expanded portfolio that gives him unprecedented control over Israeli police, a flash-point Jerusalem holy site and security forces that operate in the occupied West Bank.
Some believe Ben Gvir is merely an opportunist who exploited a moment of political tumult and will, in time, moderate or fade away. Others argue that he is the product of a system lurching quickly and irrevocably to the far right, faithful to his Jewish supremacist roots.
Followers and critics alike acknowledge that he is among the few politicians who, with his personal charm and oratory acumen, offers a simple, if dangerous, answer to a question long deferred: As the prospect of peace negotiations recedes by the day, what should Israel do about its military occupation of East Jerusalem and the West Bank, home to more than 3 million Palestinians? With Ben Gvir now at the helm of the security forces, many worry his penchant for "pyromania," in the words of one former defense minister, could set the region ablaze.
On Jan. 26, an Israeli army raid in the West Bank city of Jenin killed 10 Palestinians, the single deadliest operation in two decades, according to Palestinian officials. A day later, a Palestinian gunman opened fire outside a synagogue in East Jerusalem, killing seven people. The violence continues, day after day: An Israeli raid killed five in Jericho last week; on Friday, a Palestinian car-ramming attack killed three, including two young children, in East Jerusalem.
Israelis and Palestinians fear a return to the brutal days of the second intifada, or Palestinian uprising, that stretched from 2000 to 2005. Many are worried it could be worse this time. There are more guns and more militant groups in Gaza and the West Bank, where the new government has already announced a rapid expansion of settlements, alarming American officials; in Israel, Ben Gvir is helping to call the shots.
"A violent criminal who was convicted of supporting terrorism and didn't serve a single day in the army, isn't going to send our children into battle," opposition leader Yair Lapid said at an anti-government rally in December, referring to the Israeli army's rejection of Ben Gvir from mandatory service. His extremist activism made the future security minister a security risk, the army decided.
Ben Gvir refused to be interviewed for this story, a departure from the camera-ready image he cultivated during his campaign. He was the third-most-interviewed politician in Israeli media in the run-up to the election, according to the Israeli research firm Ifat. The "big difference" between his movement and that of Meir Kahane, the terrorist who once inspired him, Ben Gvir said in 2021, is that "they give us a microphone."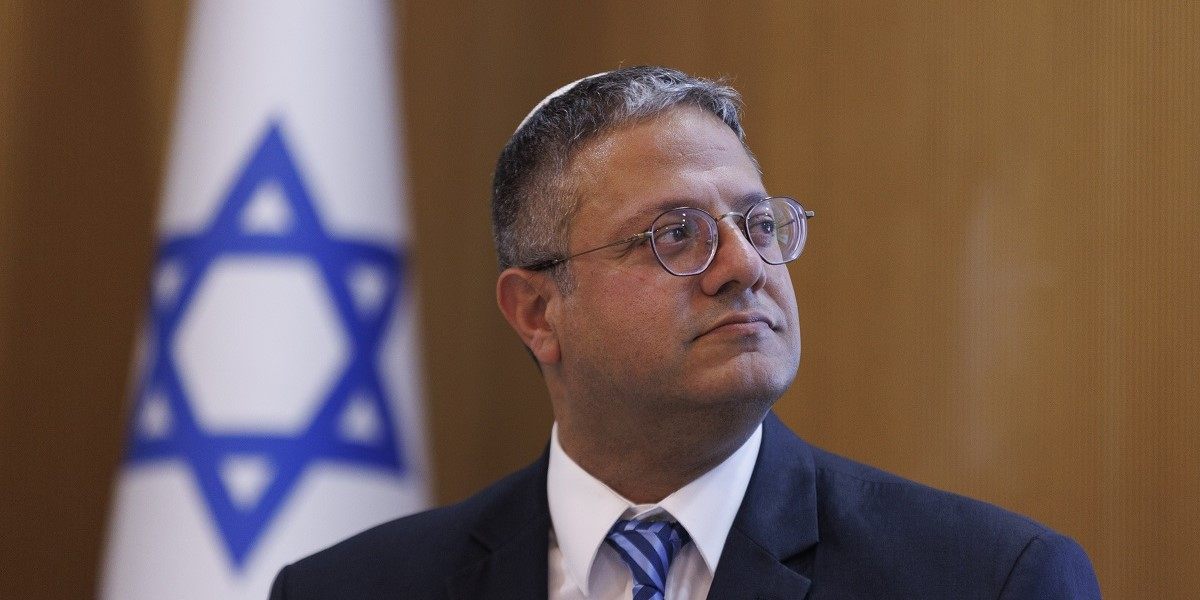 ***
Ben Gvir got his first 15 minutes of infamy as a teenager in 1995 when he stole the Cadillac ornament off the car of then-Prime Minister Yitzhak Rabin. "Just as we got to his car, we'll get to him too," he said into a camera. Weeks later, Rabin was assassinated by a messianic anarchist who accused him of "treason" for signing a landmark peace deal with the Palestinians. Ben Gvir was not connected to the killing, though he campaigned for the assassin's release from prison.
Ben Gvir now resides in the hard-line settlement of Kiryat Arba, near the fiercely contested biblical city of Hebron. Like many Israelis living deep inside the West Bank, he was not born there.
He grew up in a secular Iraqi Kurdish home in the Jerusalem suburb of Mevaseret Zion. During the first intifada, from 1987 to 1993, frustrated by what he saw as an inadequate Israeli response to Palestinian terrorism, he became a youth coordinator for Kach – the extremist movement led by Kahane that advocated for the forceful expulsion of all Palestinians from Israel and the occupied territories. The movement was outlawed by Israel in 1994 and declared a terrorist organization the next year by the United States, along with Canada, Japan and the European Union.
"I found in this movement a lot of love for the Jewish people, a lot of truth and a lot of justice," Ben Gvir told the Israeli newspaper Haaretz in 2016.
Ben Gvir boasts that he has been arrested hundreds of times, indicted 53 times and convicted seven times, including on charges of incitement to racism against Arabs, interfering with a police officer from performing his duty, and support for a terrorist group (Kach). But he has also successfully sued for libel and discrimination.
"Israel wants to silence me," he told the Knesset in 2021.
It was his support for Kahanist-style Jewish militancy that informed his legal career, advocating for the next generation of violent religious settlers. Among them were two men charged in the 2015 torching of a family home in a Palestinian village that killed an 18-month-old baby and his parents. Netanyahu called the arson "Jewish terrorism." Ben Gvir said there was "no such phenomenon."
In 2012, Ben Gvir entered politics, though his party failed to cross the threshold in election after election. He was still seen as a fringe figure, striving for relevance.
But he showed in the spring of 2021 that he had power in the streets. As violence broke out between Israel and militants in Gaza, armed Israeli and Palestinian mobs descended on mixed Jewish-Arab cities. Ben Gvir led hundreds of settlers who volunteered to "patrol" the streets, escorting Jewish citizens through neighborhoods that had become conflict zones and clashing with Arab gangs.
Jews and Arabs set fire to each others' cars, homes, schools and places of worship. In Lod, at least two residents died – one Jewish, one Arab – and dozens more were injured. Israeli police commissioner Kobi Shabtai said the "internal intifada" was partly the fault of Ben Gvir for goading on the renegade settlers.
During his campaign last fall, Ben Gvir's vowed to "show who's the landlord around here," a thinly coded pledge to use a heavy hand to restore law and order in Israeli cities and West Bank settlements.
Tomer Persico, a research fellow at the Shalom Hartman Institute in Jerusalem, said Ben Gvir used his controversial past as a political selling point.
"Ben Gvir had something of a [Donald] Trump effect, getting people who never voted, who believed that he was a maverick from outside the system who could shake it up, or break it," Persico said.
Shabtai, the police chief who criticized Ben Gvir, now reports to him. So do the police units that work with Israel's security services to combat Jewish terrorism, which Ben Gvir claims does not exist.
***
Raphael Morris first met Ben Gvir when he joined the "hilltop youth" – young radical settlers who have unofficially claimed more than 100 hills across the occupied West Bank since the 1990s. He now lives in Ahiya, an outpost that has grown from 27 to 80 families over the past decade. One-story homes have replaced trailers. No Palestinian day workers are allowed.
Morris, 27, said Ben Gvir's political ascent is a "sign that things might be moving in the right direction here, too."
The relationship between the government and the hilltop youth has always been one of "behind-the-scenes collaboration," Morris explained in his living room, where a framed photo of Kahane is prominently displayed. "We've always had allies in the government."
When asked if the tacit understanding extended to confronting Palestinians, Morris said sympathetic politicians generally understood that "it was less about kicking the Arabs out than bringing Jews in."
He and his friends expected arrest, Morris recalled, but were confident the state was ultimately on their side. And they always kept Ben Gvir's advice in mind: If you get arrested, keep quiet, he had told them, unless you've been denied your basic rights; if an officer pushes you, put your hands behind your back so you're not tempted to push back; always make a media spectacle.
"He taught us how to get arrested, but not get in trouble," said Morris, who has been detained at least 50 times and represented by Ben Gvir more times than he can remember. "There's a lot of gray in the law, but the main rule is not to get to the red line."
Ben Gvir is credited by friends and detractors for his ability to push the limits of Israeli law, to subvert the state from within. While advising vigilante settlers on how to most effectively exercise their civil rights, he has advocated for denying similar rights to Palestinians.
Recently, he pushed for a ban on the public display of the Palestinian flag, "an expansion of the two separate law enforcement and policing systems based on racial identity" – one for Palestinians, another for Jewish Israelis – in the words of a recent paper by Adalah, a Palestinian legal rights group.
Ben Gvir has also coached Morris's activist friends on challenging the status quo at a contested Jerusalem holy site, known as the Temple Mount to Jews and the Noble Sanctuary to Muslims. For a decade, in defiance of police ordinances, Morris has attempted to slaughter a lamb atop the Temple Mount – a biblical ritual that he believes would bring Jews closer to the ultimate goal of rebuilding a temple on the plateau. Israeli police have warned it could spark a regional war.
With Ben Gvir now in charge of the police, Morris hopes he will be able to perform the rite during Passover in April.
In towns across Israel, and in messianic settlements in the West Bank, Ben Gvir's supporters repeat the same rationale, a blend of magical thinking and manifest destiny – that security can only come through escalation.
Asserting sovereignty over the elevated esplanade, the thinking goes, will allow Israel to mount an effective campaign against Palestinian militants. The idea is adapted from Kahane, said Yossi Klein Halevi, a senior fellow at the Shalom Hartman Institute, who worked with Kahane before he "became a raving apocalyptic racist."
"Their argument is that after 2,000 years of praying to return to our holiest site, the Temple Mount, how are we forbidding ourselves from implementing our rights here?" Halevi said. "Of course it ignores the fact that the Temple Mount is the ground zero of the conflict."
Last month, in one of his first acts in office, Ben Gvir toured the Temple Mount, in defiance of Hamas and Netanyahu, who urged him to delay the visit. "Let them understand that times have changed," Ben Gvir said.
***
Ben Gvir has, so far, exhibited relative restraint in other areas, supporting "anti-terrorism" measures that are in line with actions taken by recent Israeli governments. But he has also pushed for one of his long-held, and most radical, goals: operational, if not official, annexation of the West Bank.
On Sunday, Israel's security cabinet advanced plans for 10,000 new settlement units and decided to retroactively legalize nine unofficial outposts in the West Bank.
"We strongly oppose such unilateral measures, which exacerbate tensions and undermine the prospects for a negotiated two-state solution," U.S. Secretary of State Antony Blinken said in a statement Monday.
At a news conference last month, a Washington Post reporter asked Ben Gvir about his plans to address settler violence in the West Bank.
Ben Gvir laughed. "You all need to stop getting things in the wrong order," he said, still smiling. "There are individual cases of violence from Jewish residents against Arabs and I am aware of them, but there are thousands of cases of Arabs engaging in violence against Jews."
A day after the synagogue shooting last month, nearly 150 settler attacks were reported by Palestinian officials throughout the West Bank: Homes and cars were set alight, and dozens of Israelis established a new outpost, assaulting Palestinians who arrived at the scene. On Saturday, armed settlers from an illegal outpost attacked residents of a nearby Palestinian village, killing a 27-year-old man, according to the Israeli rights watchdog Yesh Din.
The irony of Ben Gvir's meteoric rise is not lost on Succot, his old friend. "Every time I see Ben Gvir in pictures with the head of the police, I remember him lying on the floor with me in police detention," he said, chuckling.
"Now look at us," Succot marveled. "It's a blessed achievement."
Add TheJapanNews to your Google News feed.