As Hope Runs Out for Quake Survivors, a Turkish Family Awaits Closure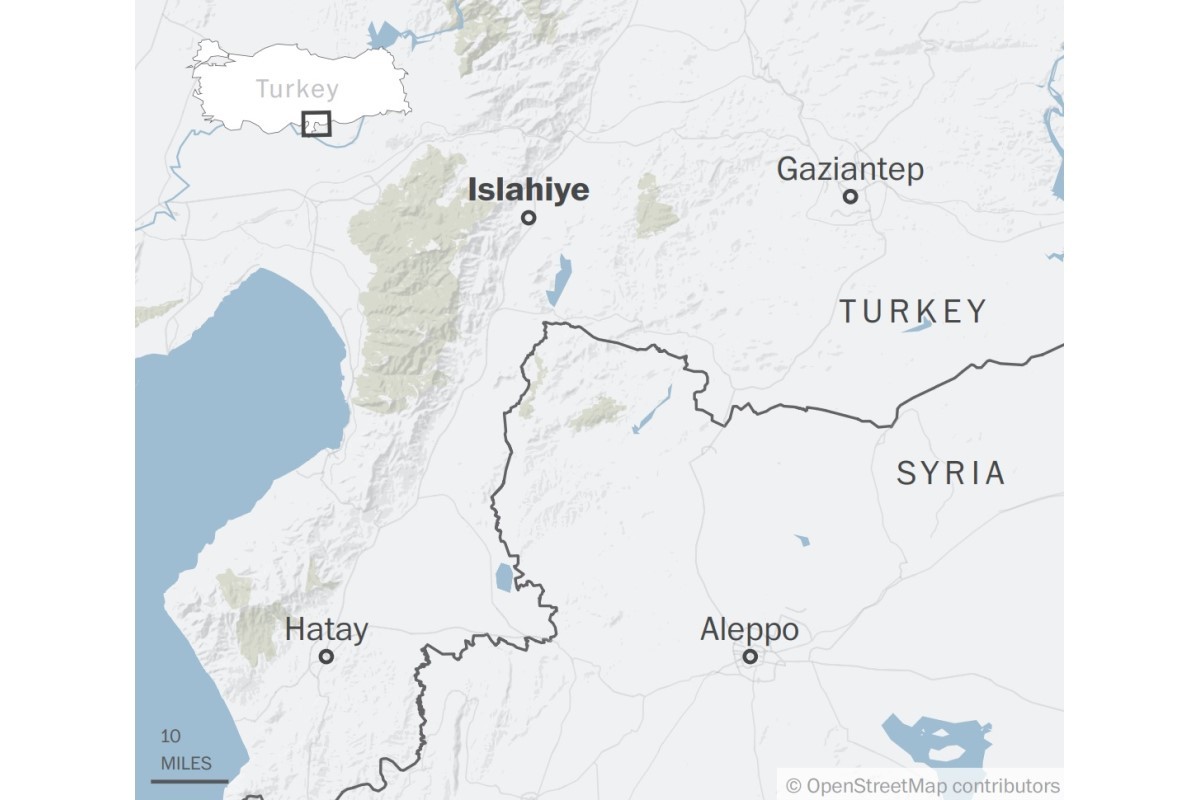 16:45 JST, February 16, 2023
ISLAHIYE, Turkey – The patch of land not 100 yards from Sakine Demir's home has become a viewing deck for her family as rescue workers comb the rubble for her body.
Unable to reach Sakine, 65, in the days after Turkey's earthquakes, her relatives flocked to this small mountain town, praying she might still be alive beneath her house. Her youngest daughter, Semra, was down there with her, they believed. After a week of searching, rescuers have found no trace of them. Yet here, and across this ravaged region, workers are still sifting through the wreckage. The mission now is one of closure – finding bodies to give loved ones something to mourn.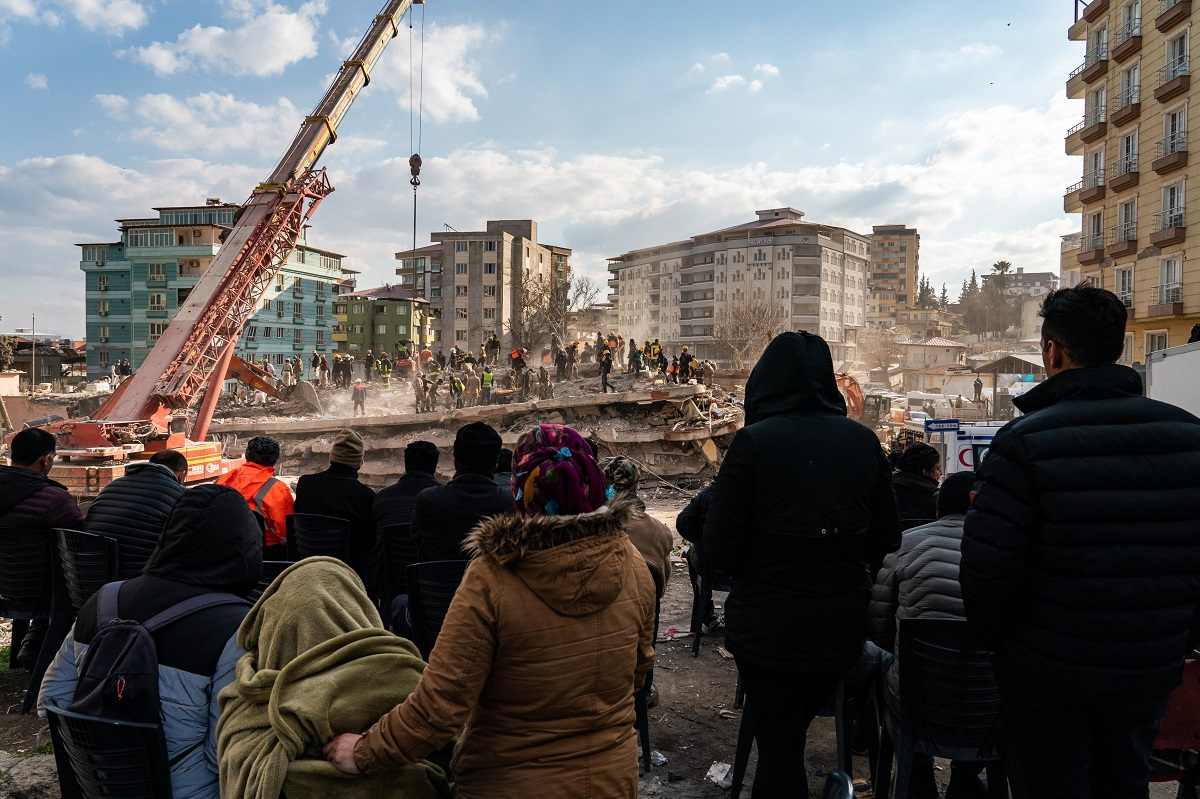 "The search-and-rescue phase is now coming to an end," Tedros Adhanom Ghebreyesus, secretary general of the World Health Organization said Wednesday. "But for WHO, the task of saving lives is only just beginning." In a visit to Malatya, Turkish Culture Minister Mehmet Nuri Ersoy urged those who still had homes deemed safe by authorities to return to them, "in order to start getting back to normal."
But with more than 35,000 dead in Turkey and so many still unaccounted for, there is a feeling here that nothing can be normal again. For Sakine's family, it is a nightmare without end. "It's not real," said her niece Yasmine. "I don't know the day, I don't know the date. There's no time, there's no place, there's no day."
On the patch of grass and concrete overlooking Demir's six-story apartment block in Islahiye, the family perched on chairs pulled from damaged houses and watched the painstaking work down below. Rescue teams gathered in clusters, each focused on a spot – some drilled down through the concrete floors, others cut rebar or sifted rubble in a metal bowl.
A day earlier, they thought they heard voices. The rescue workers cried out for silence. Engines cut. Families craned their necks toward the site, as if to will the voices into existence. But none came. The din of daily life resumed.
"They won't find anything now," said a local headmaster, Ahmet Kurt, who had joined the crowd in the hope that he might learn the fate of colleagues who lived in the building.
After the earthquakes, relatives of the wounded and missing streamed to the south, packing airplanes and forcing roads that remained open to a standstill. Yasmine came from Iskenderun. Hidayet, Sakine's son, came from Gaziantep with Elif, the third child in the family. Their younger sister Melike came from Ankara. Their eldest sibling, Arife, arrived last from France with her children.
Sakine was the family's matriarch. Semra was the youngest sister. The family has dialed and dialed their cellphones, but they go straight to voice mail.
As in all of Turkey's worst-hit communities, life in Islahiye is lived on the streets now. Nationwide, hundreds of thousands of Turks and Syrians are camped out in the more than 175,000 tents distributed by the government. Others are living in their cars, packed with whatever possessions they could salvage.
At the end of each unsuccessful day, the Demir family made the half-hour drive through the mountains to a home in their ancestral village. The building was off-limits until municipal authorities checked the structure for damage, they said. So they slept in white plastic tents and cooked their meals in the cold.
"We have food, we have tents, but we can't find our relatives," Sakine's sister Medine said bitterly.
On the makeshift viewing deck, there was anger at the Turkish government and despair for what had been lost.
The crowd fixated on the early days after the earthquakes, when authorities were slow to deploy rescue equipment. Families believe more people could have been saved, before they succumbed to the freezing cold. Most here knew that they lived on a fault line. They feared this day would come.
"Ask my wife, I've obsessed about it for years," said 55-year old notary Hanifi Arslanhan. Yet he and others watched as building restrictions were flouted for bribes, he said, and a sweeping amnesty program forgave faults in shoddily constructed buildings.
The ground floor of Sakine's building had been turned into a store, and its owners had removed crucial pillars that held up the ceiling, residents said. When the earthquakes began, her apartment collapsed from within as the building was smashed "like a stack of plates."
Again and again, survivors at the site returned to the random moments, the missed connections, that had saved their lives. Arslanhan, 55, lived in the building but had been staying with his mother-in-law on the night of the disaster. Sakine's husband had been in the hospital, on dialysis for kidney failure.
Some relatives were stony-faced. Arife and Elif sobbed so much at times that their shoulders shook. While they spoke of Sakine and Semra in the present tense, their stories suggested that they knew what the rubble would reveal.
Elif recalled stopping in to see her mother days earlier but leaving sooner than planned. Her voice cracked. "The kids were playing up," she said. Arife glanced out at the rubble and shook her head before looking away.
Six hours before the earthquakes began, Sakine had texted her granddaughter Helin, a student in Paris. "I am so proud of all you have achieved," she wrote. "But can I still tell you how much I miss you?"
Around the corner, rescue workers from the Iranian Red Crescent Society spent hours freeing the body of a man from the rubble of another building. Across the country, reports of survivors were now so rare that each one was reported as breaking news on Turkish channels.
The wait was becoming too much for Medine. Closing her eyes for a second, she looked lost amid the wails around her. "I can't live anymore, I can't recognize myself anymore," she said. "How am I going to find myself again? How are any of us going to find ourselves again?"
Add TheJapanNews to your Google News feed.