Women lost more jobs early in the pandemic. They're also returning faster.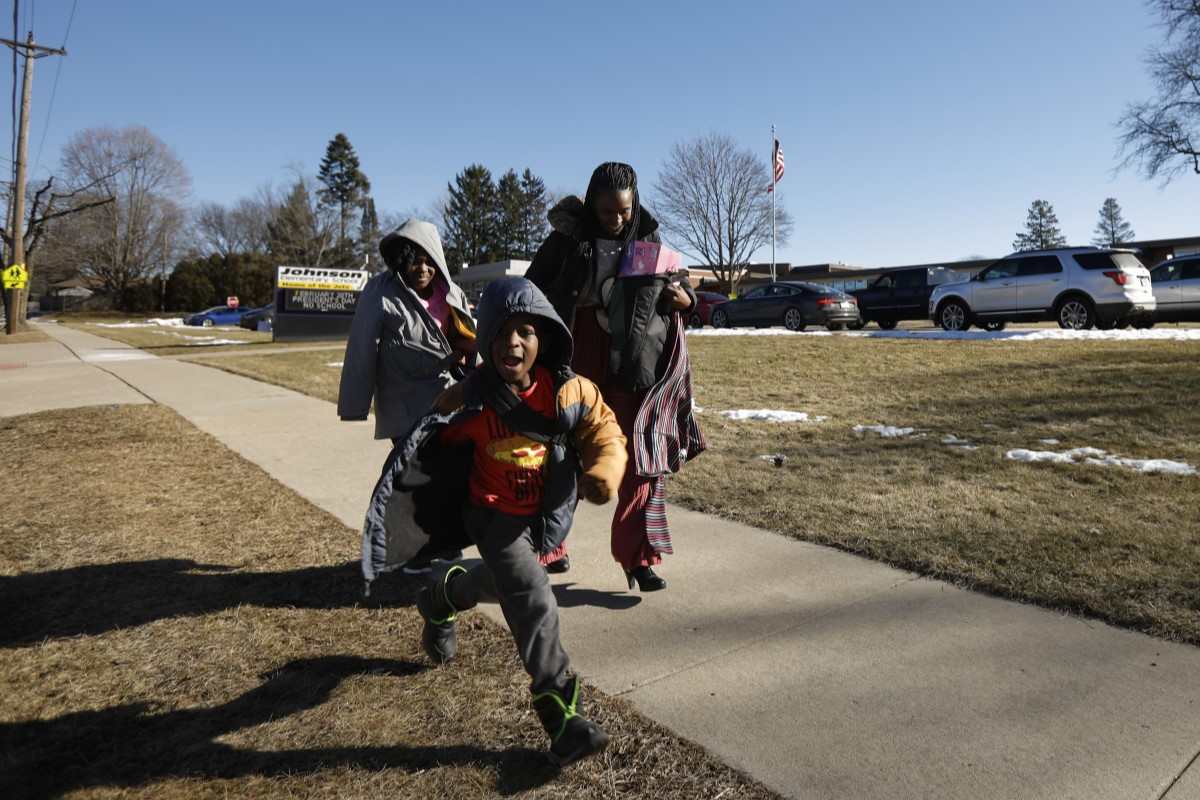 14:36 JST, February 13, 2023
After five years at home with her six kids, Tiffany Feliciano often daydreamed about returning to work. But it wasn't until a few months ago that rising grocery costs and readily available jobs finally lured her back to the workforce.
In December, Feliciano took a job in health-care administration, returning to the field she'd left before the pandemic. The years in between were a blur of virtual schooling and caring for her kids, now ages 6 to 14, while her husband traveled for his sales job. But with their weekly grocery bill approaching $400, and savings beginning to dwindle, she decided it was time to rejoin the labor force.
"We have some family goals we want to reach: We want buy a new house, we want to pad our savings account," said Feliciano, 34, of Rockford, Ill. "Finally it got to the point where the pandemic chaos calmed down enough – and prices got high enough – that I decided, 'I'm busting out of here.'"
Although women bore the brunt of early pandemic job losses, many, like Feliciano, are rushing back into the labor force at higher rates than their male counterparts. The percentage of working-age women in the labor force has nearly recovered from pre-pandemic levels, whereas men still have more ground to make up. When compared to the pandemic low point in April 2020, women's labor force participation rates are up by 3.4 percentage points, while for men it's 2.1 percentage points.
Women's reentry into the labor market marks a reversal compared to most of 2020 and 2021, and eases economists' fears that steep early pandemic job losses would take a longer-lasting toll on women's employment. Although recessions typically result in widespread layoffs for men, the covid downturn was unique in that it took an outsize toll on women, both in terms of job losses and additional caregiving duties that kept many women out of the workforce for longer. Indeed, it wasn't until fall 2021 – once most schools were back in session – that the percentage of women reentering the workforce picked up meaningfully.
"Women not only suffered disproportionately from job losses and work displacement early in the pandemic, but they were also most affected by child-care disruptions," said Julia Pollak, a labor economist at ZipRecruiter. "There was legitimate concern that there would be substantial labor-market scarring for women – that women who stayed home for a full year to care for their children while schools were closed, would not be able to find employment again. But that doesn't seem to be the case."
Women between 25 and 54 – and in particular those with college degrees and children – are leading the way, suggesting that employers' increased willingness to offer more remote alternatives to office work is helping attract many back into the workforce.
The rebound among college-educated women is in stark contrast to many other segments of the labor force that are still missing, including older workers, people with less education, and men.
In interviews with nearly a dozen women who recently rejoined the labor force, almost all said a combination of rising costs and more accommodating work arrangements – particularly part-time and remote options – had drawn them back in. Several also said they'd benefited from an unusually tight labor market in which employers and recruiters were increasingly approaching them with job offers.
Another major factor: Easing pandemic-related disruptions, including fewer closures at their children's schools, gave many women the breathing room to take on new full-time work.
Jenna Kissel recently picked up a position at the public library in Boone, N.C., eight years after leaving the workforce. The 40-year-old mother had applied for jobs before, but put off her plans while she managed virtual classes for her two elementary school-aged children for much of the pandemic.
Last summer, she felt a new sense of urgency following a three-day hospital stay that left her family with thousands of dollars in unexpected expenses. Plus, her children were back in school. So when she saw a posting for a role overseeing programming at the local library, Kissel jumped at the opportunity – and got the job.
"For so long, we were just in a holding pattern – I stayed home and my husband went to work," said Kissel, who has a chemistry degree from New York University. "It worked fine until suddenly it was like, 'We need money.' Now my salary covers our mortgage or it covers medical expenses and student loans. It's given us a lot of breathing room, even though it's just a part-time job."
The percentage of prime-age (25-54) women in the labor force has steadily risen in the years since World War II, from 39 percent in 1953 to 77 percent today. But the opposite has been true for men, whose participation rate has steadily declined during that period.
The pandemic suddenly interrupted this trend, resulting in deep job losses across the board, though women lost 2 million more jobs than men did in the first months of the pandemic. Unlike every other modern recession, which disproportionately dinged male-heavy industries like construction and manufacturing, this time the most dramatic cuts were in industries where women tend to work, such as health care, education, retail, hospitality and leisure.
"Never before has a recession affected women more than men," said Claudia Goldin, a labor economist at Harvard University. "This was not your usual downturn; it was a self-imposed coma that hit women hardest because they worked in sectors where they were in close proximity to others, giving haircuts, selling vegetables, teaching students."
While child care remains a persistent challenge, with many day cares shuttered or understaffed, she and others say the pandemic may have inadvertently ushered in more equitable conditions for women, and mothers in particular. Even though some of the biggest gains during the pandemic recovery have been in sectors dominated by men such as transportation and warehousing, and construction, women have been quick to jump in.
Additionally, mothers of young children are working or looking for work at rates even higher than in February 2020, outpacing similarly situated men. Although labor economists said it wasn't clear exactly what was driving that shift, it's possible that remote technology played a role in creating new opportunities for women, particularly younger mothers.
"The shift to remote work is key," said Pollak of ZipRecruiter. "It has allowed women to continue working without bias or stigma while pregnant. It's allowed them to stay home and breastfeed far more easily, and to spend more time with their children and less money on child care. It's substantially reduced the opportunity cost of working."
Even so, experts warned that recent gains obscure ongoing challenges for Black women and Latinas, as well as women with lower levels of education and income. Although a number of pandemic-era policies offered temporary fixes, such as paid sick leave and more affordable child care, little has been done to address systemic hurdles in the long term, according to Julie Vogtman, director of job quality at the National Women's Law Center.
"We are certainly seeing some very positive signs in the economy, but there are still disparities, both in who is back to work and who is getting the best jobs," Vogtman said. "What that means for women, in particular, is that even if they are going back to work, they are still facing many of the same challenges they faced before the pandemic."
In Fort Worth, Lacey Lymon began her recent job search with one requirement: She had to be able to work from home.
Lymon, who used to work at an insurance company, quit her job in 2015 after her son was diagnosed with a neuromuscular disorder. But it was getting increasingly tough to make ends meet on one salary – and when she found out she was pregnant with a second child early last year, she knew it was time to go back to work.
She applied to two jobs, got interviews for both and an offer for one. Now she and her husband both work from home, in project management roles for a national retailer, while juggling care for their 4-month-old daughter. Their 9-year-old son is home-schooled, with visits from a teacher who tutors him a few hours a day. It's a fragile balance, she said – one that requires her to start working at the crack of dawn, while her husband works well into the evening – that would've been impossible before the pandemic.
"It's a dance but it gives me so much relief knowing I can earn an income while being with my kids every day," said Lymon, 30. "It's made a huge difference – simple things, like going to the grocery store and not having to log into my bank account to make sure everything I'm getting can be covered. Being able to ask questions like, 'Hey, would we like to go on vacation this year?' We are in a much better spot now."
Add TheJapanNews to your Google News feed.