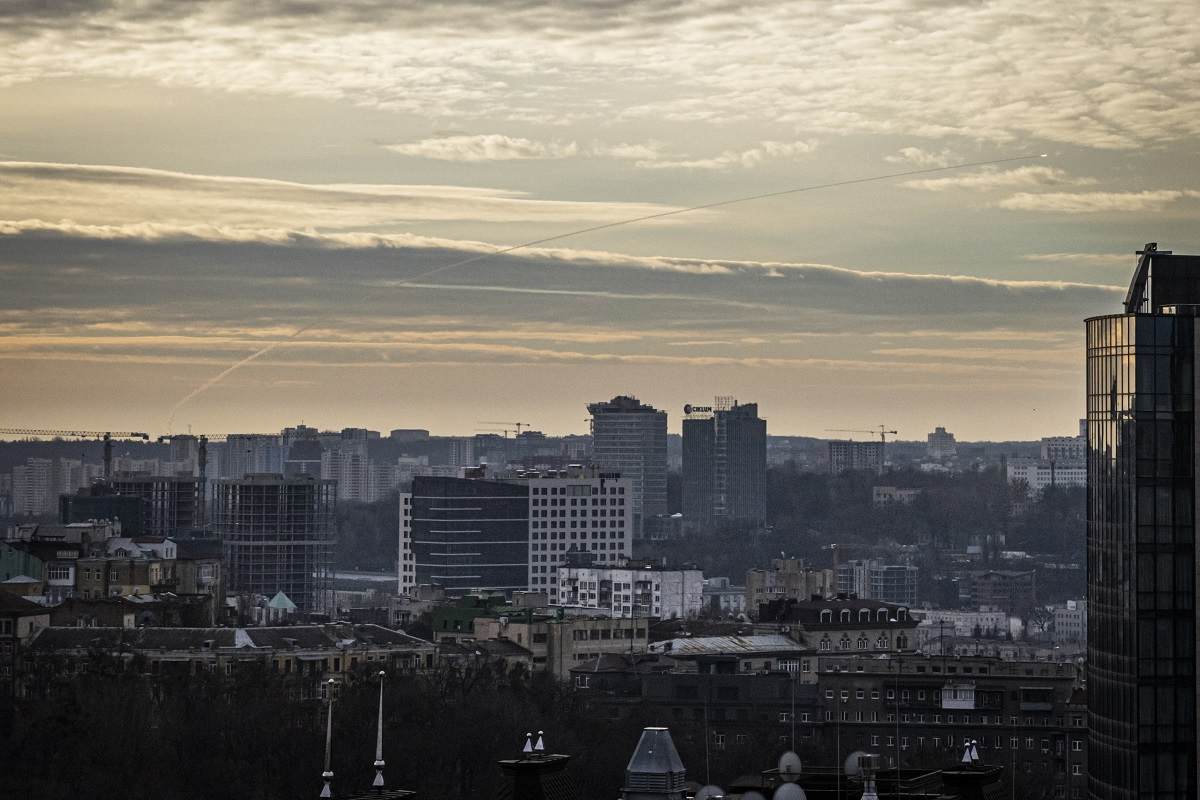 15:53 JST, February 12, 2023
Peace talks with Russia remain "out of the question," a senior Ukrainian official said Saturday. Only a Ukrainian victory would end "the war in Europe," presidential adviser Mykhailo Podolyak said, as he accused Russia of being unwilling to leave territory it had occupied or take responsibility for the almost year-long conflict.
A top Ukrainian official was also sacked on Saturday. Ruslan Dziuba was fired from his post as the deputy commander of the National Guard, according to President Volodymyr Zelensky. A brief statement published on the presidential website did not outline the reasons for Dziuba's dismissal. Earlier in the evening, Zelensky spoke of his efforts to clean up the government.
In his nightly address Saturday, Zelensky said he had held several meetings with representatives of the defense sector and law enforcement agencies to discuss "the strengthening of the public institutions." The meetings also focused on the "protection of institutions from any attempts from outside or inside to reduce their effectiveness and efficiency," Zelensky said.
Here's the latest on the war and its impact across the globe:
***
President Biden plans to visit NATO ally Poland on Feb. 20, shortly before the first anniversary of the conflict. He will meet with Polish President Andrzej Duda to discuss "our collective efforts to support Ukraine and bolster NATO's deterrence," the White House said in a statement on Friday, as well as reaffirm "how we will continue to stand with the people of Ukraine for as long as it takes."
Ukraine said Russia launched more than 100 missiles on Friday. "The threat of strikes by the Russian federation on civilian targets across Ukraine remains high," the General Staff of the Armed Forces of Ukraine said in an update Saturday, adding that Russia had also used Shahed-type drones. Local officials reported that civilian infrastructure was hit, stripping much of the country of power and heat.
Zelensky visited the Turkish Embassy in Kyiv on Saturday to mourn the more than 25,000 people killed by an earthquake that shook Turkey and Syria this week. "Eternal memory to the deceased," Zelensky said on Telegram. "We wish those who suffered a quick recovery."
Senior members of JPMorgan met with Zelensky on Saturday to discuss "attracting private capital to rebuild Ukraine," according to the presidential website. Zelensky also took part via video link in an annual investment summit organized by JPMorgan. "I understand very well that doing business and investing cannot be beneficial to only one party. We want you to invest in Ukraine and earn money," Zelensky said.
***
Zelensky has pushed for a ban of Russian and Belarusian athletes at the 2024 Paris Olympics. Zelensky made a passionate plea to a group of 35 international sports and government ministers, urging them to push the International Olympic Committee (IOC) to ban the athletes, amid a simmering debate on the issue. "The Russian state has chosen the path of terror and that is why it has no place in the civilized world," he said Friday.
Moldova appointed a new prime minister shortly after a Russian missile violated its airspace. Dorin Recean will replace outgoing leader Natalia Gavrilita, who resigned Friday. Nearby Romania, a NATO member, confirmed Russian targets did not pass through its airspace, despite reports to the contrary by Ukrainian officials.
Brazilian President Luiz Inácio Lula da Silva is looking to broker peace between Russia and Ukraine, he told CNN on Friday during a visit to the United States. Lula said that Ukraine had the right to defend itself "because the invasion was a mistake on the part of Russia" but that Brazil would not give Ukraine ammunition. "I don't want to go join the war. I want to end the war," he said. He has proposed setting up a "peace club" of countries that could mediate an end to the war and has repeatedly rejected calls from Western countries to support Kyiv with weapons.
Ukraine has submitted a request for F-16 fighter jets to the Netherlands, Dutch Defense Minister Kajsa Ollongren said. "We need to discuss the availability of F-16s with the Americans and other allies," Ollongren told local media.
Russia is to cut its oil production by 500,000 barrels a day from next month in response to price caps imposed by the United States and Europe on its fuel exports, said Deputy Prime Minister Alexander Novak. The move will effectively reduce Russia's output by about 5 percent. Analysts have said the decision could lead to higher gasoline prices globally.
***
The commander of Ukraine's military spoke on the phone with U.S. Gen. Mark A. Milley, Gen. Valery Zaluzhny said. In the announcement, which Zaluzhny posted to his Telegram page Saturday, the Ukrainian general said Vuhledar and Maryinka are the fiercest battlegrounds. Ukrainian forces are still fighting for Bakhmut, also in the eastern Donetsk region, Zaluzhny said. The Ukrainian and American generals met for the first time last month, in Poland. The Pentagon did not immediately respond to The Washington Post's request for comment late Saturday morning.
Rivalry between Russia's military and the Wagner private mercenary group is rising, according to a daily intelligence update from Britain's Defense Ministry. There is "increasingly direct rivalry between the Russian Ministry of Defence and Wagner," it said. It added that data had showed a "drop-off" in the number of recruits to Wagner from Russian prisons and warned the "Russian leadership faces the difficult choice of either continuing to deplete its forces, scale back objectives, or conduct a further form of mobilisation," if it is to continue to amass troops.
Ukraine is without 44 percent of nuclear generation and 75 percent of thermal power capacity after Russian attacks on Friday, Ukrainian Prime Minister Denys Shmyhal said, according to Reuters. The strikes were against "entire power plants that heat millions of homes and lights thousands of city blocks, offices, hospitals, and schools," Vedant Patel, a spokesperson for the U.S. State Department, said in a press briefing. "This is a deliberate targeting of infrastructure that keeps Ukrainians alive in winter."
Two of the three operating Ukrainian nuclear power plants have reduced power as a precaution after renewed shelling of energy infrastructure, Ukrainian regulators told the International Atomic Energy Agency. Instability in the electrical grid from the shelling caused one of the reactor units at the Khmelnitsky nuclear power plant to shut down, the IAEA said in a statement, adding that nuclear safety systems at the plant worked as expected.
Three S-300 missiles damaged infrastructure in Kharkiv, officials said Saturday night. A civilian received shrapnel wounds and was taken to the hospital, Oleg Sinegubov, head of the Kharkiv regional administration, said on Telegram.
Wagner Group owner Yevgeny Prigozhin predicted that fighting in Ukraine could drag on for years, he said in a video interview released late Friday. Prigozhin said it could take up to two years for Russia to fully secure control of Ukraine's Donbas region and three years if the Kremlin seeks to secure territories east of the Dnieper River, the Associated Press reported.
Add TheJapanNews to your Google News feed.