66,000 War Crimes Have Been Reported in Ukraine. It Vows to Prosecute Them All.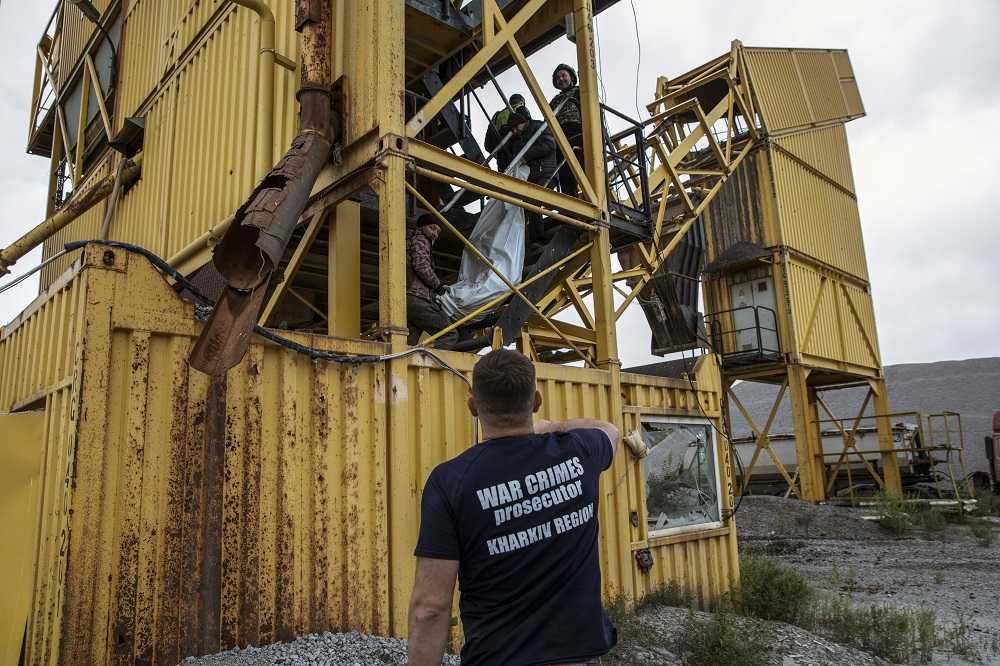 16:28 JST, January 30, 2023
KYIV – The 25 Russians convicted so far of war crimes in Ukrainian courts include a soldier who forced two Ukrainians at gunpoint to hand over laptops and money, four who beat and tortured Ukrainian soldiers and two who admitted shelling residential buildings in the first weeks of the war.
Over 66,000 additional alleged war crimes have been reported to Ukrainian authorities since the Russian invasion last February, according to Ukraine's Office of the Prosecutor General. The number is growing by hundreds every day as investigators fan out into areas retaken from the Russians and Ukrainians step up to lodge complaints, ranging from the theft of property to torture, murder, rape, the deportation of Ukrainian children to Russia and the relentless missile strikes against Ukrainian infrastructure.
It's a staggering number of cases, one that would overwhelm any judicial system anywhere, legal experts say. But Ukraine's prosecutor general Andriy Kostin has vowed to investigate all of them and to bring to trial all those in which enough evidence can be gathered. President Volodymyr Zelensky has made justice for the victims of war crimes one of his conditions for eventual peace with Russia. The issue is as important for Ukraine as defeating the Russians militarily if Russia is to be deterred forever from attacking Ukraine, Kostin said.
"We have to win in both battles – in the fight for our territory and in the fight for justice," he said in an interview.
The battle for justice could prove just as challenging as the fight for land.
The Ukraine war offers an unparalleled opportunity to test the still-evolving international justice system that began to take shape after World War II. The United Nations has found clear evidence that "an array" of war crimes and other violations of human rights and international law have been committed, according to an initial report by the Independent International Commission of Enquiry on Ukraine set up under the auspices of the United Nations earlier this year.
Not only is there an overwhelming number of cases, but abundant evidence, noted a European diplomat, who spoke on the condition of anonymity to discuss sensitive issues. Technology has brought new means of documenting crimes, from the videos posted on social media by Russian and Ukrainian soldiers to satellite footage that reveals patterns of deliberate attacks on civilian targets.
The liberation of territory by Ukrainian troops has enabled investigators to obtain firsthand accounts and forensic evidence within days or weeks of the crimes being committed – rather than years, as has been the case with most previous attempts to put war criminals on trial. If Ukraine succeeds in retaking more territory, the number of cases could easily double, Ukrainian officials say.
There is extraordinary international interest in the effort to hold the perpetrators to account, surpassed only by the Nazi war crimes trials that followed World War II. The International Criminal Court (ICC) has deployed its biggest team yet to Ukraine. Human rights lawyers and advocacy groups have flooded into the country. The United Nations and European governments have opened investigations. The diplomat said he had counted at least 11 different investigations underway in Ukraine.
But there is a risk the entire effort will be weighed down by the sheer number of cases, the overlapping inquiries and the loopholes and contradictions of a still imperfect international judicial system, legal experts say. Whether there is a path to prosecuting the most senior figures who bear overall responsibility for the war, including Russian President Vladimir Putin, is increasingly in question, they say.
The Ukrainian authorities expect to try the overwhelming majority of the cases, Kostin said. International mechanisms have always been intended to complement and supplement national jurisdictions, stepping in where governments are unable or unwilling to carry out prosecutions of their own and bringing international accountability for the highest-level officials.
But for Ukraine to prosecute the 99 percent of cases that Kostin says he expects to take on is in itself a massive undertaking. Every day brings new reports of mass graves uncovered, torture chambers revealed and fresh missile strikes that kill civilians and destroy property. There are likely to be some duplications, but it's still a huge number of cases, he said.
Take the example of just one mass grave discovered in the wake of the Russian retreat from the northeastern town of Izyum in September, said Wayne Jordash, a Ukraine-based human rights lawyer with Global Rights Compliance, one of the international organizations advising the Ukrainian government. To demonstrate that a war crime was committed will require detailed forensic examination of all the 400 bodies unearthed and the circumstances of their death, even before identifying the perpetrator, he said.
"You can never investigate every single one of these cases. Some have to be prioritized, some have to be deprioritized, when you have a situation of such mass criminality as you have here," Jordash said.
His organization, and others helping the Ukrainian government, advocate grouping a number of crimes together into single cases. They might include, for example, the entirety of the killings committed in the vicinity of Bucha, outside Kyiv, where the forced Russian retreat last April drew attention to the scale of Russian atrocities taking place.
But Ukrainians insist it is important to hold to account every Russian soldier who transgressed the laws of war, no matter how small the crime or whether the perpetrators are in Ukrainian custody. "The victims want justice," Kostin said.
Among the 86 indictments brought so far are one accusing a Russian soldier of stealing food and other possessions from a Ukrainian home and another against the wife of a Russian soldier for encouraging her husband to rape Ukrainian women, "on the basis of personal hostility to Ukrainian society and contempt for Ukrainian women," according to records of the Office of the Prosecutor General.
There are also charges against a battalion commander who ordered subordinates to fire on fleeing civilians in Kharkiv, resulting in the death of at least one woman; two servicemen who raped a 16-year-old and the Russian minister for transport, accused of preparing the war and the "illegal transportation of persons" across Ukraine's state borders – the highest-level civilian to be indicted.
The minister and the vast majority of the 86 suspects indicted so far are to be tried in absentia, according to figures provided by the office of the prosecutor general. There are no reports so far of investigations into possible Ukrainian war crimes.
"We have to find a way to provide justice for all regardless of who they are, what social position they have and what level of crime they faced," said Oleksandra Matviichuk, whose organization, Ukraine's Center for Civil Liberties, was a joint winner of the 2022 Nobel Peace Prize for its work campaigning on behalf of war crimes victims.
There is, however, a risk of what Matviichuk called "an accountability gap" opening up, in which ordinary Russian soldiers are punished for acts committed in the pursuit of their orders to wage war while top leaders such as Putin continue to pursue the war with impunity. The 25 Russians convicted so far have been issued sentences ranging from 10 years to life imprisonment. According to figures provided by the Office of the Prosecutor General, only 18 of the 250 Russians for whom enough evidence has been gathered to lay charges are in Ukrainian custody, as prisoners of war.
Ukraine is meanwhile gathering evidence on high-level figures who could be indicted for committing violations of international law to pass on to international authorities, said Kostin. But Ukrainian law prohibits the admission of evidence that has not been gathered by Ukrainian investigators, rendering some of the international assistance that has poured into the country unhelpful, said Yuriy Bilousov, who heads the war crimes prosecution department of the prosecutor's office.
Much of the evidence being gathered by foreign human rights organizations is being sent directly to the ICC, where it risks gathering dust, he said. The nongovernmental organizations "are helpful but they could be more helpful if they gave us the information," he said. "The ICC wasn't set up to prosecute every war crime. It would be more helpful if we could get the information immediately because we could try to find the Russian criminal."
Left unaddressed by all the inquiries is the crime of aggression, of waging war at all against a sovereign country. This counts as "the mother of all war crimes," said Kostin. "Without the invasion of Russian troops, the other war crimes wouldn't have been committed."
And it is the crime that would be easiest to prosecute, including at the highest levels of the Russian leadership, said Jordash. There is plenty of evidence, ranging from televised statements to the act of the invasion itself, that Putin and his ministers deliberately set about a war of aggression against Ukraine.
But for a variety of legal reasons, including that neither Ukraine nor Russia ratified the Rome Statute, which established the ICC, the ICC can't prosecute the crime of aggression. It also can't prosecute heads of state such as Putin, or conduct trials in absentia of his top ministers.
For that reason, Ukraine is campaigning for the creation of a special tribunal, along the lines of the tribunals established to prosecute war crimes in the former Yugoslavia and Rwanda. Kostin said his office has gathered evidence on 627 suspects, including ministers, generals and all the members of the Russian Duma, or parliament, who voted for the war who could be put on trial for the crime of aggression.
But a special tribunal would have to be endorsed either by the United Nations Security Council, where Russia has veto power, or by the United Nations General Assembly, where it is unclear whether Ukraine could achieve a majority of votes. Broad international support, including from non-Western countries that have been hesitant to condemn Russia's invasion, would be essential for the tribunal to have the legitimacy required to lend weight to its proceedings, said the European diplomat.
The European Union is leaning toward supporting such a proposal, but the United States has not yet decided whether to back a tribunal, said Beth van Schaak, the U.S. ambassador at large for war crimes. The Biden administration is interested in potentially supporting a new Dutch proposal to create an office for an interim prosecutor to gather evidence on the commission of crimes of aggression for use at a future date.
Ukraine is open to all suggestions that will bring about the best chance of justice, said Bilousov. "There are as many opinions about how to go about this task as there are lawyers," he said.
Add TheJapanNews to your Google News feed.