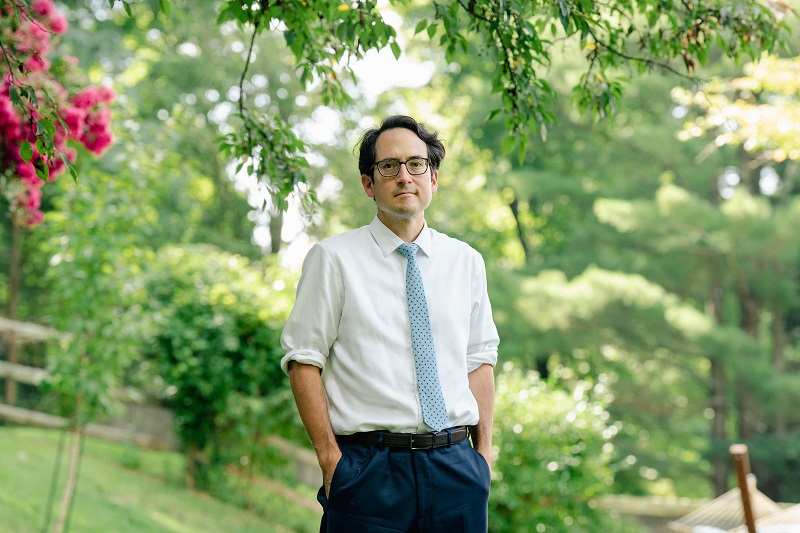 11:59 JST, August 29, 2022
During his confirmation process to join the Federal Trade Commission, Republican lawmakers depicted privacy scholar and former Democratic Senate aide Alvaro Bedoya as a "radical" who would take the agency in a "hyperpartisan" direction.
But in his debut address as a commissioner earlier this month, Bedoya zeroed in on an issue he thinks the two parties – and the FTC – can unite around: tackling concerns about children's and teens' mental health online.
"Protecting kids has been historically one of those areas" of bipartisanship, Bedoya said in his first sit-down interview since being sworn in at the FTC.
His early focus on the topic has drawn plaudits from one of his Republican colleagues, Commissioner Christine Wilson, and it could lead to more stringent federal oversight of how technology companies like Instagram, TikTok and Snapchat affect younger users' moods.
"It's important that industry knows that there are two commissioners who care a lot about this issue and are prioritizing it," said Bedoya – a point he's also conveyed to agency staff.
Bedoya said he sees several areas where regulators can act: scrutinizing the product choices companies make to keep kids hooked and how they profit off them, and aggressively enforcing children's privacy standards.
"What I am very interested in learning about is … the techniques used to keep kids and teens online longer than they want to be online," he said.
Notably, Bedoya recently called for public input on two questions: When do design choices constitute unfair or deceptive practices, and when do potential harms to younger users outweigh the business benefit? The answers could create a road map for future enforcement actions.
One upside, Bedoya said, is that there's a growing body of research about how platforms may at times impact children's mental health – but there's more digging to be done, he said.
In 2020, long before Bedoya joined, the FTC demanded that nine social media companies including Facebook, Twitter and YouTube fork over information about how they collect and use personal data, including "how their practices affect children and teens."
By launching a formal study, the FTC can compel businesses to disclose closely held data. Bedoya said the tool could prove crucial in the agency's bid to protect kids.
But Bedoya says Congress has a role to play, too, including by creating a new privacy division at the FTC, expanding federal protections for children's data, funding government research into kids' mental health and creating a duty for companies to act in the "best interest of the child." Those ideas have appeared across a flurry of bipartisan children's safety bills in Washington.
Not every policy item atop Bedoya's agenda enjoys bipartisan support.
Earlier this month, the FTC kicked off a lengthy and long-anticipated process to consider new rules around "lax data security or commercial surveillance practices."
Bedoya and the agency's two other Democratic commissioners backed the move, but its two Republican commissioners opposed it, arguing it could undermine congressional efforts to pass federal privacy standards and that the agency was effectively acting as a legislator.
"No matter what Congress does, we won't stand in their way," Bedoya said in response to criticisms of the rulemaking process. "But do I think it's time? I think it's time, absolutely."
Bedoya, who as a scholar spearheaded research into how surveillance technologies can hurt marginalized groups, said one of his focuses will be considering when algorithms contribute to discrimination, and when that crosses into illegal activity.
"As these algorithms creep into jobs, housing, health care, it absolutely raises the stakes of what the potential injuries are, and so it's our job to look at that," he said.
As the FTC's third Democrat, Bedoya will also be a key vote on an array of tech issues, including how the agency addresses concerns about fraud and a lack of competition online.
Bedoya said another priority is to boost oversight of online scams that target users in languages other than English, and that he's pushing to track when such cases are brought by the agency.
"I want to make sure there's a lasting, sustainable civil rights focus at the commission in line with the work and authorities that it has," he said.
As one of the first Hispanic commissioners in the FTC's 107-year history, Bedoya said it's an issue that resonates deeply with him.
"When I think about issues like online fraud targeting Latinos and other immigrant groups, it strikes much closer to home. And it strikes me as my responsibility to address it," Bedoya, born in Peru, wrote in an email Wednesday.
With the FTC battling a slew of tech giants over allegations they stifle competition, Bedoya is expected to play a central role, but his views on the topic are less well-known.
Next month, he's set to deliver remarks detailing his thoughts on tech and antitrust in more detail. In a preview, he said the way competition intersects with data collection is top of mind.
"I remain very interested in data as a barrier to entry, and whether certain things that are good for competition may be bad for privacy and trying to figure out that balance," Bedoya said.
Add TheJapanNews to your Google News feed.