Akron police release video of officers shooting Black man dozens of times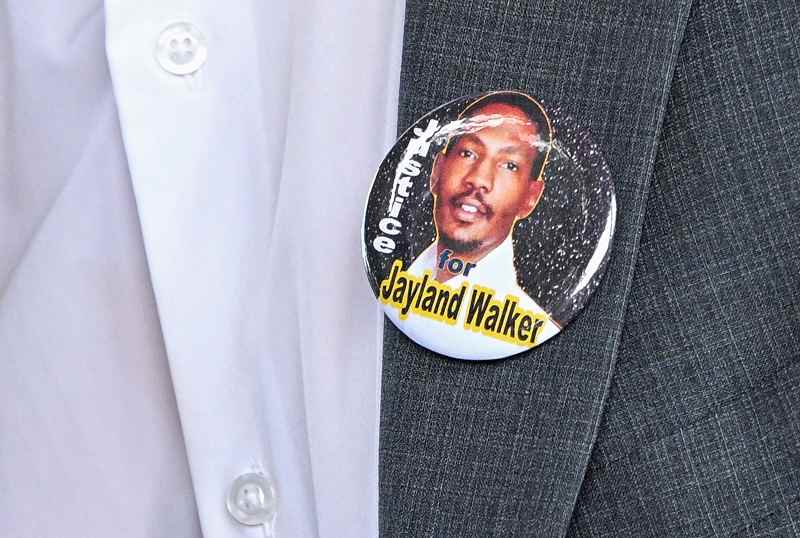 16:35 JST, July 4, 2022
AKRON, Ohio – Police on Sunday released body-camera footage showing officers firing dozens of rounds at a Black man who left his car while fleeing a traffic stop one week ago, a killing that has sparked outrage, investigations and demands for accountability.
Akron Police Chief Stephen Mylett said he did not know the exact number of rounds fired at Jayland Walker, 25. But, Mylett added, the medical examiner's report indicates more than 60 wounds on Walker's body.
The police chief described the footage, which was blurred to obscure Walker, as "difficult to watch" and "shocking." He said he would reserve judgment until hearing from the officers involved. Evidence indicates that Walker had fired a gun during the car chase, Mylett said.
"When an officer makes the most critical decision in his or her life as a police officer, when they fire an arm at another human being, they have to be ready to explain why they did what they did – they need to be able to articulate what specific threats they were facing," he said. "And that goes for every round that goes down the barrel of their gun. And they need to be held to account."
Eight officers involved in the shooting have been placed on paid leave pending the outcome of probes by the Ohio Bureau of Criminal Investigation and the Akron Police Office of Professional Standards and Accountability.
Police tried to stop Walker's Buick about 12:30 a.m. June 27 for investigation of an unspecified traffic violation and chased him when he did not pull over, the Akron Police Department said. Shortly after an officer said he heard a gunshot come from the Buick, Walker jumped out of the car and ran into a parking lot, with officers following – and eventually firing.
Walker was pronounced dead in the parking lot. Among the images police displayed Sunday were those of a gun that they said they found in his car, beside a loaded magazine.
An attorney for his family, Bobby DiCello, told The Washington Post over the weekend that eight officers fired more than 90 rounds at Walker, with more than 60 striking him.
"It was absolutely excessive," the attorney said during a news conference after the video's release.
DiCello noted that footage after the shooting wasn't shown in the presentation. He said shots continued after Walker was on the ground.
"We know that they then handcuff him and roll him on his back and then they begin to apply some sort of attempt at lifesaving measures, which after 60-plus wounds and 90-plus bullets makes for a hopeless cause," DiCello said.
"The way the law required, indeed, the way we are all required to look at this is through the eyes of a reasonable police officer as it's happening," DiCello said. "I ask you, as he's running away, what is reasonable? To gun him down? No, that's not reasonable."
Ken Abbarno, another attorney for the Walker family, said Walker should be remembered for "his smile, who he was, how he interacted with his family."
The body-camera footage shown at the presentation Sunday was a video from the first officer who was involved in the pursuit. After the presentation, Akron police released body-camera footage from 13 officers involved – eight who fired and five "witness officers," according to Lt. Michael Miller, a spokesman.
Of the eight officers who fired, seven were White and one was Black, according to data the police department gave to news media. None of the officers had received disciplinary action or substantiated complaints, and this was the first fatal shooting for each.
On Sunday, Mayor Daniel Horrigan, D, urged Akron residents to be patient and reserve their judgment until the investigation is complete.
He touted the city's measures for transparency and accountability, citing the independent investigation through the BCI and a law enacted by the city council a year ago that requires the release of video footage within seven days after Akron police use force that is deadly or that results in serious bodily injury.
Akron residents have joined Walker's family in demanding accountability for his death, the third police shooting in the northeastern Ohio city since December. Amid the uproar, Horrigan announced the cancellation of the Rib, White & Blue Festival planned for the July Fourth weekend, saying, "I feel strongly that this is not the time for a city-led celebration."
Instead of celebrating the holiday on Sunday afternoon, people were searching for shade at the Harold K. Stubbs Justice Center so they could look at the body-camera footage on their phones.
Sandra Dees, 48, of Akron joined a group of armed people, one of whom identified himself as a Black Panther, under a tree.
Dees and others grumbled about how hard it was to see what was going on in the video and during the police chase. Then, sounds like those of weak firecrackers echoed on the phones.
The small crowd erupted into shouts and screams.
"Oh my God!" Dees said, bursting into tears.
"They murdered him – that's murder all day long."
Her friend Marquita Carter draped her arm around Dees and walked with her while she sobbed.
LaDamien Malone, 35, there with his 4-year-old daughter, paced and wept as he shouted "Justice for Jayland!"
"When he hit the ground, they kept firing rounds," Malone said. "That's completely unjustified."
"The police – they should be locking them up right now," Malone said, "before they do somebody else like that."
Before the video's release, officials thanked the Walkers for their repeated requests that the protests remain peaceful. (The marches and demonstrations were largely peaceful throughout the afternoon and into the evening.)
"If Jayland reflects the character of this family – which I continually heard that he did – you raised a good son," Mylett said at the news conference.
City officials offered condolences to Walker's family members, who had watched the video before its release.
"I know that no amount of grief or prayer will bring Jayland back, but please know the city mourns with you," Horrigan said. "Personally, there are no amount of superlatives . . . that I can use to describe my feelings. I won't mince words – the video you're about to watch is heartbreaking. And it's very tough to take in."
The video lasted about seven minutes. Much of it showed an officer's hands on his steering wheel as he and other officers sped after Walker's vehicle, sirens blaring.
Seconds into the pursuit, a sound that the police department described as "consistent with a gunshot" could be heard. Images from overhead – which were shared in the news conference presentation but were not part of the body-camera footage – showed a flash at the door of the vehicle as Walker drove on an expressway.
"Shots fired," an officer said over police radio. "That vehicle just had a shot come out of its door."
Walker exited the expressway, jumped out of the car and ran. Officers chased him; the police department said officers deployed their stun guns. The news conference presentation included stills from one body camera that showed an officer firing a stun gun at Walker before he was hit by bullets.
In the last moments of the footage, yelling officers unloaded a hail of bullets on Walker, who Mylett said had suddenly turned toward them.
DiCello said Walker's behavior, including wearing a ski mask, was "strange, no doubt. I want to add, though, that behavior is not lethal behavior."
In the unblurred footage, he said, Walker's body twitched after every shot fired.
"He wasn't a criminal," DiCello said. "He obviously was in pain. He didn't deserve to die."
As of Sunday afternoon, none of the officers involved in the shooting had provided statements to investigators, Mylett said. He had spoken Saturday night with the police union president, who said the officers "are fully cooperating with the investigation."
Abbarno, one of the family's attorneys, said it was "troubling" that none of the officers had given statements in the investigation. He said witness statements are best taken at the time incidents happen.
"You don't let a week go by," he said. "Because each day that goes by, memories can fade."
Elsewhere, calls for accountability rang out from the streets.
At an NAACP rally in front of Akron City Hall, organizers, members of activist groups and some of Walker's relatives often shouted to be heard over the persistent drone of helicopters overhead. They were reminding the crowd to stay peaceful while reiterating demands for a federal investigation, the immediate firings of the officers involved and prosecution on murder charges.
The demonstrators listened and yelled, many holding signs reading #WeAreDoneDying."
In a statement after the footage was released, NAACP President Derrick Johnson called the shooting "disgusting."
"This wasn't self-defense, it wasn't an accident in the heat of the moment, it was murder. Point blank," Johnson said. "This Black man was killed – struck more than 60 times by 90 fired bullets – for a possible traffic violation. This doesn't happen to white people in America. . . . We know that pulling over for the police is often a death sentence."
More than 1,040 people have been fatally shot by police in the past year nationwide, according to Post data. Half those people were White, but Black Americans are shot at a disproportionate rate. They account for less than 13% of the U.S. population but are killed by police at more than twice the rate of White people.
Add TheJapanNews to your Google News feed.