Austin asks Russian defense minister for cease-fire in first talks since Ukraine invasion began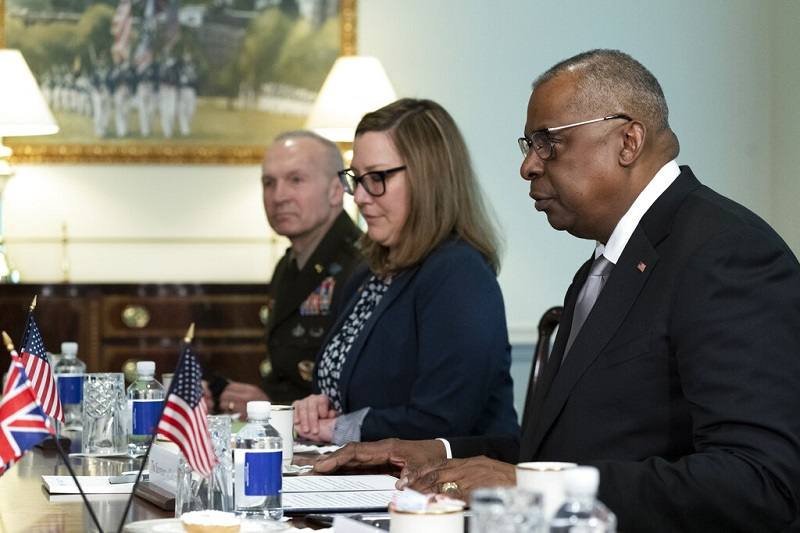 13:49 JST, May 14, 2022
Defense Secretary Lloyd Austin urged his Russian counterpart Friday to consider a cease-fire in Ukraine during the first discussion between the two leaders since the Russian invasion began nearly three months ago, the Pentagon said.
Austin had not connected with Defense Minister Sergei Shoigu since Feb. 18 – six days before Russia commenced its assault on Ukraine – despite repeated attempts by U.S. officials to do so, said a senior U.S. defense official, speaking on condition of anonymity under ground rules set by the Pentagon. The two men spoke for about an hour, and the official characterized their conversation as "professional," but declined to detail what was said.
"It wasn't for lack of trying that we hadn't been able to establish" communications, the official said. "We've been consistently asking for this conversation, and Minister Shoigu accepted for a call this week. But what motivated them to change their minds and be open to it, I don't think we know for sure."
The discussion occurred as Russia has expanded its military presence in Ukraine – particularly in the eastern regions of the country – after it earlier failed to seize the capital city of Kyiv and withdrew thousands of troops. Russia now has about 105 battalion tactical groups in Ukraine, the Pentagon said Friday, up slightly from a Defense Department count last week.
Shoigu and Austin also spoke as two countries, Finland and Sweden, are taking steps toward applying for NATO membership, a move that officials believe would bolster their security long-term but potentially leave them vulnerable to Russian retaliation. Each of NATO's 30 current members must approve the applications for them to join, a process that can take months.
The majority of the Russian military's efforts are now focused on Donbas, a section of eastern Ukraine that Moscow appears to want to seize. Russian forces have attempted in recent days to press south from the town of Izyum, which they already control, to the city of Slovyansk, but have encountered fierce Ukrainian resistance, the senior U.S. defense official said.
Russian forces have made some "incremental" gains west of the town of Popasna, southeast of Slovyansk, the official added, but Ukrainian officials have had success north of the city of Kharkiv, a major population center in the northeast.
"We've basically assessed that the Ukrainians continue to make progress in reclaiming towns and villages around Kharkiv," the official said. "We have seen some progress by them pushing Russian forces closer to the border and away from Kharkiv."
The fighting in the region has turned into "very much an artillery fight back and forth," the senior U.S. defense official said. In one example, Ukrainian forces have used artillery fire to stymie Russian attempts to cross the Siverskyi Donets, a river that flows from southern Russia into Ukraine, the defense official said. Ukrainian officials said in a Facebook post that they had destroyed numerous Russian vehicles near the town of Lyman.
The Pentagon also said that Ukraine is attempting to take back Snake Island, off the coast of the Ukraine-Romania border. Russia seized it early in the invasion, but satellite imagery released by Maxar on Thursday appeared to show the aftermath of missile attacks on a Russian military landing craft near the island. The images show smoke rising from locations struck recently by munitions, the company said.
Separately, the Army disclosed Friday that four units were being rotated out for new forces bolstering security in Eastern Europe – a sign that officials believe the fighting in Ukraine is likely to drag on.
Pentagon spokesman John Kirby said that the deployments are temporary but said that Austin and his staff are still reviewing what the permanent U.S. military presence in Europe should look like in light of the invasion. There are more than 100,000 American troops deployed throughout Europe, an influx of about 20,000 since the lead-up to Russia's invasion, and officials anticipate that at least some of those additional personnel now along NATO's eastern flank will remain for years to come.
Add TheJapanNews to your Google News feed.