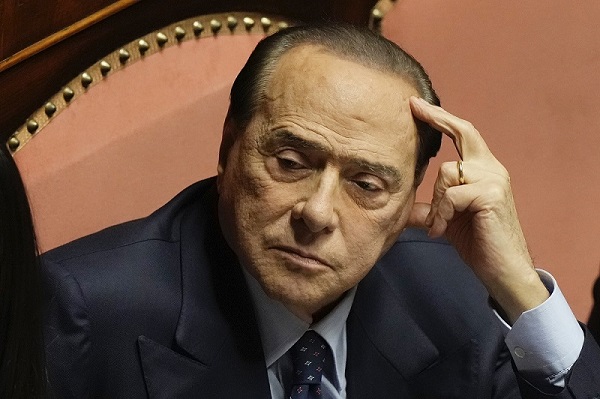 11:19 JST, April 7, 2023
ROME (AP) — Former Italian Premier Silvio Berlusconi is being treated for a lung infection that is a result of chronic leukemia, his doctors said Thursday, revealing the latest of string of health setbacks for the 86-year-old media mogul.
Berlusconi's personal physician, Alberto Zangrillo, signed off on a medical bulletin that said Berlusconi has had leukemia "for some time" but that the cancer of the blood cells was in a "persistent chronic phase."
The statement was the first official word from doctors since Berlusconi was admitted to Milan's San Raffaele Hospital on Wednesday. Dr. Fabio Ciceri, who is head of hematology, bone marrow transplation and blood cancer at the hospital, co-signed it.
"The current treatment strategy envisions treatment of the pulmonary infection" as well as specialized treatment "aimed at limiting the negative effects" of the chronic leukemia, the bulletin stated.
Berlusconi is a media mogul who served three terms as Italy's premier and now serves in the Senate. He was admitted to an intensive care unit at San Raffaele Hospital on Wednesday for treatment of what aides indicated was a respiratory problem stemming from a previous infection.
Earlier Thursday, a close political ally, Foreign Minister Antonio Tajani, quoting Zangrillo, reported that Berlusconi was alert and in stable condition at the hospital. Tajani is the coordinator of Forza Italia, the political party that Berlusconi created some 30 years ago.
Zangrillo, Berlusconi's longtime physician, is a chief anesthesiologist at San Raffaele Hospital. The former three-time premier and now senator had left the same hospital a week ago after several days of tests.
The medical bulletin didn't specify which treatment Berlusconi was receiving.
Berlusconi "is currently in intensive care for the treatment of a pulmonary infection," the bulletin said. It noted that his leukemia was in a "persistent chronic phase" and that tests have found an "absence of evolving characteristics of acute leukemia," which develops more quickly.
Doctors said the kind of leukemia afflicting Berlusconi usually appears in people of advanced age and is characterized by an increase in white blood cells known as monocytes.
Treatment for older patients could involve a stem cell transplant. But that could be difficult, according to an Italian non-profit association dedicated to combatting leukemia. Another treatment would involve controlling the white blood cell count.
Berlusconi's doctors said they were aiming to "get back the pre-existing clinical conditions."
Without citing any sources, Italian news agency ANSA reported that Berlusconi had received chemotherapy.
Berlusconi's party whip in the lower chamber of the Italian Parliament, Paolo Barelli, told reporters that Berlusconi "is responding to treatment," but Barelli declined to specify what kind.
A statement from Forza Italia said Berlusconi on Thursday morning had telephoned several party officials about political matters.
Meanwhile family members continued to visit Berlusconi. Spotted arriving at the hospital were his brother, Paolo, his eldest daughter, Marina, and his younger son, Luigi.
LaPresse news agency quoted Berlusconi's brother Paolo as saying that the family was ""relieved" and "hopeful" amid signs of improvement in his condition.
Fedele Confalonieri, Berlusconi's longtime confidant and chairman of his media empire Mediaset, told reporters Thursday that "we're more optimistic."
The last years have seen Berlusconi suffer numerous health problems, including heart ailments and COVID-19 in 2020, which saw him hospitalized then in critical condition with pneumonia.
He has had a pacemaker for years, underwent heart surgery to replace an aortic valve in 2016 and overcame prostate cancer decades ago.
On March 31, Berlusconi tweeted when he left the hospital after a battery of tests that he was "ready and determined to commit myself as I've always done to the country I love."
His brother made no comment upon arriving at the hospital Thursday morning. But when he left the hospital the night before, Paolo Berlusconi said of his brother: "He's a rock. Thus, he'll make it this time, too."
With no political heir apparent despite Berlusconi's multiple health setbacks, Forza Italia has seen its popularity at the polls slump to a fraction of what it enjoyed years ago, when voters helped to repeatedly propel him into the premiership despite his legal woes.
Among the messages for a quick recovery was one from Premier Giorgia Meloni, who tweeted "Forza Silvio," riffing off the soccer chant that Berlusconi turned into the name of his political party, which is currently one of two junior coalition partners in Meloni's nearly six-month-old right-wing government.
On Wednesday, during a Senate confidence roll-call vote when Berlusconi's name was called and an official said "absent," a round of applause erupted from across the political spectrum in Parliament's upper chamber.
The Senate seat Berlusconi won in September is fruit of his latest political comeback. A decade ago, he was banned from holding public office over a tax fraud conviction stemming from dealings in his media empire.
Last year, he triggered an uproar with comments about his old friend, Russian President Vladimir Putin, boasting that the two had exchanged birthday greetings. Berlusconi also has blamed Ukrainian President Volodymyr Zelenskyy for the war.
Add TheJapanNews to your Google News feed.