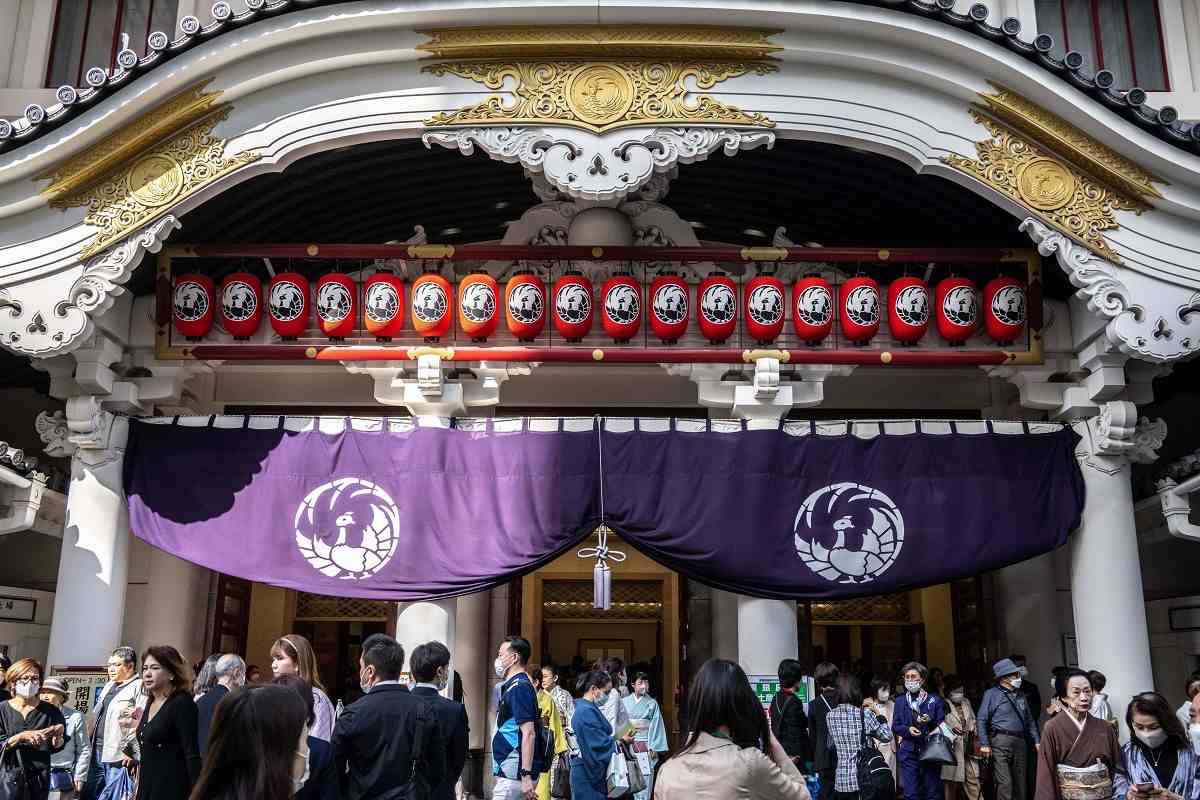 15:45 JST, May 3, 2023
Like most 10-year-olds in Japan, Maholo Terajima enjoys baseball and video games, but recently his schedule has also included lessons in swordfighting, choreography and fan dancing — preparations for his kabuki debut.
The French-Japanese child made his first appearance to rapturous applause this week under his new stage name, Onoe Maholo, at Tokyo's Kabuki-za theatre, the storied home of the classical artform.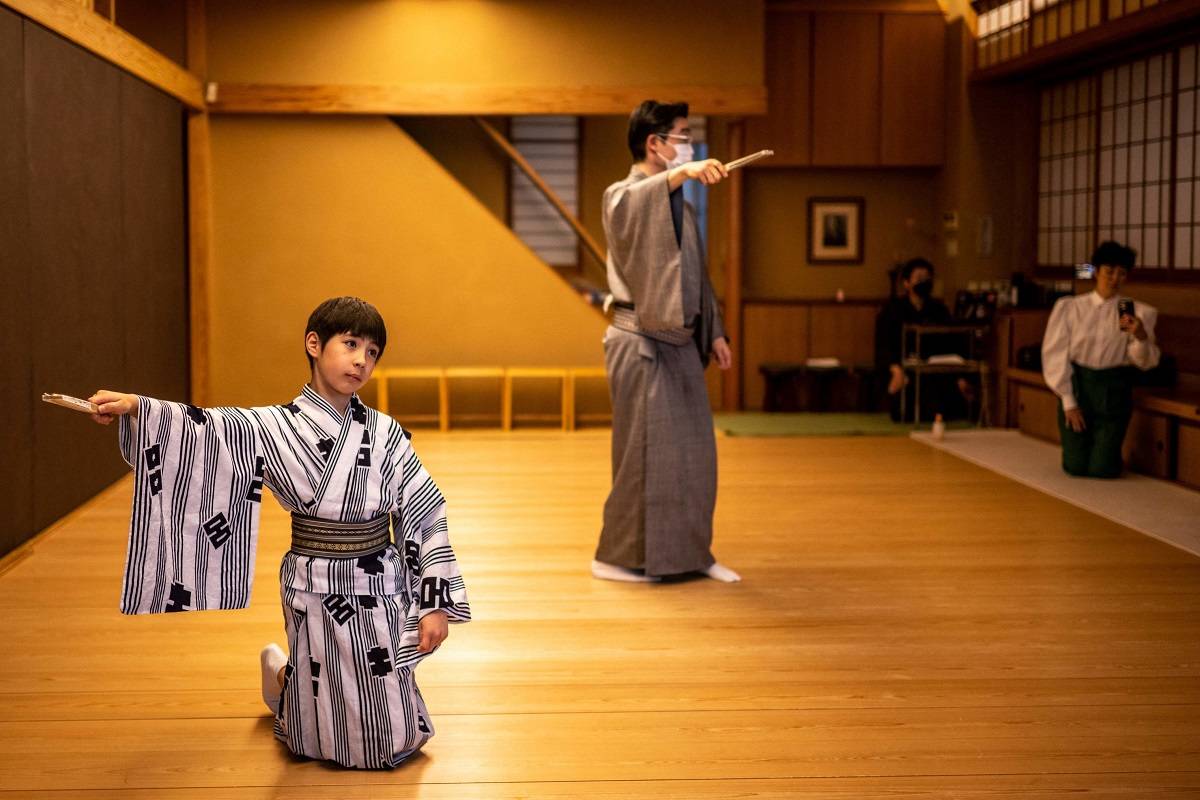 He joins just a handful of children who tread the boards in the ranks of Japan's kabuki actors, part of a tradition that is hundreds of years old.
"Practice is hard," the soft-spoken Terajima said, conceding he is sometimes jealous of friends who don't have hours of training after school.
"I need to make sure not to get the choreography or the lines wrong, or to forget movements for a fighting scene."
Balancing school and kabuki is "tough", he added. "But I'll do it."
Kabuki dates back to the 17th century, when a series of civil wars ended in Japan and a merchant class emerged.
Shows combine dance, drama and music, with actors often donning ornate costumes, wigs and heavy makeup for performances in old dialect on elaborate sets.
Terajima's preparation for this month's run of performances, in which he plays a young warrior initially disguised as a girl, required dedication.
One afternoon saw him jousting with a wooden sword under the direction of a veteran actor-choreographer before moving on to a session learning how to wield the highly ornamented fans used in kabuki dances.
"I'm playing the lead role and I'm performing a lot… I'm excited," he said after the fight practice, wearing a casual striped "yukata" robe for rehearsals.
Like other classical performing arts, "kabuki requires training from childhood", said Ryuichi Kodama, a professor at Waseda University who specialises in the subject.
"They acquire traditional techniques and learn to exude a certain traditional atmosphere," he said.
"That's how they live in the (kabuki) world."
Family tradition
Like most child kabuki actors, Terajima is following a family tradition: his grandfather Onoe Kikugoro VII is a star of the artform, even receiving "national treasure" status from the government.
But his kabuki inheritance runs through his mother Shinobu Terajima, who as a woman was not eligible to take up her father's mantle.
"I worried of course, because (kabuki actors) grow up watching their father, thinking they're cool and they want to be like him," she told AFP.
"I cannot fulfil that role."
She is an accomplished film and television actress in her own right, and introduced her son to the kabuki world early on.
Even at the age of two, the little boy was happy to spend day and night at the Kabuki-za, she said.
"While infants normally get bored, he wouldn't move."
Though this week was his first time performing under his official stage name — a rite of passage for kabuki stars, and considered their formal debut — Terajima has appeared on stage several times before, starting at age four.
Kabuki was originally performed by men and women, but government concerns about public morals caused female roles to be taken over by men, a tradition that endures today.
Despite its modern reputation as a high art, "kabuki has always been an entertainment for the popular classes", Kodama said.
Nowadays, though, it tends to attract an older audience, with show tickets priced around 4,000 to ¥20,000 ($30 to $150).
'Making history'
Not all Kabuki actors come from longstanding theatre families. But while talent once flocked to join, the rise of Western artforms after World War II sapped kabuki's ranks, Kodama said.
That made it all the more important for kabuki families to ensure sons followed their fathers, continuing the lineage of theatre stars.
Terajima is one of 10 actors under age 12 currently performing — all from kabuki families — and is the first dual national officially recognised as a kabuki actor.
"I may be overstating it, but he's making history," his mother said.
"I think this is a very important moment."
Actor Ichimura Uzaemon, who was adopted into a kabuki family in 1878, is said to have had a French-American father but is not officially recognised as having had a mixed background.
Terajima's mother and art director father are both keen for their son to have a relatively normal childhood and choose his own path as an adult.
"I'll support him if he wants to be a taxi driver," his father Laurent Ghnassia said.
The Frenchman confesses he "did not know what kabuki was" before marrying his wife, but now "feels great pride" for his son.
And he said he never worried the insular kabuki world might reject Maholo because of his mixed background.
"They are people of the stage. They… have an open mind because they are artists," he said.
For now, Terajima's dream involves kabuki, including performing in France and achieving renown like his grandfather.
"I have something to aim for," he said.
Add TheJapanNews to your Google News feed.