Southeast Asian Hotels Flock to Kyoto, Osaka as Economic Growth, Weak Yen Bring Back Tourists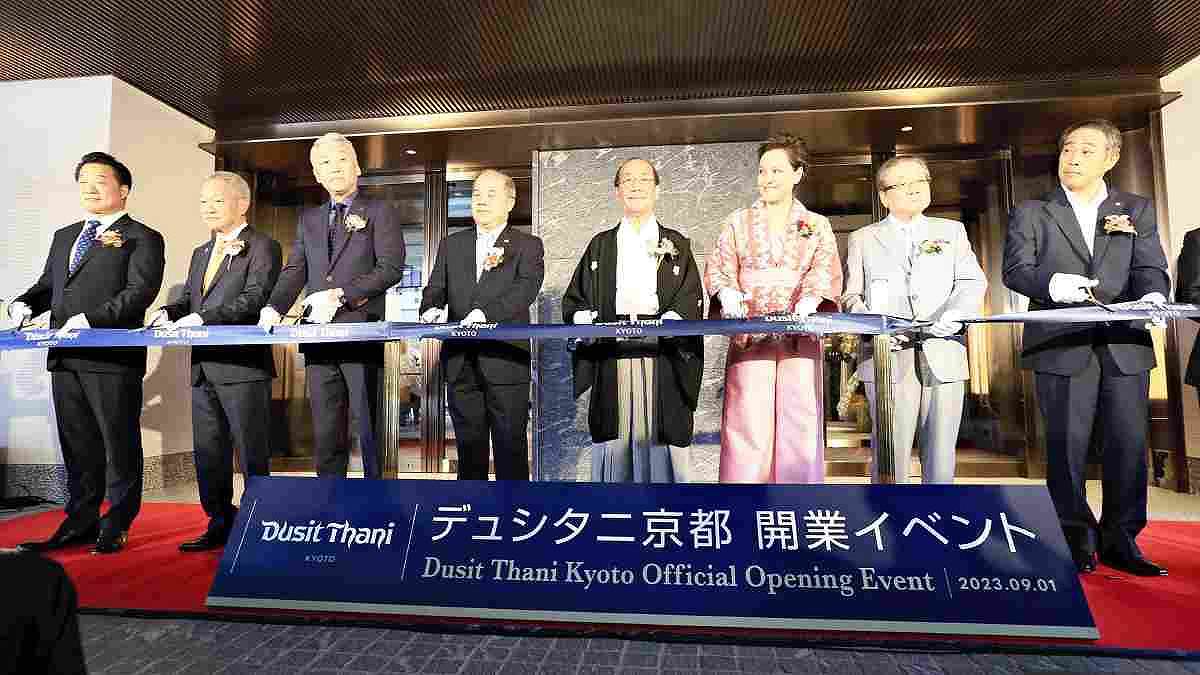 6:00 JST, September 6, 2023
KYOTO — Hotels run by Southeast Asian companies are opening one after another in Kyoto and Osaka as a growing number of foreign tourists return to Japan after the pandemic.
Economic growth in Southeast Asia and a weak yen have sparked an influx of tourists from the region and the Osaka-Kansai Expo is set to be held in 2025, suggesting that such hotel openings will continue for a while.
On Friday, an opening ceremony was held in Shimogyo Ward, Kyoto, for a hotel opened there by Thailand's leading luxury hotel brand Dusit Thani.
Located about 700 meters north of JR Kyoto Station, the 147-room Dusit Thani Kyoto sits near Nishi-Honganji temple, a UNESCO World Heritage Site. The property includes a restaurant supervised by chefs from a one Michelin star restaurant in Thailand and beauty services featuring Thai health therapies.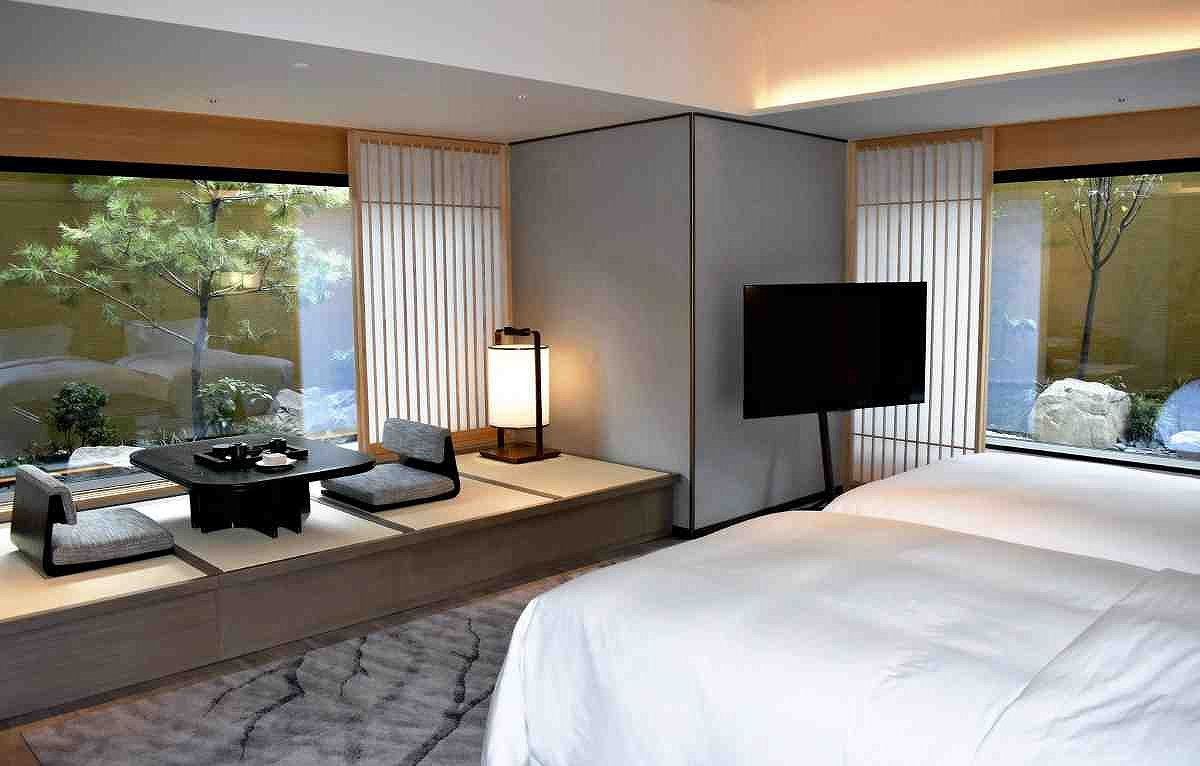 The largest Imperial Suite is 170 square meters and priced at about ¥700,000 per night, while the Premier Suite overlooking the Japanese garden is around ¥200,000 per night.
Suphajee Suthumpun, chief executive officer of the hotel's operator Dusit International, said its guests will be able to experience both Thailand's elegance and Kyoto's sophisticated hospitality.
Dusit just opened another hotel, the 114-room Asai Kyoto Shijo, in June, making the Dusit Thani Kyoto its second hotel there in just three months.
Singapore's Banyan Tree Holdings Ltd. made its first foray into Japan a year ago with two hotels in Kyoto under its Dhawa and Garrya brands. It plans to open the Banyan Tree Higashiyama Kyoto, part of its flagship brand, in spring 2024.
The Capella Hotel Group, also of Singapore, plans to open a hotel in summer 2025.
Kyoto is many Southeast Asian hotel operators' first foray into the Japanese market. Behind their strong appetite for expanding in Japan is the growing number of tourists to that nation, encouraged by Southeast Asia's economic growth.
About 230,000 people visited Japan from seven Southeast Asian countries in July, according to the Japan National Tourism Organization's preliminary figures, or four times the number in the same month the year before.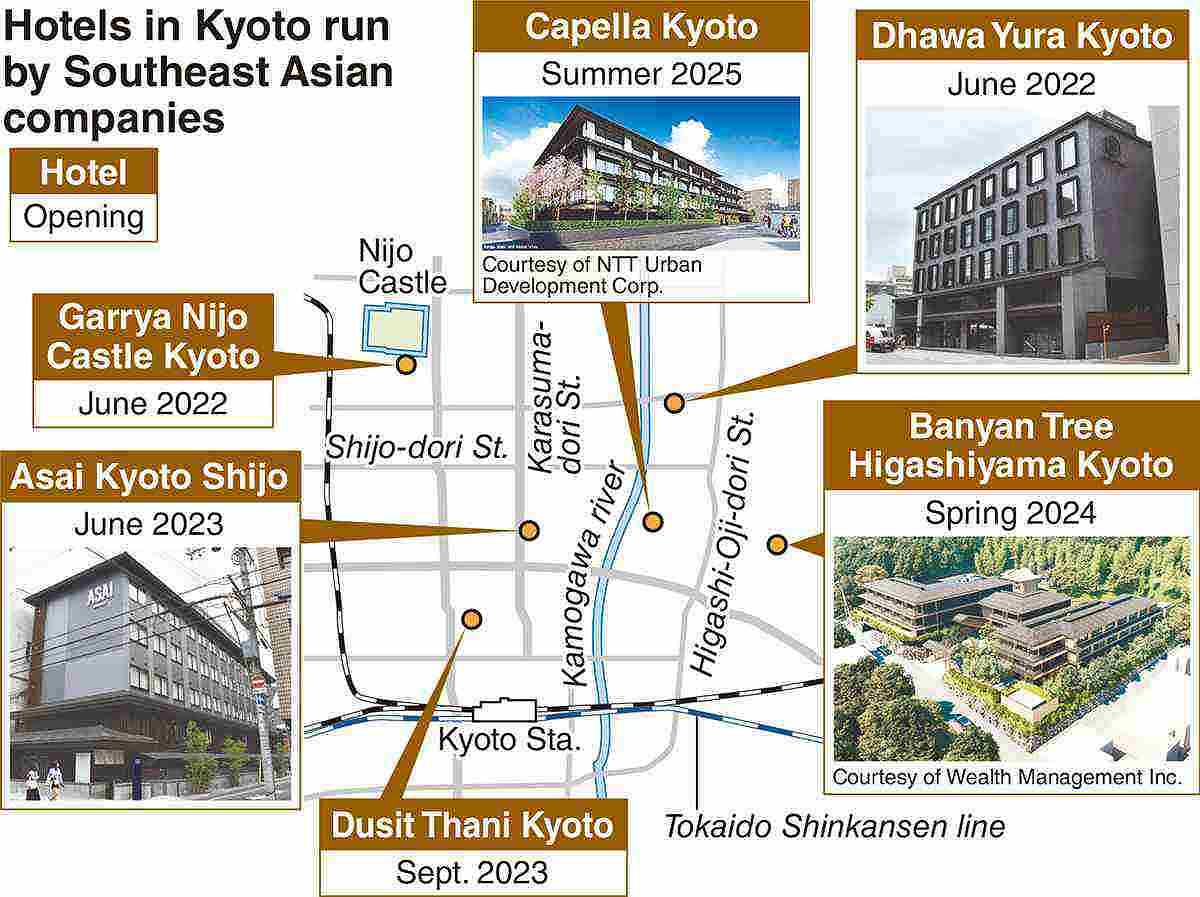 Although the number is still small compared to South Korea and Taiwan, visitors from Singapore, Indonesia and the Philippines have risen between 9% and 36% from the pre-pandemic year of 2019.
The so-called golden route, which traverses the major cities of Tokyo, Kyoto, Osaka and Hiroshima, is a popular course among foreign visitors.
Hotel operators are choosing Kyoto from among these destinations because it is a world-class tourist destination, which helps to promote the companies' brand.
Banyan Tree President and CEO Eddy See said Kyoto was always on the top of people's lists of places to visit, filled as it is with historical buildings and culture.
New hotels are being opened in Osaka as well, in light of the upcoming Osaka-Kansai Expo to be held on manmade Yumeshima island in Osaka. Centara Hotels & Resorts opened Centara Grand Hotel Osaka in Naniwa Ward in July, and the Capella Hotel Group plans to open Patina Osaka in Chuo Ward in spring 2025.
"Western-style hotels such as the Hilton and the Four Seasons seem to all be in the Kansai region," a tourism source said. "It feels like the time for Southeast Asian hotels, which continue to experience economic growth, to make inroads."
Add TheJapanNews to your Google News feed.