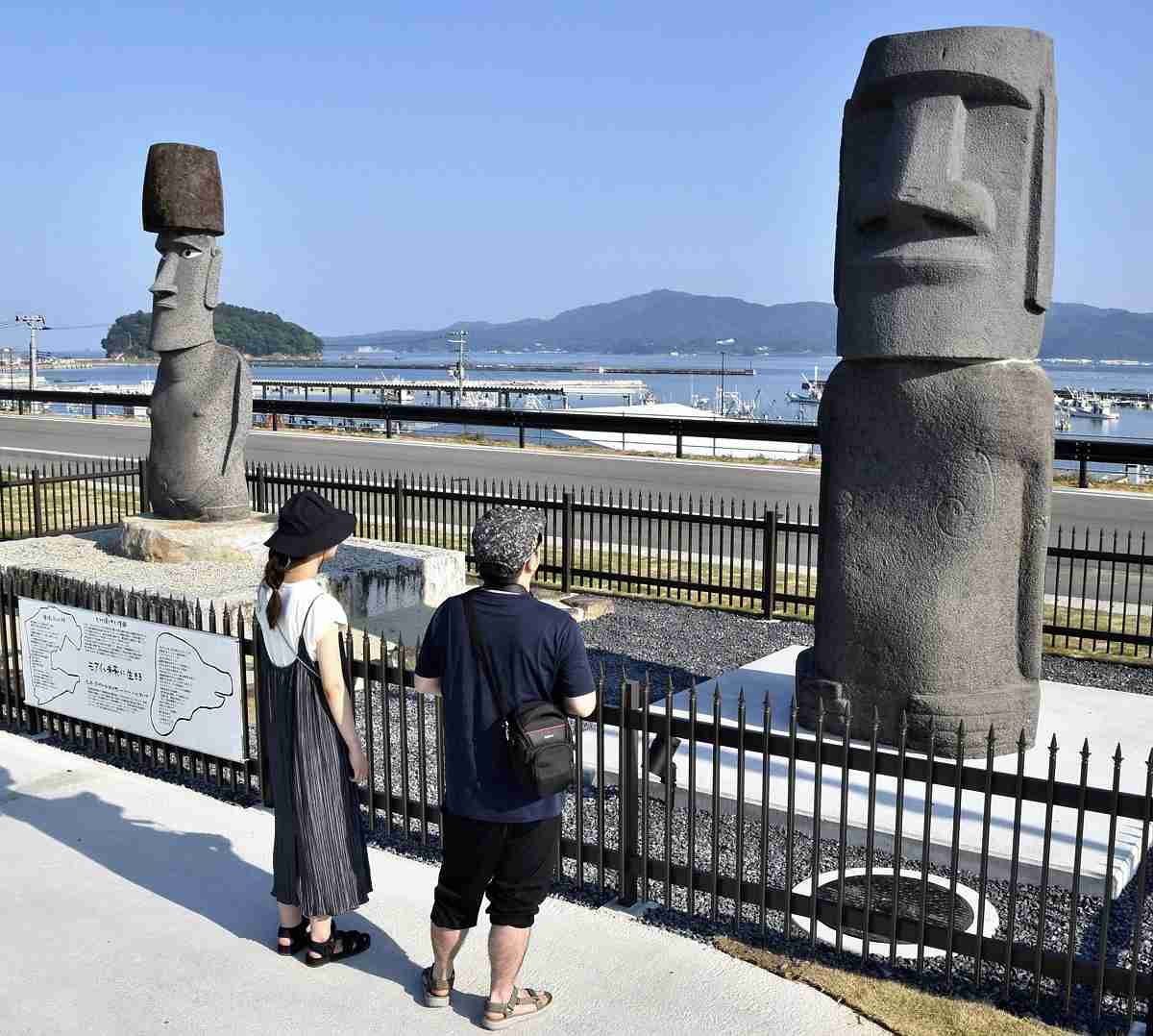 13:58 JST, July 30, 2023
MINAMI-SANRIKU, Miyagi — Two moai statues presented by Chile to the town of Minami-Sanriku in Miyagi Prefecture as symbols of friendship were placed side by side in a newly developed plaza near the town's coast, and a commemorative ceremony held on Saturday.
Residents affected by the Great East Japan Earthquake in 2011 hope that the two statues, placed to overlook the town with the sea at their back just like those on Chile's Easter Island, will witness their journey to recovery.
A relationship began after an earthquake in 1960 off Chile caused a tsunami that claimed 41 lives in Shizugawa (now Minami-Sanriku). The town asked Chile to create moai statues as symbols of "friendship and recovery." A statue about four meters tall, was sent and erected in a coastal park in 1991.
The head of that statue broke off and washed away in the tsunami in 2011. It was later found in rubble. Upon hearing this, the Chilean president at the time announced that a second moai statue would be donated. Sculptors from Easter Island crafted the second statue, which is about three meters tall, from the island's stone, and it was presented to the town in 2013.
With the development of a plaza, the town decided to reattach the first moai's head to its body and relocate the second moai from the shopping district to raise awareness about the importance of disaster preparedness.
"They are an important presence supporting our recovery," said Kazuyoshi Kumagai, 68, the manager of a souvenir shop selling moai figurines in the shopping district. "We want them to continue watching over us."
Immediately after the earthquake, students from Shizugawa High School (now Minamisanriku High School) made stickers with drawings of moai and attached them to police cars to cheer up the residents.
"The statues serve as a bridge of friendship with Chile," said Kana Sato, 16, a second-year student from Minamisanriku High School who attended the ceremony.
Add TheJapanNews to your Google News feed.