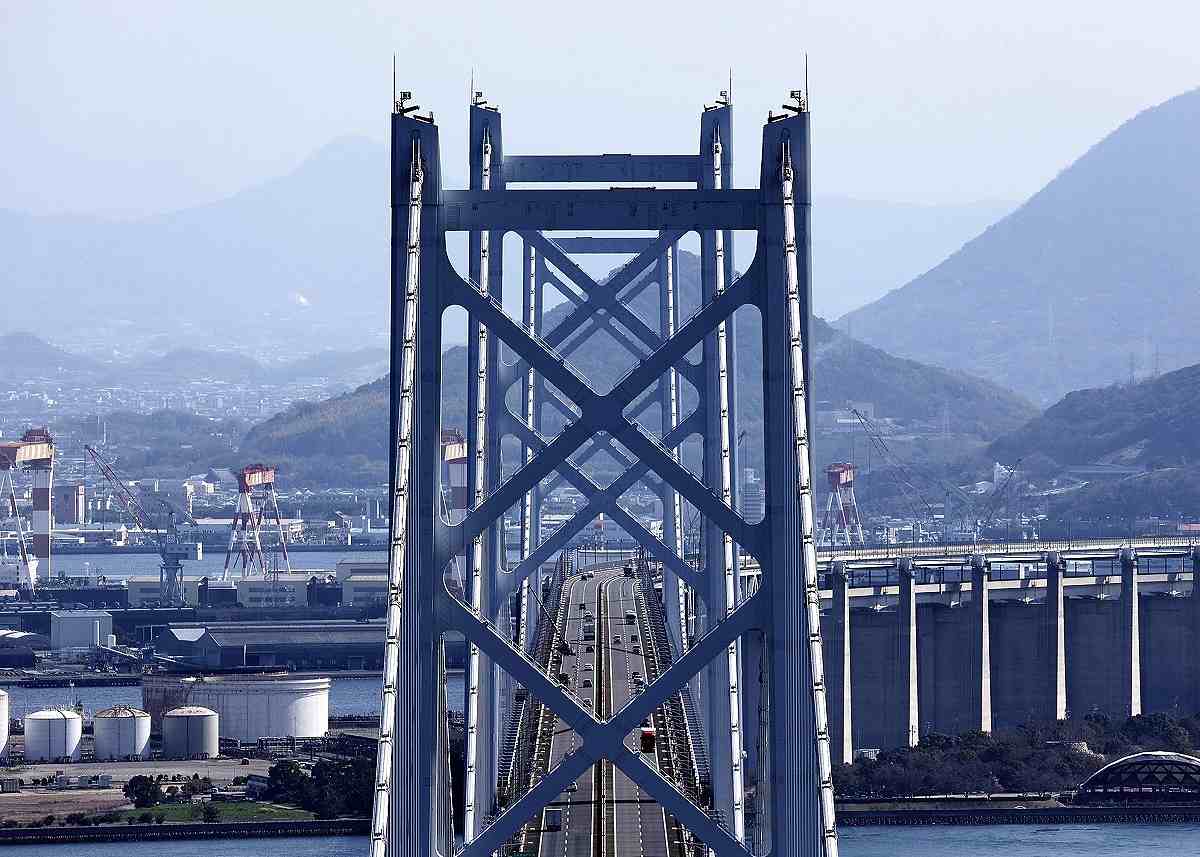 16:26 JST, April 2, 2023
TAKAMATSU — Tours atop part of the Seto Ohashi Bridge have begun for the season, offering visitors a magnificent view of the islands in the Seto Inland Sea.
Seto Ohashi Bridge connects the islands of Honshu and Shikoku. The Seto Ohashi Bridges Sky Tour was organized by the Honshu-Shikoku Bridge Expressway Co., the administrator of the bridge, which will mark the 35th year of its opening to traffic on April 10.
I joined the press tour to a tower on top of the Kita Bisan-Seto Bridge section, which connects part of Shikoku and Yoshima Island, both in Sakaide, Kagawa Prefecture.
After meeting at the tour office in the parking area in Yoshima, we entered a huge concrete abutment called an anchorage. This structure serves as a weight to secure the cables that hang from the bridge — the cables weigh 284,000 tons, which is said to be heavier than all the residents of Shikoku combined.
From here, we entered the maintenance route that runs parallel to the JR Seto-Ohashi Line. Looking below me through the metal grating, I shivered for a moment, but walking over the sea was so pleasant. After walking about 270 meters, we took stairs and an elevator to the top of the tower and went outside.

Blue sky and ocean spread out before my eyes. From 175 meters above sea level, the sea looked calm, as if it were sleeping, and Honjima, Hiroshima, Naoshima and other large and small islands dotted the waters.The wind was not very strong and felt nice.
It was like having a special seat from which to view the Seto Inland Sea.
Looking toward Shikoku, I saw the towers for the bridge in a straight line, creating a geometric pattern. It was a beautiful scene and also brought home to me the high level of technology involved.
The tours are open to junior high school students and older, costing ¥5,000 for high school students and older (¥6,000 on weekends and holidays), among others. There are two seasons: from March to June and September to November, which tours available on Thursdays and Fridays as well as weekends and holidays.
Add TheJapanNews to your Google News feed.