Jomon Sweets Train, Udon Expo Held in Akita Prefecture; Visitors Spoiled for Choice on Perfect Autumn Day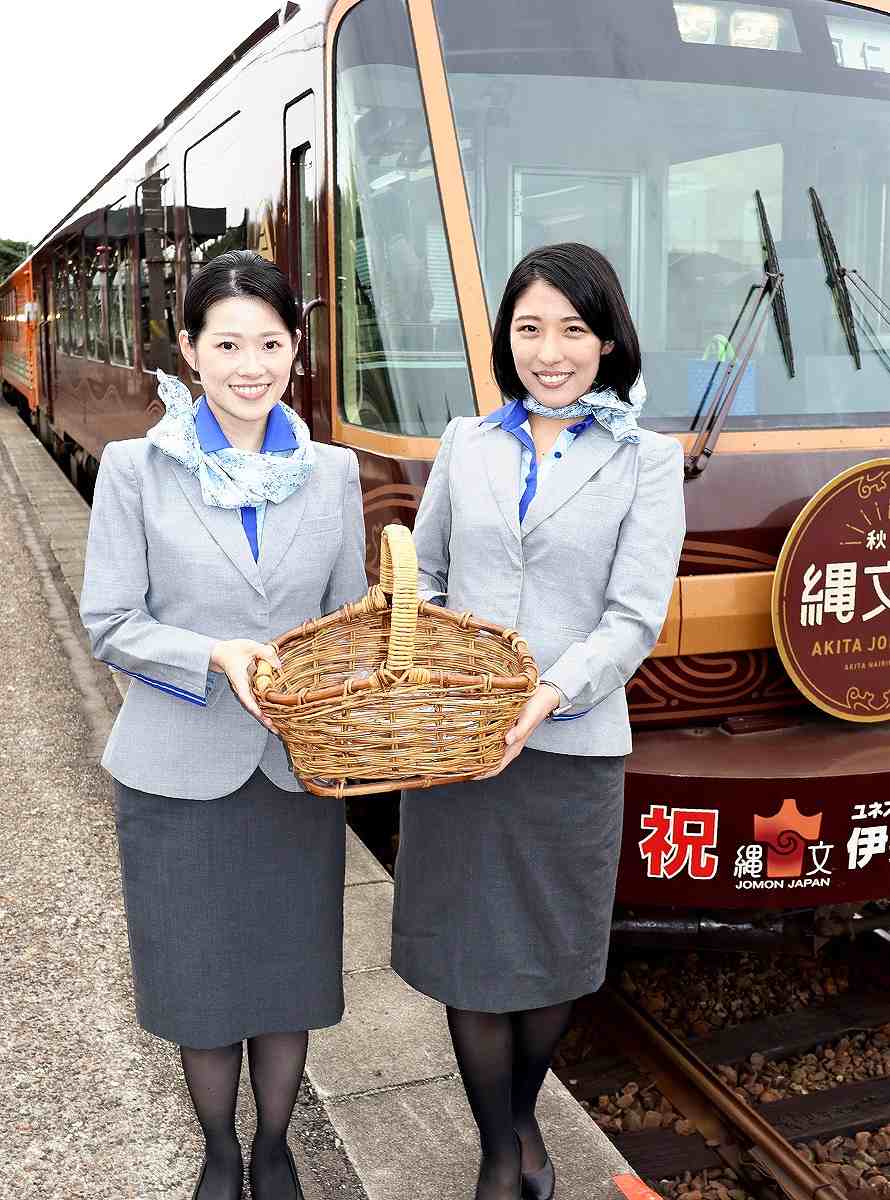 12:13 JST, October 18, 2023
AKITA — The last Saturday of September was a perfect autumn day for an outing, and there were various tourist events across Akita Prefecture. Families and other people enjoyed the day, eating local specialties and taking part in other activities.
Sweets and flight attendants
Railway company Akita Nairiku Jukan Tetsudo and the Akita branch of All Nippon Airways Co. jointly operated a special "Jomon Sweets Train" on Sept. 30. Flight attendants acted as guides on the train, just like they do on airplanes, in a collaborative project to support Odate-Noshiro Airport in Akita Prefecture, which aims to offer three flights to and from Haneda Airport a day.
Nine people — both from within and outside the prefecture — participated. They first visited the Isedotai ruins in Kita-Akita, and boarded the train at Jomon-Ogata Station. A flight attendant who usually works on flights to Hawaii, New York and other cities and another who works on flights to cities in Europe and Asia were on the train. They made announcements in both Japanese and English, hoping the passengers would enjoy their trips on the special shared "flight." They introduced to passengers the history of the Akita Nairiku Line as well as the scenery and customs of areas along the line.
Tiramisu puddings and cookies with a Jomon-period (ca 10,000 B.C.-300 B.C.) theme were offered to the passengers.
"I am satisfied as I met real flight attendants on the Nairiku Line and had Jomon sweets, which I had been curious about," a 40-year-old woman from Yokote, also in Akita Prefecture, said with a smile.
"There were many passengers who took the Nairiku Line for the first time. I look forward to seeing them on air trips next time," one of the flight attendants said.
Regional udon dishes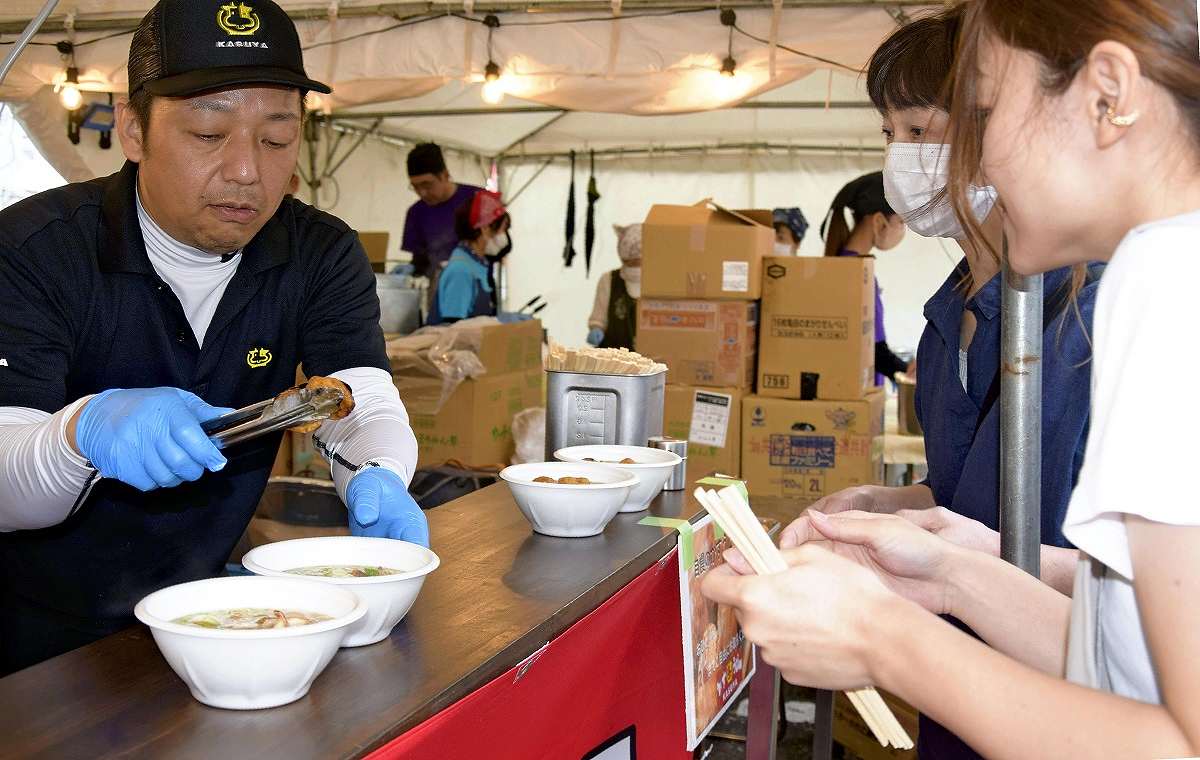 A two-day event featuring udon noodle dishes from Hokkaido to Kyushu was held on Sept. 30 and Oct. 1 at a parking lot of the Yuzawa municipal government's Inakawa office in Yuzawa, Akita Prefecture.
For the Zenkoku Marugoto Udon Expo 2023, 13 udon shops gathered together from across the country and the venue was crowded with people enjoying the regional varieties.
This year's national udon expo marked the 11th year of the event. The venue was located in the Inakawa area, the birthplace of Inaniwa udon noodles. There were various kinds of unique udon dishes such as Kesennuma Fukahire (shark fin) Udon from Miyagi Prefecture, Gamagori Udon using asari clams from Aichi Prefecture and Osaka Kasu (deep-fried internal organs) Udon. There were long lines in front of popular shops. Some people gathered several kinds of udon dishes on their table and enjoyed them at the same time to choose their favorite one.
A 16-year-old high school student who shared udon noodles with four family members and had tried dishes from all of the shops at the event said, "Various kinds of udon dishes are gathered together here from across the country, which is fun."
Add TheJapanNews to your Google News feed.