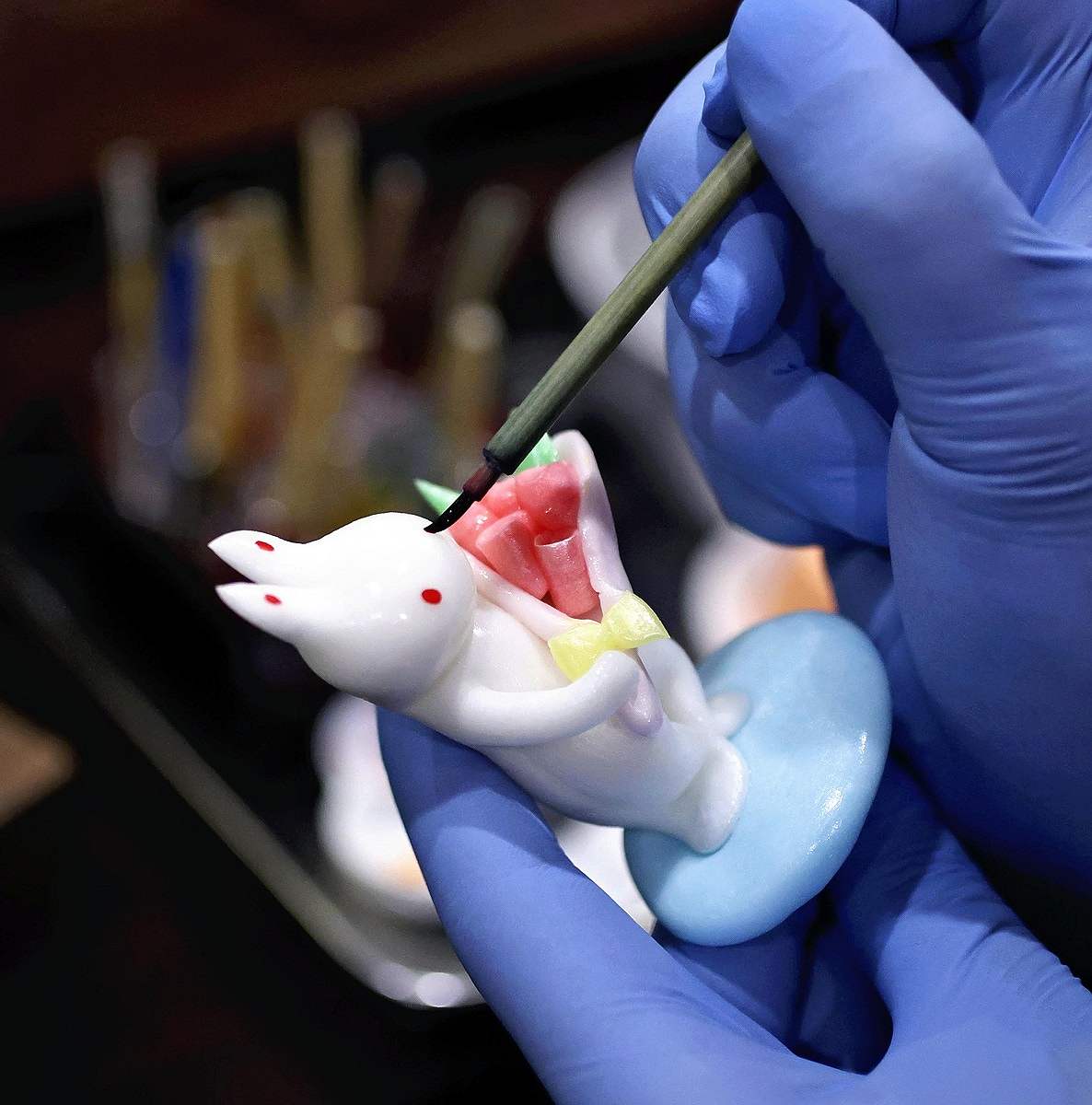 14:22 JST, October 16, 2023
Rabbits holding flowers, poodles with collars and parakeets in bright colors — all perched on sticks — greet me with a sweet aroma as I enter a candy shop in Tokyo.
Leaning in for a closer look, I was surprised by how detailed the sweets were and felt soothed by their cuteness.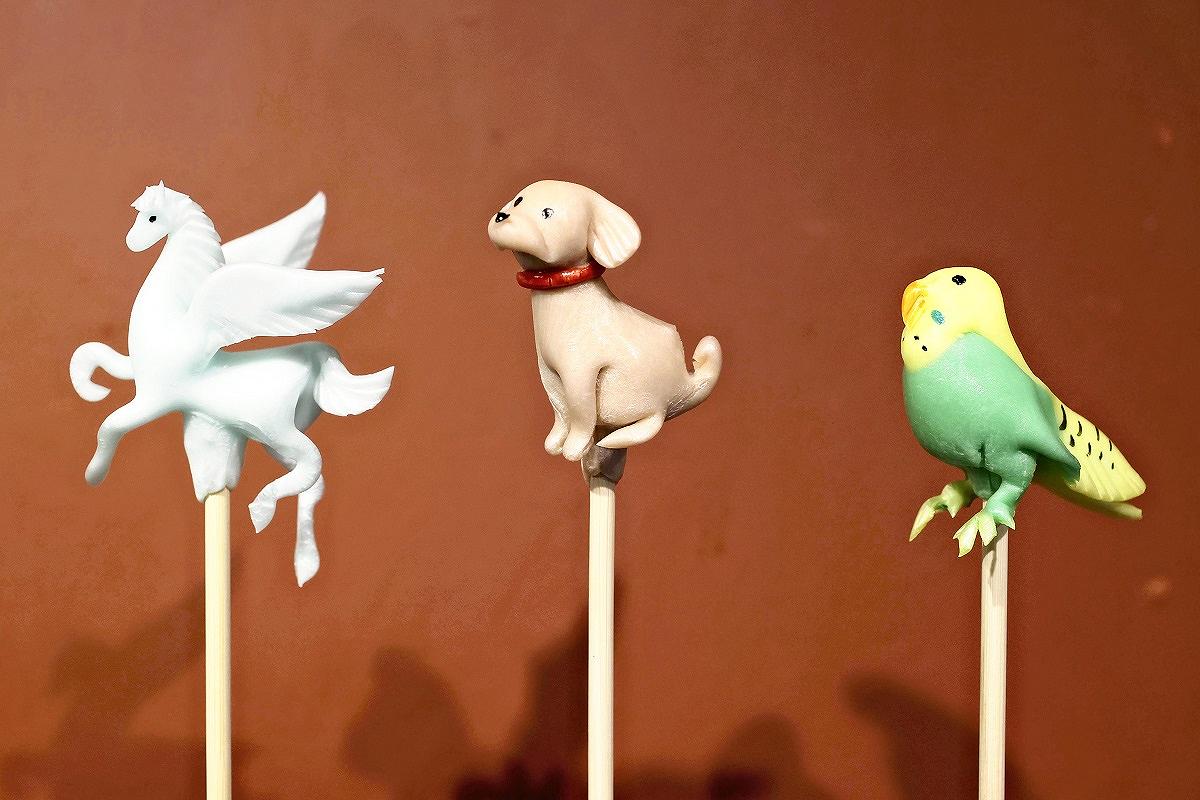 Amezaiku Yoshihara in the Sendagi area of Tokyo is a shop that sells amezaiku, artistic candy made using a traditional technique dating back to the Edo period (1603-1867). At the shop, customers can watch craftsmen make beautiful edible pieces for purchase.
Takahiro Yoshihara, 48, chief artist and president of Amezaiku Yoshihara, allowed me to watch him make an amezaiku Pegasus. First, he heated a lump of candy in a pot to around 80 C. Once the candy became pliable, he added edible blue dye and kneaded them together. He then aerated the candy to give it a smooth texture, rolled it into a ball and stuck it onto the end of a stick.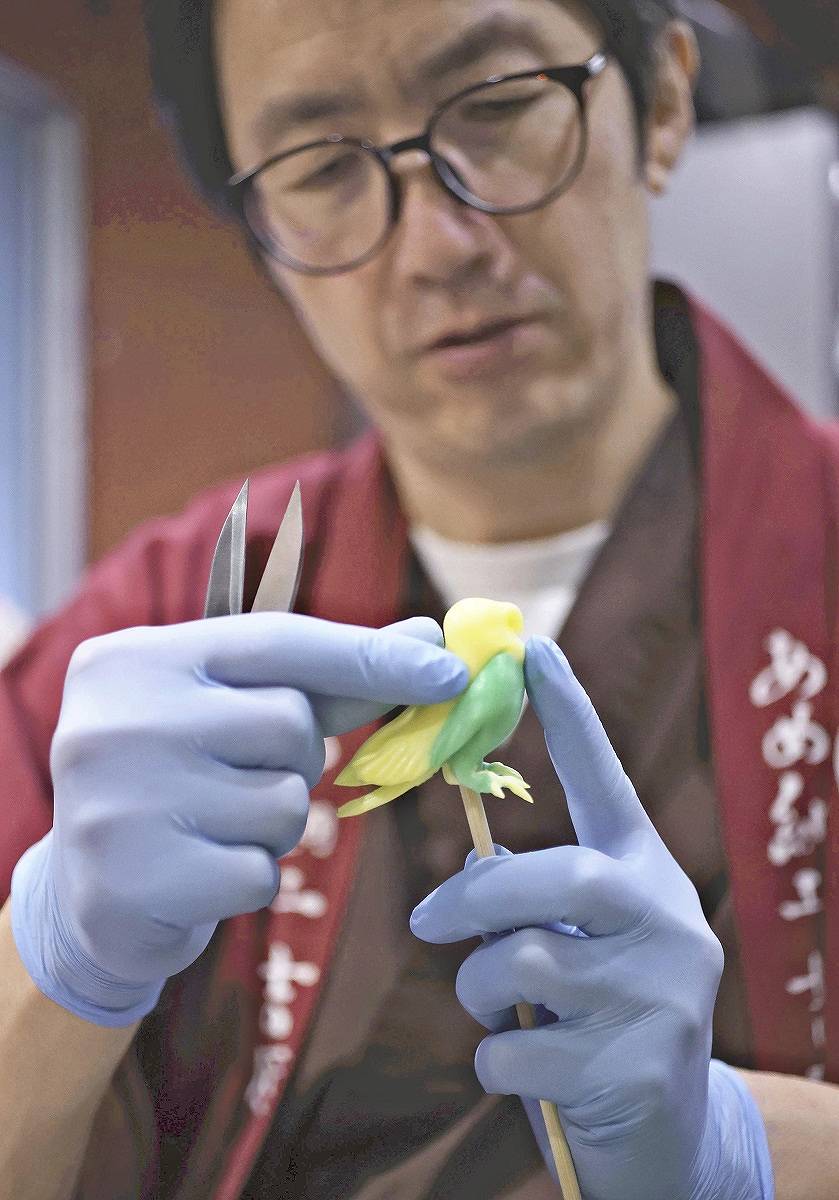 Then, he started forming the Pegasus. He made a couple of snips into the lump and stretched it using his fingers. Immediately, the wings and legs were formed. After the mane and tail were shaped using scissors, the Pegasus looked as if it could fly off the stick.
The whole process took only three minutes and smelled faintly of vanilla. Everything has to be done quickly before the candy cools and hardens.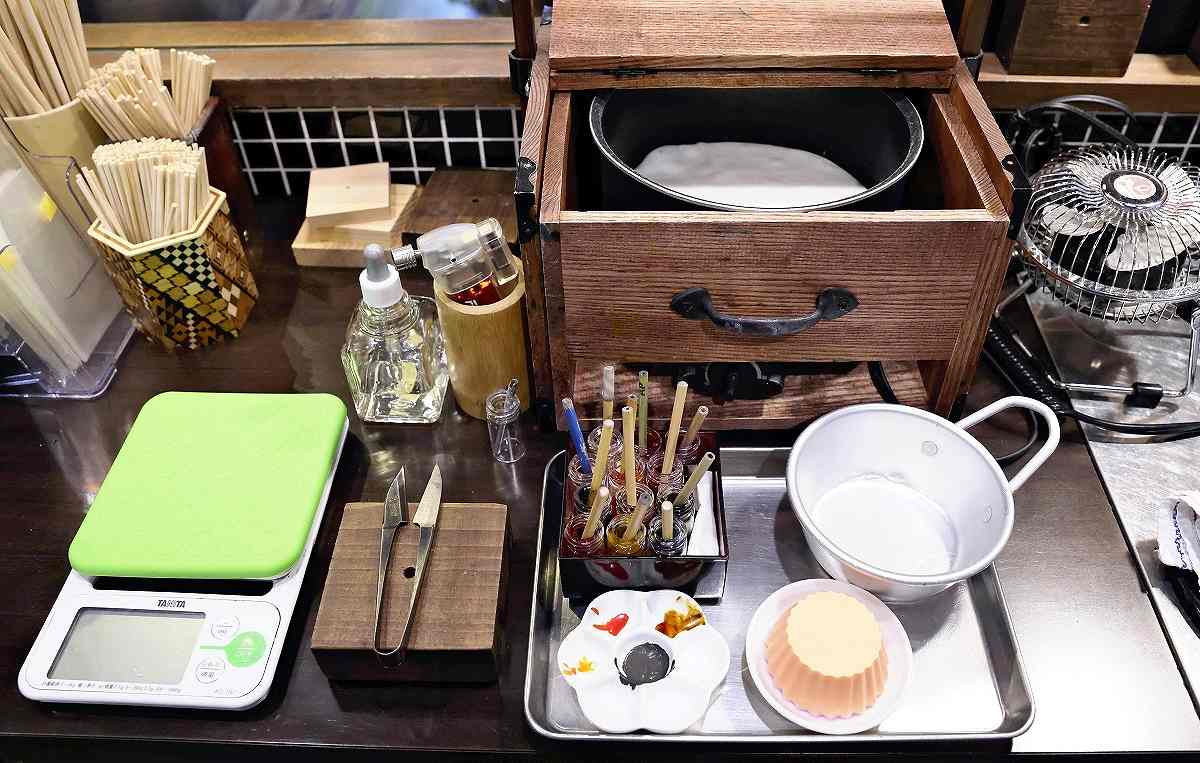 Among non-edible items displayed in the shop such as old journals and essays written by a traveler, I saw a picture of a craftsman with a topknot inflating a piece of candy in front of a child. According to Yoshihara, who also studies history, amezaiku artists have been around since the middle of the Edo period and sold their products in town.
Since many of the amezaiku products were shaped like birds, they were originally called Ame no Tori, meaning candy bird. Since the word ame can mean rain as well as candy in Japanese, it is said that amezaiku artists used umbrellas as their emblem.
In the Showa era (1926-1989), amezaiku artists operated near schools and at festivals, but today, there are only about 30 professionals nationwide.
Yoshihara was among the children who grew up seeing amezaiku at festivals and became fascinated by the skill. He started training under a master at 26 and learned the techniques. He opened his shop in 2008, and now, he said many foreign tourists visit his shop and locals buy amezaiku products as wedding or baby gifts.
"Documents related to amezaiku usually show smiling children of all ages," Yoshihara said. "While the candy melts and disappears, the memories remain."
It's an entirely different process compared to mass-produced candies, so it was a new experience to see someone make a beautiful piece of edible art in front of me.
Amezaiku Yoshihara
Address: 1-23-5, Sendagi, Bunkyo Ward, Tokyo
Access: Three minutes on foot from Sendagi Station on the Chiyoda Line
Memo: Prices for amezaiku products start at around ¥1,000. The shop also offers candy-making workshops for ¥3,300.
Add TheJapanNews to your Google News feed.