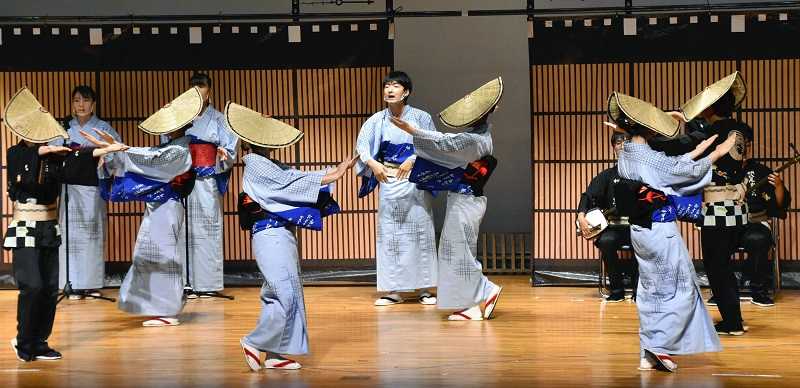 13:47 JST, July 23, 2022
TOYAMA — Six third-year students of the performing arts club at Toyama Prefectural Yatsuo High School in Yatsuo, Toyama Prefecture, performed the Owara dance to mark their departure from the club on June 18. The students were joined onstage by younger students at a local tourism center.
The students, who often practiced "Etchu Owara-bushi," a traditional folk song from the Yatsuo area of Toyama, have performed at folk song festivals in and outside the prefecture.
Prior to the outbreak of the novel coronavirus, the group usually gave about 10 performances each year, but this number dropped amid the pandemic.
Due to having fewer opportunities to perform, the club began holding farewell performances in 2020 to allow third-year students to show the results of their years of practice.
On the day of the performance, the students played "Sakura" (cherry blossoms) and "Matsu no Midori" (pine-tree green) on shamisen three-stringed lutes and Chinese fiddles. They also performed the Owara dance, which they had practiced since joining the club.
Their combination of singing, playing and graceful dancing attracted an audience of 130 people to the Toyama Yatsuo Tourism Association building.
Though no longer part of the club, the third-year students plan to take part in the Owara Kaze no Bon Festival in September, which will be held for the first time in three years. The festival originated more than 300 years ago to "appease the winds."
"It was regrettable that we couldn't put on more concerts, but we were able to complete 2½ years of practice," said outgoing club leader Haruto Hosayama, 17. "This will be my first time participating in the festival, so I'm happy that I can remain involved with Owara."
Add TheJapanNews to your Google News feed.