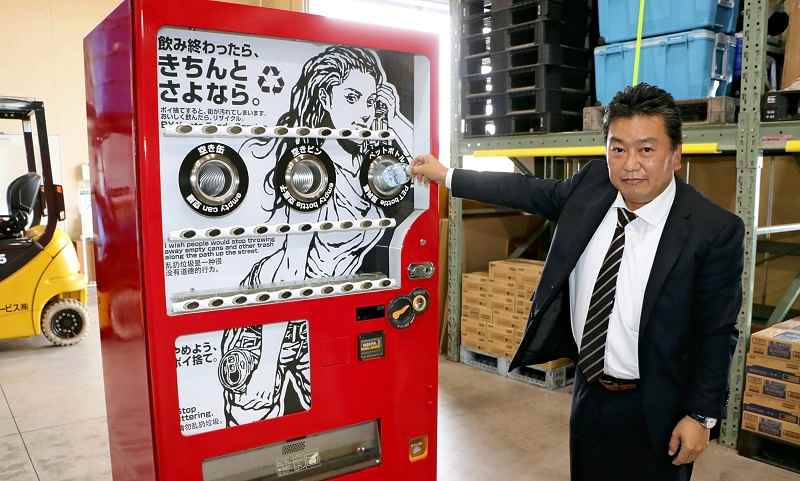 14:46 JST, May 31, 2022
OYAMA, Tochigi — A vending machine operator in Oyama, Tochigi Prefecture, has been promoting an initiative to install collection boxes for empty containers made from old vending machines.
Kanto Foods Service Co. hopes that its efforts will raise customers' environmental awareness by demonstrating another use for old vending machines.
The firm began installing the collection boxes five years ago.
With approval from the owners of vending machine locations, the firm gradually replaced conventional plastic bins with the new ones. A total of 50 new collection boxes had been installed by April.
The collection boxes were handmade by President Kenji Tayama. Three holes are made in the front of the former vending machine for cans, glass bottles and plastic bottles. The bin has an illustration with the phrase, "When you finish drinking, say goodbye."
Conventional empty container bins with lids that open and close were easily blown away by strong winds, and their small capacity meant that they filled up quickly, Tayama said.
These bins were also a source of concern because they were sometimes filled with trash such as toasters and diapers, he said.
In thinking of ways to resolve these problems, he came up with the idea of using old vending machines that had been discarded.
"The cost was minimal," he said, "since we could just create holes and prepare the slot with materials found at home improvement stores."
"Since it was originally a vending machine, it can be locked, and its capacity is three times that of conventional empty container receptacles," Tayama said. "The owners are also happy because there is less scattering of empty cans and other materials. We would like to continue to increase the number of locations where they are installed and also help raise environmental awareness."
Add TheJapanNews to your Google News feed.