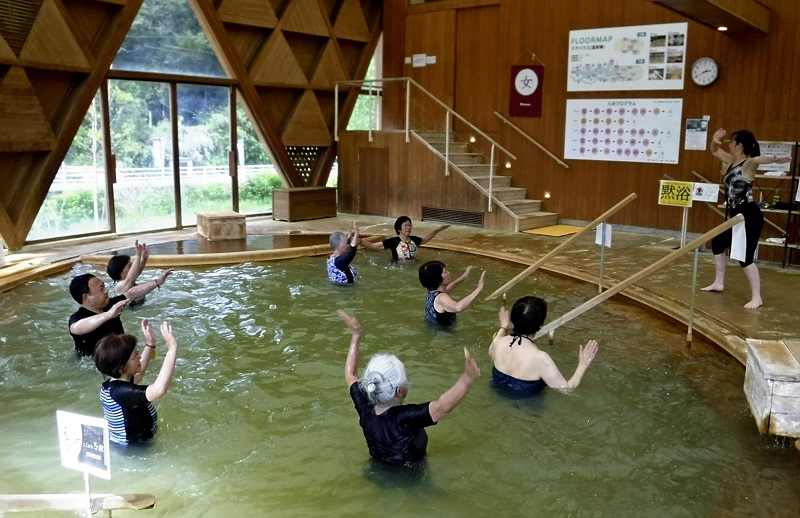 13:15 JST, May 21, 2022
TAKETA, Oita — As Oita Prefecture touts itself as the top destination in Japan for onsen hot springs to lure visitors, one city is promoting its unique local waters to take advantage of the national movement toward "health tourism."
The city of Taketa promotes the health aspect of its Nagayu hot springs, which has a quality that is rare even in Japan, and hopes to take some of the spotlight from well-known hot spring resorts such as Beppu and Yufuin.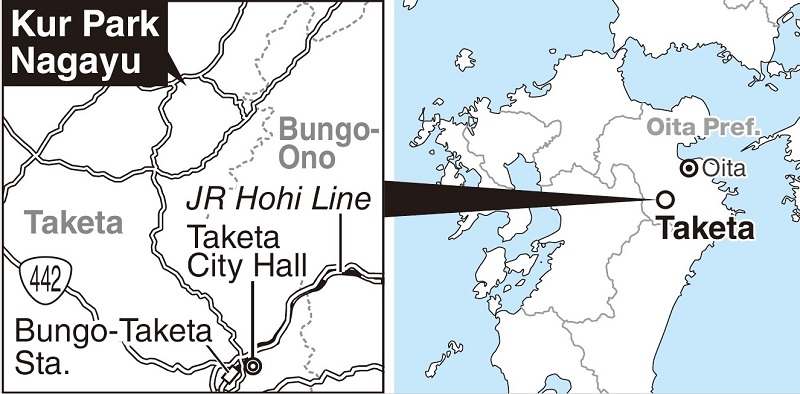 At Kur Park Nagayu, a large spa and hotel complex in the city, an exercise class is held in the hot springs. Observing one class in late April, there were nine participants being led by Yukie Kimoto, 48, a health and exercise instructor.
"Flex your stomach muscles before getting into [the hot water]," Kimoto told them. She said this movement is important because the body naturally tends to bend backwards in the water, which can injure the lower back during exercise.
The class was set up by the Taketa municipal government in April last year. The spa building of the complex has seven types of baths of different depths, including a 50-meter walking pool. The participants moved to the location most suitable for stretching, walking or other exercise to work up a sweat.
The majority of participants are local residents, although the resort said that recently people have been coming from outside the prefecture to take part.
The unique characteristic of the Nagayu hot springs is that it is a carbonated spring containing an unusually large amount of carbon dioxide. When the water is absorbed by the body, either through bathing or ingesting, it improves blood circulation, and is effective against heart and gastrointestinal ailments.
The city government, to support its claim of the benefits of its hot springs, has turned to specialized organizations in recent years to repeatedly conduct tests.
In one test conducted in 2019, 10 women averaging 65.4 in age took part in a hot springs exercise program. They showed indications of improved flexibility, such as larger stride length and forward bending. "It fixed my stiff shoulders and lower back pain," one said, while another said, "I sleep better now." These were common responses.
Another test examined body temperature and blood circulation before and after entering the hot spring.
Taketa aims to use the accumulated data to set Nagayu apart from other hot spring resorts like Beppu and Yufuin by focusing on health tourism.
"We need to bring Nagayu's merits to the forefront and use data to make a persuasive case to the public," a city official said.
Taketa had already been offering package tours since 2018 that allow visitors to enjoy 4-hour courses addressing such areas as fatigue relief or esthetic treatment.
But with the decline in travel due to the spread of the coronavirus, tourism authorities are putting further effort into a strategy of targeting corporations as a part of employee welfare. They have been inviting those in charge of employee welfare programs for first-hand tours of the facility.
The Taketa City Tourist Association sees great potential in the impending building in neighboring Kumamoto Prefecture of a factory by major semiconductor contract manufacturer Taiwan Semiconductor Manufacturing Co.
"I hope that spa resort Nagayu will be a place for employees who come from home and abroad to relax and relieve their fatigue," said an official of the association.
Add TheJapanNews to your Google News feed.