Okinawa: Flourishing Naha monorail to expand number of cars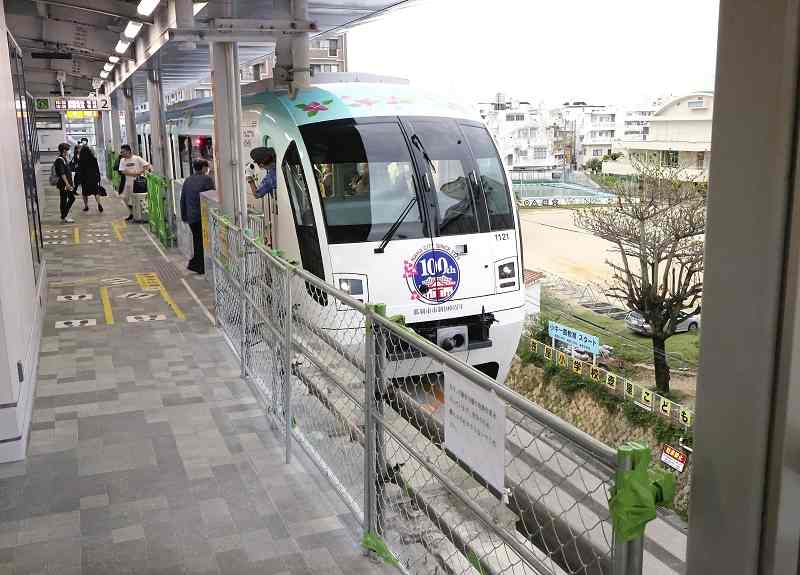 16:03 JST, May 14, 2022
NAHA — Okinawa Urban Monorail, Inc. is installing additional platform doors at stations in Naha and its suburban area to accommodate three-car monorails due to increased ridership in recent years.
The monorail, known as Yui Rail, has 19 stations and runs 17 kilometers from Naha Airport Station in Naha to Tedako-Uranishi Station in Urasoe in about 40 minutes. It is the only rail transportation in Okinawa Prefecture, and passenger numbers have been increasing rapidly over the past few years.
Yui Rail is operated by a semi-private company established in 1982 with investments from the Okinawa prefectural and Naha city governments and local businesses. The name "Yui" derives from the Okinawan word "yuimaru," which means mutual help among relatives and the community.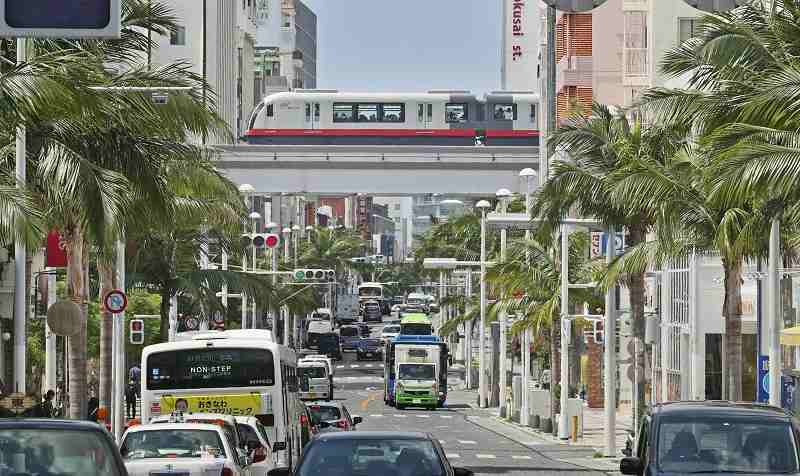 It opened in 2003, running 12.9 kilometers between Naha Airport and Shuri stations and was extended to Tedako-Uranishi Station in 2019. The transit system is also recognized by tourists as the two-car monorails cross over Kokusai-dori street, the busy, palm tree-lined avenue in Naha.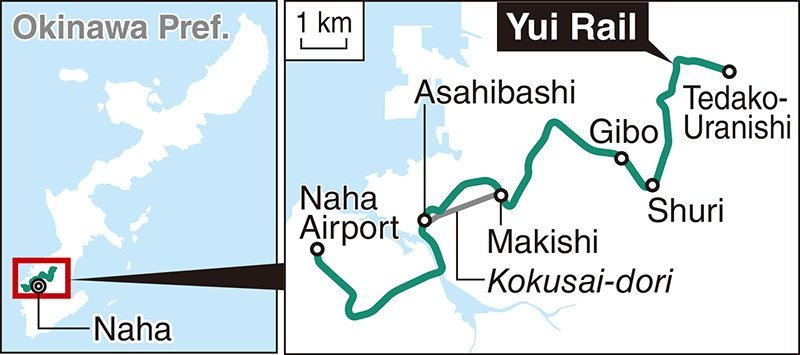 Symbol of reconstruction
Before World War II, there was a railroad in Okinawa that ran on iron tracks. At the foot of Yui Rail's Asahibashi Station, there are circular remains of a turntable of a narrow-gauge railroad that was operated by the prefectural government.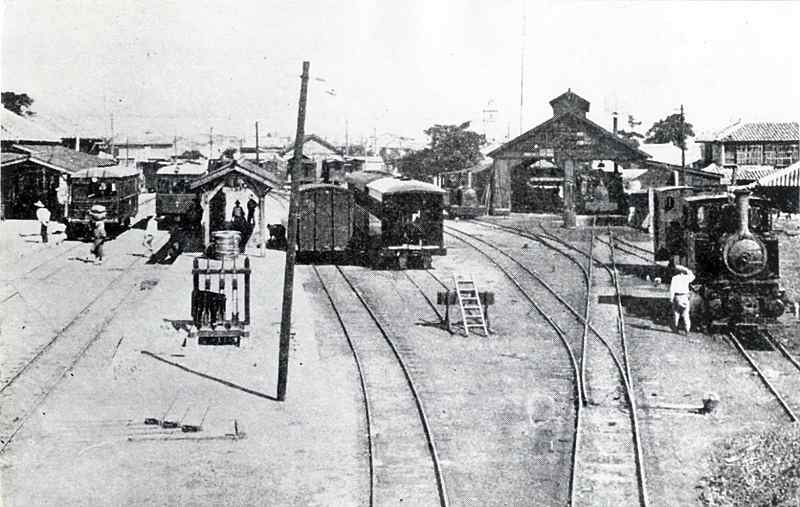 The railroad's track width was about 30 centimeters narrower than that of the current JR conventional railways. It connected the old Naha Station, which was located near Asahibashi Station, to present-day Yonabaru Town and other areas. The railway had a length of about 50 kilometers, nearly three times longer than Yui Rail.
The railroad was destroyed during the Battle of Okinawa in 1945 and never resumed operation. However, Yui Rail, which was born in Okinawa long after the iron tracks disappeared, became one of the symbols of the prefecture's reconstruction.
A monorail was adopted for the transit system due to Okinawa's geography. Typhoons are frequent, and steel equipment would be exposed to strong sea winds, causing a high risk of corrosion due to salt damage. A monorail has rubber tires that run on concrete along a viaduct.
Passenger volume surges
In the fiscal year starting in April 2019, Yui Rail averaged about 56,000 riders per day, a 75% increase over the 32,000 passengers when Yui Rail opened in 2003. The increase was faster than initially expected due to the rapid growth in demand from inbound tourists.
Ridership decreased to about 30,000 in fiscal 2020 and 32,000 in fiscal 2021 due to the coronavirus pandemic. However, the three-car train plan is being promoted in anticipation of a recovery once the pandemic subsides, as well as to alleviate rush-hour congestion.
Okinawa Urban Monorail plans to run two three-car trains as early as next April, aiming to have nine such trains in operation by around 2025. The capacity per monorail will increase from 165 passengers to 256.
Ocean views
Although Okinawa is associated with wide expanses of blue ocean, Yui Rail has long sections that run through urban areas far from the sea.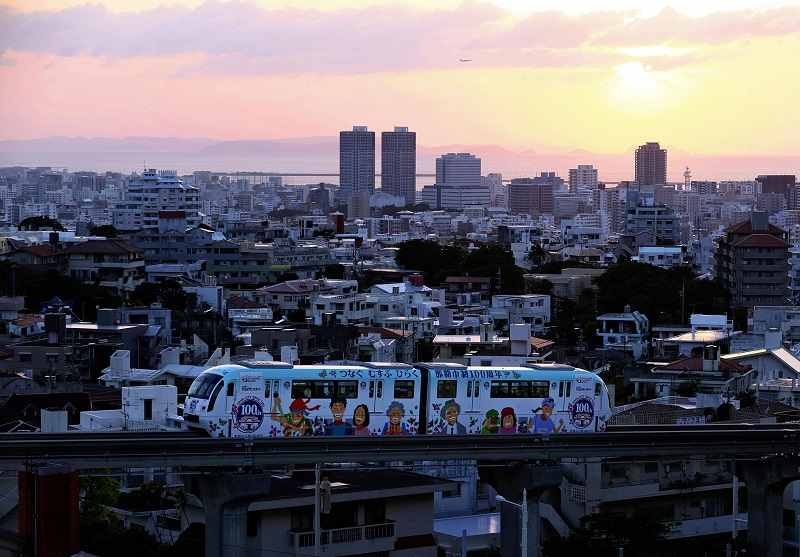 But one place with a beautiful view of the sea is Gibo Station, which is 95 meters above sea level. The view from the monorail as it travels from Shuri Station — 127 meters above sea level, the highest station in Naha — to Gibo Station is splendid. The East China Sea and the setting sun on the horizon can be seen in the distance.
The view from Gibo Station's platform is also nice.
"While gazing at Naha's greenery and the horizon, you feel as if you are on an observation deck," said Chiaki Akamine, a Yui Rail official. "You can even see the Kerama Islands on a clear day."
---
---