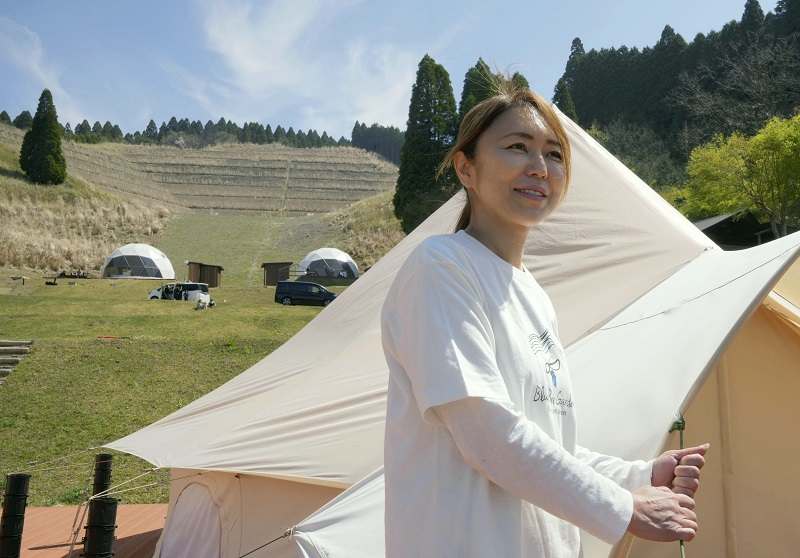 11:40 JST, April 30, 2022
MINAMI-ASO, Kumamoto — A lodge, which was damaged by a strong earthquake six years ago, has been reborn as a campground thanks to a woman who was drawn to its magnificent surrounding scenery.
The campground, located in Minami-Aso, Kumamoto Prefecture, is situated on a hill overlooking the vast outer rim of Mt. Aso's caldera. Kimiko Ueda, 54, who runs restaurants and bars in Kumamoto City, moved to the village last year and prepared to open the campground named Minami-Aso Blue Bee Garden.
On April 16, 2016, the lodge, an onsen ryokan, was hit by a landslide, turning it into a tragic site. The landslide caused by the Kumamoto Earthquake claimed the lives of a couple who were guests at the lodge. The establishment was since closed, with most of its buildings destroyed.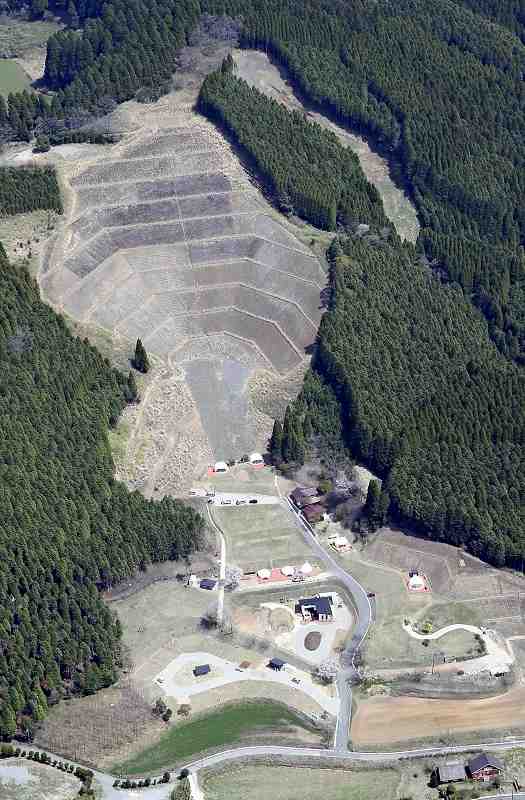 When Ueda visited the site for the first time in 2020, she found no signs that a ryokan once stood there, as all that remained were scattered trees and large amounts of dirt. She had been considering reducing her work to live in the countryside, and the panoramic views of the clear blue sky and mountains left a strong impression on her, she said.
Last spring, Ueda purchased the land to open the campground. Before the opening, she also went to Kagawa Prefecture to visit the graves of the couple who were victims at the lodge. Their bereaved family welcomed her idea of the new business on the ground. "The rebirth of the site will also help us move forward," one of them told The Yomiuri Shimbun.
The campground is equipped with three domed tents and an auto campsite. She also repaired two log houses, which had been there since before the disaster. The campground will be open to the public in May or later, after all the facilities have been improved, including a spa building.
Blue bees, from which the campground gets its name, are said to bring happiness. The bees are often seen in Minami-Aso. "As the name implies, we want to make it a place that enriches people's hearts and minds," Ueda said.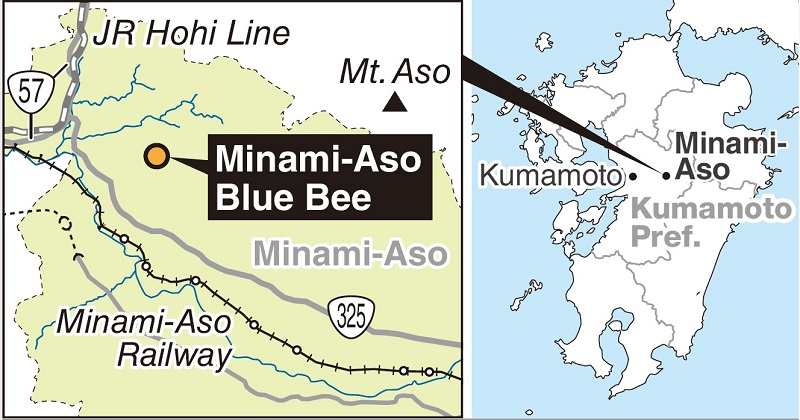 Add TheJapanNews to your Google News feed.